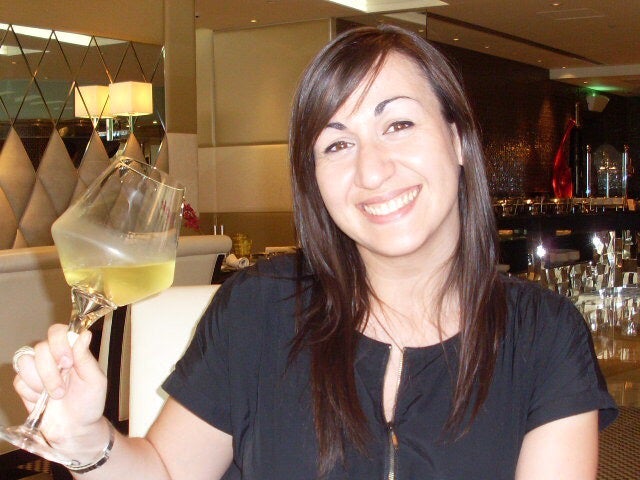 Overseeing the wine program of Hakkasan Hanway Place, Hakkasan Mayfair, and Sake no Hana in London, wine buyer and wine manager Diana Rollan sits down with Katherine Houston to discuss her passions, the eclectic style of the Hakkasan wine list, and her personal favorite food and wine pairings.
What's your favorite part about being a wine buyer?
It's an exciting job where we meet a lot of interesting people from the trade. I work very closely with suppliers and visit wine regions around the world, meeting winemakers and learning about new projects.
I love to interact with the teams, too. It is vital to understand the necessities of our own team and the wine list in order to know how to provide the wine selection that our customers require.
Are there any particular wine regions or countries that have inspired you and lead you in a certain direction?
There are always trends in the market and every year things change. This is one of the reasons that I remain inspired by the wine business.
Each of us in the team have our own preferences on regions that might lead us in various different directions. I'm personally very passionate about sherries. They are unique, and also from my own country, so I like to act as an ambassador of these wines!
I find Australia quite interesting and diverse too. I went there five years ago and was lucky enough to visit most of the main regions. Mornington Peninsula (VIC) is one of my highlights; I love the Pinot Noirs there. Margaret River (WA) as well.
There are many interesting new projects going on over in Australia which should be watched closely!
How do you create a three-star wine list? What goes into making a three-star wine list?
Hakkasan's wine list is really unique. Every Tuesday we perform what we call the Harmony Tasting. All our head sommeliers and the buying team get together and conduct a very dedicated tasting, where we taste all the wines, identify and select those which are suitable for us, and then we challenge them against the food. The Tuesday tasting is divided into four categories and we taste the wine against mild, savory, sweet, and spicy dishes, to ensure it works alongside all of these categories. If the wine doesn't work with the food, I'm afraid even if we love the wine, it does not make the list.
We feel that our guests come to Hakkasan for a dining experience, and the wine list needs to complement our cuisine, therefore there should always be synergy between our wine and our food.
How long would you say that takes – the Tuesday tasting?
Normally we start with an initial tasting early in the morning to assess the samples, at about 10.30am. There will be a mix of new wines, new vintages, and any other wines that we might want to review. We assess the wine, and if we're happy with the quality then we put it through to the final tasting, the 'harmony' section, where we challenge the wines against the food. The entire process take around four hours.
Is everyone involved in the initial tasting at 10am?
Yes. We also invite our junior sommeliers. We always encourage our team to keep up their tasting skills which facilitates them in their knowledge development.
The Hakkasan wine list has a very unusual layout. It is divided into different categories that together add an extra layer of information for the guest. It features a page called 'signature wines', which acts as a mini wine list within the wine list, in case the guest doesn't want to go through the entire extensive list.
Our full list has an eclectic wine selection. We want to reward our guests for turning the page, so it doesn't end with our signature wines… If you turn the page there are sections dedicated to different wines with explanatory titles such as 'Curious Wines', 'Terroir Intense', 'Genius without a Chateau', and much more. We also have a page that includes a wide range of Japanese sakes.
It is crucial for our staff to get to know and learn about the wines we feature, and the tasting is the best way for them.***
We also do sake master classes for consumers, where you get to know the basics of sake, as people tend to think sake is always drunk warm and their experience with it might not always be the best one. As you can see it's quite a big wine list, with 400 references.
What are your wines of choice during the summer?
I like to enjoy a wide range of styles, but I'm a massive fan of Rieslings, Manzanillas and Champagnes as summer drinks.
If you could pick one, what particular bottle would you choose?
It's very hard to choose! I find Louis Roederer Brut Champagne great in value and quality, and on more special occasions I tend to go for Krug Champagne. There's always an opportunity for a refreshing bottle of Fino or Manzanilla – I particularly love Manzanilla en Rama Lustau, as well as the Fino from Equipo Navazos. Egon Muller or J J Prum are my preferred producers of Reislings.
Which restaurants or wine bars do you visit when you're looking for a good wine list in London?
Recently I discovered a place that I really like called Noble Rot. They are different; more informal and relaxed. I do find their magazine very interesting and informative too. Their wine selection is attractive and their staff are very skilled. I also love 10 Greek Street just around the corner [from us in Soho], and Vinoteca.
What inspiration do you take from The World of Fine Wine magazine?
It's a very unique, professional and solid magazine with an international prestige. I'm also a huge fan of the books [the Finest Wines series] – I have the whole collection at home. I see The World of Fine Wine as a magazine for a more curated wine lover; for people really passionate about wine and professionals from the trade on an international level.
In your wine list awards, we're not competing with the local market, we're competing with a global market and being judged by professionals in the industry, who understand the wine list, understand the market, and who can judge the wine lists in a different way.
What do the wine awards mean to you and how has this affected you and your establishment?
The wine awards are confirmation that we are doing things the right way, and that our wine list is still recognised as one of the top lists on an international level. They force us to keep developing our skills and to always aim to improve, by developing new ideas and bringing the best into our lists, and maintaining our high standards.
It is a great satisfaction to be recognised by professionals on the trade.
A few pairing questions. What wines would you say pair the best with turkey?
We don't have turkey at Hakkasan! For me, food matchings depend on the way the food is cooked. Most people would go for white wine, but I personally enjoy white meats with light reds. In this case, a Pinot Noir would be a great match: something fruity, fresh and easy to drink from the New World, Oregon, for example Sokol Blosser. Another option might be something more unusual like La Solana from Suertes del Marqués 2012: an elegant, round and balanced wine from Tenerife, Spain.
And what would you pair with beef?
I would go for a classic: Malbec. I think Malbec is an excellent choice with beef. There are plenty to choose from but I'd go for Bodega Noemía A Lisa, Argentina.
Who do you think is the best sommelier in the world right now?
Well, we've just had the world champion sommelier awards, so apart from Arvid Rosengren I think there are many great professionals. One day I would like to see a woman as the best sommelier. Perhaps Paz Levinson will become Sommelier of the year next year?
Who do you think is the best sommelier ever?
Gerard Basset. He's such an inspirational person who has achieved everything you can achieve in the wine world. He's guided and mentored a younger generation of great sommeliers who follow his path. I think he's achieved everything: he's a Master Sommelier, achieved an OBE, and a Master of Wine, too.
What would be your go-to celebratory sparkling wine or Champagne?
It would be a Champagne and it would be Krug! But there are also plenty of other Champagne houses that I do adore: Jacquesson, for instance, is such a great and unique house.
What is the best bottle of wine you've ever tasted?
I have some very good memories around great bottles of wine, especially those shared with good friends.
Wine depends on the moment and the people you share it with; this is what makes it unique for me.
I will always remember a bottle of Domaine de la Romanée-Conti Grand Echézeaux, 1989, that I drank with one of my best friends in Spain – it was a such unique moment. Also, I shared a great bottle of Flaccianello della Pieve 1997 with close friends on a magic moment that will be memorable forever.
Great bottles of wine are connected to great moments in my life.
What is the rarest bottle of wine you've ever tasted?
The rarest was probably a very old bottle of Port from 1855. I don't think I'll be able to taste something like that in my life again. It was one of those bottles that we had to open with tongs and it didn't even have a label.