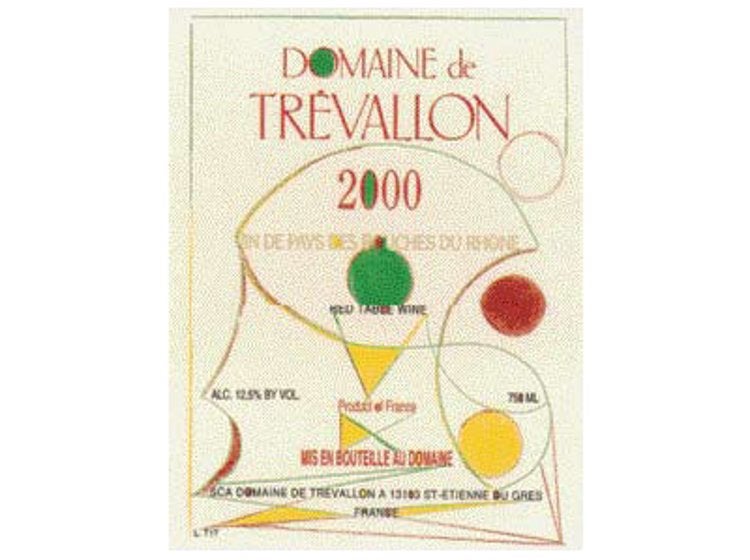 by Angela Lloyd
At a blind tasting presented to friends ten years ago, the seven red wines offered were variously identified as Bordeaux, Rioja, Barolo and even Margaret River. When their true identities were revealed -Domaine de Trévallon 1988 to 1994- it caused much mirth and not a little embarrassment.
Suggestions covering such extraordinary diversity of origin and grape were given some perspective recently at another Trévallon vertical spanning 1988 to 2004. Some who attended the original event were among the local winemakers, journalists, and winelovers who came to taste and hear Remington Norman MW (author of Rhône Renaissance) provide background and lead the tasting.
In a country where winemaking often stretches back over generations, the Dürrbachs are relative newcomers. Rene Dürrbach, artist father of current owner/winemaker, Eloi Dürrbach, purchased Trévallon in 1955, intending it as a retreat. Vines were introduced as recently as 1973, the younger Dürrbach having decided on a change of career from studying architecture in Paris to making wine at Trévallon.
The property's location-on the northern slopes of the Alpilles, a craggy limestone massif between Avignon and Arles-is as dramatic as its wines are individual. The natural high pH level of the limestone soil, the cooler, northfacing aspect, and the disease-prevention properties of the Mistral are positive features that allow for the natural production of quality wine.
Pioneers are often spoken of as doing the groundwork for others who follow. Eloi Dürrbach was not only a trailblazer in reviving wine growing around the Les Baux region, he literally had to break the rocky ground with dynamite, in order to plant vineyards. Today, Trévallon has 19 of the total 60 hectares (47 of the 148 acres) under vine: 2ha (5 acres) of white, comprising Marsanne, Roussanne, and, since 1998, a little Chardonnay; the rest being planted to Cabernet Sauvignon and Syrah.
This latter duo has a long history in the area. Dr Jules Guyot, the famous 19th-century agricultural scientist, noted that Cabernet Sauvignon, grown in prephylloxera Provence and blended with Syrah, produced excellent wines. The Dürrbachs learned of this from their friend Georges Brunet of Château Vignelaure, near Aix-en-Provence, when planning Trévallon's vineyards.
Cabernet Sauvignon displays idiosyncratic features in this part of the Alpilles; as Eloi Dürrbach notes on Trévallon's website, "It is very spicy, with aromas of cinnamon and pepper. On its own, it can be rather austere and has harsh tannins. Syrah is used to make it mellower." Syrah itself has minerality reminiscent of the variety in the Northern Rhône.
The pairing has confirmed its previous success as far as the quality of Trévallon's wine and its reception among winelovers are concerned. But the INAO has been less easily won over. Prior to 1994, Domaine de Trévallon fell under AOC Côteaux d'Aix-en-Provence Les Baux. When the wine producers' union asked INAO to establish an AOC Baux de Provence, it decreed no more than 20 per cent Cabernet Sauvignon (as wine) should be included, citing lack of typicity in the terroir. This would have altered the profile of both vineyard and wines-aside from which, Eloi Dürrbach maintains, the permitted Grenache wouldn't ripen well. It greatly saddened the Dürrbachs when the wine was downgraded to Bouches-du- Rhône Vin de Pays.
Nevertheless, their commitment remains constant. Eloi Dürrbach's philosophy is simple: "the less you do, the better the wine. He eschews pesticides and insecticides, while sheep manure is the only fertilizer used. Rigorous pruning, to four or five buds per vine, yields capped at 25hl/ha, and fully ripe fruit all help to reduce natural vigor, prolong the life of the vine, and avoid the necessity of adding acid. Vinification is also kept as natural and straightforward as possible. Whites are barrel-fermented on their own yeasts and matured in oak for around a year without either racking or bâtonnage to retain freshness and distinction.
Cabernet and Syrah are fermented separately in open-topped, wooden tonneaux, without destemming, the addition of SO2, or inoculation with cultured yeasts. After a cuvaison of nearly three weeks, each variety is matured in foudres (80 percent) and barriques for close to two years, with just one racking. A small portion of press wine is added to the final blend, which is egg-white fined but not filtered. If these procedures seem a recipe for brettanomyces, there is no sign of taint. Very low pH levels, high natural acid, the absence of any fermentable sugars, and generally moderate alcohol must all help to reduce the risk.
Appreciation and understanding of these individual wines are greatly enhanced by a vertical tasting such as we enjoyed. And, it must be added, they are food wines par excellence, their concentration and depth easily keeping pace with the Harrissa-spiced lamb shanks I served afterwards.
Despite the disappointment of three corked wines (in appearance, the corks are of superior quality), it is apparent that while either Cabernet or Syrah can dominate on the palate, the structure remains constant, even in higher alcohol vintages: thrilling, minerally acid and insistent, fine tannins.
The question of whether there has been a shift in emphasis since 2001-the subject of some discussion among commentators such as Parker-lacked conclusion, mainly because of the corked 2003. The 2001 and 2004 did initially seem more youthfully approachable and sumptuous; a few days later, however, the '04 had tightened and become more typically linear, suggesting that the initial impression might be a factor of youth and/or slightly higher alcohol.
The originality of the Domaine's wines is complemented by the abstract yet highly evocative labels. At the suggestion of his son, René Dürrbach produced 50 designs before he died in 2000. A different one has been used every year since 1996, each chosen with the idea of capturing the characteristics of the vintage.
Yapp Bros. is the principal UK importer of Domaine de Trévallon.
The tasting
Remington Norman helpfully suggested the flight groupings. Within each flight, vintages were mixed and tasted blind. No 2002 was made due to flooding.
Flight One – lighter vintages
1991 Advanced, as the orange/garnet rim suggests. Still firmly structured but the acid is exposed against regressing fruit; a suggestion of cassis on the bouquet, more savoriness on the tail. Light 11.9% ABV increases the overall fragility. Drink up. 11
1997 Pale but intense ruby. Evolved yet fairly simple garrigue-like bouquet, more Syrah than Cabernet, as is the light yet well-spread, savory flesh. Intensely fresh, solid, firm tannins. Ready. 14
1993 Deeper, more layered, with still strong ruby tones. Sweet, quite lush fruit with riper, though firm, Cabernet-like tannins. Balanced but simple. Ready. 13
1996 Healthy, brilliant ruby. Good, savory fruit weight, more Syrah than Cabernet in flavor and texture, quite Rhônish. Tannins well contained by fruit richness, promoting savory persistence. A slightly riper feel than others in this flight: 13% ABV. Harmonious now, but can go another year or two. 15
1992 Pale, aged ruby. Slightly herbaceous, Cabernet tones with a touch of sweetness on the finish. Fruit and acid hanging together by a thread. Like all the above vintages except '96, alcohols are a moderate 12%. Drink up. 12 Flight Two – medium bodied
1999 Corked. 12% ABV.
1998 Cabernet's dominance is evident in the sweet cassis and spice fragrance, and the taut, dry tannin. Syrah lends savory richness mid-palate. Elegant, medium-bodied (12.5% ABV) with balanced, freshening acid. Potential for those Cabernet tannins to soften over the next 5-7 years. 16
2004 Deep youthful purple with crimson rim. Unusually rich fruit expression-the floral, red and black fruits and clean, white spice of Syrah lead at present. Two days later the wine had tightened up, with Cabernet's fresh cassis and assertive tannins dominant. Eloi Dürrbach describes '04 as a classic vintage with good maturity and juicy fruit. Leave for at least six years; anticipate a good 10-14 year maturity curve. 13% ABV. 15 Flight Three – more structured
1994 Cabernet evident in both the fresh cassis fragrance and structured austerity. Just enough textured ripeness for pleasing harmony. Medium-bodied and elegant, with good length. Possibly good for further year or two. 12% ABV. 15
2003 Corked. 13% ABV
1995 One of the stars of the tasting. Luminous, layered ruby with no sign of fading. Deep, sweet, vinous nose showing complex mix of both varieties. Great breadth of succulent, ripe fruit, still well-contained within generous tannin frame. Intense, long. Still needs time to open fully, maybe a further 3-4 years. 13% ABV. 18
2001 Bigger, more plush. A youthfully dark but brilliant hue with Cabernet's sweet, perfumed black berries on the nose. Dense, concentrated, with fine acid backbone. A touch more obvious oak, but in balance with the fruit, so likely to resolve with time. In April 2005, Eloi Dürrbach noted on the Trévallon website, "we'll see what 10 years will bring." 14% ABV. 16.5
2000 More introverted and elegant. Layered ruby depths. Austere build, still tight and very fresh. Mere hints of delicate spice and red fruits promise a good evolution, but this still needs 8-10 years. Good intensity, length. 12.5% alc. 16
Flight Four – fully mature
1988 Corked. No ABV on the label.
1989 Evocative garnet luminosity; something of mature Bordeaux rockpool on the nose, but also a touch of undergrowth. Fine, elegant structure and freshness support and lengthen the ripe flavors, silky texture. Perfect drinking now but should easily go another 4-6 years. 12% ABV. 17
Photography courtesy of Domaine de Trévallon
1990 Thank goodness this wasn't spoiled! My favorite, and also nominated by the group as wine of the evening. Seamless, with a perfectly ripe vinosity that transcends the sum of its parts. Mouthfilling and complex, with sustained length. Lovely now but with plenty of life left. 12.7% ABV. 18.5