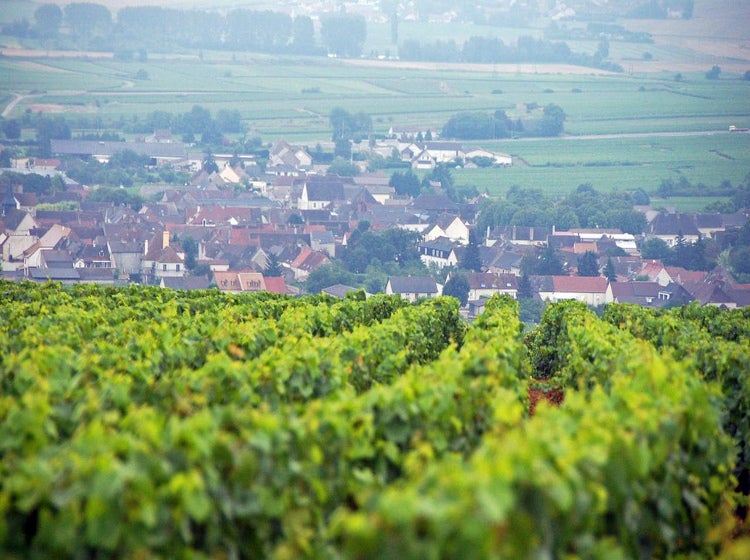 Olivier Lamy was born in 1973, the year his father Hubert took over from grandfather Jean. Olivier finished school in 1993, did his army service the following year, then an internship with Méo-Camuzet in 1995 while also beginning work at the family domaine, where he effectively took charge in 1996, though ably assisted by his father for several more years. Oliver is married to Karine who comes from clan Tollot-Beaut.
From his family Olivier has inherited a strong work ethic and a meticulous attention to detail. From the friends he made while training, he has developed an open mind, interested in what other people are doing elsewhere and keen to develop new and better ideas at home. He readily admits that they have not all been the best — such as reducing sulfur levels too far in the later 1990s.
In the vineyards Olivier is broadly but not systematically organic and he freely admits to using one or two non-organic treatments to save the crop in 2012. The biggest change, however, from the ancien régime has been to abandon herbicides and to plough all the vineyards, a change he put in place between 2002 and 2005. When Olivier began, three people were working the 13ha (32 acres) of vineyards. Now the figures are eight for 18ha (44 acres).
Having noted that vines were originally planted at a density of around 30,000 to the hectare when they were en foule rather than in rows, then at 14,000 after phylloxera, when horses were used, before dropping down to 10,000 with the arrival of tractors, Olivier has gone in the opposite direction. They have been replanting at 14,000 vines/ha since 1995, with experiments at even denser planting levels. In Puligny-Montrachet Les Tremblots and in Criots-Bâtard-Montrachet the density has been doubled by interplanting new rows of vines between the original ones, while in St-Aubin Premier Cru Derrière Chez Edouard the density is 30,000, as the rows were planted one meter (3ft) apart but with three vines per meter in the rows, pruned to just two buds per vine. This does not increase the yield but does produce wines of significantly greater intensity than the current norm.
Picking dates vary according to the taste of the grapes. Olivier finds he sometimes picks much earlier than his neighbors (2006, 2009, 2010) but sometimes rather later (2007, 2011). He finds that with his current vineyard practices he gets sugar ripeness earlier than in the past while still retaining good acidity. He likes a crunchy aspect to the fruit in his wines.
The grapes are whole-bunch pressed, though Olivier experimented with some crushing first in 2012, with the juice unprotected by sulfur before fermentation, so as to let those things that want to oxidize do so before it matters. Many more solids have been retained since around 2006 than was the case five years earlier, when the juice was perhaps settled too much.
Olivier began using larger barrels in 1996, first as an experiment but now as the norm, with a preponderance of 600l demi-muids. There was about 30 percent new wood up to 2005, 15 percent or sometimes less since then, with maturation in barrel for 18 months for the premiers crus since 2007.
Clos de la Chatenière
The Clos de la Chatenière is the central plot within the St-Aubin premier cru La Chatenière. The Lamys are the only owners to label a Clos de la Chatenière as the other three owners have tiny holdings. La Chatenière comprises 8.45ha (21 acres), of which the Clos is 1.60ha (4 acres), and of that the Lamys have 1.25ha (3 acres). According to Olivier Lamy, in disagreement with Marie-Hélène Landrieu- Lussigny, the scholar of Burgundian place-names, the name derives from chêne (oak) rather than châtaigne (chestnut), because it was customary to plant a royal oak in the best location in each commune. La Chatenière is certainly a privileged spot, exposed to the south yet also open to the setting sun in the west. At the same time, cool breezes from the combe de Vermarin à l'Est prevent overheating. There is a strong limestone content here, with many small stones throughout the steep slope mixed in with the reddish, iron-rich topsoil.
The vineyard was planted by Olivier's uncle in 1964 for the previous owners, having been wasteland at least since World War II. Hubert Lamy bought the plot in 1992, just before the harvest. There is evidence of white Chatenière from the distant past, however, since the 1915 vintage was served at an official banquet in 1927. I have not identified any specific flavor profile for this vineyard, but there is a textural richness — a creaminess, even — backed by a fine mineral thread.
2011 Picked on August 27th at around 12% ABV, because physiologically ripe despite the lowish sugar, and chaptalized by half a degree. Sensible yields of 45hl/ha. A little touch of sulfur on the nose. Pure, clean, bright color. Some floral notes, a little feel of sunny fruit, albeit with the modest personality of the vintage. This tastes physiologically ripe and certainly finishes soft and easy, yet with good length and some structure behind.
2010 Olivier found it difficult to choose harvest dates but decided to pick rapidly after the storm of September 12th, their grapes being riper than those of their neighbors. They began on the 14th, picking Chatenière on the 17th. Attractive, fresh, and crisp nose, a yellow-green color rather than full yellow. Much greater density than the 2011, some pear notes, a bit of orange blossom, lovely rich body with perhaps a hint of noble rot. The weight is balanced by a strong mineral backbone. Excellent length. 18 months in barrel but with no new wood.
2009 Picked very early, a week before the neighbors, because the grapes were ripe yet still fresh. A touch more color than 2010, with a soft rounded nose. But in the mouth it maintains poise and freshness. A touch of heat perhaps, but it's all in balance. Not as open as the 2010 today, so hold for 2+ years.
2008 Picked at the very end of September, continued through to late October — later than the neighbors for once. Fine, fresh color, with just a little yellow, faint quince notes but not exaggerated. Excellent body and balance, no hole in the middle (a fault of some 2008s), saliva-inducing but the acidity is well integrated within the fruit. Chiselled yet still with some fat. Start soon.
2007 Fine, clear, bright pale yellow. Gentle, graceful nose, spring flowers, first little hints of a maturing waxiness, this is just starting to hit its straps. A little youthful bitterness, even a suggestion of tannin, lemon zest, not enormous weight but very classy. Not a universal favorite and less concentrated than 2008-9-10, but a wine that I liked very much. Drink soon.
2006 Olivier started to pick the day of the ban de vendanges. Lovely bright color, pale lemon. Warm and sunny feeling from the bouquet yet still in balance. A trace of heat behind, but it works with the wealth of fruit and natural acidity that it has. It needs the right food — something with a rich sauce, perhaps. Finishes crisp yet also with the sweetness of the oak. Drink now but no hurry.
2005 (magnum) The first magnum had a slightly low level and the cork revealed signs of seepage. Fullish yellow color but still bright. The first nose shows some oxidation, then it starts to freshen up. Very concentrated in the mouth, honeyed, good acidity behind, almost saline. Retasted from a fresh magnum with a better level, and a completely different wine was revealed. Lighter and bright color, fresh, youthful, singing. A really fine nose, fresh and floral and suggestive of minerals. This has extraordinary weight yet nothing heavy, absolutely dancing, creamy texture with an electric thread running through. A magical finish, too. Put it away for years.
2004 (magnum) A high yield in 2004, picked late. Fine, clear color, not taking on much color yet. Lighter nose, quite floral, no sign of herbaceousness. Quite complex, quite open, the finish is beginning to sag and is not as long as some. But very enjoyable for now, before it starts to dry out. Drink up.
2003 (magnum) One magnum corked. The replacement showed a full bright color, not especially deep, rich and exciting yet still seems balanced. Rich, almost gingerbread through the middle, ripe fruit but not cooked, still some heat in the middle but as the years go by it is growing into itself. It has never been easy to predict the future of this vintage, but so far the whites are holding up very well and may possibly continue to do so for decades.
2002 (magnum) Fresh bright color. This displays an immediately attractive, chiselled, stony nose, young and fresh. On the palate this has opened out considerably, with the silky sensual center and crisper finish that is classic Chatenière. Fine and balanced and with excellent density. Great length and has kept very fresh. Tasting this, there is no question that the best vineyards of St-Aubin should be considered in the front line of white Burgundy. Proper job. The finest wine in the Chatenière line up.
2001 (magnum) A little more color here than most and not much character on the nose. There's a touch of mushroom and perhaps it's not quite clean. From a second magnum, the wine is tight and backward, almost tannic, with some weight, good to drink now, but less characterful than some vintages. Olivier also opened a bottle, however, and in this format (with a cork from a different supplier) it was much livelier and fresher than from the good magnum, with more personality and minerality. Excellent energy and persistence.
2000 (magnum) Lovely full yellow but not unduly aging yet. A little waxy on the nose, this is getting toward full readiness. Rich, waxy, some oak, perhaps too much. On the ripe side, having been picked relatively late, which was the fashion then. But after all his work in the vineyard, Olivier now gets the sugar earlier while keeping the acidity. Good to drink now, but don't keep too long.
1999 (magnum) Light, bright, and with an attractive green tint. The bouquet is not as fresh as one would have expected or hoped. Not corked, but perhaps there's a trace of dust to it. No premature oxidation but a slight deviation. A little bitter at the back. The same cork supplier as the doubtful 2001 magnum, and perhaps not typical of the wine.
1996 (magnum) Full, bright yellow, and from the first sniff a really interesting wine. Some ripe tropical fruits, a bit of quince, signs of the gentle oxidation consistent with its age, but still a suggestion of fresh minerals behind. The balance is all over the place, but it doesn't matter. The first vintage with a pneumatic press, used half and half with the hydraulic vaslin press. Full of energy and character, a wine to fall in love with despite its lopsided aspects. It should get better and better with air — and indeed it did.
1995 (magnum) Very pure, pale, lime-green, with a lovely, almost Riesling nose, fresh and graceful with just a touch of wax. Very suave, sensual, and long, with some unexpected strawberry flavor in among it. Not the strictness of most vintages, perhaps some botrytis speaking. Definitely enjoyable but perhaps not the classiest. Drink soon.
No bottles or magnums of the first three vintages, 1992-3-4 are left at the domaine.
Les Frionnes
The only vineyard bottled at the domaine prior to the arrival of La Chatenière was Les Frionnes. The domaine has three plots — in fact they have more but some goes into the village blend. There were some old white vines replanted by Hubert as Pinot Noir in 1980 but top-grafted by Olivier back to Chardonnay in 1995. Les Frionnes faces east on very draining, whiter soil. The slope is fairly regular and as usual in Burgundy has more limestone above and more clay below.
1990 (magnum) Quite evolved color, dull quince notes on the bouquet, tiring somewhat. A little confected and rather hot at the back. 1989 (magnum) Lovely pale yellow, a much fresher color than the 1990. A little bit of resolved sulfur on the nose, or is it perhaps the dustiness of a faint cork taint? Potentially a beautiful wine, but this bottle (or magnum, rather) just misses.
1988 (magnum) Lovely, clear, bright pale gold, with real class to the nose along with a little curry. The fruit has taken on almost a meaty character. Still quite fiercely acidic, and it seems quite malic, so maybe it did not go through the malolactic fermentation completely? Not unknown in 1988. This is a really interesting wine, needing the right dish. Perhaps a slow-cooked lamb tagine with apricots. One of the stars of the tasting — not a classical beauty but fascinating nonetheless.
1985 The first impression is of cork, and although there is some fresh enough fruit behind, this bottle is compromised.
1983 (magnum) Mid-gold, even a hint of amber, yet still fresh and bright. The nose is lovely, too, with some orange blossom, yet with a Chablisien marine mineral thread. There is a little noble rot inducing a touch of Calvados flavor on the palate, but it remains an intriguing wine which improved with aeration. This needs some pata negra ham served with fresh figs.
1976 Made by grandfather Jean, and brought to the tasting by a cheerful private customer and enthusiast who had originally purchased this from the domaine just after bottling. The color is gently ambering but again the nose has quality fruit. A little burned something here, though the nose keeps filling out. It retains the caramelized note on the palate and there's an edge of heat. But it is still a fascinating wine.
Believed 1975
Pale orange in color and, indeed, bouquet, with a strong orange character on the palate. Botrytis on unripe grapes, says Hubert Lamy. But this is still interesting.
1973 Pale amber and somewhat aged nose but still something alive. More stuffing than the '75 but showing a touch of Cognac flavor at the back. Lovely weight. This has the texture of a great wine but the aromatics are now somewhat bizarre.
Unknown Vintage
Circumstantial evidence indicates that this wine is pre-1973. Brighter, fresher color than the two preceding wines. Clearly from a very good vintage, and with a lovely texture; it could be a 1966, which often has this exquisite softness. Gentle and graceful, yet with a beguiling savory aspect. Very fine and balanced. Still fresh, but it's the texture that makes this a winner. Really lovely. Maybe 1964?