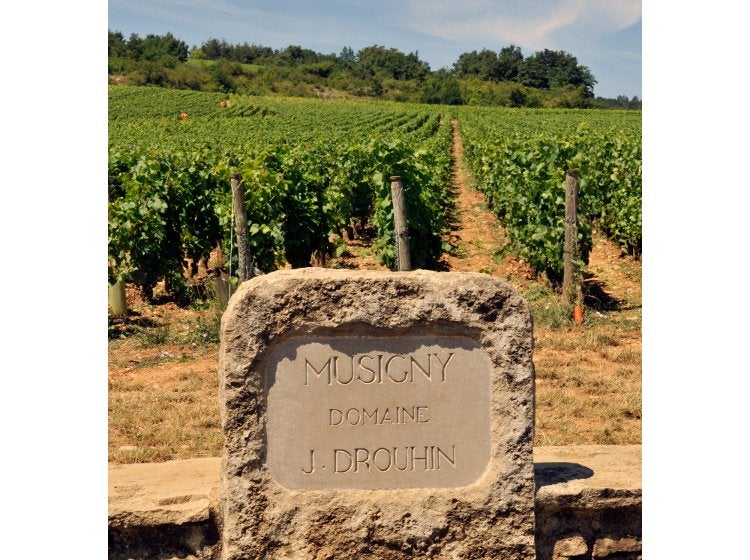 The Drouhin holding of Musigny covers 0.67ha (1.6 acres) at the northern end of the grand cru. It is mostly formed by one single block purchased in 1961, though Maison Drouhin used to get grapes from the previous owner before this date. On the viticultural side, it should be noted that the vines were replanted in 1973 and 1976 and that the vineyard has been farmed organically since 1990, incorporating biodynamicals since 1996. The wines from 1978 to 2005 were made by Laurence Jobard, and from 2006 by Jérôme Faure-Brac, all under the watchful eye of first Robert Drouhin and then his daughter Véronique. Throughout, the Drouhin style has remained true to that envisaged by Maurice Drouhin, preferring elegance to extraction. For all the vintages except 2004, up to 50 percent of the stems were retained during fermentation. The Drouhin method is to make a positive selection on the sorting table of the healthiest bunches with the ripest stems.
This tasting was held in Bouilland, courtesy of Becky Wasserman, the wines being generously supplied by collector Richard Orders. The wines were opened at 11:30am and tasted between 12:30 and 2pm. They were not decanted.
2009
Lovely mid-purple color with a pinkish tinge. Quite reduced nose. This does blow off but the wine stays very tight. Still, it avoids the clumsy aspects of this vintage while it is young, and there is plenty in reserve. This needs to be revisited another day.
2008
Fine, bright, light to medium-deep purple. Attractive, soft, red-fruit nose with a touch of pepper, refined and stylish up-front, then a burst of red-fruit energy behind. You can see how classy this will be when it wakes up. Perfectly balanced acidity, no evident tannins. Promising from the outset, this wine exploded into life with an unexpected concentration of fruit, when retasted after being open for two hours.
2007
Medium red-purple with lighter rim. Very pretty, sweetly scented red-cherry fruit on the nose. A lovely red wine with sweetly ripe fruit, already very approachable. But will it ever have the majesty of Musigny? Perhaps the length of the finish is its best attribute.
2006 (in magnum)
Full mid-red, still youthful. A significant weight of deep red-berry fruit on the nose, which expands with time. I was not sure when tasting en primeur if the Drouhin style was suited to the 2006 vintage but in this case it has certainly worked. The majesty of Musigny is not far below the surface. The fruit stands up on its own, not yet integrated with the structure, which shows tannins first and then a touch of acidity. Long-term.
2005
By Drouhin standards, a relatively deep color. Backward but powerful first nose, some oak, great intensity. An amazing sense of class, great density yet everything in proportion. Certainly this seems like an infant Musigny, with the volume of fruit covering the bone structure. Even after two hours the detail had not developed, but this will surely live up to the outstanding reputation of the vintage, the greatest in more than a generation.
2004
The color is beginning to evolve toward brick red. Fine, graceful, red-fruit perfume, quite floral, some greener notes but nothing aggressive: just the Cabernet Franc touch often apparent in this vintage. But the texture is agreeably velvety, much more red than green, open and easy to appreciate, and the finish is well balanced and long. Well judged for the vintage. You can start now.
2003
Full deep red but cheerfully bright. The nose does not speak of the canicular heat, though it is juicier and less refined than some wines in this line up. A faint suggestion of crushed peaches but it is broadly speaking ripe red fruit. Swells across the palate, no sign of detail yet, perhaps there won't ever be, but this is no unbalanced monster. It should stay fresh for decades yet. The Drouhin team were keen to avoid the mistakes of 1976 so they decided on a short fermentation and little punching down, with early bottling.
2002
Attractive bright mid red. Very fine, balanced bouquet, the first wine where the vineyard rather than the vintage is really starting to speak. Drouhin vinification never imposes. A beautiful burst of fruit leaps out of the glass. Pure, poised, and perfumed, there is also a refreshing acidity. But this wine absolutely speaks of the vineyard. Can start it now but the peak should be 2016 to 2025.
2001
Fullish darker color with reduction on the nose, not as fresh and fine as the 2002. Starting to show signs of joy but it has a slightly matt finish rather than the gloss of 2002. Good length, though. On retasting, the body has filled out, and though it is still unusually dark fruit for Drouhin it is finding friends. This was one of the most popular wines among the tasters in general, though I had a clear preference for 2002.
1999
Rich, medium-full red, still a youthful color. Reduction on the first nose but enough fruit behind to suggest this will blow off quickly. It is full and rich in the mouth with a savory element, giving a very slightly dry feel. I found the wine rather flatter than expected but there was no real evidence of cork taint. Some spicy notes also on display. Perhaps just in an awkward place at the moment.
1996
The color on first pour is evolving, but the nose is magical, definite velvet Musigny. Strawberry notes, too. This is very glorious, fresh and lifted. Not enormously weighty but it is exceptionally persistent. It is getting there. Acidity remains a clear part of the vintage, but in this example it is well integrated. Perhaps the wine could have used a little more concentration.
1995
Full color just starting to evolve. Some attractive red-fruit fragrance, some suggestion of dry tannins. There are some slightly developed notes here and a touch of dry tannin behind. Still in an awkward phase and I don't know where it will go. This is sadly a familiar feeling with this vintage.
1993
Full maturing color, with some age and dry tannins on the nose, but with underlyin fruit, too. This should freshen up. There is some cheerful red fruit here, vying with the tannins, much fresher than the nose suggests. The wine remained controversial, held back by the drying aspect of the nose, but there is significant potential for this to improve as it smooths out with age. I would give the benefit of the doubt.
1990
Fine, bright, vigorous color. The nose is youthful, too, but without detail yet or an overriding sense of Musigny. At least at first, because with time it blossoms forth. This is obviously from a sunshine year but not in a derogatory, overblown, way. I kept sniffing it. By the end it offered a glorious starburst of vibrant youthful fruit, and a seamless structure. 1990 is now justifying the early enthusiasm for the vintage.
1989
Fine, bright, medium-deep color, still youthful. A little touch of cherry menthol to the nose, becoming leafier with time. Perfect to drink no, with a magical, graceful finish, this will hold but is unlikely to develop.
1988
Fine mid-red, with first signs of garnet, but still bright and clear. Vibrant, fresh, red fruit with a tannin or two. Another wine in the 1993 style, but the fruit is a little less distinguished behind. A chalky mineral feeling comes back at the end. Retasted at two o'clock, by when it had opened out considerably, needing food and forbearance. Perhaps a bottle to be shared between two so as to watch its slow development, rather than one to open for a larger table in the expectation of immediate seduction.
1985
The color now is turning toward orange but the fragrance is magical. Pure, long, deep, and perfumed. Absolutely à point, and the texture delivers such a carpet of rich velvet fruit that you can hardly imagine, even behind the exquisite charm of the bouquet. A fabulous example of Musigny that is beautifully ready to drink. This would have been the produce of young vines, too!
1983
Orange-tinted garnet but clear, very good for the vintage. The nose has a seductive fragrance of orange blossom backed by red fruits. A delicious final strawberry and orange mix, attractively sweet, not rough and dry. No hint of hail or rot. Bravo!
1978
The main label was missing, the neck label photocopied, but the capsule and cork were both correct. Faint, pale red, but with a very beautiful perfume. Light but fine, a little touch of green, but much charm. Some mushroom, so this might not be the finest bottle, witnessed also by the dry finish.