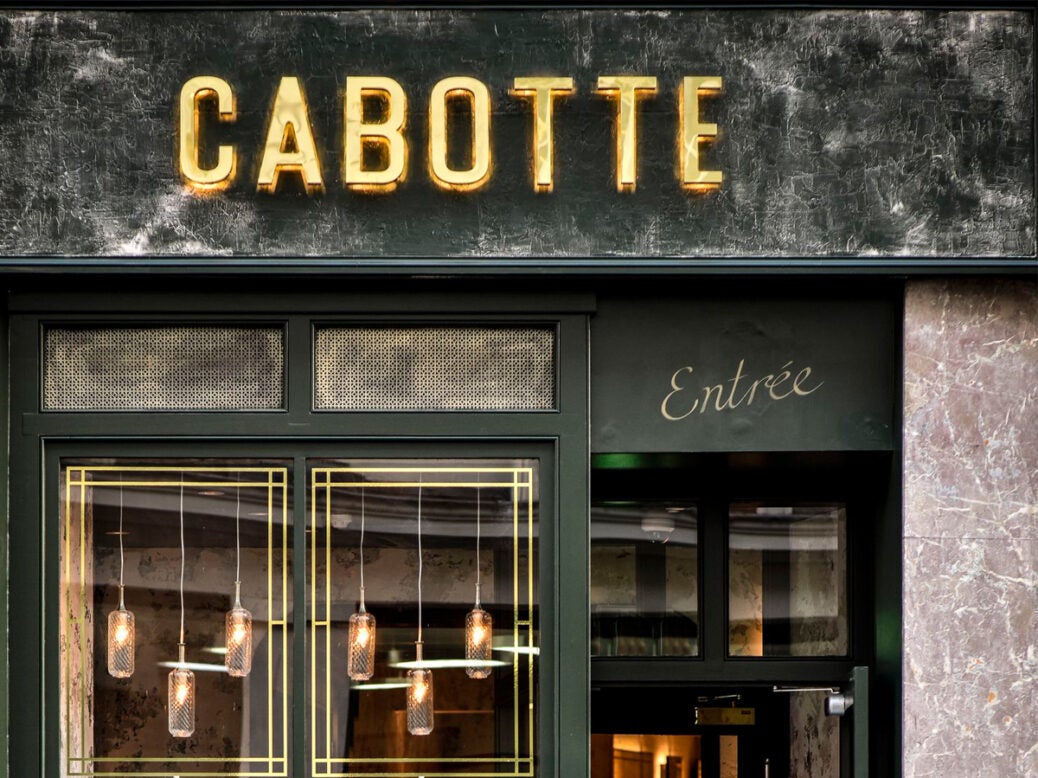 Cabotte is the new endeavor from Master Sommelier duo Xavier Rousset and Gearoid Devaney, which opened mid-September 2016. After just four weeks they were already starting to see regulars in the restaurant, says Xavier, a sure-fire indication of how highly anticipated Cabotte was.
An all-round French wine bar and restaurant based on a shared loved of the Burgundy region, Cabotte calls upon head chef Ed Boarland, a Gordon Ramsay protégé, to weave a fusion of classic and contemporary French dishes, while Xavier and Gearoid curate an extensive wine list focused on Burgundy (500 of the 600 references), France as whole, and elsewhere. They also use the Coravin system, allowing wines to be served by the glass and providing guests with a plethora of options above and beyond the standard by-the-glass references.
The name Cabotte is derived from the French term for a small stone hut in a vineyard, which provides shelter for workers. This is a destination for wine lovers through and through. A varied seating plan allows the establishment to suit an array of occasions, primarily business meetings thanks to its location in the City at 48 Gresham Street, plus it includes two exclusive private dining rooms
The World of Fine Wine interviewed Xavier and Gearoid shortly after the opening of Cabotte. Here's what they had to say.
How did you two first get to know one another?
X: We actually met in Burgundy on a wine trip in 2000 and from there we became friends.
When did the idea of Cabotte first come to mind?
X: It was actually the idea of Jason Haynes [co-founder of specialist wine importer Flint Wines] and Gearoid who started speaking about the idea about a year or so ago and once the idea had been formed, they asked me to come on board. Once I heard the idea I was straight on board!
Does the name Cabotte resonate in particular with either of you?
X: Our original name wasn't actually Cabotte; this name sort of fell into place when we were brainstorming some names one day and I think it was Gearoid who came up with the name! We obviously knew about the meaning of Cabotte, and with the focus on Burgundy, we thought it was the perfect fit!
How did you prepare for the opening of Cabotte?
X: For any restaurant opening, having your staff in place before the opening is key. Even during the last stages of the build and the design stage, we had our general manager, head chef, and sommelier in place so they could help us with the groundwork for the restaurant. Without their help, the opening process would have been much harder and thankfully with their help everything went smoothly!
You've been open a month now, how is it going so far? What would you say the atmosphere is like? Would you change anything?
X: So far so good! The past few weeks have been really great for business and we are starting to see regulars in the restaurant, which is amazing. The restaurant is busy and vibrant with a lot of character and everyone leaves having had a lovely time — the vibes in the restaurant are good and we don't really have anything to change.
How is Cabotte different from your previous endeavors/workplaces (Blandford Comptoir, Texture, 28°-50°)? What makes it unique?
X: I think the main difference between Cabotte and our other separate ventures is the strength of our wine list. For me, even though Blandford Comptoir has an extensive wine list, it doesn't compare to the list we have at Cabotte. With 500–600 wines on the list, this is something that we are exceptionally proud of and it definitely makes us stand out from the crowd. The fact that the food is also based solely on France also makes Cabotte different from a variety of other ventures that we have each been involved in.
Why did you decide to focus on Burgundy?
X: Well, that one is simple really — we both love Burgundy and it is what we drink most of!
With Cabotte encompassing such a high-quality wine team, do you think it might make some people hesitate to visit if they don't feel they have the same depth of wine knowledge?
X: Definitely not! As well as our vast wine list, we also offer short wine list, which doesn't make it daunting. On this wine list there is an incredible selection of wines that are amazing value and our sommeliers are always on hand to talk through the wine offering if anyone has any questions. We recognize that not everyone has an in-depth knowledge of wine, but most people tend to know what they like to drink, and we are there to offer guidance where they need it.
You must be pleased to be able to supply so many great wines by the glass: how has Coravin changed the wine world for you? What does this mean for the wine industry and how will it affect its future?
X: I personally have been a huge fan of the Coravin system since day one and believe it has already massively changed the wine industry and will continue doing so. It's a game changer and has made having fine wines by the glass with no waste so much easier.
You've clearly been able to compile an amazing list for the opening of the restaurant, but presumably many of those wines are available only in very small quantities and will soon disappear: will you be able to replace them and sustain the same kind of high-level interest?
X: Although these wines will indeed disappear, there will always be the next generation available, which will still be of an exceptionally high quality, so although the wine list will continually change it will always keep its strength.
When so much big-name Burgundy is now unaffordable or unobtainable, will you need to look more and more to less recherché producers and villages?
X: The wine list already includes wines from many of the villages and regions in Burgundy, so we already make the most of the area. As huge fans of the area and the wines it produces, we have done a lot of research and our wine list showcases this.
Cabotte is now open, more details here.