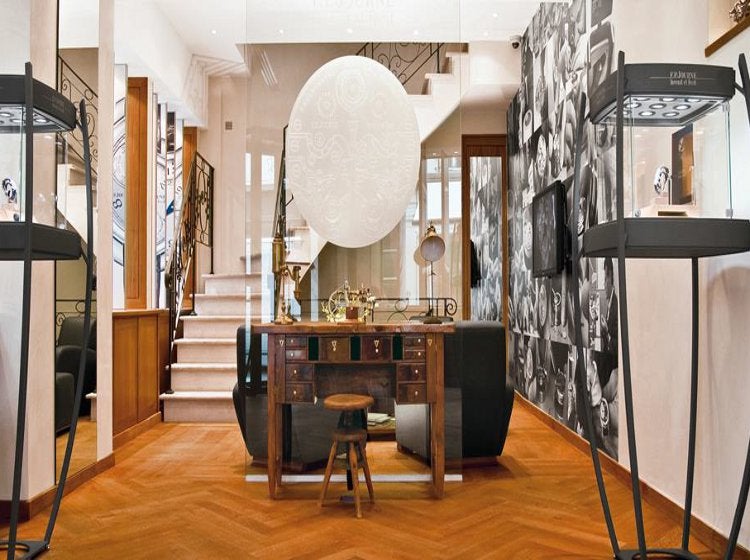 The F.P.Journe Manufacture was created relying on a unique principle: innovate and uphold, if not outrival the high standards of Haute Horology. It makes a point of honour to design and manufacture its mechanical watches one by one and in small series. Constantly seeking perfection, the Manufacture is a world in itself, embodying excellence, know-how and innovation, values that are so prized by enthusiasts of outstanding watches.
30 years of research and innovative watch creations, as well as 13 years of daily tireless work, were necessary for F.P.Journe to place its Haute Horology manufacture as benchmark among the most prestigious watch companies. Every effort was made to verticalise the production and thus offer timepieces with an authentic Manufacture calibre. In a historic building dating back from 1892, a sacred place of creation, the 2,000 sq m Geneva Manufacture is organised on three floors. Each year no more than 900 precision watches are manufactured here, with a team of specialised watchmakers and artisans, proud to work with a creator whose office is also his workbench.
This vision of watchmaking without the slightest compromise associates mechanical innovation and quest for precision while respecting tradition, giving birth to new mechanisms: the Chronomètre à Résonance, the Sonnerie Souveraine, the Tourbillon Souverain with remontoire and dead-beat second or the ultra slim Répétition Souveraine. These timepieces of watchmaking art earned F.P.Journe the world's most prestigious horological awards.
Thus, the F.P.Journe developments are tested one by one in order to check their reliability and are always elaborated through François-Paul Journe's care, with his magnifying glass on, tweezers, screwdriver and file in his hands. These inventions, with the label Invenit et Fecit engraved on the dials and 18K rose Gold movements – hallmark of authenticity and pledge of quality – remind of the importance of a house calibre designed, constructed and assembled solely in the workshops of the Manufacture. As a matter of fact, in the 18th century this inscription used to be engraved on watches manufactured by prestigious French master-watchmakers upon their acceptance by the Royal Academy of Sciences.
F.P.Journe manufactures its timepieces exclusively through an integrated production in so as to guarantee an original creation to its clients. Today, the independent F.P.Journe Manufacture is a paragon of success. With its unmatched technical and watchmaker skills, it demonstrates the pertinence of its creator in his vision of contemporary Haute Horology. The Manufacture is capable of producing inside its walls almost all the components necessary for the making of watches that are entirely assembled in its workshops.
Inside the Manufacture, the modernity of machines and instruments is essential to reach the expected level of perfection, but it is also paramount to maintain craft tradition, since many operations are still done manually, with an infinite precision, tirelessly repeated until flawlessness. This is why the sanctuary of F.P.Journe Manufacture honours artisanal work, and each certified and experienced watchmaker performs all the stages of assembly from A to Z. A unique case in this profession and a long lost privilege in today's industrial watchmaking that is more and more segmented.
In this never-ending quest for perfection, at the crossroads between Arts and Haute Horology, F.P.Journe offers original and timeless timepieces that, enhancing the traditional values, are entirely in tune with their times and meet the intrinsic expectations of collectors and connoisseurs.
Because the exceptional F.P.Journe timepieces of watchmaking art deserve to be brought out to their true dimension, the brand opened a network of Flagship Boutiques in Geneva, Paris, New York, Miami, Boca Raton, Tokyo, Hong Kong, Beijing, Los Angeles and Beirut.
There the visitor may discover the pieces of the "Souveraine" and "Octa" collections in the brand's exclusive universe, as well as special editions that are reserved solely for them: These exclusive timepieces are the expression of what high-end mechanical watchmaking should always be: a permanent quest for perfection.