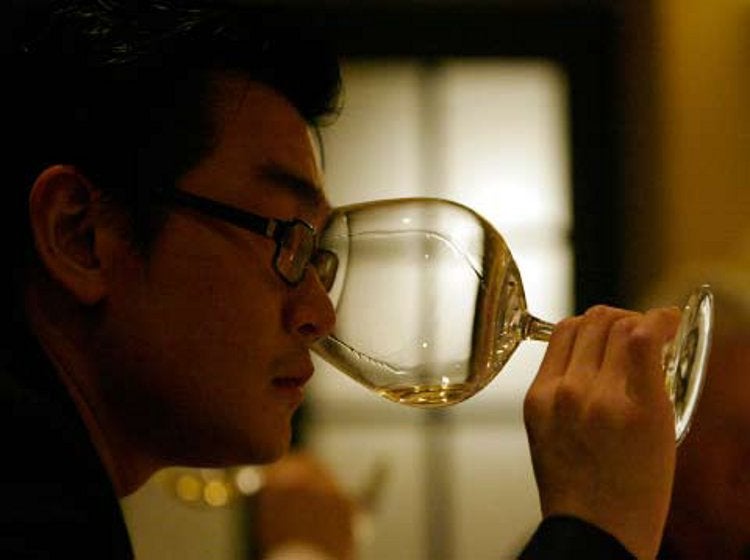 Only 608 bottles of Romanée- Conti were made in 1945. Six decades later, Rudy Kurniawan claimed to own 12 of them. If there is an ultimate trophy in wine collecting-equivalent to Shakespeare's First Folio for book collectors, philately's "Inverted Jenny," or the 1910 Honus Wagner T206 American Tobacco Co baseball card- the 1945 Romanée-Conti is it. In the years leading up to the harvest, the Romanée-Conti vineyard not only suffered the deprivations of the war years but was being steadily eaten away by the phylloxera louse. The tiny production of the 1945 vintage was the last before Domaine de la Romanée- Conti finally ripped out the old prephylloxera vines. Romanée-Conti was the last vineyard in Burgundy to succumb and, indeed, the last vineyard of any renown in France. Consequently, the '45 Romanée-Conti-the année de la victoire, no less-represents one last tether to a golden age of winemaking that some say has still never been equaled and is certainly the centerpiece of the collection of anyone fortunate enough to own one.
But not to Rudy. He liked to open his '45 Romanée-Contis for big crowds after they'd been primed by a parade of other wines-some similarly statured, some not. He supplied two bottles to Acker Merrall & Condit to include in a weekend-long "Top 100 Wines of the Century" tasting, where it was pitted in battle against dozens of other Burgundies, Rhônes, Champagnes, and clarets. Another bottle surfaced at an after-party in Rudy's Las Vegas hotel suite during a Wine Spectator gala weekend. "1996 Dom Pérignon was flowing by the case," reported Acker Merrall president and Rudy's friend John Kapon, and Rudy had already opened up a '78 Romanée- Conti and a magnum of '62 La Tâche alongside some old first-growth clarets when the '45 made its appearance. Kapon called it "a nuclear bomb for the evening, destroying every wine in the room once it was open and changing my personal history of wine forever," which makes it especially unfortunate what happened next: Kapon left his glass of '45 Romanée-Conti balanced precariously on a toilet tank while he relieved himself, and it went crashing to the floor. Kapon wrote that he passed out and woke up the next morning, "sleeping next to Rudy on his bed […] still hammered and feeling noticeably drunk." But he did manage to be present for at least six more uncorkings of '45 Romanée- Conti. "It is nice when two of your best friends have virtually all the bottles of this wine left in existence!" he enthused.
Fall from grace
On March 5, 2012, the US Federal Bureau of Investigation secured a warrant for Rudy Kurniawan's arrest. The complaint accused Kurniawan of engaging in a scheme to sell counterfeit wines from Domaine de la Romanée-Conti and other elite producers. The complaint also set forth numerous fraud charges arising out of alleged schemes to obtain millions of dollars in bank loans using his wine collection (and a rather less enviable art collection) as collateral: Kurniawan never disclosed that the collateral had been pledged to multiple lenders, nor that some portion of the collateral consisted of worthless counterfeits. After taking Kurniawan into custody, the FBI executed a search warrant on his home. Agents found a drawer full of thousands of counterfeit labels for elite wines such as DRC, Pétrus, and châteaux Lafite, Latour, and Lafleur. They also found what they described as "scores of bottles in the preparatory stages of being converted into counterfeit bottles"-bottles soaking in the kitchen sink, bottles with counterfeit labels pasted on but some of the original labels not yet removed, and bottles of cheap California wines with notes jotted on them indicating which high-end Bordeaux labels would eventually be attached. He also had plenty of genuine bottles to work with. Beginning in 2004, the FBI alleges, the sommelier of a New York restaurant where Kurniawan held extravagant dinners started shipping him empty bottles. Defendants in US criminal proceedings are, of course, deemed innocent until proven guilty.
Still, if Rudy plans on mounting a defense, it had better be a good one. When it comes to falls from grace, Rudy's path from Las Vegas hotel-suite bashes to the Brooklyn Metropolitan Detention Center is certainly one of the more dramatic ones. Few on the wine-auction circuit in the first decade of the 2000s lived as high a life as Rudy; none did it more conspicuously. Back in 2004, he posted about a succession of tastings in New York on the winediscussion forum on eRobertParker.
com under the headline, "Last weekend where I tried to kill John Kapon with legendary wines!!" It kicked off with a tasting of 14 white Burgundies, followed by an after-party featuring a dozen reds, and then, Rudy wrote, "I called CRU and Robert Bohr gladly welcomed us even though they are closed for the night […]. Upon arrival I ordered 42 and 43 La Tache to start" (sic). There followed a list of dozens of other wines consumed over four days and various return visits to Cru, and if you can think of any legendary wine made in the last century, it was likely represented there: 1947 Cheval Blanc, 1945 Mouton Rothschild, 1961 Jaboulet Hermitage La Chapelle, 1971 La Tâche and Romanée-Conti.
On December 1, 2006, the Los Angeles Times took note of the swathe Rudy was cutting through the auction scene and ran a profile on the rich Asian kid in designer apparel estimated to be spending $1 million a month on highend wines. Rudy was 29 years old at the time. In retrospect, perhaps some of the information in the article was less than credible, given that its principal source was Rudy himself. The Los Angeles Times accepted at face value his claim that he "would rather the world didn't know much about him," despite his participation in the page-one puff piece. The Times also indulged a few boasts about the size of his collection (50,000 bottles), his tasting experience, and his storied generosity, reporting that he'd tasted more 19th-century wines than all but "a handful of people in the world" and allowing Rudy to lace the record with some noblesse oblige: "People who know me and come to see my cellar know that they can drink whatever they want."
But one thing the LA Times unquestionably got right was the influence of Kurniawan's buying on the wine market as a whole. The fact is-and this is still true today, but it was especially true in Rudy's heyday- it does not take all that much wealth, relatively speaking, to become a major player in the wine-auction scene. On May 2 of this year, an art collector paid $119.9 million for a single work at a Sotheby's auction in New York, Edward Munch's The Scream; that sum would have been more than enough to win every single lot sold at Sotheby's wine auctions all year long. (In 2011, Sotheby's reported $85.5 million in global wine sales-its second-highest total in its history.) For a long time, blue-chip auction houses offered wine auctions more as a favor to their well-heeled clients than as a serious source of revenue, and the sales were, more often than not, estate sales. The wines went on the block because the owner was six feet under, not because there was any point cashing in. That era had already largely passed by the time Rudy came along, but one still cannot overlook the fact that the unprecedented boom in high-end wine prices of the mid-2000s coincided precisely with Rudy's buying spree. The LA Times piece reported that Burgundy critic Allen Meadows "believes that Kurniawan's heavy buying has been a significant factor" in the boom. "The market has changed radically," Meadows said. "I used to go out and buy old Burgundy whenever I wanted to. It was cheaper than the new stuff. Now, older wines are selling for 20 times what I used to pay only a couple of years ago."
Auction-goers used to see Kurniawan hold his paddle aloft and not put it down until every other bidder had dropped out, as if issuing a dare to anyone who might think he could be outspent. So, it behooved him to cultivate a reputation for bottomless pockets. Whether or not that was part of a con game, Kurniawan certainly wasn't poor. The FBI is confident that Kurniawan has access to significant financial resources, citing transfers to Kurniawan in 2010 and 2011 totaling $1.5 million from one of his brothers' bank accounts in Hong Kong. But still Kurniawan wasn't taking in enough to finance what he was spending. He sought loans: Some were from banks; others were from friends and fellow collectors; and millions of dollars' worth was from Acker Merrall, the same auction house where he turned around and spent it.
A 2009 civil lawsuit against Kurniawan by billionaire collector William Koch revealed, on the basis of court records, that Kurniawan had borrowed $7.4 million from Acker Merrall through the end of 2007. By November 2008, Kurniawan admitted owing $10.4 million to Acker Merrall and some of its customers, consisting of unpaid loans, as well as outstanding invoices for auction purchases. Acker Merrall took Kurniawan to court to collect, resolving itself in an agreement for Acker Merrall to take a lien on Kurniawan's wine and art collection as security for the debt. Kurniawan had to promise not to sell any wine without Acker Merrall's consent. The FBI says Kurniawan used the same collateral to secure a $3-million loan from Emigrant Savings Bank and a $1-million debt to an unnamed wine collector, never mentioning the multiple encumbrances. Apparently, Rudy had made his fellow collectors confident enough in his creditworthiness that he could, with a straight face, dash off an email asking, "can u send a mil?" "I can do $850k this week," was the response, according to the FBI complaint-which described the borrowing campaign as a "desperate push for cash." As long as Rudy was spending the money on wine-feeding those 22 percent commissions to the auction house and driving up the value on paper of everyone else's collection-his creditors seemed happy to keep the wheels turning.
Early suspicions
Some now claim to have held suspicions early on that Rudy was not what he claimed to be. But the authenticity question did not register on the public consciousness until April 25, 2008. Acker Merrall was holding an auction highlighting the collection of Robert Rosania, a friend of Kurniawan's. Lots 364 to 434 of the auction were contributed by Kurniawan. "We got to talking about Rob's upcoming sale," Kapon wrote in the catalog, "and it took me about a month thereafter of begging and pleading (ie, can I please have some Roumier, Rousseau, and Ponsot PLEASE! Please please please please), but finally [Rudy] acquiesced.
Praise the Lord!" If Kurniawan's outstanding debt to the auction house factored in the decision, Kapon did not mention it. The crown jewel of the sale was another of those bottles of 1945 Romanée-Conti, estimated at $26,000-35,000. Kapon included two of his own tasting notes on the wine, including that glass in the Vegas hotel suite (but leaving out of the story the toilet accident and his unceremonious passing-out). Kurniawan also included 97 bottles from Domaine Ponsot.
Before the sale, Kapon organized a dinner in Los Angeles with Rosania and Kurniawan to showcase some of the wines. Kapon invited some VIP customers, and Burghound's Allen Meadows was there, too. The dinner featured Champagnes back to the 1940s and Burgundies back to 1919. Among the featured reds was a bottle of Domaine Ponsot 1959 Clos St Denis Vieilles Vignes. Kapon noted that it "had nice spice and stayed fresh" and rated it 95 points in a set of notes on the dinner he published in his newsletter and also posted on eRobertParker.com. Allen Meadows joined the thread "to thank sincerely John, Rob, and Rudy for making possible a historically important comparison that I will never forget": a 1923 Liger-Belair La Tâche paired with a 1919 Domaine de la Romanée-Conti Les Gaudichots, a rare example of the two component parts of modern-day La Tâche bottled separately from one another.
Meadows did not comment on the '59 Ponsot at that time. But he later reported being suspicious of the wine because the oldest Clos St Denis he'd previously tasted from Domaine Ponsot was the 1985. "So," Meadows related in a September 2009 eRobertParker.com post, "I called a friend [later revealed as collector Douglas Barzelay], who, like me, is interested in very old Burgundies and asked what his oldest vintage of this wine might be. Like me, it was the 1985. Thus, we decided to write M Ponsot to inquire what […] the earliest vintage of his CSD might be and found that it was the 1982." In other words, that 1959 Ponsot Clos St Denis that Kurniawan served in Los Angeles was a wine that didn't exist.
Meadows and Barzelay did write to Domaine Ponsot's proprietor, Laurent Ponsot, to alert him to the bottles on offer in the Acker Merrall sale. Ponsot spotted numerous problems. Six lots of Clos St Denis, ranging from 1945 to 1971, and four bottles of 1929 Clos de la Roche were from vintages the domaine never made. A case of 1962 Clos de la Roche indicated it had been selected by the French chain Nicolas, but Ponsot never sold any wine to Nicolas; in addition, they were sealed with wax, when the domaine used only foil. Finally, the neck-label motif on many of the bottles was wrong. Ponsot concluded that 84 of the 97 Ponsot bottles in the auction were fake. He contacted Kapon and demanded the wines be withdrawn from the sale. To make sure it happened, he got on a plane to New York to attend the sale in person, where he reportedly sat quietly and unrecognized. Kapon announced from the podium that the Ponsot lots were withdrawn. He did not say why.
Wine Spectator ran a story on the incident and called Kurniawan for comment. Kurniawan pledged that he would be "working directly with Laurent […] to get to the bottom of this." But Laurent Ponsot says Kurniawan gave him the runaround. He met with Kurniawan on multiple occasions to ask his source for the wine. Kurniawan repeatedly refused but eventually gave Ponsot a piece of paper on which was written the name Pak Hendra and two Indonesian phone numbers. The name, Ponsot later learned, amounted to the Indonesian-language equivalent of Mr Smith, while the phone numbers turned out to be for an Indonesian regional airline and a Jakarta shopping mall. Ponsot persisted in his effort to elicit information from Kurniawan, but Kurniawan did not return his calls.
Tarnished reputation
That affair tarnished Kurniawan's reputation and seemed to have made it harder for him to auction wine under his own name-so he found others to consign his wines for him. On February 4, 2012, California attorney and wine collector Don Cornwell posted a warning on the Wine Berserkers discussion forum that Spectrum Wine Auctions and Vanquish Wine Ltd of London were planning an auction of wines consigned by a known agent of Kurniawan's. By this point, the identity of the centerpiece lot should come as no surprise: another bottle of 1945 Romanée-Conti, this time with an estimate of £25,000 (US$40,000).
Cornwell compared the label of the '45 Romanée-Conti in the Spectrum auction with another bottle of known provenance and found some discrepancies in the typefaces and in the clarity of the printing. Not every inconsistency in labeling points to a fake, of course, but with only 608 bottles, there cannot have been many opportunities for variations in this instance. Other lots sported more blatant errors: The import strip label on a magnum of 1978 Romanée-Conti misspelled UK agent Percy Fox & Co's street address as "Sackvilee Street"; a Jéroboam of 1971 Romanée-Conti bore the same serial number as not one but two previous Jéroboams of 1971 Romanée-Conti sold in Kurniawan's Acker Merrall auctions. Then, based on tips from multiple sources claiming that Kurniawan's agent had been a major consignor to Spectrum as far back as 2009, Cornwell looked back at the DRC lots offered in previous Spectrum auctions and found further problems, including more Sackville Street misspellings and misspellings of the name of London shipper Allyn & Scott. Most alarmingly, lots 625 and 626 of Spectrum's spring 2010 auction purported to be bottles of 1959 Romanée-Conti bearing the serial numbers 03962 and 03963; two months later, lot 545 in the summer 2010 auction included two bottles of 1959 Romanée-Conti bearing the same serial numbers. But the spring-auction bottles had pink wax capsules, and the summerauction bottles had foil capsules.
Domaine de la Romanée-Conti took the unusual step of asking Spectrum and Vanquish to withdraw the questionable lots from its February auction, and its US and UK agents acknowledged the concerns prompted by Cornwell. Spectrum and Vanquish withdrew more than 24 lots, but others went to hammer. The 1945 Romanée- Conti met its £25,000 estimate. If anyone was more incensed than Cornwell by the sale, it was Kapon- who still held, or at least thought he held, a first-priority lien on Kurniawan's wine collection and that seven- or eight-figure debt that Kurniawan had never paid off. According to the FBI, the day of the Spectrum/Vanquish sale, Kapon sent Kurniawan an email stating, "I NEED TO HEAR FROM YOU ASAP.
Industry blogs are swarming with reports that you have enlisted [the Consignor] to consign your wines to [the London Auction] in an auction that is scheduled for TODAY. You know you can't do this, Rudy, without our written consent." (The bracketed phrases are the FBI's.) Kurniawan denied the wines were his and also promised to repay $1.5 million "soon," though the complaint doesn't state whether he ever did. "[A]ll I am getting from you is more vague promises," Kapon had complained earlier.
The damage done
Kurniawan relied heavily on the auction sales to settle his debts, and this created an unfortunate incentive structure. The people best positioned to have cause to doubt the authenticity of Kurniawan's goods came to have a strong interest in seeing them sold. For example, the FBI alleges that in 2007, Kurniawan privately sold $2.2 million worth of wine to a California collector.
When the collector hosted a dinner party to showcase some of the wines, the professionals he'd brought in to handle the service advised him they were counterfeits. Then, when the collector tried to consign some wines to auction, the house rejected the bottles that had come from Kurniawan. The collector demanded Kurniawan refund his money. Instead, they reached an agreement in which Kurniawan pledged the collector a first-priority lien on $2.5 million in wine he planned to sell at Christie's in the fall of 2009.
That was the same interest he'd already pledged to Acker Merrall a year prior. Somehow, Acker Merrall learned of the deal, and Acker Merrall and the collector ended up splitting the proceeds of the Christie's sale.
Consignments to Spectrum's spring 2012 auction in Hong Kong included a 1985 DRC Richebourg with Percy Fox & Co's name spelled "Percx" and a 1980 Romanée-Conti on which it was spelled "Percy Foy"-both spotted by Cornwell. In a statement, Spectrum denied that any of the wines in the auction had been consigned by Kurniawan or his "nominee." From the standpoint of potential buyers, however, it scarcely matters anymore. The floodgates of the stream of commerce are wide open.
Whether consigned by Kurniawan, an agent, or an unknowing victim ten transactions removed from the source, the bottles are out there, and we'll likely never know quite how many or where they will appear for sale or consumption. They will not all be betrayed by stupid mistakes on the labels, and some may come packaged in genuine bottles-relics, perhaps, of one of Kurniawan's after-hours blowouts at Cru. For a generation hence, the feeble scent of a California Pinot Noir wafting out of a Domaine de la Romanée-Conti bottle will serve as a taunting proclamation that Rudy got there first.
Laurent Ponsot is convinced the story is bigger than Rudy Kurniawan. "Rudy has been advised by someone with extensive knowledge of Burgundy," he told Wine Spectator. For now, Rudy remains in custody, having given no indication whether he will cooperate in shedding light on who is an accomplice, who is a victim, and who might be a little bit of each.