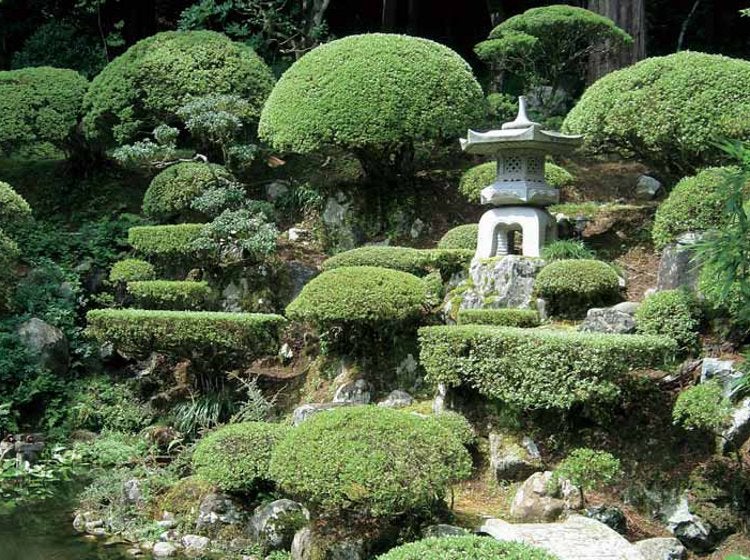 Consider the following tasting note. Appearance: Clear and bright; pale lemon-yellow with flecks of gold and green; pale thin rim, deeper at the core.
Nose: Clean, pure; subtle but aromatic; youthful, soft, and floral, with hints of apricot and pear. Palate: Drier than the nose would suggest, light-bodied, but not shy; quite full but not cloying, decent acidity; same fruits as nose; medium finish. Good with smoked salmon, pear trifle, or fruit crumble with custard.
Viognier lovers could be forgiven for thinking that this describes a young and promising Condrieu. But they'd be on the wrong track, for this mystery wine has never been to France, much less seen a grape. It's a sake-Japanese rice wine-called Rashiku (the brand) ginjo (one of the higher quality levels), which retails in the UK at £31 for a 720ml bottle. It's made by Yamatogawa, a 215-year-old kura (brewery) in Fukusmima that uses rice grown under organic conditions, specially cultivated yeasts, and pure local mountain spring water in the brewing process.
Organic soil, an ideal spot, fresh spring water, and little else beside what Mother Nature provides… If this seems familiar, it's because this is the Japanese equivalent of terroir, and it's taken as seriously by toji-Japanese sake brewmasters-as it is by Burgundy's gold-coasters.
Sake evangelists
Rashiku is one of the labels that Isaké, a newish London-based company founded by three young sake evangelists, is using to open the minds of UK and European wine lovers to the wonders of this complex and interesting drink.
"We really believe premium sake can be compared favorably with fine wine," said Jean-Louis Naveilhan who, with Xavier Chapelou and Kumiko Ohta, launched Isaké in 2004. "In many instances, it's even more interesting: more than 400 flavor compounds have been identified (wine has about 200), and more than 90 distinct aromas." Strong words from a Frenchman, and a sommelier no less.
But who could give a better introduction to sake than a couple of French wine experts and an enthusiastic Japanese woman who grew up among sake rice fields? Before starting Isaké, Ohta managed sake sales for the wine department at London retailer Selfridges. It was there that she met Chapelou, a veteran of restaurant Louis XV in Monaco and Enoteca Pinchiorri in Florence, and Naveilhan, who had been sommelier at L'Ousteau de Baumanière (Les-Baux-de-Provence, France) and Le Gavroche (London).
The three were convinced that, if it could be presented, served, and treated as fine wine in the best and trendiest restaurants and retailers in the UK and Europe, premium Japanese sake would gain the reputation it merits-one that it already has in Japan and, to some extent, in the United States. The Isaké team found that they first had to clear up many misconceptions. Contrary to popular perception, for example, Japanese sake is not a spirit. At 12-16% ABV, it is on an alcoholic par with wine. And it appears to be at least as healthy: because it contains no sulfites, sake causes fewer adverse reactions. As with wine, many claim never to get hung over, no matter how much they drink-and further, that it's an aphrodisiac; do try this at home.
As well as educating chefs, sommeliers, and staff on matters of storage and serving temperature (premium and super-premium sake should be served chilled, never warm), Isaké determined that one of the best ways to make restaurateurs and diners alike more comfortable with sake was to serve it in a wine glass. Naveilhan said it surprises and delights sake skeptics, particularly those who are knowledgeable about wine. For, while the small ceramic and wooden cups that may be familiar are quite picturesque, they are not practical, and they don't enhance sake's qualities.
"People find sake served in a glass far less intimidating, more familiar, and easier to evaluate," said Naveilhan. Isaké (and many others) advocate serving sake in a stemmed wine glass, and Riedel has developed a sake-specific glass called daiginjo (in both stemmed and stemless format), which, like the company's other drink-specific glasses, allows this grade of sake to express its best qualities.
It also helps that restaurants in the UK that seem to be garnering the most attention at the moment are either modern Japanese-Roka, Zuma, Sumosan, Umu-or "pan-Asian," like Mju. But not all of them are: Club Gascon and its various outposts are southwestern French, and The Fat Duck is, well, none of the above. Interestingly, even at these Japanese restaurants, none of the chefs (except Ichiro Kubota at Umu) is Japanese. And, apart from Zuma's Sayaka Watanabe, none of the sommeliers is, either.
The grain and the grape
Another way Isaké has set out to raise the drink's profile has been to develop extensive flavor profiles of specific sake styles and their relationship to wine varietals, as well as the foods and dishes they complement. While tasters may or may not agree with all the comparing and pairing, the charts provide a talking point, a way to introduce the concept that someone with a taste for Chardonnay with their poached John Dory might like a buttery Izumi Junmai, while those inclined to reach for a Sauternes or another sweet wine with blue cheese might try Akari Nigori Honjozo, a sweet but not cloying version of the so-called cloudy sake (in which some sediment has been left).
"When trying to find a wine that goes with certain foods (or vice versa), you look for a match that allows the best of the wine to come out-or at least one that doesn't clash. There are two ways to do this: seek flavors that are similar to those in the dish, or flavors that contrast sufficiently," said Naveilhan. "In most cases, it's the food that poses the challenge, not the wine. In pairing food with sake, the trick is always to enhance the food's flavor, rather than the other way around."
Indeed, lovers of dairy products may do well to give up trying to match cheese with wine-particularly red-and switch to sake, which contains far more amino acids than wine, giving it a more natural affinity for savory foods (like cheese) that can be described as umami (used here as an adjective). With its links to glutamic acid, umami is a hard-to-describe flavor characteristic roughly translatable as "deliciousness" and often referred to as the "fifth taste," along with salty, sour, bitter, and sweet. Sake is known to boost this quality.
Because Asian-particularly Japanese-cuisine typically contains such ingredients as soy sauce, bean paste, seaweed, and shiitake and enoki mushrooms, which are all highly umami, sake is a good bet. "I have a very simple philosophy on this," said California-based chef and author Eric Gower. "Japanese food tends to go very badly, egregiously badly, with most red wines; tolerably well with some whites; reasonably well with bubbly; and extremely well with sake." He explains that umami-rich key ingredients such as soy render virtually all red, and most white, wines downright unpleasant. "Our brains simply can't handle this crossing of taste sensations."
More recently, culinary research has revealed a high umami factor in Western cuisine as well. Cured meats, particularly pork, in the form of sausages; cheeses like Emmental and Parmesan; tomatoes, particularly in sauce and ketchup form; and, indeed truffles are just a few of the foods that have been found to be highly umami.
"We don't imply that sake is going to be the perfect match for every Western dish that features some umami attribute," said Naveilhan. "But there are many foods that go far better with sake than with red wine, in particular. It's just that in Europe, we've grown up with red wine and we've trained our palates to accept certain combinations. Some of these may be great, but we want to show you that sake, too, can be a revelation." In fact, the harmony created by just the right pairing has a phrase: aisho ga ii roughly translates to "the interplay between this food and this sake is excellent."
Nic Watt, head chef of Roka, an upmarket Japanese robata (charcoal grill) restaurant in London, corroborates. "Sake is at least as versatile as wine, for both cooking and serving, and it goes with many more foods than we have normally thought," said Watt, a New Zealander who developed a taste for sake while working at Kozue and the New York Grill, both in the Park Hyatt Tokyo, and then at Nobu in London.
"We use traditional Japanese techniques but add a bit more flavor; Japanese food, which is quite subtle and delicate, is sometimes perceived by Western palates as bland," said Watt. "Sake complements dishes with all kinds of flavors and textures, much as wine can do. But even though there are numerous styles and flavors of sake, somehow it seems simpler and more straightforward to pair them with food-certainly more so than wine. You easily can drink one or two kinds of sake throughout the meal, whereas you might find it necessary to have a different glass of wine with every one or two courses." Sake is served in many more bottle sizes than wine-typically 200ml and 300ml for those who want just a soupçon, up to 720ml and 1.8 liters for those who know what they want. "Of course, if you wanted to have a different type with each course, you'd have a great time trying them all."
Although sake is not as acidic as wine, it does a good job with lightly battered foods; balances the richness of lobster or fatty fish such as tuna; copes brilliantly with oysters; and even stands up to sharper spices, including coriander, ginger, and mild chili, and some curries. This versatility was amply demonstrated by Mju's Taste of Asia menu, developed by chef Tom Thomsen who, with the help of sommelier Nicolas Bertrand, paired a different sake with dishes loosely adapted from the cuisines of India, Singapore, Vietnam, and so on.
The drink of the gods
Sake probably originated in China around 4,800 BC, and it is often evoked in Japan's native religion, Shinto, wherein the god Matsuo-sama plays the role of Bacchus. Higher-quality sakes are made from rare varieties of rice, the grains of which have been polished to reveal as much of its "white heart" (shinpaku) as possible, plus water, yeast, and an enzyme called koji. Sometimes a bit of brewer's alcohol is added-no bad thing when used in moderation-and that's it. As with many natural products, the fewer the ingredients on the label, the better the sake.
So, with so much going for it, why does it seem that sake is perpetually "on the brink" of breaking through? After all, Robert Parker had a special "sumo taster" issue nearly eight years ago. One reason is that until recently, those outside Japan only ever got to taste the worst-tasting, unwanted, sake equivalent of plonk. Grif Frost-now retired from Oregon-based SakéOne, which he founded and which is still the only American-owned sake brewer in the United States-is among the experts who also feel that there have been many missed opportunities for savvy sake marketing.
Others believe that for too many years the emphasis was on the differences between rice wine and grape wine-the better to promote Japan's national treasure as something exotic and unique. But while companies such as Isaké are finally turning the other way, not everyone thinks this is a good idea. "Comparing sake to wine is both good and not so good," said John Gauntner, a sake expert and long-time resident of Japan. "Up to a certain point, it is wonderfully useful, and it enables legions of lovers of wine to relate. But many, many of the comparisons become irrelevant and divergent [and] initial comparisons soon fade in usefulness." Gauntner says the only thing that has held sake back is education (or rather a lack thereof) and familiarity on the part of consumers. "I do believe that the average person will soon pick up a bottle of sake instead of wine (at least sometimes). It is already happening."
While there are sake breweries all over the world, from Korea to Brazil to the United States, the majority (around 1,700) are in Japan. There is a staggering variety-tens of thousands- of brands and styles, and more each year as brewers develop "artisanal," boutique products using special spring water, yeasts cultivated from flowers and herbs, and so on. There are even sparkling sakes made either "artificially," from the addition of CO2, or by allowing a little sugar to remain in the liquid so that it undergoes a second fermentation in the bottle.
One of the most exciting developments is the willingness to allow sake to age-a very new and untested concept. "Sake brewers are taking their cue from winemakers and exploring the effects of aging on sake," explained Sayaka Watanabe, sake sommelier (the only officially qualified one in London) at Zuma restaurant. "They either age it bottled and frozen, or unbottled and at room temperature, to see what happens over time." Like John Gauntner, Watanabe believes that sake's time is at hand. "The day you pick up a pizza and a bottle of sake to go with it is not far off."