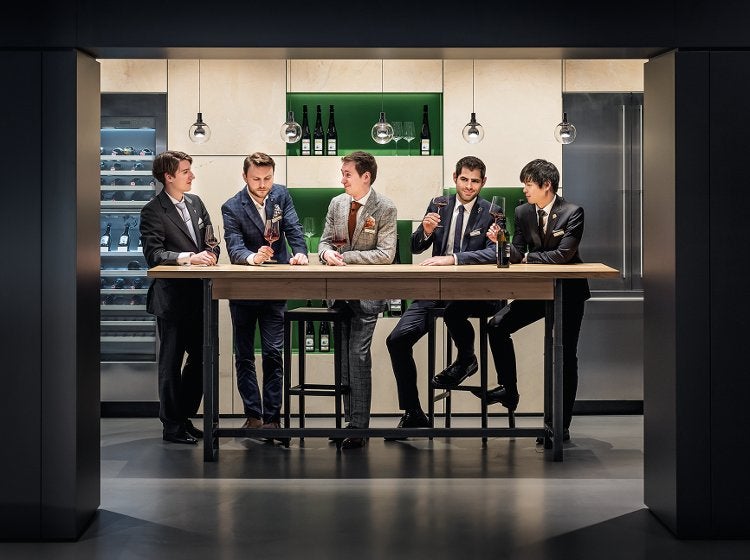 Tansy Zhao, from China, the sommelier at the Mandarin Oriental Hotel in Shanghai, came a close second to Mr Almert, and Polish Norbert Dudzinski, sommelier at Copenhagen's three-Michelin star Geranium, came third. Each was presented with a replica of a large metal nail, a humorous nod to Gaggenau's technological heritage. Runners-up were UK national Ben Robinson, sommelier at Raymond Blanc's restaurant Belmond Le Manoir aux Quat'Saisons, and Aristotelis Sklavenitis, from Greece, head sommelier and general manager of the Oinoscent cellar and wine bar in Athens. All the finalists were positive about the chance to expand their knowledge and stretch their skills. "One of the best things is meeting people from all over the world," said Almert. "Today I said 'good morning' in five languages!"

The blind tasting featured wines the likes of which have probably never appeared in a sommelier competition, or indeed any other major wine-qualification exam: a 1985 Château Mouton-Rothschild, a 2012 Hyde Chardonnay from Napa Valley, and the cult Fattoria dei Dolfi Imeneus, which can retail for as much as £650 per bottle. Proprietor Giovanni Dolfi was present at the Gaggenau awards, and, as part of the prize, will host Mr Almert at his Tuscan winery, near Pisa, for a weekend of viticultural training.

Gaggenau, founded in 1683, is a manufacturer of home appliances including wine refrigerators and ovens for passionate cooks. The competition, which takes place every other year, seeks to identify and nurture younger sommeliers from around the world. The company has a presence in more than 50 countries, and plans to hold each contest in a different global showroom.