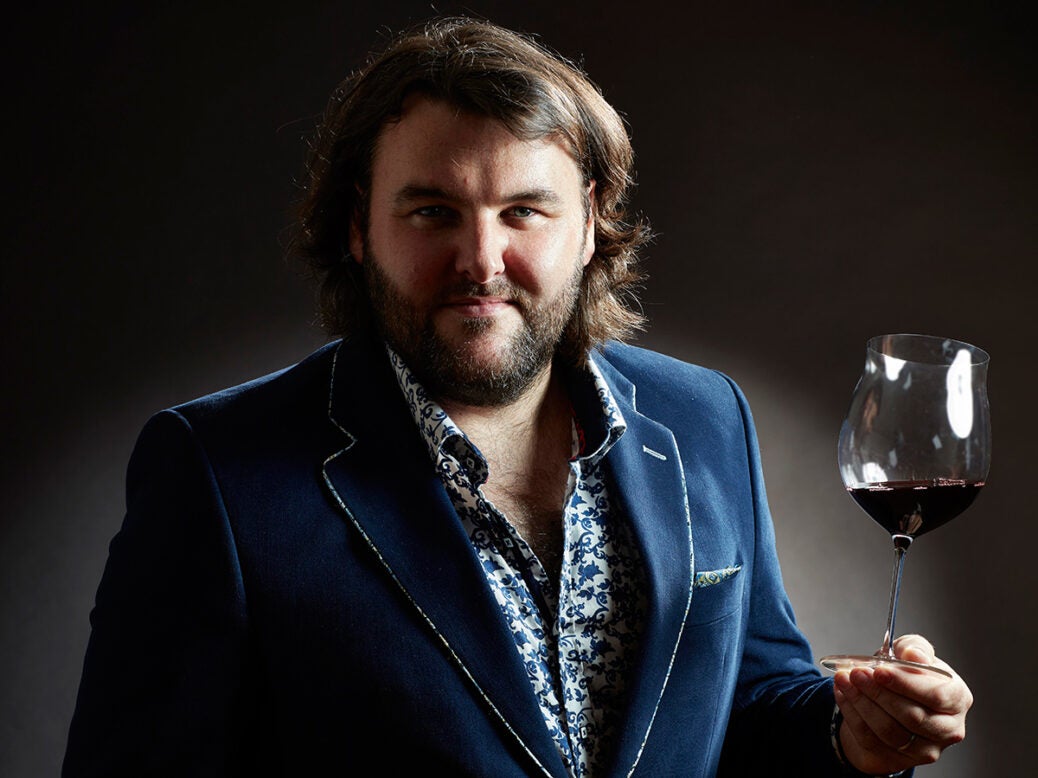 Twelve years ago Adam Pledger opened Park House restaurant, bringing an exceptional depth of wine knowledge and fine wine to Cardiff. Since then, Park House has established itself as an award-winning restaurant channeling and fusing high-quality Welsh cuisine alongside a World of Fine Wine three-star wine list. Katherine Houston talks Australian wines, the 2003 Rugby World Cup, wine pairings, and much more with Adam, owner, wine buyer and wine director at Park House, who has been fundamental to its success.
What is your favorite part of being a sommelier?
I'm the owner here as well as the wine buyer and wine director – more of a part-time sommelier! I would say the best thing about being a sommelier is discovering new wines, getting them on the list, and then introducing them to customers.
Actually it's also helping me rediscover wines and share them with our guests – one of the big things and one of my favorite wines or favorite styles of wine is Australian Chardonnay. Some of the examples of Australian Chardonnay are some of the best in the world now, and they are extremely good wines. Obviously, in the UK some people who are amateur wine enthusiasts, or in the trade, now appreciate how strong Australia is in the premium sector and how amazing some of the Chardonnays coming out of Australia really are. But I'm not sure the general public has quite cottoned on to that fact to the same extent as the trade, which makes it very interesting when you introduce them back into some Australian Chardonnay and they've got the overhang of, heavy, oaky, wines that didn't really have any balance and didn't go with food. When you re-introduce that into their life or meal, it's really enjoyable to see the surprise on their face. That is, they didn't realize it was so good. So that's one of the fun things.
Our biggest section in our wine list is Australia, so it was just kind of a natural thing – Australia was the first place I was taken in my fledgling wine career, I was taken there for a month by a supplier.
Where did you go?
It's more where I didn't go really. We traversed the country about ten times – we went to every area and almost all of the famous wineries – so it was a real eye-opener. That is probably my favorite part of being a sommelier. Some of the stuff from the Yarra Valley is just out of this world. Price wise it might be expensive premium price, but when you put it up against the French, they tend to add a naught. I think Australia really has a grip on quality and price.
Are there any particular wine regions or countries that have inspired you most or most recently? How did they inspire you?
Yes, it was my Australia and New Zealand trip all those years ago that inspired me the most and really got me inspired into wine. I'm a huge Australian Chardonnay and Shiraz fan, and Riesling – those three. So I'm pretty much in the Chardonnay, Shiraz, and Riesling bracket. But more recently I actually went to the Bordeaux En Primeur 2015 campaign and I was gobsmacked how French Bordeaux has come on in the last few years. It's a particularly good vintage, but it was very surprising seeing some of the winemakers and feeling the buzz; that was quite inspiring actually.
When did you go to Australia and New Zealand?
I can remember very clearly because Charlie Melton still owes me a magnum for a bet he lost! The bet was that I bet the English rugby team would finish higher in the 2003 Rugby World Cup than the Australian rugby team. So it was the year before – it was late 2002. And he lost that bet, and then he came over and did a wine dinner just before the 2005 Ashes series and in the middle of the restaurant in front of about 40 people he said "double or quits?" England hadn't won the Ashes for ages, Australia used to thrash us, and then obviously England won that Ashes – and he still hasn't paid up for it. So 2002 is the answer!
How do you create a three-star wine list? What goes into making a three-star wine list?
I didn't really start out trying to create a three-star wine list; it's more of a reflection of your passion for certain areas – that's why Australia is so big, why Champagne is so extensive. Then as it progresses you realize there are other wines that people want to drink! So you kind of start fleshing out the list, and I suppose because we've been running for 12 years now, the wine list has been evolving over 12 years – you discover new wines as well as having your favorites like Australian Chardonnay and Shiraz and so on. So naturally those areas get fairly large, and over 12 years you definitely have little pet projects that you expand on. One of the main things about having a three-star wine list is you have to have a large cellar. Our cellar has moved several times over the years into its current massive room; and the larger the room you have, the more racks you put in that you tend to fill. So I think that's part of it; it's really about following your passion.
What are your wines of choice during summer?
My wine of choice at the moment would be the Stargazer Chardonnay from Tasmania 2014 and Taittinger Nocturne Champagne. My other current favorite is The Contours Riesling 2007 from Pewsey Vale, Eden Valley.
Which restaurants or wine bars do you visit when you are looking for a good list in your restaurant's home city?
You don't know Cardiff, do you? Well, in the UK I'd go to London. I quite like Roka, Restaurant Gordon Ramsay, The Savoy Grill – the head sommelier there, Antonino, is a friend of mine and he's got some amazing wines – and Sager and Wilde. I like to go to different places; I don't tend to follow one of them in particular. There are so many different places in London, you just want to try as much as possible and see what everyone's doing. 28-50 is always very good. To be honest I like going to places that have good by-the-glass selections.
Are there young sommeliers who you believe will go on to achieve great things?
I'm not sure I can answer that one really. I don't really know enough young sommeliers, because down here we're probably the only place that has sommeliers, and we're the only kind of wine place, we're very different from other places around.
Very recently I've taken on a trainee sommelier called Thomas Claxton, who is only 20 years old. He has a very good palate, is in the middle of doing all his WSET exams, and is off to Portugal to do his court of Master Sommelier initial sommelier qualifications – he's obsessed with all things wine and I think he's going to have a very good future.
What inspiration do you take from The World of Fine Wine magazine?
Because you're a worldwide magazine, it's incredibly inspiring being in the same category as people like Eleven Madison Park; some of the restaurants on there and some of the wine lists are iconic. It kind of makes you re-focus a bit.
What do the wine awards mean to you? How has this affected you and your establishment?
Well, it's exceptionally good when you want to recruit people who are interested in wine – being one of the top 300 wine lists in the world is an immense achievement. It's obviously brought a lot of recognition and a lot of very pleased customers who have always said we were among the top. We get told all the time we've got one of the best wine lists anybody's ever seen, and it's quite nice for that to be reflected. It's all quite good because The World of Fine Wine is also quite a trade thing as well, a lot of trade people look at it and it's quite good to be recognized by your peers. We've had a lot of very good PR on the back of it; I'd say they're an incredibly important part of our business now. It's certainly the best award we've had so far.
From your social media accounts, it looks like you do a lot of tastings?
We have a lot of winemakers who come over because we're well known outside of London now. Wine dinners: we recently had Johann Henschke down, Chester Osborn down, those two in the last couple of weeks. We do about 20 wine dinners and lunches a year. We do ad hoc ones as well, just for customers and things, but it's around the winemaker dinners that we do most on Twitter.
What wines do you like to pair with turkey?
There are two actually; I'd go for the 2013 La Rocca Soave by Pieropan – that would be pretty amazing. And then… the 2014 Stargazer Chardonnay, what more do you want?
What wines do you like to pair with beef?
Again there'd be two wines there. The first, I would say, is 2011 Unanime from La Mascota in Mendoza, Argentina, and that's a Cabernet Franc / Cabernet Sauvignon / Malbec blend. The other one is obviously an Aussie Shiraz, I'd probably go for something like Patchwork 2013 Shiraz from Yalumba, Barossa Valley – something big and juicy.
Who do you think the best sommelier in the world is? And who do you think is the best in the UK?
Xavier Rousset – I just love the restaurants he has been involved with or set up. The wine lists are always accessible and interesting.
Who is the most influential sommelier ever?
Fred Dame – just because he was the reason the court of master sommeliers went to America. There it exploded as a real career choice and a 'cool' respected profession. And as with most things that gain recognition in America, it then spread across the world.
What is your go-to celebratory Champagne or sparkling wine?
Comtes de Champagne Blanc de Blancs 2005 from Taittinger. It's one of my favorites, we do it by the glass and it's just extraordinary.
What is the best bottle of wine you've ever tasted?
The best bottle of wine I've ever tasted… it's a tough one – can I have two? One red, one white?
White: Kistler 2005 Kistler Vineyard Chardonnay, Sonoma, California
Red: Henschke 1996 Hill of Grace, Eden Valley, Australia
Champagne: Krug 1989 Clos du Mesnil
What is the rarest wine you've ever tasted?
There's a story here. In 2002, on that wine trip [to Australia and New Zealand], we went to Brokenwood in Hunter Valley, where Iain Riggs is the owner and winemaker, and he's an amazing collector of old, historic, Australian wines. At the end of the tasting he brought out numerous old Australian wines, and there was one there that was made by Max Schubert, the inventor of Grange, when he was studying or very young, and it was actually bottled under screwcap. I'm pretty sure it was a Chardonnay, and it was fairly amazing, a piece of history. So I'd say that's the rarest, because you can't buy it and I doubt you could find it again.