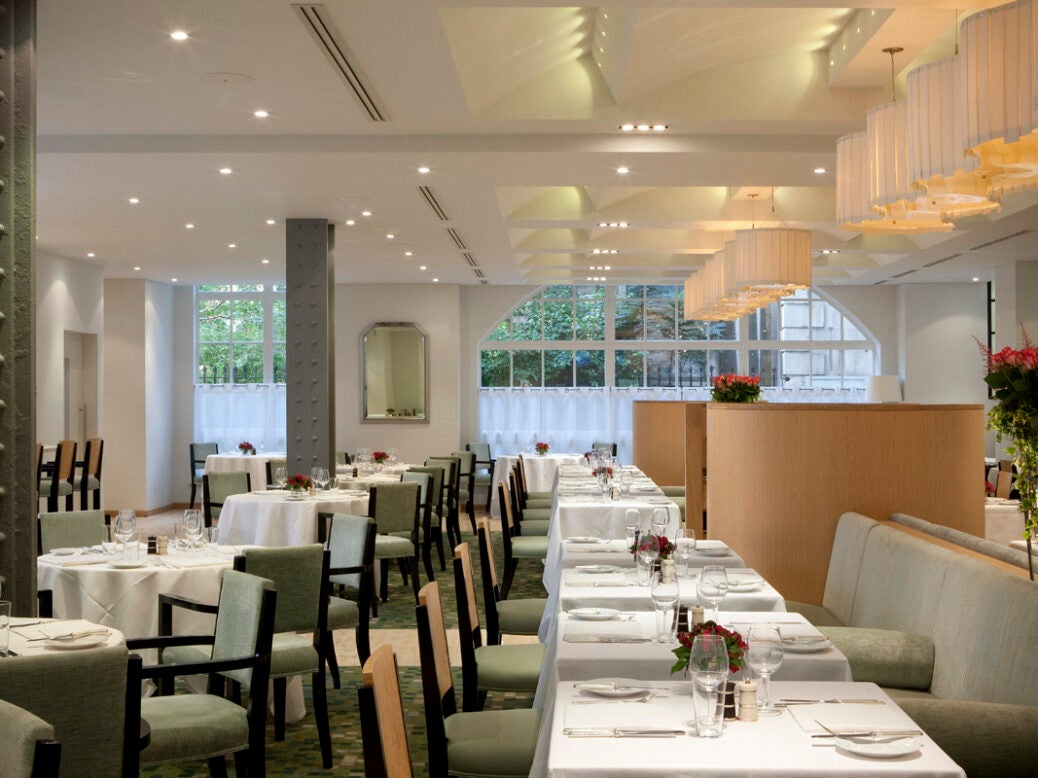 "So much complexity, so much finesse and elegance. It was outstanding for everything: top marks," muses Master Sommelier Yves Desmaris on the best wine he tasted: Jean-Louis Chave 1990 Hermitage. Desmaris is the head sommelier at Lutyens restaurant situated on Fleet Street. He opens up about his wine career, what regions continue to provide inspiration and much more in a recent interview.
What is your favorite part of being a sommelier?
There are some amazing wines around the world from small producers to large, it could be anywhere from Europe or the New World, small boutique wineries or artisan wine, where good people are making wine. So being able to make relationships with these people around the world is one [favorite] part. Another favorite is to recommend wine to customers and seeing that they are happy and satisfied.
The other part is that it's a good job – you get to meet very good people around the world that share our passion with what we're doing, and we're sharing knowledge all the time.
Are there any particular wine regions or countries that have inspired you most or most recently? How did they inspire you?
Apart from the classic wine regions around the world, Burgundy and Bordeaux, I would say I do like German white, also some wines from Tuscany, Piedmont, as well as French wines from Languedoc-Roussillon, Southwest France and Alsace. They inspire me because they have very good terroir, they have very good climates, they are also comprehensive in terms of vintages. So more or less you have a good vintage from every year.
However my absolute favorite part of the world and where I come from is the Rhône region: the North and the South.
In the New World, Margaret River Western Australia, Yarra Valley Victoria, Barossa Valley South Australia, Martinborough New Zealand, Napa Valley and Sonoma Valley California, are among my favorite areas.
How do you create a three star wine list? What should be included?
By finding good wine around the world and listing those that you're happy with. Including wines from different developing and new regions that are coming up. For example, parts of new world countries, south of Chile and northern Argentina are producing some interesting wines. There's very interesting wine coming out of there. And Uruguay, there's a lot going on there. Essentially it's finding the right bottles for the wine list that can reflect wine from around the world.
There are always new wines and new things to discover, which is good as it's never just one project, it's always good to have an open mind as a sommelier and to have this flexibility.
Which restaurants or wine bars do you visit when you are looking for a good list in London?
For a good wine list I would go to Terroirs in London, located near Charing Cross.
Are there young sommeliers who you believe will go on to achieve great things?
I'm just trying to think of some of my younger mates. Hugo Ponsar, he's an assistant sommelier at The Boundary. He worked with me for one year and now he's at The Boundary.
What inspiration do you take from The World of Fine Wine magazine?
It's a good magazine! There's lots of information on fine wine and what's happening around the world. They are very precise in what they're doing, they are an upper hand wine magazine – I would say even a three star magazine.
What do the World's Best Wine Lists awards mean to you? How has this affected you and your establishment?
We're very happy! It's quite an achievement and it means a lot. We've done well over the years to receive this award and it's a good achievement for us and the restaurant. We try to be one of the top wine destinations. We have a lot of customers that come here for the wine list and often we think they want the classics but actually they are open to suggestions as well.
What wines would you say pair the best with turkey?
It'd have to be a light-bodied red wine, with soft tannins. So I would go for a Burgundy Pinot Noir, probably from the Côte de Beaune; Chorey-les Beaune or Savigny-lès-Beaune.
What wines would you say pair the best with beef?
Pomerol, Saint-Émilion or other classic Bordeaux. Barolo, Ribera Del Duero,and Napa Cabernet Sauvignon.
Yves Desmaris MS
Who do you think the best sommelier in the world is? And who do you think is the best in the UK?
Wow that's a difficult one. Globally, Gerard Basset; he's a decent guy. I haven't worked with him but I've known him for a long time, he's always doing competitions and he's such a great guy.
Serge Dubs and Olivier Poussier. Sorry they're all French! But they're all great.
Who is the most influential sommelier of all time?
For the most influential, Gerard Basset because he's got everything; he's achieved a lot in wine and trained many great sommeliers.
Have you spent a lot of time with him over the years?
Not really, but we cross paths all the time and we talk. He's done a lot over the years, Masters of Wine, Master Sommelier; he's one of these guys who does everything.
What is your go-to celebratory sparkling wine/Champagne?
There are so many, but I do really love Larmandier-Bernier Premier Cru Blanc de Blancs 'Longitude'Extra Brut. My favourite is also Paul Bara in Bouzy Champagne.
What is the best bottle of wine you've ever tasted?
There are so many! One that really comes out on top is Jean-Louis Chave 1990 Hermitage. It's top! Obviously there are so many good wine bottles I've tasted but this one had everything: it was clearly a particularly good vintage. I think it was a few years ago when I tasted the 1990, it was absolutely spectacular and it still had a long way to go. The wine was good but you could keep it for a long time. At the same time it had so much complexity, so much finesse and elegance. It was outstanding for everything: top marks.
What is the rarest wine you've ever tasted?
This would be a few years ago I tasted the 1982 Salon Champagne. Of course it's difficult to find but the memory of this one tasting a few years ago stands out to me.
What was the occasion?
I have it on the wine list and the '85 too. The customer bought two bottles and wanted to see the difference between the two.