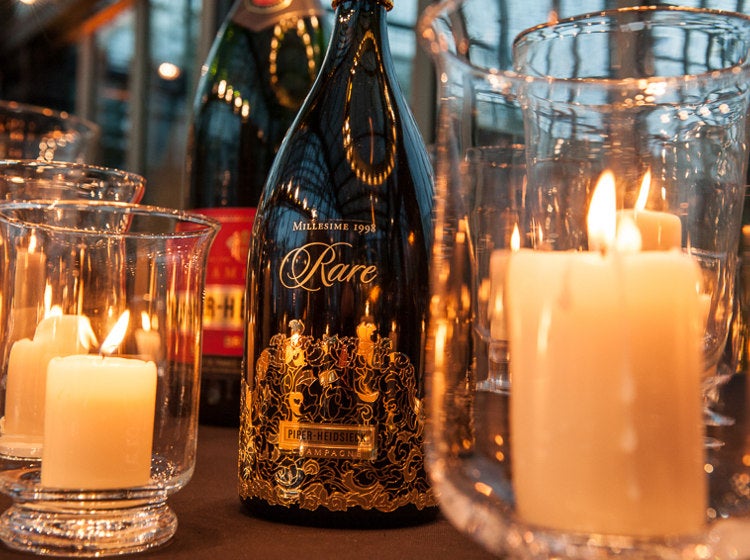 It was a particular pleasure to come to Reims to pay homage to Régis Camus, a friend and mentor for many years in the ways of great Champagne. His own mentor and predecessor, the late much-missed Daniel Thibault, would have been proud of Régis, who has received more winemaking awards than any other chef de caves since he took over from the sick Daniel in 2002.
Opening the dinner, Régis began with a perceptive insight that delighted the audience, who must surely believe that, of all fine wines, Champagne in particular scales the heights when the weather is complex and variable: He told us plainly that Piper Rare is made only in challenging, sometimes difficult, years which test the mettle of Champagne's growers and winemakers. Rare always majors in Chardonnay, usually 70 percent, with just a third Pinot Noir to seal the core flavor and enhance the wine's texture.
Tasting Dinner
Allées des Vignes, Près Reims, Monday, 30 June 2014
In Piper's stylish glass and steel conservatory, a memorable dinner was prepared by Dominique Girardot, the renowned chef of Le Grand Cerf at Montchenot. The accompanying vertical of all Rare vintages, from 2002 to 1976, made for a unique enological and gastronomic moment.
2002 Cuvée Rare
Now 12 years old, just at the start of interesting maturity, this is a big wine of some intensity, with a lot more to reveal over the coming years (to 2026 or so). Rich golden color, reflecting a perfect warm September, any tendency to corpulence checked by fine mineral definition of Chardonnay (from Villers Marmery?). Still a teenager. 17.5
1999 Cuvée Rare
From a challenging year in which acidity dropped with mid-harvest rains. Fine use of crus to guard freshness and the right acids — again, for the predominant Chardonnay, Villers Marmery and Avize? Pale gold with green highlights; aromas of iris and jasmine, then a whiff of licorice, suggesting ripe grand Pinot. Elegant mouthfeel, delicate flavors of emulsified lemon, lifted by subtle spicy notes, verbena, and white pepper. Matched with emulsified asparagus and fresh summer truffles. A class act, now à point. 18.5
1998 Cuvée Rare (magnum)
A resonating green-gold, hinting at what's to come: great richness from a Saharan August and refreshing rain in early September. A challenge to get the balance right, triumphantly achieved in the glass. Subtle scents of sandalwood then, with air, gingerbread, orange blossom, and dried apricot. Opulent, complex, a heavenly texture. Tasted in 2008, I thought it was a fast developer. How wrong I was! It has a great long life to come. 19
1990 Cuvée Rare
Deep gold, sustained cordon of bubbles; a multi-toned nose of resiny pine, beeswax, and candied citrus fruits. Velvety mouth texture, warm and generous for sure. Slightly oxidative flavors on the end palate, but orchard and hedgerow fruits add freshness. Brilliantly matched by Girardot's version of Brillat Savarin's game pâté. 18
1988 Cuvée Rare
Intense, deepening gold of a 26-year-old wine. Ultra-complex aromatics: dried fern and humus, then earth and black truffles balanced by fresh floral notes. The palate is something else, and subtly magnificent: seductive notes of cocoa and mocha, more persistent flavors of dried fruits and hazelnuts, with hints of eucalyptus, then roasted pineapple as the coup de grace! Magnificent, especially with line-caught Roscoff turbot with dates and sweet Cévennes onions. Outstanding. 19.5
1985 Cuvée Rare
Arresting amber/orange-gold color, gentle mousse. As Régis says, the first aromatic impression is of a great wine rather than a great Champagne: incense, bergamot, and orange blossom. Manifold flavors vie for attention: candied fruits wrapped in an aroma-in-the-mouth sensation of heated pierre de fusil (gunflint). Silken textured yet rigorous and durable, from a tiny harvest (frost damage). Great with casserole-roasted Bresse squab, cherries, and anise purée. 18.5
1979 Cuvée Rare
An extraordinary experience, as much emotional as intellectual. Amber hue, delicate mousse. After tasting the wine in 2008 I wrote: "Manifold aromas/flavors that defy description: pressed dried flowers, a touch of violets that melds into monastic smells of wax and incense. The palate is sui generis, marine flavors of saline seaweed and iodine merging with feisty cumin-like spice and the peatiness of malt whisky." There are the same out-of-the-box flavors today. Powerful and rock-solid. A high-acid vintage. 18
1976 Cuvée Rare
The first vintage of Rare, the year of drought. Ochre mingles with orange-gold, mild effervescence. Breakfast-cum-dinner smells: marmalade, aged rum, caramel liqueur, white-fruit eau de vie. Then flavors of grilled almonds, chocolate, and figs, among others. A collector's item but still very much alive. 17.5+