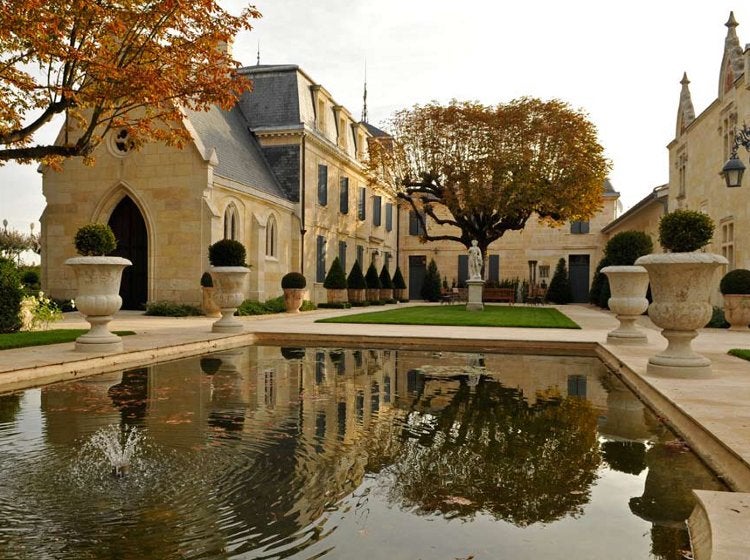 It is often said these days that Bordeaux has become a soulless place, dominated by corporateowned châteaux that seem to view wine as little more than a commodity. There is certainly a lot of truth in that.
But there are exceptions, and two of the most significant are Château Haut- Brion and its neighbor Château La Mission Haut-Brion. In 1935, American banker Clarence Dillon acquired Haut- Brion, and it has remained in the same family ever since. On taking ownership of the first-growth property, Dillon retained the services of Georges Delmas, the château's régisseur, and a Delmas has remained in that role ever since — a role that expanded dramatically in 1983, when the Dillons also acquired La Mission Haut-Brion. Last year marked the 75th anniversary of Clarence Dillon's purchase of Haut-Brion, and to mark the occasion, the château held a number of splashy dinners around the world. In December, famed collector Bipin Desai held another celebration, a three-day tasting in Los Angeles, to mark the Dillon family's milestone.
Prince Robert of Luxembourg, Clarence's great-grandson and the current director of the two châteaux, was on hand for the event, as was Jean- Philippe Delmas, Georges's grandson and the winemaker since 2003, when he succeeded his father, Jean-Bernard.
It was a weekend rich in history and wonderful anecdotes, and rich, too, in remarkable wines from both châteaux. A dinner on the Friday evening, at Valentino in Santa Monica, was devoted to Haut-Brion and featured 17 vintages of the grand vin back to 1961, as well as three vintages of Haut-Brion Blanc and three of the château's second wine, Bahans Haut-Brion. A Saturday lunch was held at the famous Spago in Beverly Hills and devoted to recent vintages of Haut-Brion and La Mission Haut-Brion; we tasted all the wines between 2000 and 2005, along with multiple recent vintages of Haut-Brion Blanc and Laville Haut-Brion, the white wine of La Mission. Saturday's dinner, which convened barely two hours after lunch ended, was again at Valentino, devoted to La Mission.
Eighteen vintages of La Mission, back to 1961, were poured, along with the 1989 and 1982 Laville Haut-Brion and several vintages of La Chapelle de la Mission, the estate's second wine. Desai is renowned for his tastings, and this one was a model of flawless execution, all the more impressive in that the host had arrived home from Europe only the day before.
And the wines? For my taste, Haut-Brion has always been the first among the firsts, and that opinion was reinforced in Los Angeles. The tasting also reaffirmed my opinion — hardly an original one — that La Mission belongs among the firsts as well. And how do the two wines stack up against one another? I think La Mission is slightly more consistent, but Haut- Brion reaches heights in great vintages that La Mission cannot. For me, the wines of the weekend were the '61 and '89 Haut-Brion. I've had the '89 several times, and it never fails to amaze. This was my first experience of the '61, and it was equally, if not more, sublime.
I thought Haut-Brion surpassed La Mission in all of the "great" years that we tasted except 1982, and the '82 Haut-Brion was a slightly off bottle. In 2005, 2000, 1998, 1990, 1989, and 1961, Haut-Brion is the superior wine, with just a bit more depth and majesty. "Superior" is, of course, a relative term: The La Missions from those years are stunningly good as well and unquestionably first-growth quality. Where La Mission gets the better of its neighbor is in the less exalted years. It has a slight flamboyance that Haut-Brion lacks and that allows it to produce seductive wines even in less-than-outstanding years. The fruit seems a touch sweeter, and there is a wonderful exotic spice note that makes even wines like the 1993 and 1994 La Mission enticing. Haut-Brion is a bit more feline in character – a little more distant, reserved, brooding — and that quality is most apparent in years that are merely adequate or good. But these are small distinctions between two of the most consistently ethereal wines on the planet. It was fascinating to compare them over a weekend and a privilege to take part in such an event.
We tasted 68 wines between Friday night and Saturday night. Apart from a few corked bottles, there was not a bad wine in the bunch. However, some wines were obviously superior to others, and I've included notes here only for the wines that I thought were outstanding, of which there were still quite a large number.
2006 Haut-Brion Blanc
Fairly tight on the nose, but some citrus and wax aromas peek through, along with a whiff of oatmeal. Ripe, succulent fruit, with lots of green apple and a touch of spicy oak, too. A lovely, waxy texture and a long, mineraldrenched finish. An excellent wine. 18-19
2005 Haut-Brion Blanc
Grapefruit, petrol, and a hint of grass greet the nose. Fullish and sinewy, with terrific depth, minerality, and length. Flat-out delicious from start to finish. A pleasure to drink now, but years of life ahead of it. 18-19
2003 Haut-Brion Blanc
A controversial wine, with an unctuousness that rubbed some tasters the wrong way. It is unquestionably quite a mouthful, but I liked it anyway. Incredibly decadent, with just enough acidity to keep it from descending into burlesque. Not for the faint of palate, but fun to drink. 18-19
1989 Haut-Brion Blanc
A rich yellow color. A wonderfully distinctive nose, redolent of honey, petrol, orange blossom, and green apple. Rich and mouthfilling, with terrific floral and mineral notes complementing the fruit. A superb wine and a marvelous stablemate to the '89 red. 18-19
2005 Haut-Brion
Baked fruits, exotic spices, scorched earth, and a touch of toasted oak soar from the glass. A rich, full-bodied wine that combines sumptuous fruit with pinpoint balance. This builds and builds across the palate. It's very young, of course, but so remarkably flavorful and suave. A magnificent wine that will be eliciting raves decades from now. 19.5-20
2001 Haut-Brion
Leafy blackcurrant, scorched earth, leather, and incense aromas. A full-bodied, cool, marvelously poised wine, with outstanding freshness, structure, and depth. A classic Haut-Brion from a year that is perhaps still underappreciated. 18-19
2000 Haut-Brion
A knockout perfume of blackcurrant, earth, tobacco, mint, and leather. Sweet, fleshy dark fruit on the palate; more opulent than the 2001 but at no cost to its balance. This is such an elegant, beautifully proportioned, delicious Haut-Brion. Another legend in the making, and it will be fun to watch its evolution alongside the 2005. 19.5-20
1998 Haut-Brion
An enthralling nose of blackcurrant, tobacco, and earth gives way to a full-bodied, rich, but seamlessly woven wine. Such succulent fruit; such incredible balance. Even though it has received high scores, could it be that the '98 is underrated? This is a great wine – and a textbook Haut-Brion in its effortless marriage of power and finesse. 19.5-20
1996 Haut-Brion
Showing some age in its color. A bouquet redolent of blackcurrant, leather, and coffee grinds, along with a lovely floral kick. This is a slightly leaner wine, with pronounced acidity, but it has terrific fruit and radiates good breeding. 18-19
1995 Haut-Brion
Ripe, cool, black-fruit aromas jump from the glass, along with a riveting savory element and some exotic spice, too. Superb depth of flavor, and although the tannins are a little burly, there is no shortage of elegance to this one, either. A long, leathery finish rounds out another impressive effort. 18-19
1990 Haut-Brion
The nose is a bit subdued initially but opens up to reveal a potpourri of red berry, menthol, scorched earth, and smoke. Cool, elegant, and supremely poised, with fleshy dark fruit and that impeccable Haut-Brion harmony and grace. Though the '90 will forever be overshadowed by the '89, it is a brilliant wine in its own right. 19.5-20
1989 Haut-Brion
The modern legend — and it lived up to its exalted reputation on the night. Open, with an almost kinky nose, highlighted by notes of roasted black fruit, leather, game, and exotic spice. Full-bodied and bursting with rich, sweet, dark fruit. Astonishing poise, structure, and length; the tannins are almost buttery. A nice menthol kick on the endless finish rounds out a Bordeaux for the ages. Unforgettable. 19.5-20
1985 Haut-Brion
This has aged beautifully. A powerful nose of blackcurrant, cigar smoke, leather, and earth, along with a suggestion of mint. Wonderfully mature fruit leavened by big but ripe tannins. A classic Haut-Brion; a classic claret. 18-19
1961 Haut-Brion
A gorgeous nose evocative of blackcurrant, menthol, leather, molasses, tobacco, and green pepper. Full-bodied, with sweetish, succulent fruit and a pronounced chocolate note across the palate. The flavors just keep building and expanding – a spellbinding Bordeaux, and a thrill to experience, particularly alongside the '89. Wine simply doesn't get better than this. 19.5-20
2007 Laville Haut-Brion
An alluring bouquet of petrol, lanolin, and citrus. Superb depth of flavor, with a nice, grassy, Sauvignon Blanc note echoing across the palate, along with a gentle spiciness. Excellent acidity, refreshment, and persistence, too. A fabulous vintage for Laville. 18-19
1989 Laville Haut-Brion
Surprisingly light in color, given its age. A wonderfully complex perfume, with scents of honey, chalk, lemon, and petrol. Citrus and white-fruit notes are the dominant elements on the palate, which has a dense, chewy texture. Finishes very long. A very impressive wine. 18-19
2005 La Mission Haut-Brion
Surprisingly accessible given its youth and formidable structure. Baked red dark fruits on the nose, along with some exotic spice and toasty oak. What really stands out here are the purity and silkiness — not a hair out of place on this one. A brilliant wine, surely destined to go down as one of the all-time great La Missions. 19.5-20
2000 La Mission Haut-Brion
Another colossus. Leafy Cabernet, along with eucalyptus, earth, and a pronounced Asiatic spice note on the nose. Sweet, fleshy dark fruit on the palate, with great minerality, perfectly integrated tannins, and an endless finish. As with these two vintages of Haut- Brion, it is going to be a thrill to watch the 2000 La Mission evolve alongside the 2005. 19.5-20
1998 La Mission Haut-Brion
A cool, sinewy wine that dazzles with its rich, succulent fruit (lots of leafy Cabernet here) and amazing composure. This, too, has that same exotic spice note that gives La Mission so much of its seductive charm. Drinking beautifully now but with many miles yet to go. 18-19
1989 La Mission Haut-Brion
Wow, what a sexy beast! A huge, mouthfilling wine, but again, it manages to be supremely elegant at the same time. Rich cassis fruit and big, velvety tannins are the defining attributes on the palate, along with an endless, hauntingly good finish. And here's the really crazy thing: These impressions were formed on the basis of a slightly corked bottle! That's how good this wine is. 19.5-20
1985 La Mission Haut-Brion
Again with that exotic spice note, along with leafy blackcurrant, tobacco, earth, and leather notes. Chunky cassis fruit on the palate, yet it all seems so refined, so effortlessly done. Like the '85 Haut-Brion, this has aged beautifully. 18-19
1982 La Mission Haut-Brion
Notes of cassis, leather, minerals, woodsmoke, and spice pour out of the glass, giving way to a full-bodied, voluptuous wine whose flavors penetrate every corner of the mouth. Here, too, you find that amazing yin-yang effect of great power allied to incredible finesse. A particularly great showing for this wine, and testament to the abiding quality of this celebrated vintage. 19.5-20
1975 La Mission Haut-Brion
The hits keep on coming! A surprisingly youthful color, and this wine retains a remarkable degree of freshness and energy on the nose and palate as well. It has those famous '75 tannins, but the formidable structure is more than balanced by the wonderful blackcurrant and cherry fruit. A classic Graves scorched-earth note and an intriguing nuttiness run across the palate. Elegant, long, sublime. 19.5-20
1961 La Mission Haut-Brion
A telltale La Mission perfume, marked by scorched earth, leather, tobacco, and menthol. Amazing depth, concentration, and vitality to this legendary half-centuryold La Mission, and here, too, you find that seductive exotic spice note. (And they say only Burgundies are aphrodisiacal. Not so!) A long, warm finish rounds out a stunningly good wine. 19.5-20