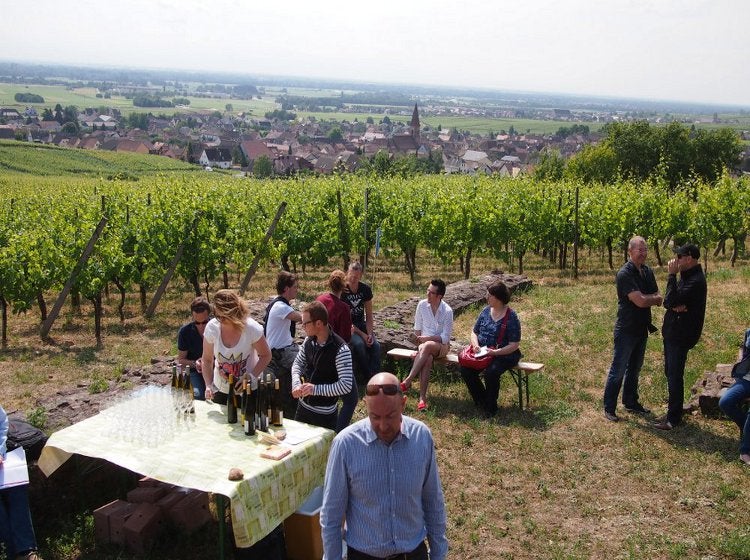 Earlier in the summer, I was part of a group of journalists who spent the morning in the grand cru vineyard of Hengst, in Alsace. We were with a group of 12 producers who were showing wines that had been made from that vineyard, led by Christophe Ehrhart, the vineyard manager of Josmeyer. The problems of tasting outdoors are more than offset by the context you get when you actually taste the wines at origin. This raises the question of terroir — what, exactly, does sense of place mean in the taste of a wine? And when you are trying wines made by different producers, from different grape varieties, is there a terroir signature that persists amid all these other variables?
Hengst is sandwiched between Wintzenheim and Wottlesheim, not far from Colmar. At just over 53ha (131 acres), it's one of the largest grands crus. The vineyard is between 260m and 350m (853-1,148ft) in altitude, and the oldest wines recorded from the site date back to the 8th century, although it's likely that they've been made from here even longer. Hengst has a southeast exposition, and the main grape is Gewurztraminer (45%), with Pinot Gris (30%), Riesling (14%), and Pinot Noir (7%) also important.
There are 80 growers with holdings on Hengst, some of them with tiny plots. 28 wine estates/caves make wine labelled "Hengst." Since 2001 the authorities in Alsace have allowed grands crus to be locally managed, and so since 2003 the growers working Hengst have decided not to allow wines from here to be chaptalized.
"Hengst" translates as stallion, and this is because it's a warm site that can make quite powerful wines, with a potential for development, which in their youth can be rather untamed. So it was nice that of the wines we tried in situ, some were older bottles. The hope would be that winemaking differences would be diminished by time in bottle, allowing the terroir to reveal itself.
So is there a common thread to the wines from Hengst? Does the place reveal itself in the wines? I struggled to find a terroir signature that would help me spot a Hengst wine blind. Perhaps if I were tasting through a range from the same producer, made from the same variety, I'd have a chance of spotting the Hengst, but only through comparison. This doesn't negate terroir, however. It is the quality of the terroir here that makes it possible to make great Riesling, great Gewurztraminer, and great Pinot Gris. Producers interpret this site in different ways, just as the different varieties do.
What of Pinot Noir? The Hengst producers are very keen to create the first Alsace grand cru for Pinot Noir, a variety that they claim does very well in this terroir. Alsace Pinot Noir struggles to get much serious attention, but a lot of it is planted. Way back, before all the upheavals of the 17th century, Pinot Noir used to take up half the vineyard area in the region, with 30,000ha (74,000 acres) planted. Now it occupies 15,000ha (37,000 acres), so there's quite a bit of it around. The proposal is for Pinot Noir grown in Hengst to be allowed grand cru status with a maximum yield permitted of 45 hl/Ha.
We tasted four Pinot Noirs made from this vineyard, the majority of which are currently labelled "H" (the name Hengst isn't allowed anywhere on the label for any of the non-noble Alsace varieties). Stylistically, they were all over the place. One was 15.5% alcohol and cloudy: it was quite tasty, but presumably non-typical. One was more New World in style, with dense fruit and some oak. Another was textured, stylish and quite elegant, and the final example was a nine-year old bottle showing some seductive fruit with a cedar spice edge. There's clearly potential for Alsace Pinot Noir, but it seems premature to be thinking of giving it grand cru status.