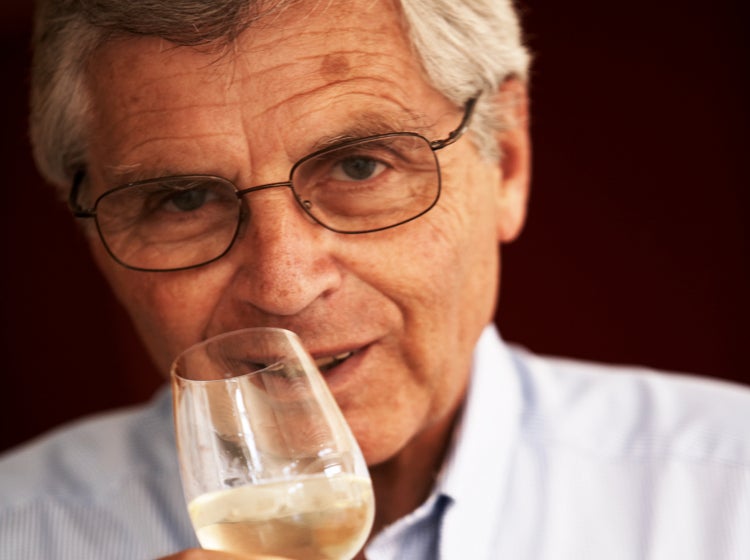 When important men leave us, colleagues and friends line up to pay tribute. But with Henri Krug, who passed away on March 7, 2013, people really meant it; he was a lovable man to those who had the privilege of knowing him. Very soon after Henri's passing, his son Olivier Krug sent a message saying he wanted me to have this heavy news from him rather than from others. I was in Reims and, feeling upset, I walked through the snow to Notre Dame Cathedral for a few minutes of remembrance. Somehow, the somber beauty of that great church comforted me as I began to smile about a life well led.
Born in 1937, as the great-greatgrandson of Joseph Krug, the founder of the iconic Champagne house, Henri had a comfortable bourgeois upbringing in Reims. After school at the old Lycée de Reims (the family wasn't one for private education), he won a business degree in Paris before perfecting his English as a stagier in the English wine trade. Always an Anglophile, there was something British about Henri, from the discreet way he dressed, to a love of his lawn, Stilton, and Vintage Port at Christmas. Yet he was a modest man who enjoyed nothing more than a visit with his wife and family to the unpretentious Alsatian choucroute and seafood brasserie Maitre Kanter on the Place d'Erlon, dressed in his leather jacket.
Make no mistake, though, Henri was a consummate wine man who, with the guidance of his father Paul Krug II, developed a precise talent for tasting and the alchemy of the assemblage. He also took great interest in the working of the vineyards and fostered enduring relationships with the growers. And in 1971, Henri showed a remarkable willingness to think outside the box of the master blender when he negotiated the purchase of the Clos du Mesnil vineyard in the most distinctive grand cru village of the Côte des Blancs. Drinking beautifully now, the 1992 and 1995 are supreme examples of the great white grape, with bubbles. Then from 1977, when he took over as chairman of Krug until his retirement in 2002, Henri struck an admirable balance as a guardian of tradition with an unerring eye for innovation — properly thought through. In this, he was greatly aided by his younger brother Rémi, a natural marketeer, salesman, and communicator. Theirs was a unique relationship; in an attraction of opposites, they were each other's best friend. In 1983, Henri and Rémi introduced Krug Rosé, eventually overcoming their father's misgivings by arranging a blind tasting. Pink Krug was, and remains, a very different animal from long lees-aged Grande Cuvée and the Vintages; it emphasizes fine, witty Pinot fruitiness and is a modern wine in the best sense. Parisian chef Alain Senderens once famously created an entire lunch around it.
Henri Krug was also a visionary. In the early 1990s, he thought a lot about those who would succeed him. He sent Olivier to prospect the new market of Japan, a far-sighted recognition of which people would be the real connoisseurs. The Japanese are now, outside France, the number-one buyers of Krug, with the Italians fast on their heels. Henri also recruited Eric Lebel, as Krug's chef de cave. Such is the respect in which Henri was always held, that when the house passed into the hands of first Remy-Cointreau and then LVMH, there was never any question of changing the precepts by which this ne plus ultra Champagne is made.
What friends will most remember about Henri Krug is his humanity, his gentlemanly consideration of others' feelings, his dislike of pomposity and pretense. Let another tell a delicious anecdote about Henri to raise our spirits, which is what he would have wanted. Vianney Gravereaux — for some years export manager at Philipponnat, now with Salon-Delamotte — was, as a student, in charge of the wine club at the renowned Sciences Po in Paris. The club always hosted a Champagne tasting during the semaine des arts. Henri Krug rang to say he would be pleased to introduce Krug to a younger audience. "On top of how approachable he was," recalls Vianney, "I could not believe that Mr Krug himself was coming to our wine club. He put us all at ease by saying we should speak our minds about the wines, negatively or positively. He then told the story of a great sommelier who boasted that he could smell and taste in one of Krug's wines a special papaya found only in northern India during the rainy season. Henri Krug then cornered him into admitting that, in fact, he had never been to India. He also cautioned us against pretentious descriptors like 'warm hare's belly' — a pompous French classic. And when we returned, still wrapped, the three bottles of Krug left over from the tasting, he said, 'Keep them for your graduation