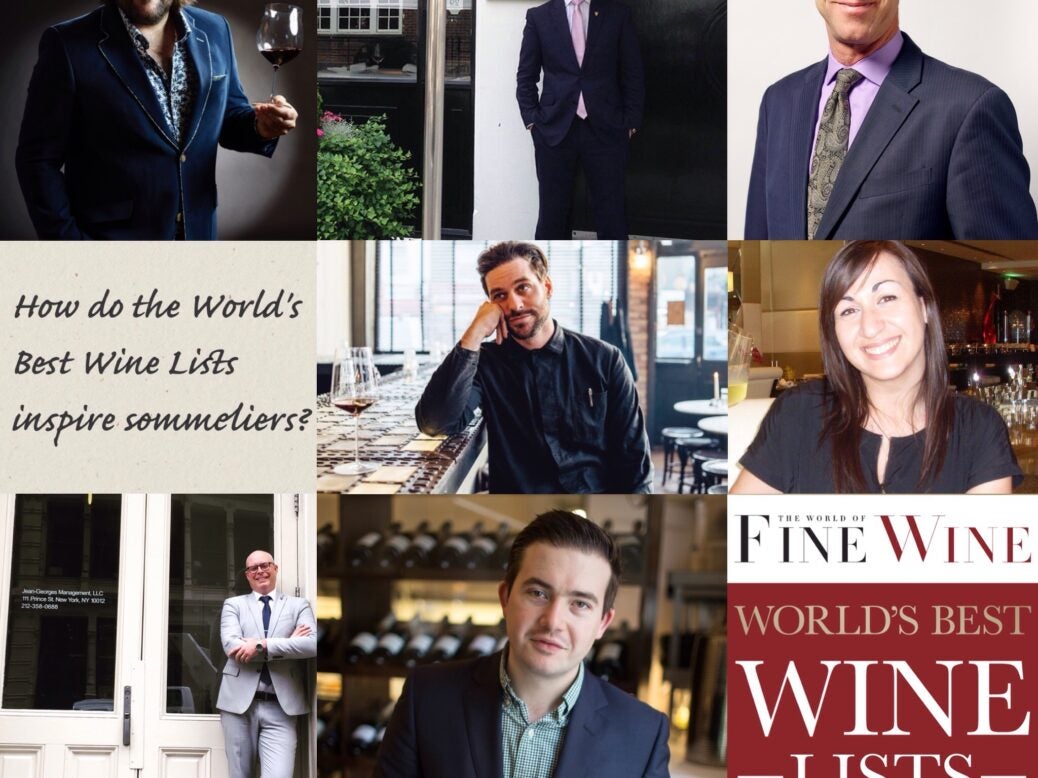 The World of Fine Wine spoke to sommeliers and wine directors from some of the 2016 World's Best Wine Lists award-winning restaurants and wine bars across the globe. We asked how the wine awards have affected each of their establishments, had the capacity to bring in business, not to mention attract wine-minded diners. In their own words, here's what they had to say.
Eric Hastings, beverage director Jean-Georges New York: "Being recognized for building a world-class wine list is very humbling. We set out to be the best restaurant we can be and any recognition is uplifting and greatly appreciated."
Yves Desmaris MS, head sommelier Lutyens London: "It's quite an achievement and it means a lot. We've done well over the year to receive this award and it's a good achievement for us and the restaurant."
Diana Rollan, wine manager and buyer Hakkasan Hanway Place, Hakkasan Mayfair and Sake no Hana London: "The wine awards are confirmation that we are doing things the right way, and that our wine list is still recognized as one of the top lists on an international level."
"They force us to keep developing our skills and to always aim to improve, by developing new ideas and bringing the best into our lists, and maintaining our high standards." – Rollan
Mirko Benzo, Head Sommelier at Hélène Darroze, The Connaught: "It's given us reason to celebrate! The awards are very important to me and the whole sommelier team, we work hard."
Clement Robert MS, head sommelier 28-50 Maddox Street London: "The World [of Fine Wine awards] is definitely growing in reputation – I've seen Gerard putting his name behind the awards so it's certainly growing."
"[Having this award] will bring people that have a strong interest and passion for wine, which is exactly the guest that I would want in our restaurant." – Robert.
"It can only be beneficial. I take great pride to construct and build wine lists so for me it's a personal achievement, which I'm very proud of." – Robert
Adam Pledger Owner, Wine Director and Buyer Park House Cardiff: "Being one of the top 300 wine lists in the world is an immense achievement. It's certainly the best award we've had so far."
Michael Sager Owner and wine director at Sager and Wilde restaurant and wine bar: "What I like is that it transports my list into a globally relevant list."
"It's just as important as the Michelin stars, and all I know is that the Michelin stars have been really important for my mates who have got them." – Sager
"I hope that any wine drinker in the world starts taking this seriously because it would mean a lot for me. It's a really good reflection of who have good wine lists; it's the only one out there." – Sager
James Lloyd, head sommelier at Restaurant Gordon Ramsay: "To me personally, it's extreme pride. There's a lot of hard work that goes into our wine list to reach a three star level of Michelin stars [equivalent], we have to be complete and this is part of it as well."
"To be judged by who I consider to be my peers and who I look up to, and for them to give me a thumbs up and say I'm doing very well, that makes me a very happy man." – Lloyd
Mark Bright, Partner & Wine Director Saison, San Francisco: "I think they are amazing and we are always honored to receive awards, especially those that are elected by our peers of the industry."
Jim Rollston MS Manresa CA: "This kind of recognition always helps people realize that Manresa is more than just a place for innovative cuisine, that you can drink world class wines in addition to taking iPhone photos of the pretty plates…"