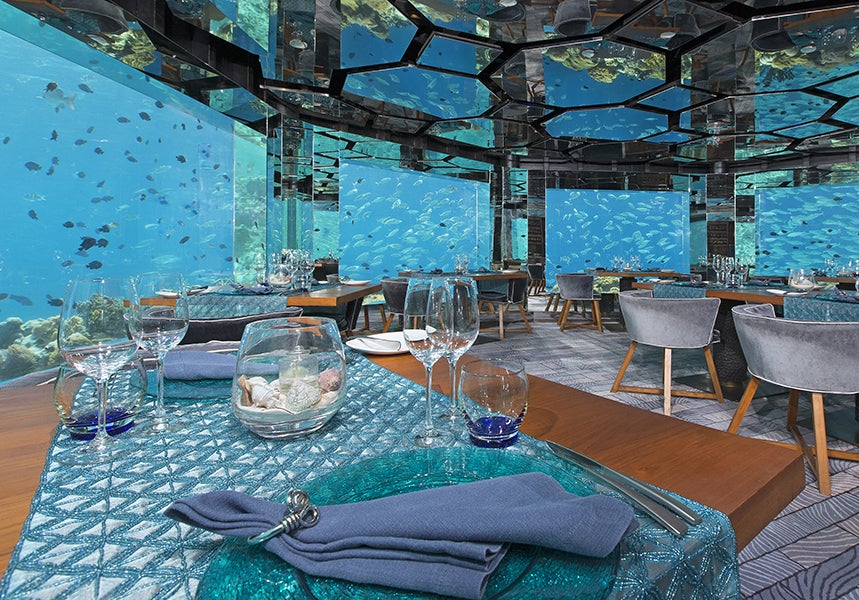 Congratulations on being featured in the World of Fine Wine Awards 2016 and for receiving a three star award for three consecutive years. The awards, chaired by WFW editor Neil Beckett, celebrate the importance of a good wine selection and are evaluated by a panel of senior judges. How does it feel to be recognized by industry insiders in this way?
I feel very proud and also somehow accomplished by achieving such a prestigious and internationally highly recognised award for 3 years consecutively. I'd like to thank the WFW team for the great job that they have all been able to put together and by keeping trend along with the current changes and evolution within the wine industry.
I'd like seize this opportunity to thank the panel of senior judges for taking time analysing thousands of wine lists and having been able to recognise the selection made for SEA UNDERWATER RESTAURANT AND WINE CELLAR at Anantara Kihavah Villas Maldives. Special thanks to my "Wine Guru" team (Khazan, Julius and Devraj) and the F&B team for having been able to maintain consistency along with innovation in the service. Khun June (Jirachai Sethisakko) and Khun Peter created this wine list back in 2011 for the opening of Anantara Kihavah Villas Maldives with 200 labels and I've kept their philosophy for the wine program and added another 160 labels through some old vintage wines (1795) and some of the latest wine producing countries just to enhance it and to bring it to the next level.
Where did your love of fine wine originate from?
I was born and brought up in Mauritius. Wine isn't really part of our culture back there. In 2007 I joined the Sofitel Imperial Resort and Spa as a commis sommelier and that was the turning point of my career. Having the opportunity to work with Bryan who was the sommelier at that time and Rudy the F&B Director, they were both passionate and connoisseur of fine wines. Fortunately being in their team, this helped me become more passionate about wines and spirits. I can still remember my first glass of fine wine that was a glass of Mouton Rothschild 1999. Since then I've developed from an amateur to an oenophile and my love for wines is almost 10 years old.
Was it always your intention to work with fine wine?
Yes indeed. It has always been the intention to work with some rare and fine wines as I have only worked in some most exclusive and ultra-luxury resorts as a sommelier. In those kind of destinations there will always be a demand of the rare and fine wines for some high profile customers and wine lovers.
Nilesh Bootun, Assistant Food & Beverage Director at SEA Underwater Restaurant and Wine Cellar
What makes a good wine list, from your perspective?
There are several important factors to consider while working on a wine list, especially at opening stage. Just to mention a few major factors, these would include: the size of the establishment, location, targeted guests, budget, vision, concept and philosophy. As I'm currently working on a fresh wine list, I'm currently considering and going through all these various factors.
What food and wine trends are you seeing around the world at the moment, particularly the Maldives and Asia?
For the past four years I've been traveling to some of the most popular destinations in Asia. Through this, I've been able to observe various trends related to food and wine. One of the most popular would be the pairing of Asian cuisine with some off dry or semi-sweet wines. In various cases the Riesling has been very successful followed by the Gewurztraminer.
Also, enjoying a glass of white or champagne as an aperitif or pre-dinner drink is coming back as a ritual.
What makes the wine lists at SEA Underwater Restaurant and Wine Cellar special?
The wine list at SEA Underwater Restaurant and Wine Cellar consists of several WOW factors. First of all, the selection is made with 360 labels. I've picked 360 labels as a way of representing 360 degrees that would make a complete round of the wine world. Those 360 labels are coming from 22 different countries. Both Old World and New World gems have been taken into consideration by featuring the top producers in each region of the best wine-producing countries.
Having one of the oldest wines in this part of the world is also very prestigious, especially when it is still drinkable. This is a 1795 Terrantez and 1863 Boal from Madeira. We do also have a selection from each decade of the previous century.
The wine list includes a selection of fine wines under the title of 'The 13 wines that you must try before you die' and also some exclusive wines that have been rated of 100/100 and 20/20 points by renowned wine critics such as Robert Parker, Jancis Robinson, James Suckling, James Halliday, Stephen Tanzer and Jeannie Cho Lee.
Are there any particular wines that you love, or remind you of a certain place or memory?
If I had to name one wine, the others would be jealous! Being a sommelier, I've been trying several great wines with different people at different occasions. If I had to name one special moment right now, that would be a white wine from a freshly opened magnum of a 1985 Montrachet Grand Cru in the underground cellars of Domaine Henri de Villamont in Burgundy. On that day I was also accompanied with a group of sommeliers who are also my friends, which definitely made that moment very special.
What is your fundamental philosophy on fine wine?
It would be too easy to judge and describe a wine knowing what it is or its origin. The best way for me to judge wine would be to give the most accurate and honest feedback on a wine during a blind tasting prior to knowing what's really in the glass.
Having a glass of a good wine that you fell in love with would be for personal satisfaction. But sharing it with others turns this nectar into the elixir of immortality.
What is next for you?
Well, it's been an amazing four years and four months with the Minor Hotel Group at Anantara Kihavah Villas in Maldives. I had the opportunity to learn, work and to meet with some people that I'll never forget for they have all been very special.
I'm currently on my way to my next exciting challenge with Starwood Hotels and Resorts Worldwide for the opening to The St. Regis Maldives Vommuli Resort as a Wine Director where I'm also looking into having a unique wine program. Stay-tuned…
At the time of writing Nilesh Bootun was the Assistant Food and Beverage Director at SEA Underwater Restaurant and Wine Cellar at Anantara Kihavah Villas. Julius Ibanes has now taken over as the Assistant Sommelier.