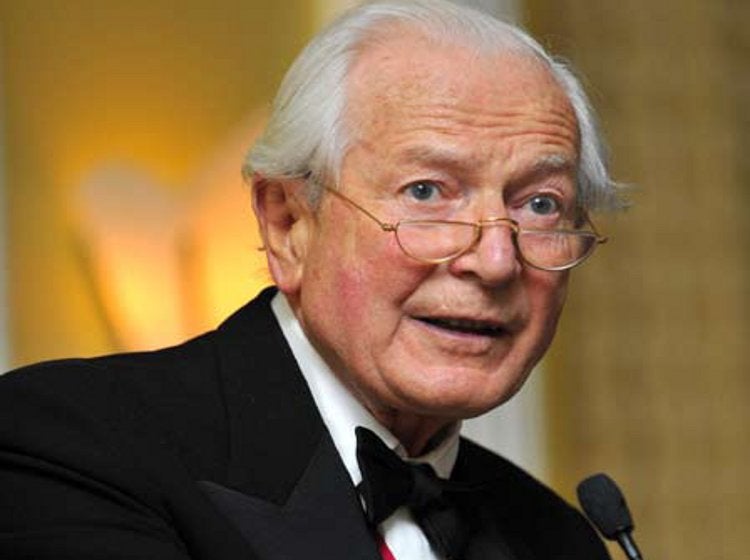 Last year marked the 75th anniversary of the founding by André L Simon CBE of the International Wine & Food Society, the world's oldest gastronomic society, which now has more than 7,500 members in over 140 branches and 40 countries worldwide. The celebrations culminated in a dinner at Claridge's in London on November 14, 2008, 75 years to the day since the organization was set up.
The dinner was attended by 220 members from 41 branches in 13 different countries, as well as by eight guests and sponsors. The wines served before and during the dinner were Pommery Brut Apanage NV; Caledonia Reserve Chardonnay 2003 and Corton André Corton-Charlemagne 2004; Domaine Joseph Drouhin Charmes-Chambertin 2000 and Château Liversan 1989; Dopff au Moulin Gewurztraminer SGN 2002; and Rozès 2000 LBV Port.
There were three tributes to André Simon, who died in 1970 aged 93: from Michael Broadbent MW, a former president of the Society and winner of its Gold Medal; Hugh Johnson OBE, honorary president of the Society, who as editor of Vogue worked closely with Simon; and John Avery MW, a former chairman and incoming president.
Extracts from Michael Broadbent's tribute are reproduced with his kind permission here: "Fellow Members: It was not until I had been invited to deliver the first ALS Memorial Lecture in 1971 that much homework revealed the extent of his work and influence, writing books and pamphlets, initiating and conducting, single-handed, courses to educate, pre-and post-World War 1, and as the successful agent for Pommery, living the good life. In 1933, his career, as you know, came to an abrupt halt, but with typical enthusiasm, imagination, and zeal, with AJA Symons, he founded our Society.
In spring 1934, the Society published A Gastronomic Quarterly, edited by André. In the first issue he recorded the first of his memorable meals. It was at the Hind's Head in Bray (now owned by a renowned local chemist-I mean chef-Heston Blumenthal). When his host, Barry Neame, asked André for his first reaction to the wines, he answered that his first thoughts evoked memories of Berkshire.
The 1926 Chablis reminded him of the grace of the silver willow; a 1919 Montrachet of the stateliness of the Italian poplar; the 1920 Cheval Blanc of the magnificence of the purple beech; an 1870 Lafite of the majesty of the royal oak. Surely that was the quintessence of wine writing.
Or perhaps you prefer: 'A knockout nose of smoke and dried herbs, new saddle leather, flamboyant, a headspinning cascade of fruit and oriental spices.' 'A wine of monstrous size, an opulent, muscular, sexy, fruit bomb, a fullthrottle block buster, monumental yet symmetrical, with awesome gobs of soy and olive notes which lead to a focused, profound finish-yet highly refined.'
Which leads me to my first meeting with André. I was working for Harveys in Manchester at the time (this was in the mid/late 1950s). One Monday morning, unannounced, swept in a rather attractive lady demanding to see my boss. After what seemed like a very long time, she had persuaded him to participate in the foundation of a new branch of the Wine & Food Society. The inaugural dinner of the Mid-Cheshire branch was held at the Grosvenor Hotel in Chester. André was the guest of honor and dazzled all with his wit and charm, until, that is, the chef was called for: I have never in my life heard such castigation. André let fly, criticizing every dish. The poor chef left in tears. My last meeting with André was at the Middlesex Hospital a few days before he died. He was sitting up in bed, a lion's mane of wavy white hair, a cherubic complexion, and while I held his hand, he reminisced, with a photographic memory for events, people, food, and, of course, wine. For a full 80 years he had never an ache or pain. He put it down to drinking a half-bottle of Champagne every morning.
I was encouraged: Perhaps a hefty consumption of wine does not addle the brain. Alas, my Buck's Fizz at breakfast is not enough. I am not André."