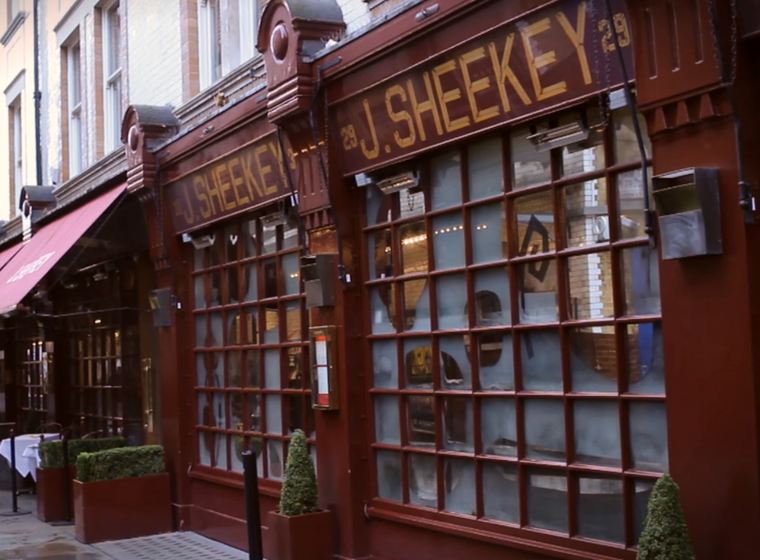 J Sheekey, a London stalwart, has managed to evade the sad fate so many other restaurants have had and hold on to its reputation as one of the finest seafood restaurants in the capital. Growing from a small market eatery to a four-room restaurant with a conjoining Oyster Bar, Sheekey's has a burgeoning set of regulars, who come amongst the tourists, to savour London's best seafood.
Tim Hughes – Chef Director of Caprice Holdings Limited – joined as Head Chef of Sheekey back in 1998 after the refurnishment of the restaurant and bar. And in 2008, under the current ownership of Richard Caring and Caprice Holdings Limited, a stylish oyster bar opened next door. Although proud of all their seafood and fish dishes, oysters are definitely a favourite at Sheekey's. So, with native oysters in season until the end of this month, and rock oysters (which are also served at Sheekey's) from the British Isles and France available all year round, we made our way to J Sheekey to get some insider tips on serving oysters with wine.
NRI sites digital player
Recipes
J Sheekey Oyster Bar ~ oysters "au naturel"
Served on a big platter of crushed ice, these "au naturel" oysters are ideal fare for a light lunch and come with a shallot vinegar, hog wash sauce, half lemons, Tabasco and buttered rye bread.
Hog Wash Sauce
60ml rice wine vinegar
60ml mirin
1 large shallot, peeled & finely chopped
1 large jalapeñopepper, seeded and finely diced
½ bunch coriander, finely chopped
Juice of 1 lime
Mix all the ingredients together and serve with oysters
Shallot Vinegar
300ml good quality red wine vinegar
150g shallots, peeled & finely chopped
J Sheekey Oyster Bar ~ tempura oysters with wasabi dressing
Serves 4
16 rock oysters, shucked and removed from the shells (clean the shells and keep to one side)
Sea salt & freshly ground black pepper
For the wasabi dressing
50 ml light soya sauce
200ml mirin
3cm ginger, peeled & finely chopped
Juice of 2 limes
Bring soya, mirin and ginger to the boil in a small saucepan and simmer for 10 minutes. Remove from the heat, stir in the lime juice and allow to cool on one side.
1 red pepper, roasted, peeled and cut into small pieces
½ cucumber, skin on, seeds removed and cut into small cubes
1 Jalapeno, finely diced
1 medium red chilli, finely diced
2 spring onions, finely chopped
½ small bunch coriander, finely chopped
1tsp wasabi
Once base is completely cool, transfer into a bowl and add all the above ingredients.
For the tempura batter
150ml tempura flour
Iced water
For the batter, slowly add iced water to tempura flour in a large bowl. Whisk continuously, until you get a pouring cream consistency.
Pour 6cm of oil into a medium-sized heavy-bottomed saucepan or a deep fat fryer. Heat to 160°C. If using a saucepan, please be careful as the oil will be very hot. Dip the oysters into the batter. Fry in small batches until golden brown. Remove with tongs and place onto kitchen paper to soak up any excess oil.
Warm the oyster shells under the grill. Place a spoon full of the dressing into each shell. Place the oyster on top and serve.
J Sheekey Oyster Bar ~ Champagne oysters with scrambled egg
Serves 4
12 rock oysters, shucked, juices and shells kept to one side
10g Sevruga caviar (optional)
For the Champagne butter sauce
150ml Champagne or good quality sparkling wine
60g unsalted butter
75ml double cream
For the scrambled eggs
4 medium sized free range eggs, beaten
30g unsalted butter
30ml double cream
Salt and freshly ground white pepper
To make the sauce, bring the Champagne to the boil with the oyster juices. Simmer the oysters in the Champagne for 30 seconds and remove with a slotted spoon. Reduce the Champagne by three quarters. Add double cream and simmer until reduced again by two thirds. Finally, add the butter and stir gently until smooth. Do not let it boil. Keep in a warm place, with the oyster shells.
Next, make the scrambled eggs. Melt the butter in a heavy bottomed pan, add the eggs and cream, and season with salt and freshly ground white pepper. Stir over a low heat until the eggs are just cooked but still on the runny side.
To serve, divide the scrambled eggs between the warmed oyster shells. Heat the oysters in the sauce, being careful not to let it boil or it will separate. Place the oyster on the scrambled egg, coat with a little sauce and finish with a teaspoon of caviar.
[related_companies]