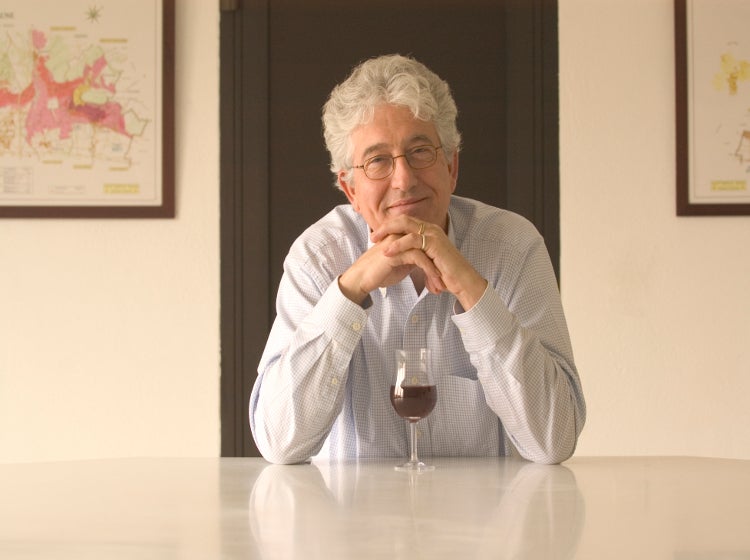 Pierre-Henry Gagey and the team at Maison Louis Jadot organized a splendid double vertical in the Jadot cuverie to celebrate winemaker Jacques Lardière's 40 years of service with the company. The plan was to show a grand cru of each color across nine vintages (served three at a time), including more problematic years in among those of grander reputation. According to Jacques, great vineyards should trump awkward vintages.
At dinner, three pairs of other wines were served, incorporating southern Burgundy alongside the Côte d'Or. A soft and rounded Pouilly-Fuissé, 1969 Le Mont de Pouilly was a plump bedfellow for a 1996 Corton-Charlemagne. The 1985 Château des Jacques Moulin à Vent had predictably developed some Pinot rather than Gamay character but was outshone by a 1989 Corton Pougets that showed plenty of energy, a burst of bright red fruit, and some acidity. No hurry here for this fine interpretation of Corton. The final pairing was of 1979 Clos de la Roche in magnum and an ethereal Romanée-St-Vivant 1952.
Lardière has long been at the heart of Maison Louis Jadot, supporting first André and then Pierre-Henry Gagey. That a man with still so much energy could already have completed four decades at the helm is in itself extraordinary. This double vertical showed that his golden period was in the 1980s (that sublime 1985 Musigny) and early 1990s (astonishing Chevalier- Montrachet Les Demoiselles 1990 and 1992) or that his style of winemaking needs 20 years to deliver its potential. If the latter is the case, we still have many treats in store from Jacques Lardière.
Dawn bathes grand cru Musigny, for many observers the most magical of all Burgundy's vineyards, perfectly situated on the Côte, in early-morning sunshine
Chevalier-Montrachet Les Demoiselles
The subsection of Chevalier-Montrachet known as Les Demoiselles covers 1ha 2a 75ca and is exactly divided between the houses of Louis Jadot and Louis Latour. It is at the northern end of Chevalier, above premier cru Les Caillerets rather than above Le Montrachet itself. The Demoiselles were the 19th-century owners, Mlles Adèle and Julie Voillot.
2009
Pale color with a touch of yellow. Noticeable oak on the first nose, though the fruit wants to bubble through. The heat of the vintage shows a little on the palate, along with the oak, both vanilla and a little toastiness, but it is just a question of waiting for all the components to settle down. By the finish, all the parts come back into balance: opulent fruit, barrel, and a thread of acidity. Unless partnering a very rich dish, this should be kept for a minimum of five years. With aeration oak begins to lose ground to the fruit.
2006
Beginning to take on a pale gold tint, but bright and fresh – as is the nose, belying the reputation of the vintage for ripe and heavy wines. The oak still shows but now very much in the background, while a fine piercing fruit dominates. Taking on a correct and interesting maturity in the mouth, rich certainly, held together by the acidity and with pleasing length. No problem to start drinking this now. With aeration the mid-palate fills out and the wine freshens up.
At this point Jacques Lardière offered one or two details of his philosophy in the cellar, noting that it was important to keep the malic acid in years such as '09 and '06, as he prefers the acidity to come from the fruit rather than to add it in. A well-known vigneronne from Puligny-Montrachet asked how technically the malic acid could be kept – a question that engendered a tour de force from Lardière: ten minutes talking all round the subject in a fascinating and coherent manner, involving such phrases as "the memory of energy" and "molecular vibration," but never even attempting to answer the specific technical question. It was a pleasure to be there.
1998
A difficult vintage, though more successful in this sector than in Meursault. Noticeable gold in the color, though still bright, and a complex nose with mature aromatics, baked pear more than quince, clearly developing, but by no means oxidized – indeed normal progress for a 14-year-old wine from a difficult vintage. Nice, generous mouthful but with a faint touch of mushroom on the palate – maybe a residual trace of the oidium problems. This would be excellent à table now, with not too rich a sauce: poulet aux morilles but without the cream.
1992
Pale gold color, very correct for its age. A beautiful nose from the first sniff: mature, yes, but with detail and a sense of balance. Well worth repeated sniffs. With swirling, an impressive weight of fruit emerges from behind the notes of maturity. On the palate, there are several layers of flavor, an engaging lemon acidity threaded through a substantial mouthful of pure fruit, and a very long finish. Perfectly mature but no reason why this should not hold.
1990
Similar in color to the 1992 but with a little more depth. A touch of brioche on the nose and an evident weight of fruit. This is constantly changing though, the sign of a really interesting wine reaching its perfect point. Attractively fresh in the mouth, livelier than the 1992 while being, if anything, weightier. Very well judged, a great result. Very complex finish, more on fruit than on aging aromas. This and the 1992 make a great pairing.
1985
Quite fresh in color and bouquet. Some fresh apricot notes, medium-bodied, some tannins behind giving a slightly dry finish, though without denying the length of this wine. But it suffers behind its two predecessors. Evidence of the grapes suffering from the spring frost, according to my neighbor.
1978
Pale gold. A glorious, heady nose of fully mature wine from a fractionally underripe year: a hint of Jerusalem artichoke, but not dominant. Almost truffle, so this could be a foie gras wine, or perhaps ris de veau. Really fascinating nose, a touch of biscuit, but all these notes are positive because you just want to keep sniffing. Still fresh in the mouth as the acidity leaps out on the finish. So not for foie gras after all. Jacques Lardière intervenes to talk of the phénomène de digestion en train when you get truffles, meaning there is still a tension in the wine waiting to evolve.
1967
Full mature color with amber notes, but still bright. Biscuit and crème brûlée notes but still fruit, too, perhaps fresh apricot with some orange zest. Mouth-filling, with a lovely little crunch in the mouth, like the caramelized surface of the crème brûlée. Lively on the palate on retasting, some cooked orange notes coming to the fore, but still full of energy and with good length.
1929
Browning color, with a deposit, but still bright though. Smells more like a liqueur with a touch of Marc de Bourgogne, along with a trace of sweetness. Then becomes meatier, perhaps flowers in alcohol, hawthorn and orange. There is still good fruit in the mouth, more than expected from the nose, and now orange flavors dominate. The finish feels dry at first but in fact it softens with time. Fascinating to try but more as a curiosity. I imagine there would have been quite some variation between bottles.
Le Musigny
We kept the same set of three glasses for the red wines, without rinsing. This is a key Lardière protocol: You must keep your glasses because you have trained them. The local expression is that un verre bien aviné doit finir la soirée. Today the Jadot Musigny holding is just 4 ouvrées, 0.17ha, at the northern end of Les Musigny, next to Drouhin's vines. Prior to 1985 the Jadot Musigny was made from purchased grapes or wine. What to expect from Musigny?
Various of the assembled convives offered an opinion. It is coquetry said one, both feminine and masculine together. A great wine for meditation, offered another. Frédéric Mugnier, (a former grape supplier to Jadot for this vineyard), when handed the microphone, said that he had been for a walk "in his garden of Musigny" before setting out for the tasting. It has much in common with Amoureuses with which it shares the profoundness of aroma, without heaviness, indeed an ethereal style with a spiritual character. Musigny may have more power and density, sometimes impenetrable in youth and, according to Frédéric, a sense of continuity and integration.
2002
Glowing red though no longer full brightness. Jacques talks of the "vaporization of molecules." The nose is rich with something of the explosive character of Musigny but not quite there. Just lacking a little freshness, and with a dry patch through the middle and toward the back. Some chocolate notes. Not quite what I expect from 2002.
1997
They harvested much later than most. Full, deep color, beginning to evolve. Slightly cooked fruit on the nose, but clearly fresher fruit behind, and this digs deeper than most peoples '97s. A little note of acidity at the back maintains a welcome touch of freshness. Just as much ahead of expectations as the 2002 was behind.
1996
Fine bright color with some energy. Certainly to the nose also, though there are some wandering notes with a touch of oxidation, as often with this vintage, but these soon departed as is usually the case. A rich, ripe raft of vivid red fruit through the middle, enough to cover the prominent acidity that marks the vintage. Good length, a fine and balanced wine whose power is only really apparent at the very end. Getting there.
1993
Fine dark red color, the nose shows a wealth of fruit with just a hint of dry tannins, very typical for the year. Certainly the opulence you would hope for from Musigny. It makes a fine, rich mouthful, the fruit beginning to mature nicely, some dry tannins, perhaps, but the fruit wins and the tannins just provide structure, and the possibility of further aging. Very satisfying finish, and with time just a trace of welcome acidity emerges.
1985
Beautiful nose, the first that really feels like Musigny: it is singing tonight. My neighbor Frédéric says je me retrouve bien chez moi… In the mouth, it is absolutely sensual, immediately engendering thoughts of Amoureuses, but then it delivers a great deal more behind. This is a glorious wine reaching toward its peak of perfection but still very young. Brilliant!
1979 (magnum)
Fine mid-red with a more amber color. Light but healthy mushrooms coming into the picture. Complex and fascinating, because this has really hit its perfect drinking point. Also a real Musigny feel. The fruit behind includes crushed strawberry and rose-petal notes, finishing with marvelous length. A really elegant Musigny that is great to drink now. Completely happy with this, though the vintage cannot quite match the glorious 1985.
1978
The color remains healthy but with some signs of maturity to the bouquet, which is certainly complex. One or two notes of evolution for sure. It freshens up with time in the glass and certainly on the palate. Noticeably more density than the 1979 but not quite together tonight. It has a long and attractive finish, and is clearly a high-class wine, but just below the magic of a great vintage of Musigny.
1976
Still vibrant in color with a touch of something reminiscent of oak, perhaps a butteriness to the nose. Interesting to see how this will evolve. It freshens up into quite a vigorous red fruit, with notable acidity. More time is required for this to achieve harmony, but it is not heavy-handed and it will come together in maybe 15 years.
1971
Full red color with a more amber edge. Notably mushroom on the nose, but a fresh variety, nothing dull or corky. It dominates, separately from the terroir, but then red fruit and indeed some Musigny class come into play with fresh but balanced acidity. The aftertaste is fabulous and brings this wine onto the podium along with the '85 and '79.