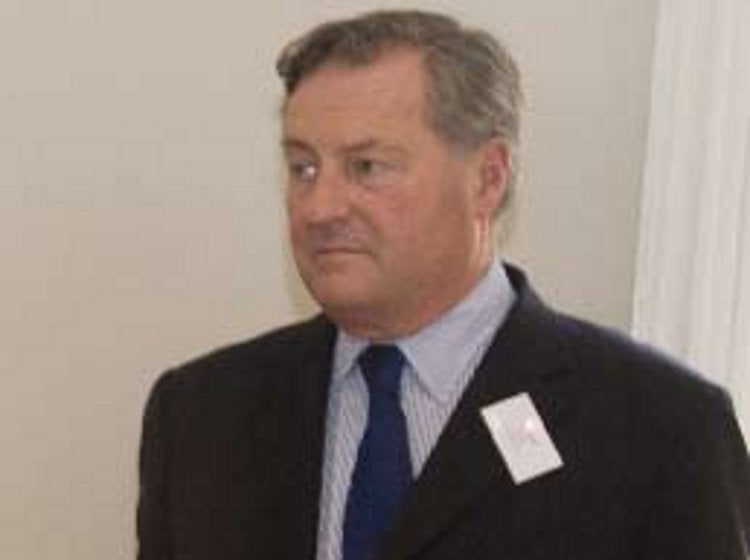 John Cossart, who died suddenly on February 27, 2008, was the last of a long line of Englishmen to work dayto- day in the Madeira wine business. He came to head the firm of Henriques & Henriques relatively late in life but quickly grasped the complexities of the Madeira wine trade. He was an ambassador for the island's wines, traveling the world looking for new ways to promote both Madeira and his firm's wines. In order to illustrate the effect of heat on Madeira wine, he recently held a tasting in a London hammam (Turkish bath)!
John Cossart was born in Funchal, Madeira, on February 25, 1945. His family had been on the island since 1808 and were partners in the firm of Cossart Gordon, though his father Peter was not directly involved in the firm. John's mother Anna Maria was a Bianchi, whose family owned the Madeira shipper Lomelino. John spent his early childhood at Quinta dos Pinheiros, Funchal, and was educated in England at All Hallows followed by Downside. On leaving school he remained in England and married Harriet Meade-Fetherstonhaugh at the age of 24. Her family home was Uppark in Sussex, and although the house had been donated to the National Trust since 1954, John and Harriet Cossart retained an apartment on the upper floor. The house was partly destroyed by fire in 1989, when the family lost all their private possessions.
Peter Cossart inherited a share in Henriques & Henriques on the death of João Joaquim Henriques in 1968. John took little interest in his father's firm, preferring his life in London and Sussex. It was only after his father died in 1991 that he began to get reacquainted with Madeira, spending an increasing amount of time on the island managing the family business. He oversaw the company's move from cramped premises in the center of Funchal to a new lodge at Câmara de Lobos. Apart from the wines and casks (many of which date back before 1850), the only piece of equipment to make the journey from Funchal to Câmara de Lobos was the company's trusty steam boiler. Built in Liverpool in the 1850s, it still produces steam for estufagem, a process of which John was a staunch defender. In 1995 Henriques & Henriques bought land at Quinta Grande, 1,970ft (600m) above Câmara de Lobos, and with the help of technicians from the Port wine region, John led the development of a 10ha (25-acre) vineyard. It was the first on Madeira to be mechanized, and it remains by far the largest single vineyard on the island.
John's wife was never happy in Madeira. The damage to Uppark, the death of their eldest son Charlie in 1997, and the time that John spent abroad put an increasing strain on his marriage, which was dissolved in 1999. It was only following his divorce that he came to settle permanently on Madeira, the place he loved most.
Brought up a Catholic, John was a deeply religious man. But he didn't relate to the Portuguese church and became a staunch supporter of the Anglican Holy Trinity Church in Funchal, to which he gave the altar wine. Despite his bonhomie he was also a very private man. His cousin Anthony Miles described him as "a man who led his life in compartments: office, business, family, church. He was very loyal to them all, but he never let them overlap." I first met John in London in 1985, when we served together on an Anglo-Portuguese Society committee in charge of the celebrations of the 600th anniversary of the Treaty of Windsor. He was always someone whom I admired for his love of Portugal, his understanding and appreciation of Madeira, and his tenacity, sometimes in the face of overwhelming circumstances. He became a friend.
John had suffered with health problems for some years and had a heart attack while sitting down to dinner at Reid's on his 65th birthday. He is survived by his ex-wife Harriet and two children, Maria and Edward. On Sunday June 15, 2008, the Chaplain of Holy Trinity Church Funchal dedicated a chalice in John's memory. He will be fondly remembered and greatly missed by all those who shared his love of Madeira-the island and the wine.