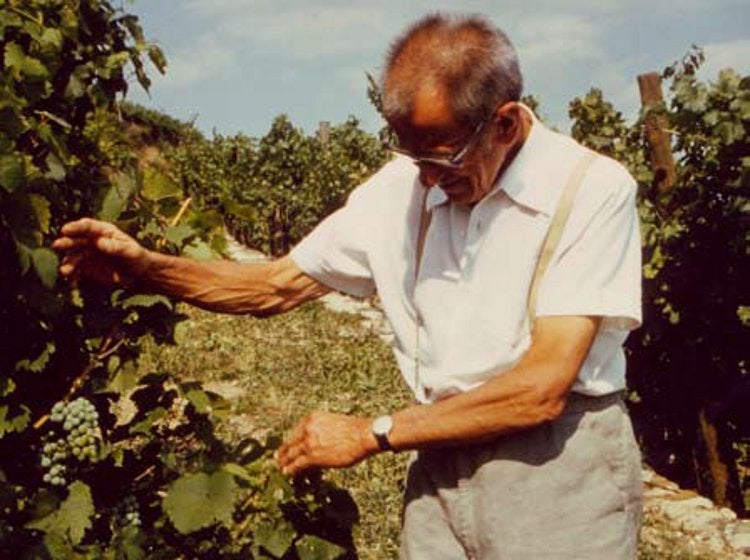 The initials JJJ on a bottle have long signaled quality to Austrian wine lovers, aware that they refer to the Joching winery of Josef Jamek, whose beautiful Stammhaus was built as a Danube-side hotel and has been a restaurant for nearly all of its 99 years.
Jamek himself, though, is surely the paramount figure in Austrian wine history to be so little known outside his region. He was a man with much to be proud of, full of enthusiasm allied to vision, yet soft-spoken and modest. How much Jamek was modest about can be measured by a bit of time travel.
Imagine-it was not long ago-when Austria's wines were lumped together with Germany's and found wanting, a circumstance that the wines' styles and nomenclature only encouraged.
Imagine-hard as this is for those who visit the Wachau as tourists today or who pay the price for its wines- when making a living from Wachau vineyards was a constant struggle, when those huge, steep, ancient terraces were widely neglected and more likely home to apricots than vines. Imagine, too, a time when today's UNESCO World Heritage site was not only threatened with blight but when the notion of a citizen's movement, or Bürgerbewegung, had barely been coined and green was just a color, not a political stance or the nickname of a now-famous grape-when only the French spoke of terroir and a few German Riesling fanatics of natural wine. In a world without Jamek, we would not recognize what the Wachau, its wines, Austrian wine, wine in general, and we ourselves had become.
Zero hour Going back further, to 1945, homes and cellars throughout the Wachau, Jamek's included, lay ravaged by Soviet troops, stripped of furnishings and wine in this zero hour for Austria's economy. Josef Jamek rebuilt the estate for which he had become responsible on the eve of his being drafted to war, and with his wife Edeltraud's lead, the restaurant became a regional benchmark. Jamek was guided by two radical ideals. One was to restore the terraces that were so hard to farm and to prove that wine quality depended on site. The other-a precondition for this demonstration- was that his wine be dry, refreshing, digestible, true to its cépage, and free of additives, most notably sugar. "Solely sugar from the grape = alcohol in this wine" read the prominent back label on every bottle, at a time when most customers had to ask what that meant.
That they should ask was precisely the point! If a season was lean and the wines were high-acid, said Jamek, they needed time in cask and watchful malolactic conversion, not chemical intervention.
In 1959, Jamek acquired a piece of the once-famous Klaus vineyard that rose behind Joching and rebuilt it terrace by terrace, planting Riesling at a time when most Wachau vineyards were field mixtures. The Klaus-for whose Riesling Jamek commissioned from Claus Josef Riedel a glass that they believed (what a crazy idea!) would uniquely showcase its aroma and flavor-became the estate's pride and joy and icon. Even as an array of great vineyards was acquired, including a major share of neighboring Achleiten, it was to the Klaus that Jamek repaired with visitors and where-like so many other wine lovers or guests of his restaurant-I first heard about his ideals from his own mouth in 1996, the year he and his wife "officially" retired in favor of daughter Jutta and son-inlaw Hans Altmann. As the world of wine modernized, Jamek was among the first to introduce stainless steel into his cellar, in 1976-not to supplant the essential work of large wooden casks, but to gain greater control over his ferments and to enhance freshness.
The citizen activist
In the 1960s, a federal plan was hatched to erect a huge power plant on the Danube directly across from the most famous Wachau vineyards. Together with Franz Hirtzberger Sr, Jamek raised consciousness, mobilized his neighbors, and followed the tangled wires of bureaucracy to their source-work that would make him a model and hero for citizen activists of the 1990s. It took well more than a decade, but in 1983 the project was defused. The next crisis could not be averted, however, and lay around the bend: the glycol scandal of 1985. Of those who rose to this dangerous occasion and turned it to improbable opportunity, none was more perfectly placed by ability or ideology than Josef Jamek. Along, again, with comradein- arms Franz Hirtzberger Sr, he, Wilhelm Schwengler, and Franz Prager created, practically overnight, the Vinea Wachau-a band of growers dedicated to dry, unchaptalized, and (as wine lovers are wont to say nowadays) "minimally manipulated wines of place," with their own styles and nomenclature: Steinfeder, Federspiel, and Smaragd. The Vinea Wachau inspired wine growers and consumers throughout Austria and beyond. Its beauty, historical resonance, and proximity to Vienna-none of which would have mattered had that power plant been built-helped the Wachau to prosperity as an acknowledged great wine region and as a cultural and tourist Mecca.
So, give thanks for Josef Jamek- now you know why you should. A man of momentous deeds for which few knew him. He went to his well-earned rest quietly on March 14, 2011, and was buried as he had wished -modestly, surrounded only by family and close friends.