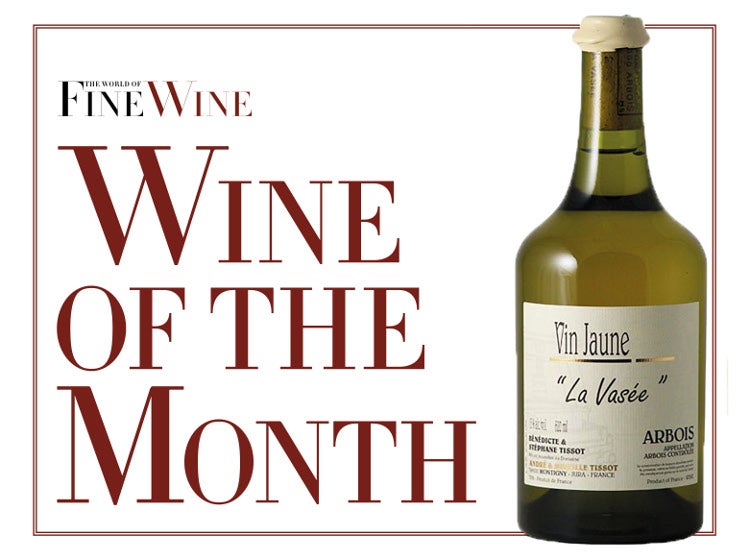 Well… This was an unusual and rewarding tasting of wines from France's most singular wine region. The results follow; first, though, a little bit about the place. (Much of the detail below is netted from Wink Lorch's excellent book Jura Wine, published by Wine Travel Media, a strongly recommended purchase for those curious to know more about this hilly fillet of eastern France.)
Astonishment and singularity
Jura occupies roughly 2,100ha (5,200 acres) of sub-Alpine foothills, just across the Saône valley from Burgundy; it is a mere 45 miles (72km) from Beaune to Arbois. It doesn't enjoy Burgundy's topographical advantages: There is no rain-shadow effect here, nor the perfectly positioned east-facing or southeast-facing slopes of the Côte d'Or's greatest sites. Instead, it is a region of opportunistic vineyards that share the landscape with pasture, woodland, and cereal fields. Those vineyards (often west or southwest facing rather than east facing) are a little cooler and much wetter than those of the Côte d'Or; its soils are richer and more marly in general, though since the vineyards are scattered over a wide area (more than 100 communes), they are also diverse. Most are sited at between 650 and 1,480ft (200-450m), like the vast majority of France's hill-slope vineyards, from Alsace all the way down to Languedoc. On paper, in other words, the vineyards of Jura look a modest prospect at best: unexceptional rather than singular.
Its call on our attention, in fact, is based on its strange little gaggle of grape varieties and the still stranger manner in which the wines have traditionally been vinified and raised here, shaped and guided by the Jura's appellations. The Jura, logically enough, borrows Burgundy's Chardonnay and Pinot Noir — the two between them account for 55 percent of plantings. Yet the white variety that the Jura is most famous for is Savagnin, while the "coral" variety Poulsard and the much darker variety Trousseau (identical to Portugal's Bastardo) are both unique and decidedly singular in the French viticultural context.
Vin jaune, or "yellow wine," is the Jura's most famous product, though it accounts for only 4 percent of regional production: Savagnin-based white wine that is stored for at least 60 months in barrel without being topped up, during which time a thin voile of yeast grows on the wine; it is later bottled in the distinctive 62cl clavelin bottles. Vin jaune can be made in any of the Jura's wine appellations, but the 50ha (125-acre) Château-Chalon AOC is for vin jaune alone. The significance of vin jaune within the Jura winemaking psyche is such that other white wines made with some of the controlled oxidation that vin jaune undergoes during its aging period are also produced, either from Savagnin or Chardonnay or a blend of both; such wines tend to be referred to as tradition, typé, or even sous voile in the region, as distinct from the conventionally aged wines, called ouillé, floral, or naturé, though you won't always find these terms on labels.
The Jura's other wine specialties are vin de paille (light dessert wines made from grapes that are shriveled and dried after picking) and macvin (a blend of grape juice and grape spirit), but we had no examples of either style in our tasting, nor did we have any of the late-harvest or icewine styles with which some in the region are experimenting. More than a quarter of all Jura's wine, moreover, is sparkling Crémant de Jura. Astonishment is piled on singularity when you consider that the entire Jura region — with its panoply of varieties, appellations, and indigenous styles — is only two thirds of the size of the Châteauneuf-du-Pape appellation. Little wonder that, on the morning on which I am writing this, one of the leading importers of Jura wine to the UK tweeted a lament that he now has more Jura producers on his list than he has bottles of their wines to sell.
Red alert
Perhaps we shouldn't be surprised, given all of this,that the wines in our tasting performed with wild inconsistency. Our three tasters, by contrast, scored consistently, with almost universal agreement about which were the best wines in the tasting and which were the worst. There was genuine warmth of feeling for the best wines – and six of the top ten were vins jaunes, despite the proportion of vins jaunes entered overall being much lower than that 60 percent. Red wines, by contrast, occupied nine of the ten bottom places (setting aside one corked wine). The producers of the three top wines (Tissot, Berthet-Bondet, and Rolet) all, by the way, had red wines that featured among the bottom ten. It would seem unlikely that these producers are less skilled at red-wine making than white… yet Alex Hunt MW found them "carelessly made," and Charles Metcalfe "downright bad." While it may be much harder to make satisfactory red wine in this very marginal climate than white, perhaps Charles Metcalfe has a point in suggesting that a lifetime spent crafting complex, savory, nutty whites using controlled oxidation and a yeast film is not the best preparatory school for red-wine makers. Or perhaps we just didn't get the best reds from the region in our tasting.
Yellow splendor
The vins jaunes will certainly be the most expensive wines in the tasting, but all of us felt they were worth it, and (from these producers at least) consistently good – no vin jaune was placed lower than eighth in the overall order. If anything, the Arbois vins jaunes appeared more flamboyant and ostentatious, with those from Château-Chalon seeming rather more restrained, intricate, and sober, though possibly a better aging prospect for the longer term.
The exceptionally fine performance, too, of three of the "traditionally" styled whites (a 2007 Chardonnay/Savagnin from Rolet, plus two 2009 Arbois Savagnins from Dugois and from Puffeney) in finishing among the top ten and, in two instances, in higher positions than rival vins jaunes, suggests that well-made examples of these wines are a great-value alternative to vin jaune itself. Since they also performed better than classically or reductively made whites from the same producers, they also underlined what may well be the Jura's major message to the world: that controlled oxidation (with or without the presence of a yeast veil) can be a highly effective complexing technique for white wines, and one that surely merits more than a little experiment elsewhere.
Tissot Arbois La Vasée Vin Jaune 2006 ranked in Andrew Jefford's, Alex Hunt MW's and Charles Metcalfe's top wines at this tasting, and is our wine of the month.
Tissot Arbois La Vasée Vin Jaune 2006
AH | Intense, and intensely savory – on the nose, it smells mostly of pre-dinner snacks: briny green olives and buttery cheese straws. In the mouth, this is both intoxicating and cleansing; it fills the head with aroma then finishes dry, ethereal, almost without a trace. The savoriness is multifaceted and complete, the very idea of fruit seeming utterly out of place here. A poised, perfumed, individual creation. | 18
AJ | Full gold. Complex and compelling: rich, vivid, not simply aldehydic but also creamy, grainy, and long, with some dried-mushroom subtleties. On the palate, bright and lively, with boisterous fruit supporting the tide of tang, and those umami, tuna-flake nuances adding a mouthwatering power of their own. As always, profoundly acidic (the big difference between this wine and Fino Sherry), yet the acidity is round and resonant here. Excellent vin jaune. | 16.5
CM | This is very good! Lovely, complex bouquet, with nutty, Sherried notes rubbing shoulders with lemon zest and toffee. I could spend a long time just smelling this. Wow! The wine explodes on to the palate, with intense acidity and searing tanginess. Overriding flavor is tangy nuttiness, somewhere between roasted almonds and hazelnuts. But like great Sherries, this has further avenues of flavor to explore, down paths of old wooden furniture, fresh-cooked toffee, and milk chocolate. It's lean and intense, with a long, creamy finish. | 19