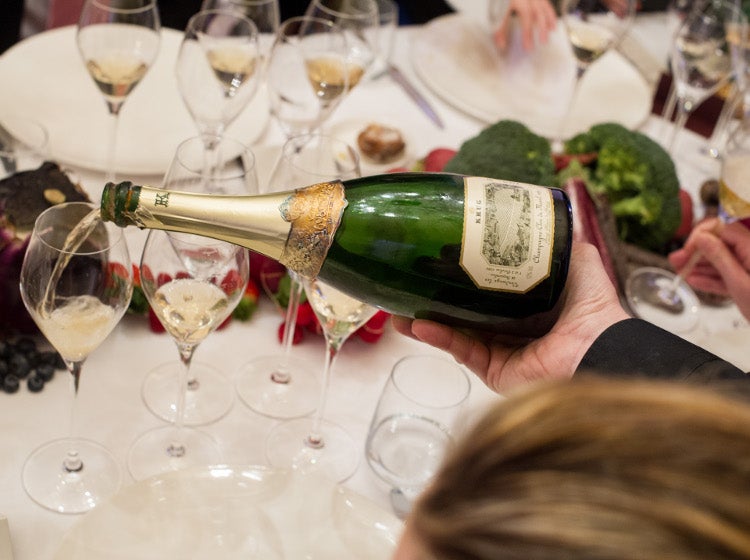 In early April came the heavy news that the beloved Henri Krug had passed away at the relatively young age of 74. Henri had always been the wisest mentor to many journalists who aspired to write well about Champagne. As Krugistes together, young sparks and graybeards, we had a long-standing engagement the following week in Reims for the annual Krug Assemblage celebration. But there was never any question of the event being cancelled: "You must come," said Olivier Krug, "it is what my dad would have wanted."
We came from all over-Helsinki, London, Sydney, Seoul-and it was particularly reassuring to see strong tasters from Paris and Michigan, USA, including Guillaume Puzo, star of Bettane & Desseauve; Antoine Gerbelle, stalwart of Revue des Vins de France; and Brad Baker, the highly respected Champagne Warrior, whose day job is as an automobile engineer but who nightly writes compelling tasting notes about the silvery mousse.
On the first evening, the house excelled in a walk through Krug's liquid history via a quintet of famous vintages in magnums; these had never left the cold cellars and therefore qualified for the precious designation, Collection. Then over dinner in the Krug family's dining room, we went on to the 2004-, 2001-, and 2000-based Grandes Cuvées, and a jeroboam of the 2002 base. The theme of the whole visit was an unfettered look at the concept of Flagship Grande Cuvée-a philosophy made clearer by the discovery by CEO Maggie Henriques of a remarkable 1840s notebook written by founder Joseph Krug outlining his winemaking precepts. As Baker says, JK's message was clearly that "to make the supreme expression of Champagne, you shouldn't put barriers out there. And you should keep everything as separate as possible to allow for blending the best possible wine, each and every year." The Vintage wine was important and of the same high quality, but it wasn't priority number one. Obviously that made as much commercial sense in the 1840s as it does today.
Tasting highlights
In the cellars, we began with a glass of the Krug 1989, a heatwave year but one that passed the test of 23 years on lees with flying colors, the strength of Krug's peerless Pinot parcels complemented by very expressive Chardonnays to deliver a wine that is now vigorously alive and ready. 17.5
Krug Collection 1961 (magnum)
53% Pinot Noir, 12% Pinot Meunier, 30% Chardonnay
A masculine expression of Krug Collection: gold-bronze; stern, superbly austere yet majestic Pinot aromas; awesome structure and complexity, but still with more to give until 2020. 18.5
Krug Collection 1969 (magnum)
50% Pinot Noir, 13% Pinot Meunier, 37% Chardonnay
A shimmering, exquisite Welsh gold (the Chardonnay content highish), then a quite glorious wine that has everything: an appetizing whiff of the baker's shop, then a riveting display of spice, evolved but perfectly healthy orchard fruit, slowly burgeoning vinosity, and silken textured mouthfeel. Multifaceted finale, refreshed with great acidity. Near-perfection. 19.5
Krug Collection 1971 (magnum)
47% Pinot Noir, 20% Pinot Meunier, 39% Chardonnay
I have always liked 1971 as a vintage of strength and durability, well into the 21st century. Certainly so here, where the overwhelming impression is still one of depth and great persistence on the palate. A little less complexity and charm than the 1969 but still super-good. 18+
Krug Collection 1973 (magnum)
47% Pinot Noir, 16% Pinot Meunier, 33% Chardonnay
Another flowing favorite for so many years. Its virtues are now coasting a little, and in a minor key, but it is still a very captivating glass. 17
Krug Collection 1981 (magnum)
31% Pinot Noir, 19% Pinot Meunier, 50% Chardonnay
Universally considered one of the greats of the 20th century, '81 Krug is notable for its high proportion of Chardonnay, the smallness of the crop, and the intensity of the wine. Extremely fresh and vigorous for a 32-yearold, still tight and with intriguing mineral depth, an outstanding wine that will one day (from around 2018) match the magnificent '69-but in a quite different style. 19
Grande Cuvée 2004 base (current)
A pale vigorous gold, racy, full of energy; its fine Chardonnay was a perfect match for the Maconna almonds that came with line-caught mackerel, strong flavors balanced by the great Pinot Noir in the blend. 17.5+
Grande Cuvée 2001 base ("Savoir Faire")
More vivid gold, evolving nicely, without hint of oxidation, an elegant vinosity. Something of a miracle at Krug, for 2001 as a base was generally fragile. Worked well with gratinéed asparagus and smoked fromage frais. 17
Grande Cuvée 2002 base ("Equilibre")
In magnums this cuvée was the runaway star, with a lot of this great year in the blend- perfectly balanced and complete-rich, creamy, upright, elegant, very long, complex -withal wonderfully fresh, will age beautifully. Class. Lovely with young Le Patis chicken from Le Mans. Grand vin. 18.5
Grande Cuvée 2000 base ("Richesse")
A sensuous super-ripe wine with notes of woodsmoke and voluptuous peche confit. Not quite sure about the match with apple, raw cream, and salted butter caramel (itself delicious). I would have preferred a little glass of Quarts de Chaume! 18
We were also guests at a magical dinner in the floodlit Clos du Mesnil, source of Krug's great single-vineyard all-Chardonnay Champagne. The star was the Clos du Mesnil 2000, a year somewhat underwritten for its immediate forward charm, but in truth it is best for pure Chardonnay from great sites, as here.
A terrific medley of minerality and crispness with an overlay of Corton-Charlemagne-like grandeur (19). At our final lunch we had a captivating Krug Rosé 2004 in magnum, a revelation of autolytic development and complexity one doesn't always associate with this cuvée, best known for its purity of red fruits (18). Tiens!