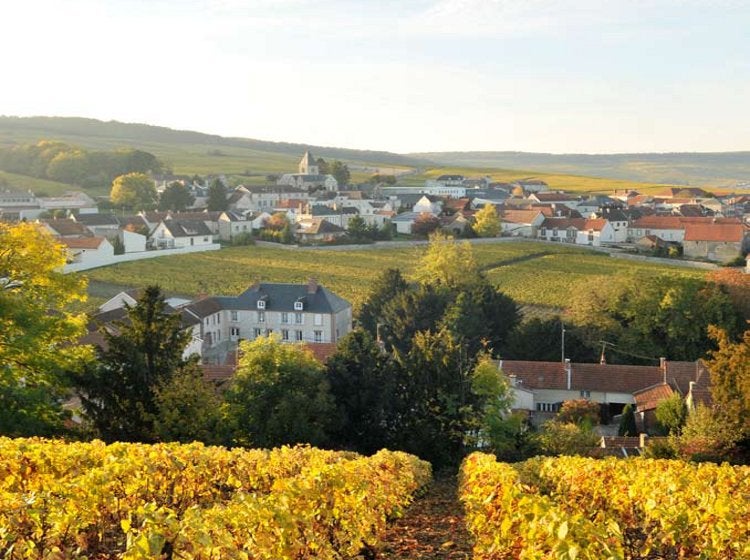 In December 2010, members of the Institute of Masters of Wine and their guests gathered in Vintners Hall in London for this double vertical of Krug vintages from the 1990s. The event was hosted by Krug's Eric Lebel and Margareth Henriquez. It offered the rare opportunity to witness two facets of this iconic Champagne house's savoir-faire: one, the Krugiste skills required to create exceptional Vintages from all three classic cépages; the other, the much riskier challenge of making a grand Chardonnay Champagne from a single site. As Henri Krug once confided, "In Vintage Krug and (a fortiori) the intricacies of Grande Cuvée, we can show our skills of assemblage; at Clos du Mesnil, it is Mother Nature who is in charge."
Paul Krug II, Henri's father, always used to say that the family's métier should be as perfectionist winemakers rather than vineyard owners. Yet in 1971, the Krugs agreed to buy the small 1.8ha (4.5 acre) enclosed vineyard in their favorite Chardonnay grand cru, Le Mesnil-sur-Oger. The original aim was to secure an outstanding source of Chardonnay for Grande Cuvée, but this was quite quickly overtaken by the novel wish to make a single-vineyard Champagne. The vineyard was in a poor condition, so the family began a major replanting program that required everyone to be patient, and the first inklings of something special were only glimpsed in the release of the 1979 and, especially, the concentrated 1981 vintage. Nearly all pure Le Mesnil Champagnes need a long time to mature, owing to the deep chalk of the terroir — the top soils are thin, the vines burrowing straight into the mother rock. The Clos, with its easterly aspects, generally needs at least 10-12 years to show its paces and is better still at 15-20, as the lovely 1995 and 1990 show today. But Mother Nature sprang some troubling surprises for the single-site winemaker in more atypical years like 1996 and 1998. In sum, the corrective skills of inspired blending in the assemblage Vintages were the winners overall at this event. The occasion ended with a tasting of differing years as the base wines for Grande Cuvée. Our hosts called this exercise "Beyond the Vintages" – a new moniker for the old magical alchemy of blending.
Krug Vintage 1998
The '98 encépagement of 45% Chardonnay, 36% Pinot, and 19% Meunier reflects the roller-coaster nature of the pre-harvest weather: record heat in August, then rain in early September, caused some outbreaks of rot in black grapes, which led to the majority belief then that Chardonnay coped best in the circumstances. I believe it's a year where the Krugs' intuitive belief in the virtue of their favorite parcels and crus triumphed. Lightly evolving, lustrous fine gold; beautiful multitoned aromas of both citrus and orchard stone fruits. A mouthfeel of balanced ripeness and driving raciness, enhanced by a streak of elegant acidity. Medium-weight, supple but focused, subtleties of flavors its strong card. 18
Krug Clos du Mesnil 1998
Evolving, elegant lemon gold. On the previous quite numerous occasions I have tasted this wine, the taut austere '98 Clos showed the imperious minerality one would have expected. But at a WFW tasting in September 2010 and now at this one, the aromas of the wine seem to be changing, showing signs of advancing oxidation. The palate still shows a honeyed, rounded generosity. But on this showing, the '98 CDM should be drunk fairly quickly. A minority view, maybe. Needs watching. 14
Krug Vintage 1996
On a first tasting of the wine in March 2008, I noted "a quite majestic combination of flavors and textures, tight and crisp one moment, then a stunning array of tastes from glace à l'orange and William pears, to lemon and prunes." Nearly three years on, it's just as magnificent, showing an exquisite balance of the elements: opulent fruit, vigorous acidity, and the complexities of gently evolving oxygenation from its birth in oak. A very great '96 that creates a sense of wonder. 19.5
Krug Clos du Mesnil 1996
Sustained, stylish lemon gold. Evolving ripe aromas, especially apricot and confit of peach (very Mesnil). But the very high acidity is still mordant, searing, and intrusive on the palate. It will be interesting to see if it will assimilate in the fullness of time. Some savants say everyone picked Chardonnays a week too early in 1996. 16
Krug Vintage 1995
A more vivid, rich gold, evolved but very fine. Lovely, racy, upright character, enriched with notes of toast, honey, and vanilla. An intriguing vinosity, quiet power, and a flick of rancio. Classic Vintage Krug, gras yet energetic, luxuriantly textured. Finesse rather than punching power. 18.5
Krug Clos du Mesnil 1995
Burnished, evolved gold. Seductive but balanced ultra-ripe Chardonnay aromas, '95 an exceptional year for the great white grape. Just as arresting in the mouth, confit fruits, honeycombs, and vanilla melding beautifully. Exceptional. 18.5
Krug Vintage 1990
Deep gold, very dramatic, like great white Burgundy. Enticing potpourri of scents: lemon posset, orange blossom, a touch of nougat. An unapologetically yet controlled oxidative style, balanced by freshness and good acidity. Very fine. 18.5
Krug Clos du Mesnil 1990
Evolved gold; splendidly ripe orchard-fruit character, as much peach as apricot, veering toward confit rather than fresh flavors. Controlled oxidation suggests a very fine CDM that will hold for many years yet. 18 Postscript Three different blends of Krug Grande Cuvée were tasted, the base wines being 2003, 2002, and 2001. The results were interesting if not surprising. The 2003 base from a heatwave vintage needed more than 40 percent reserve wines, no doubt incisive and focused, to bring energy and freshness. The base of 2002 (a great vintage) needed little reserve wine, the blend having a natural balance and class. The 2001-based blend was a pleasant surprise. The vintage was the most fragile since 1984, but there was no rot, and this Grande Cuvée release was fine and delicate. Good wine still starts in the vineyard, whatever the skills in the cellar.