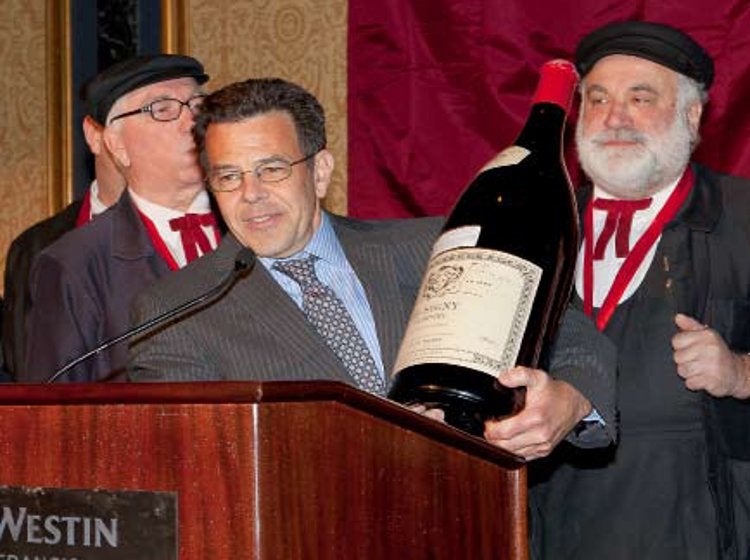 Over the years, I have been fortunate to attend La Paulée (the American version) on a number of occasions. It started off innocently enough, as just a passion away from my day job at the time, reviewing the wines of Italy for The Wine Advocate. But like so many things Burgundy, the more I tasted, the more I was drawn in. Before I knew it, I was hooked, and La Paulée became a regular part of my calendar. As fate would have it, a few years later, reviewing the wines of Burgundy became a major part of my job.
La Paulée de San Francisco takes its inspiration from the Paulée de Meursault, the annual luncheon held to celebrate the end of the harvest. This year, La Paulée was truly amazing.
One of the highlights included a spectacular dinner at the Napa Valley Reserve with wines from Domaine de la Romanée-Conti, Roulot, and Comtes Lafon paired with the brilliant cuisine of Christopher Kostow. I must have driven by the Reserve dozens of times, but from the outside it is impossible to imagine the beauty and elegance of the spaces within the complex. That was followed two days later by an equally extravagant dinner featuring the wines of Laurent Ponsot paired with a menu created by Daniel Boulud, Romain Chapel, and Michael Mina.
I also attended the verticals tasting, one of the more recent additions to La Paulée. Each grower presents three vintages of one of their signature wines. Given the minuscule production of most top-flight Burgundies, the verticals tasting is a great opportunity to gain a broader perspective on some of the region's top wines.
The Saturday night gala dinner is the conclusion to La Paulée. This year's dinner, cooked by an all-star team of chefs led by Daniel Boulud, Romain Chapel, Thomas Keller, Christopher Kostow, and Michael Mina, was magnificent, especially considering it was prepared for more than 300 people. In keeping with the spirit of the Paulée, attendees bring wines from their cellars to share with friends and the producers at their tables. One of the things I like most about the San Francisco Paulée is the slightly more relaxed feel relative to the New York event, which can at times veer toward excess.
Les Chanteurs de Bourgogne, the singing troupe flown in straight from Burgundy was a constant throughout the weekend's festivities. The Chanteurs, with their rowdy drinking songs, remind us that, above all else, wine is truly about conviviality and sharing. Sometimes it seems the Chanteurs are having the best time of all!
American Paulée in perspective
La Paulée de San Francisco and its sister event La Paulée de New York, which are held in alternate years, are the brainchild of sommelier, wine director, and importer Daniel Johnnes, one of those people who seems to be incredibly talented at so many things. Over the years, Johnnes has had a profound influence on the appreciation of Burgundy in the United States, but that is just one of his many accomplishments.
In 1985, Johnnes was part of the team that opened Drew Nieporent's Montrachet, which would go on to establish itself as one of the great food-and-wine destinations in the US. Johnnes first met Nieporent at the Plaza Athenée in 1984, where they worked together at front of house. A young chef from Lyon, Daniel Boulud, ran the kitchen. Within three weeks of its opening, Montrachet received a three-star review from The New York Times's Bryan Miller. Nieporent didn't have the time to take care of the wine list, so he gave the task to Johnnes, who was a waiter at the time. Johnnes was as good a candidate as any: He had lived and worked in France in the 1970s and spent a year in restaurant kitchens in the early 1980s.
Johnnes gradually built the Montrachet wine list into one of the most important collections of Burgundy anywhere in the world. His relationships with growers allowed him to source older vintages directly from the domaines for his Domaine Direct program at a time when there was little interest in Burgundy. The demand for top Burgundy has since soared higher than anyone could ever have predicted 20 years ago, making it difficult, if not impossible, to build a list of older wines purchased from the wineries themselves. The Domaine Direct program also laid the foundation for Johnnes's importing business, which now boasts some pretty serious names.
Johnnes, along with other early pioneers like Larry Stone, also paved the way for the professional sommelier/ wine-director role that exists today as a sought-after, highly compensated job in America's best restaurants, inspiring scores of young sommeliers along the way. In 2005, Johnnes became wine director for Daniel Boulud's Dinex Group, which manages the growing empire of Boulud restaurants around the world.
Although La Paulée is now a big, glamorous event that attracts a global audience of Burgundy lovers, its origins are much humbler. The precursor to the modern-day American Paulée was a tasting and dinner that Johnnes organized in 1992 at Montrachet and Tribeca Grill. Dominique Lafon, Christophe Roumier, Etienne Grivot, Patrick Bize, Jacques Seysses, and Jean-Pierre de Smet of Domaine de l'Arlot showed their wines at a tasting for 80 people and a dinner for 40.
It is amazing to think how much things have changed since then. In the early 1980s, Dominique Lafon, Christophe Roumier, and Etienne Grivot were just taking over their families' domaines, and the market for Burgundy was a mere fraction of what it is today. Some growers, like Christophe Roumier, had never been to New York. Today, Lafon, Roumier, Grivot, and many of their peers are superstars. Their wines are coveted by Burgundy lovers around the world and sell for eye-popping sums at auction.
A few years later, Johnnes wanted to repeat the 1992 event, but by then the reputation of Burgundy and its top growers had increased. The producers upped the ante. They told Johnnes they would attend his event, but he had to make it bigger and grander.
Inspired by a recent trip to the original Paulée, the Paulée de Meursault, Johnnes decided to do his version in New York. The first Paulée de New York was held in 2000 and featured 15 producers. The following year Johnnes took the show to San Francisco, which has always lent its own very special and more laid-back atmosphere to the weekend. Since then, La Paulée has been held every year except 2002 and 2004, making 2012 the tenth edition.
Time flies. La Paulée now stretches over several days and includes a number of seminars, tastings, and dinners. From six producers back in 1992, La Paulée now features around 30 growers.
I can't think of any other event that brings together winemakers, consumers, chefs, and sommeliers on such a broad scale. The culture of wine – in this case, Burgundy – is far wider than just grower to consumer.
The dozens of top sommeliers who work these events gain access and exposure to wines they would not have access to otherwise. Those young sommeliers and wine directors, who are now big-time opinion leaders, go back to their restaurants deeply influenced by what they taste and experience at La Paulée, including the thrilling treasures that are opened at the gala dinner.
La Paulée has always included a mix of reference-point domaines, as well as emerging estates. Colin-Morey, Mugneret-Gibourg, Fourrier, Patrick Bize, Bernard Moreau, and David Duband are some of the growers who have been introduced at La Paulée to a rabid audience of Burgundy lovers eager to discover the next rock-star producer ahead of the broader market. (Some of the growers mentioned above are part of Johnnes's import portfolio.) The huge exposure that emerging Burgundy domaines receive at La Paulée may be Daniel Johnnes's most enduring legacy. And that would be more than fitting for a man who has dedicated nearly three decades of his life to the wines and, by extension, the people of Burgundy. There is no other region in the world that has such an important showcase for its wine, food, culture, and joie de vivre.