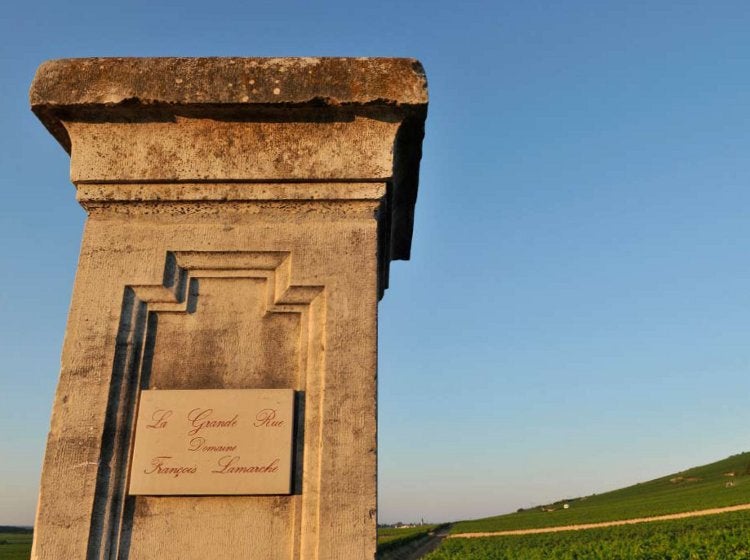 La Grande Rue is a narrow strip of vineyard, never more than 50m (165ft) wide, starting above the houses of the village and finishing just higher up the slope than neighboring La Romanée, the soil being shallower and poorer than at the lower end.
The first mention of this vineyard dates from 1450, when a parcel of 22 ouvrées (just under 1ha [2.47 acres]) belonged to Richard de Chissey. It was sold at the Revolution to the Marey family and thence, through marriage, to the Liger-Belairs. In 1933, it was purchased by Edouard Lamarche and given as a wedding present to his nephew Henri. The new proprietor did not ask for its ranking as a grand cru, perhaps mindful of the higher tax implications.
The proposal to promote it was raised in 1984 and eventually enacted in 1992, to take effect as from the 1991 vintage. This encompassed the 1.65ha (4 acre) of the monopole of La Grande Rue (in fact noted as 1.42ha [3.5acres] of Grande Rue and 0.23ha [0.57 acres] of Gaudichots) but not the little patch of Gaudichots beneath it belonging to Domaine Hudelot.
As recently as 1959, Lamarche and Domaine de la Romanée-Conti exchanged tiny parcels of Grande Rue or Gaudichots (which became La Tâche) against Gaudichots (which became Grande Rue) and some Echézeaux. By the end of it, La Grande Rue had reached the 1.65ha it is today. François Lamarche took over from his father Henri in 1984, working with his daughter Nicole from 2005. She first became involved for the 2003 and 2004 vintages and took over in sole charge from 2006.
When evaluating this vineyard and its wines in Inside Burgundy, I noted that "I do not yet have a real feel as to what should be a classical Grande Rue," even though this wine had on two occasions (the 2005 and 2007 vintages) triumphed at the blind Burgfest tasting reported in these pages (WFW 22 and 30), so I was very much looking forward to the opportunity in November 2010 to take part in a vertical tasting of La Grande Rue. Would it help define my view on this grand cru that, while beautifully placed between La Tâche to the south and La Romanée and La Romanée-Conti to the north, has not yet convinced many commentators that it is worthy of this pedigree?
The style of the wine has become a little clearer in my mind since the tasting: based around red fruits, with perhaps a hint of orange blossom. And yet I still don't feel that I have discovered the quintessential Grande Rue grand cru. My gut feeling is that more work is needed in the vineyard, rather than subtleties of vinification.
Most of the plantings predate 1975, with the latest dating from 1982 and 1988, so there is a very respectable average age to the vines. However, the more recent plantings are with clones 113 and 115 on SO4 rootstock, so the next stage might be to replant the young vines (especially in regard to rootstock) while continuing to nurture the old faithfuls.
Clearly, on the occasion of this particular tasting, La Grande Rue as produced by Domaine Lamarche cannot yet lay claim to the consistency of quality that one would hope for. But as Nicole Lamarche gets to grips with the vineyard, which is now being farmed organically, and develops further experience with vinification, adding her personality to the overall picture, I expect greater consistency and more evident high notes.
2010 The wine was just in barrel, premalolactic fermentation. Bright pinky purple. Fresh, powerful, red-cherry and peony notes, with high acidity and notable intensity.
2009 Still in barrel. Dense, bright purple. New wood shows on the nose, though without drying the fruit – more like a thick layer of cream. Pure and dense, lifted Vosne- Romanée fruit, though on this occasion not showing the same harmony and layers of detail noted when tasting the full range of 2009s earlier in the week.
2008 Bright red-purple. Here the fruit has filled out to swallow up the oak. Perhaps a little touch of orange peel in with the perfumed griotte-cherry flavors, which really linger on the palate. Properly in balance, with acidity present but not penetrating.
2007 Clear pinky red. Soft and perfumed, yet with the first faint signs of maturity. More detail now in the bouquet, with a range of soft red fruits competing to fill out the middle palate. Fresh finish, though some wood tannins are also still in evidence.
2006 Denser color. Rich nose, showing some new oak and some plums. Still very youthful, but the oak is currently intruding a touch. More raspberry notes on the palate, with impressive depth and a fine, long finish. Perhaps one could hope for a little more detail to emerge with time.
2005 A full purple color, with an attractive sheen of new oak on top of the plump fruit. Here the oak is playing second fiddle to the concentration of the fruit. The acidity is correct, the tannins are completely hidden behind the intensity of the fruit, and the length is certainly there. This is a giant in the making — quiet at the moment but with great potential and a feeling of magical fruit waiting to be unleashed.
2004 The color is clearly starting to evolve, with a first touch of sous-bois on the nose. The leaves are beginning to fall in autumn. It is beginning to dry a little and does not have grand cru length.
2003 Full dark color. Rich, almost meaty, with chocolate and coffee notes tied in with dark red fruit. Full and lush on the palate, with evident tannins and some acidulation. They decided to press some of the unripe secondgeneration grapes to obtain verjus, in order to provide acidity in as natural a form as possible, having referred back to Grandfather Lamarche's vintage notes for 1947. But it is not clear to me how this 2003 will evolve.
2002 Pale but fine and with a still-youthful color. Fine, gentle, and fragrant nose, with very pretty, delicate red fruits. A fraction dry at the back and without quite the persistence of some vintages. Agreeable "plus," but perhaps a touch below par for the vintage.
2001 Middling color, beginning to develop secondary aromas but with some fresher floral notes (peonies, perhaps). Then the fruit swells on the palate, with nothing dry behind and medium-plus length. A wine to enjoy now; a good result for a fairly anonymous vintage.
2000 Decanted from a magnum. Fine, full color, now beginning to turn but still showing vigor. The bouquet starts to evolve fast, and the palate is beginning to dry out, with a noticeably chocolaty finish. One might have expected something a little sweeter and more succulent this vintage, and this sample is perhaps not representative of a wine that usually shows better.
1999 The color is not quite pure and bright, and the nose seems somewhat singed at the edges. Ditto the fruit in the mouth, while the finish is overly tannic. Overall, the wine comes through as a bit cooked; it seems as though the right decisions were not made in what should be a very fine vintage.
1998 Bright color, still with some purple, while developing a more serene tint. The nose is backward at first and a bit muddled, but it really feels as though it will come through. This vintage, they did get right! Much more substance than the '99, a real mouthful. Some aspects of evolution around the edges, but the core remains energetic and vibrant. Fresh red fruits to finish. A very good result.
1997 The color is on the lighter side and taking on some orange — fair enough for this vintage. The bouquet gets prettier and prettier in the glass, with lovely strawberry notes and the beautiful perfume of a wine maturing gracefully. Neither the weight nor the class of the '98, but lovely now.
1991 The first magnum was no longer in good condition. The second magnum had a brighter color, and a bouquet consistent with its age, mixing fruit with undergrowth. There is a slight astringency on the palate, but the red fruit, tinged with notes of orange, keeps coming back. Indeed, the fruit thickened with time in the glass. Still an interesting wine.
1955 Pale amber. Attractive, delicate, complex old nose, with some vigor. A little sweeter on the palate than expected, though with greener Jerusalem-artichoke notes — graceful old Pinot from not-quite-ripe grapes. Again, a hint of orange blossom. A soothing old wine.
Disclaimer
Jasper Morris, while not the agent for Domaine Lamarche in any market, does buy and sell wines from this producer.