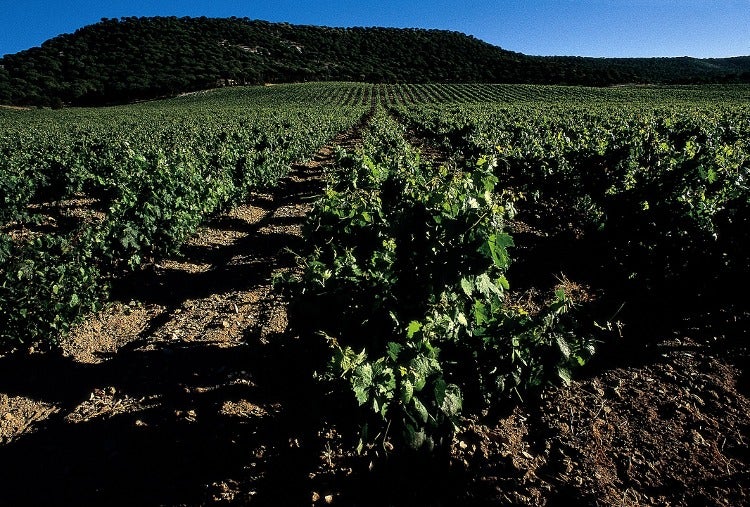 Gathering in BBR's underground 17th-century Pickering Cellar on St. James's Street in London, guests tasted through 2005 Unico, 2012 Valbuena, 2012 Pintia, 2013 Alion, 2013 MacanClasico, 2013 Macan, and new releases from TokajOremus.
Antonio Menendez Puente, Commercial Director at Vega Sicilia, presented the latest releases from Spain spanning Toro, Rioja, and their pride of place: Ribera del Duero. The estate has undergone major innovations in the vineyard and cellar thatare reflected from the 2010 vintage onward. "We used to have 18 plots dividing our 210 hectares in Ribera del Duero," states Puente, "following five years of research we subdivided the land into 55 subplots. We then reflected this in our winery by installing 55 different tanks. Now we can track the evolution of each plot as it ferments and matures separately." This practice of fractional fermentation gives much more control to the winemakers allowing them to fine-tune the final blend each year depending on how the individual plots performed in the vintage.
The 2012 Valbuena certainly displayed a precision of dark ripe fruit with complex layers of leather, spice,and vanilla essence. The tannins provided a firm structure that evolved from a chewy to fine powdery finish. The blend is 90% Tempranillo and 10% Merlot.
Moving east toward Hungary, Gonzalo Iturriaga, Vega Sicilia's new Technical Director showed the latest releases from Oremus in Tokaj. Acquired in 1994 after the fall of communism, Oremus has undergone decades of replanting, grafting, and modernization complete with a new winery. Iturriaga shared the latest news that this year they employed Burgundy consultant KyriakosKynigopoulos who also consults the likes of DomaineLeflaive in Puligny-Montrachet. They will be heavily investing in growing the production of Oremus'sMandolásDry Furmint. In 2015 they produced 35,000 bottles of Mandolás, almost doubled production in 2016 with 60,000 produced, and their goal is to reach 150,000 in the next few years. Creating dedicated plots for dry Furmint (up on high slopes, rather than the valleys and river banks more conducive to Botrytis), investing in larger 350-liter barrels to allow longer aging for texture, but imparting less oak flavor into the wine, and eventually incorporating French oak as well as the currently used Hungarian oak are all part of the latest developments at Oremus to perfect their dry Furmint wine.
The 2015 Mandolás Dry Furmint displays delicate aromas of honeysuckle, citrus, and hay. The palate has a refreshingly high acidity, lovely texture, and light body. Watch this space for further developments with Oremus'spromising dry Furmint offering.
All new releases will be available from Berry Brothers and Rudd from Wednesday, December 14, 2016.