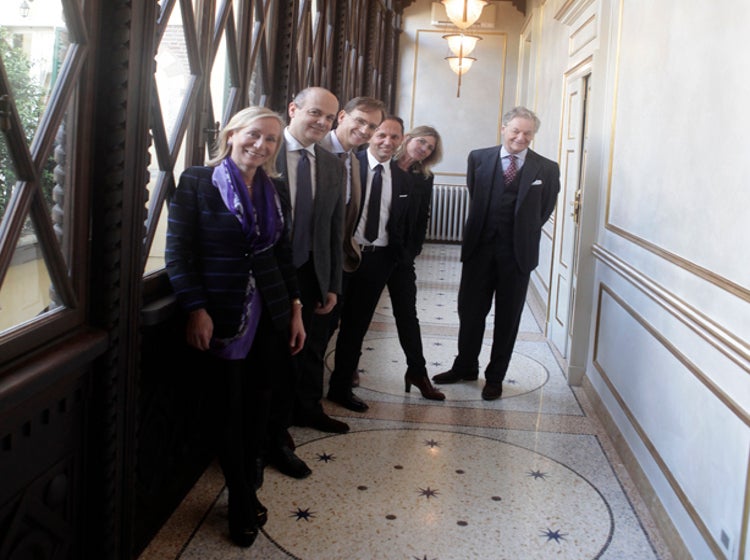 ISWA, Italian Signature Wines Academy, is the exclusive club of Italian fine wines, pioneered by five renowned Italian wineries dotted across as many regions: ALLEGRINI (Veneto), FEUDI DI SAN GREGORIO (Campania), FONTANAFREDDA (Piedmont), FRESCOBALDI (Tuscany) and PLANETA (Sicily), which also have wineries located in other parts of Italy, all ready to work together to create a synergetic Italian economic powerhouse.
Italian production. Fine wines – following in the footsteps of established tradition – that are readily available abroad, with a total production of over 33.2 million bottles and a turnover of over 200 million € annually. The respective producers have created a strategic alliance in order to build a synergetic economic system and expand the availability of their products worldwide. Their aim is to explore and exploit all possible synergies in promotion and development on international markets, by also designing projects for new markets and channels that are difficult to penetrate by individual companies, to strengthen and extend the availability of the best 'Made in Italy' products across the globe.
Signature… Signature wines, produced by five leading Italian wineries, united by strong similarities and affinities: a far-sighted entrepreneurial vision in their ability to innovate, to invest in their brand image internationally, and the important role that each of the five companies plays in its region and, therefore, in their attitude as "representative" of these regions – the most important Italian wine-producing areas with the most prestigious wine appellations. These attitudes, values and affinities are shared by each of the five signature producers and are now put at the service of common, more ambitious goals.
Wines of course, but not only. The producers are working on developing important projects to improve the image of quality wine, exploring various environmental, archaeological, architectural, historic, artistic, anthropological and environmental channels, the latter focusing on the specific and unique characteristics of the viticultural landscape. What emerges is the symbiotic bond that traditionally binds premium wines to their areas of production.
An Academy, too… ISWA will also be – literally – an Academy, promoting the culture of Italian wine at an international level through management and technical training initiatives, refresher and specialization courses and education on all issues concerning the wine sector, in partnership with leading Italian universities.
Italian Signature Wines Academy also provides a superb platform for telling great Italian success stories, the achievements of important families, men and women who still firmly believe in Italy: stories of passion, pride, daily effort, commitment and hope.
In their own words:
"Our country needs to work together, to create a concerted economic system. The strength of our companies lies in bringing together the most important Italian wine producers abroad, as authentic, 'value-added' ambassadors of 'Made in Italy' products throughout all five continents, in a sector that has huge potential for Impossibile visualizzare l'immagine collegata. È possibile che il file sia stato spostato, rinominato o eliminato. Verificare che il collegamento rimandi al file e al percorso corretti. «ISWA Italian Signature Wines Academy» – Marco Polo Experience – piazza di Pietra, 44 – 00186 Roma growth, especially in new markets", explains Marilisa Allegrini, President of ISWA and owner of Azienda Agricola Allegrini, stating that "we will act not only in major markets, but also in emerging markets, via targeted projects and synergetic strategies, based on our consolidated experience and knowledge, to increase the availability of Italian wines in the world".
Giovanni Geddes da Filicaja, CEO of Marchesi de' Frescobaldi – the wine company with a 700-year history – and a founding father of ISWA, points out that "the market is, increasingly, the world. Joining together with different, but highly prestigious companies, provides us with opportunities that, individually, we could not have". Taking up the same theme, Giampiero Bertolini, Sales and Marketing Director of Marchesi de' Frescobaldi, and Acting Vice President of ISWA, emphasizes that "we represent the country's five major wine regions, not only in terms of quantity, but also for the excellence of our products, and together we have the know-how that will allow us to develop the best strategies, also in the interests of the country".
"Integration is our institutional component, because we have strong and sharply-focused brands, among the best known 'Made in Italy' products worldwide", adds the other Vice President of ISWA, Roberto Bruno, CEO of Fontanafredda, highlighting that "We want to pool our skills and our knowledge to create innovative system-based projects aimed at the export market, particularly at those markets where wine is not part of the traditional culture but where there is a fascination with 'Made in Italy' goods. On these markets, instead of playing alone, we would like to play with an Italian wine team. It is our duty to do so: those of us who represent excellence and have invested so much in the image of our individual brands, together can pull more weight and thereby help to enhance the culture of Italian wine at an international level".
Francesco Domini, General Manager of Feudi di San Gregorio, in turn underlines that "our strong partnership is a very important tool to reinforce our position on international markets, especially in the new ones, via a common strategy. We aim to make what is considered luxury in Italian wine, instead an accessible excellence".
Francesca Planeta, owner of Planeta, comments on the uniqueness of this strategic alliance: "This consortium of the five major Italian brands confirms that in our country, it is still possible to build a synergetic economic system, even between different companies from different regions, because we all believe strongly that the 'Made in Italy' label is a pioneering and developmental force, also – and especially – on new markets, and our aim is to optimize our efforts".
On 18th December, Castle Utveggio in Palermo (Centro Ricerche e Studi Direzionali) will host the debut of Italian Signature Wines Academy and introduce the first major initiatives for 2015.