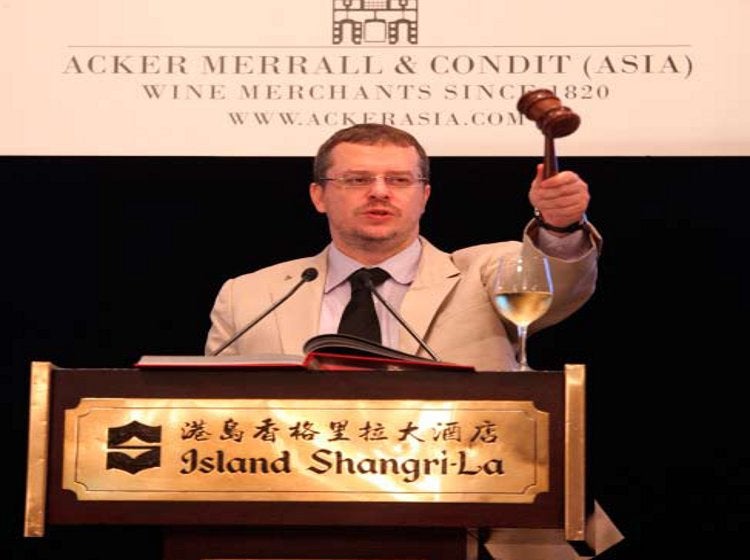 Having kicked off assertively-some might say ferociously-2011 turned into a year of retreat and rationalization for the wine trade. Since late 2010, commentators had been calling for a judicious correction before prices and preferences got out of hand, and it seems that disaster-in the form of total collapse-may just have been averted. Instead, a substantial yet orderly decrease in prices from July 2011 (fig.1, below) was accepted with grace, and almost relief, by industry players, for many of whom certain wine prices had become perilously inflated since the last recovery began in 2009.
Firsts fatigue
Price drops have not been universal, with interest broadening out to embrace Burgundy and Bordeaux's super-seconds. This is evidenced by the relative stability of the broad-based Liv-ex 500 (up 3 percent in 2011) and the heavier fall of the Claret Chip Index, consisting of Bordeaux first growths (down 22 percent in the year). A similar pattern was evident at auction, as demonstrated by the various indices that the Wine Market Journal (WMJ) uses to track auction prices. The first growths fell most heavily: by 22 percent in 2011 and a further 7 percent in the first fortnight of 2012. Domaine de la Romanée-Conti was the WMJ 's most robust index of 2011, falling by just 3 percent to December.
That prices are not falling indiscriminately is a positive sign-one that demand is changing but still exists. "Generally it's the middle market that gets slashed in a downturn," says Frank Martell, director of fine and rare wine at Heritage (formerly of Bonhams), who is encouraged that the Hong Kong market is turning its attention to wines other than first growths, of which he asserts, "Most people would consider they weren't worth that much to start with [prior to their decrease in price]".
According to WMJ publisher Peter Gibson, "Burgundy is the new Bordeaux, and Champagne is the new Burgundy." While this is perhaps a slightly crude appraisal of the situation-we mustn't forget that top Bordeaux still dominates most global wine auctions-Gibson's summary brings home the sea change under way. In December, Bordeaux represented only 80 percent of exchange turnover on Liv-ex, the lowest level since March 2009, compared to a 2011 average of 93 percent, making room for other regions.
Former first-growth safe houses suffered from being overvalued in a market where many big buyers had not yet tuned their palates and partialities. "I wasn't surprised to see a move away from the first growths," said Martell. "It made sense for Hong Kong to start there," he reasoned. Now, though, an organic restructuring is taking place that should create more opportunities, not fewer, in particular for those who can embrace change. Branching out
Auction houses have demonstrated their agility in reacting to changing demand. Following the pinnacle of top claret prices in June 2011, the savvy houses branched out in the second half of 2011. In the fall, Christie's and Sotheby's held sales headlining offerings of rare Rioja in London and Hermitage La Chapelle in New York respectively. The sales achieved sell-through rates of 87 and 94 percent, still relying heavily on a claret core, but with the featured collections selling well over the high estimate in both cases.
The recent trend toward Burgundy in Asia was miraculously served by a spate of auctions in Hong Kong. Acker Merrall & Condit's 17th Hong Kong sale on November 4 and 5 majored in Burgundies from the collection of Don Stott, with only a few token Bordeaux offerings from his friends (perhaps belying a little trepidation in what was, after all, a daring new exploit in the Asian market). It turned out to be the highest-grossing sale of the year, at $14.5 million, and proved the appetite for Old World Pinot Noir, at 98 percent sold.
Bearing in mind the time it takes to source collections and plan sales, this clearly required an element of second-guessing. Perhaps, indeed, the auction houses-with their clout proportionally outweighing their sales in the market as a whole-have led this trend, rather than following it, in anticipation of the relatively new Asian market experiencing fatigue and satiation with the claret chip status quo.
More daring still, on November 19, Rome-based auction house Gelardini & Romani held Hong Kong's first auction focusing solely on Italian wines. The sale was a modest affair, fetching less than $500,000, but nonetheless it garnered interest from serious local collectors, who gathered in the restaurant Domani and bought 78 percent of lots, snapping up the grander names-Conterno, Masseto, Gaja, and Sassicaia-but passing on more humble offerings.
Darling DRC
Interest in Burgundy follows a similar pattern, with the dominant Domaine de la Romanée-Conti (DRC) garnering much of the attention. In 2011, a wine from DRC (usually Romanée-Conti, often an '88 or '90) was the top lot in 53 sales-more than one third of the 146 held-compared to just half that number of appearances in 2010. Conversely, the once-ubiquitous Lafite '82, after a strong showing in the first half of 2011 when it crowned 14 sales, made the top lot only six times in the second half, the average price for a case falling from around $59,000 to more like $47,000 (a reduction of 20 percent). Not surprisingly, then, DRC has replaced Lafite as the auction houses' darling, dominating the front covers of catalogs-for example, at Heritage (on December 1) and Christie's (on January 25). On the subject of Lafite 1982, Martell declared, "There is not enough, it costs more than it's worth, and it gets boring."
Sotheby's January 14 sale saw mature Bordeaux sell well, alongside Burgundy, Champagne, and California, though the overall sell-through rate was only 85 percent, confirming October's end to the house's string of white-glove sales in Hong Kong. Robert Sleigh, head of Sotheby's Wine Asia, concluded, "Commodity Bordeaux from younger vintages that are still available in larger parcels received less demand, which reflects the significant volumes of these wines that have been sold in the past two years, along with historic price increases."
Acker's sale the same weekend achieved a somewhat higher sell-through rate of 90 percent. Burgundy performed strongly, "demonstrating its growing appeal in the Asian market," according to a post-sale press release, which also said that Pétrus had reasserted itself as the most collectible Bordeaux wine. Tellingly, three magnums of DRC Romanée- Conti 1999 sold for HK$634,400 ($81,333)-more than the HK$488,000 ($62,564) paid for what could be the last remaining double magnum of 1870 Lafite.
Halfway hong
Richard Harvey MW, Bonhams' global head of wine, confirmed the strong performance of Pétrus '82, saying it had risen in price at the end of 2011. However, he referred to Hong Kong as "constipated with wine." Nonetheless, wineauction revenues grew again in 2011, up 20 percent to $467 million, though at a slower rate than during the previous year. 2011 saw 20 sales more than in 2010, bringing worldwide auctions to 146, with fewer lots per sale but at a higher price per lot, resulting in a slight increase in revenue per sale of 3.6 percent. Not surprisingly, Asia accounted for a large proportion of the growth, selling 41 percent more wine than in 2010.
The Far East finished the year on sales of $227 million, just under half the global total at 48.5 percent (fig.4, above right), compared to 41 percent in 2010. The region claimed ground from a relatively flat US market but not from Europe, which maintained its 19 percent global market share by growing sales to $87 million, a 22 percent increase on the previous year. Hong Kong took a small but symbolic step backward, having momentarily passed the halfway mark at the end of the third quarter. However, the city's price per lot remained leagues ahead of its older-world neighbors. The average lot went under the hammer for over $8,000-more than double the average lot in the United States and four times that in Europe.
Leader board
The top seven houses were the same as in 2010, but with Acker Merrall & Condit increasing its lead over the runners up, and Christie's closing in on Sotheby's. Acker retained the worldwide number-one spot, with live wine-auction revenues of $102.3 million. The American house grew sales in all regions compared to 2010, amounting to 12 percent growth overall. Sotheby's, on the other hand, brought in revenues of $85.7 million, 3 percent below its 2010 level. This allowed Christie's to all but catch up with its rival, only a fraction behind at $85.5 million, having almost doubled its Hong Kong sales of 2010.
The 52-bottle superlot of Romanée-Conti 1952-2007 sold by Acker Merrall & Condit in Hong Kong on December 10, 2011 for a record-breaking price of US$813,333
Zachys, in fourth place, really did double its revenues from Hong Kong auctions, while maintaining its US sales at a similar level to 2010. This allowed the US house to achieve impressive overall growth of 40 percent, to reach revenues of $78.8 million. Spectrum- new on the scene in 2009-grew by 69 percent to maintain seventh position, ahead of Bonhams, which attributed its 37 percent growth to its strategy of "having a wide-ranging appeal to the whole market." In its first sale of 2012, on February 9 in London, the house confirmed this approach with lots from Champagne, Germany, Italy, the Rhône, and the New World, though it should again be noted that by far the largest section in the catalog was devoted to claret. Despite Bonhams' broader focus than many other wine auctioneers, Harvey accepts that it will be "hard to match the increase in sales at the level achieved in 2010 and 2011 if top Bordeaux like Lafite has dropped 30 percent in price."
Meanwhile, 2011 newcomer Heritage entered in eighth place, overtaking the regional European houses in a fell swoop, despite impressive growth by the likes of Dutch house Winefield's, at 113 percent. Heritage held five sales, one in tandem with Greg Martin Auctions, which it acquired during 2011. I asked Martell whether its 2011 revenues of $11.8 million met expectations. "Would we have loved for it to be $25 million?" he asked, rhetorically. "Of course. But look at the value per lot, and we're on a par with all the serious players," he concluded. Heritage's average lot sold for $2,793-not quite up there with the average of the top seven houses, at $4,559, but nonetheless an impressive start for its debut year in wine auctions, and not far off the US average of $3,217.
More than half Acker's revenues were generated in Hong Kong, where it also came out on top. By adding its Internet sales into the mix, Acker has declared itself to be number one in the United States as well, claiming a "global Triple Crown." However, if one discounts the virtual sales (as not belonging to a physical location), then Acker's US winnings are $33.4 million-less than Hart Davis Hart's $37.4 million and Zachys' $36.4 million. Sell-through Despite strong growth, sell-through rates were weaker in 2011, a sign of dwindling demand-and perhaps an end to the auction arena's meteoric growth for the next year or two. The global average for 2011 was 92.1 percent, down from 94.2 percent in the first half to 90.0 percent in the second. The decreasing number of lots sold was most marked in Asia, where the 2011 average was 93.9 percent, down from 97.7 percent in 2010. With the percentage of lots sold now higher in the United States, at 95.6 percent, this implies it is time to curb the physical displacement of wine auctions from West to East.
For those auction houses that have neglected their traditional markets in favor of temptress Hong Kong, this may mean some TL C and groveling on the home front. According to Martell, the houses that have been holding sales exclusively in Asia may have "lost touch, but there's no reason they can't win their clients back." But to do so, in Harvey's view, "they'll have to work hard."
One house that can't be accused of heeding Hong Kong's siren calls is the staunchly Chicago Hart Davis Hart. Still in fifth place globally but without any recourse to Asia-based auctions, the house has been left behind the "big four." However, it can argue tenure as the king of the US market both in income terms and, irrefutably, in the sell-through-rate stakes, with an ever-remarkable 99.9 percent of lots sold in 2011 (fig.6; see p.198). The Chicago house held five white-glove sales out of seven in the city, and dropped only 11 lots out of nearly 9,000.
Empire building
No wonder Acker Merrall & Condit was drawn to the city- a sign, perhaps, that the house is wary of overreliance on the Hong Kong market? Evading the question, Acker CEO John Kapon told me the acquisition of Edward Roberts International in Chicago was merely a case of "adding a little bit to the empire." That, and a somewhat tenuous family connection that nonetheless warmed Kapon's cockles: His uncle shared a room at Columbia University with the uncle of ERI's CEO, Edward Brooks.
I ask Kapon if he has any plans to extend the Acker Merrall & Condit empire to Europe. "It's more about the sell side than the buy side," he responded, adding without any great conviction that "it's possible in London, one day." One American player with concrete designs on the traditional capital of the wine market is Spectrum Wine Auctions. Partnering with a London fine-wine retailer called Vanquish, Spectrum brought its hammer to the city on February 8. A bold move, given that wine auctions hosted in London in 2011 sold a combined 85.7 percent of lots, compared to the 94 percent of Spectrum's usual hunting ground in Hong Kong.
These examples of expansion and experimentation again reveal the auction houses as nimble creatures. They can quickly evolve in terms of not only what they offer but also where they offer it, as we saw in 2008, with the flood of sales in Hong Kong. Auction houses don't hold stock, which means they are somewhat more flexible than merchants and can change tack according to the prevailing winds. Following its second-ever Chicago sale on January 28, Kapon announced, "The market is actually getting stronger by diversifying," adding, "To see Giacosa and Harlan in the top ten lots shows that tides are changing."
Beckoning the bottom
Auction houses can't, however, be totally immune to price decreases. As Harvey points out, "Vendors are less willing to sell in a falling market." He adds, "The Chinese economy is not growing as fast, credit is tighter, and Hong Kong is awash with wine," predicting "a flatter year." At the same time, while sellers may be discouraged, lower prices will have the opposite effect on buyers, who will want to stock up at the bottom of the market. Martell sees opportunities to "bring back old and new buyers who were previously priced out." But who dares call the bottom?
Professional investors Wine Asset Managers (WAM) and The Wine Investment Fund (TWI F) are bullish, pointing to past cycles in wine's price performance and suggesting that 2012 could serve up a recovery in line with that of 2009. WAM stated in its December report that "it is our belief that the correction has now largely taken place." WAM's take on the situation is that downward price adjustments at UK merchants have been pushed through by finance directors to insure continued sales, and that they are holding less stock than normal. They conclude, "Therefore, the end game is in sight, and there should come a point when the rallying cry to restock can be heard."
While accepting that "such 'technical analysis' should always be treated with skepticism," TWI F referred to past performance when it predicted in January that the Liv-ex 100 would grow by 10 percent in 2012. TWI F's Andrew della Casa announced that "now could be the 'right' time," highlighting as a growth factor "the possibility of positive net investment inflows, given the more attractive valuations." I am not sure that wine prices follow such predictable paths, and such analysis should perhaps be taken with a pinch of salt. For superstitious investors, however, it may be comforting to know that the year of the dragon (ushered in on January 23) is historically positive for fine-wine returns, with an average 8 percent growth rate for the Liv-ex Investables index since 1987 (fig.8, above). The zodiac sign traditionally signifies wealth and fortune. Wine prices showed signs of recovery, with the Liv-ex 100 and Liv-ex 50 indices rallying 1.4 and 2.1 percent respectively in January 2012, the first climb in six months.
Other industry players are less confident that the market has reached its nadir. Gary Boom, managing director of UK merchant Bordeaux Index, was reluctant to put his eggs into one basket, saying it is "tricky to forecast whether we're at the bottom of the market." There may be a clue, however, in the update on his First Growth Wine Fund (FGWF); originally due to launch in October 2011, the fund is on hold indefinitely. Boom explains: "It was clear after August that the market was about to go down in a major way, and Bordeaux Index started reducing stock." He continues, "So, something wouldn't have been quite right if I'd been raising cash for a fund and dumping my own stock."
Is wine still a good investment, or has the proliferation of funds and managed cellars been impulsive? According to Boom, people are still champing at the bit to invest in wine, and FGWF has "funds it could access instantly." The soft market conditions haven't stopped other funds from raising new money. Ingenious, with the help of fund manager Peter Lunzer, is fundraising for a second enterprise investment scheme (Vindemia II EI S), due to close on April 2 at a maximum size of £10 million ($15.7 million). TWI F has also announced its intention to launch an EI S in 2012, hoping to raise £2 million ($3.1 million), the same target sum as First Vintage EI S, a new player on the wine-fund scene.