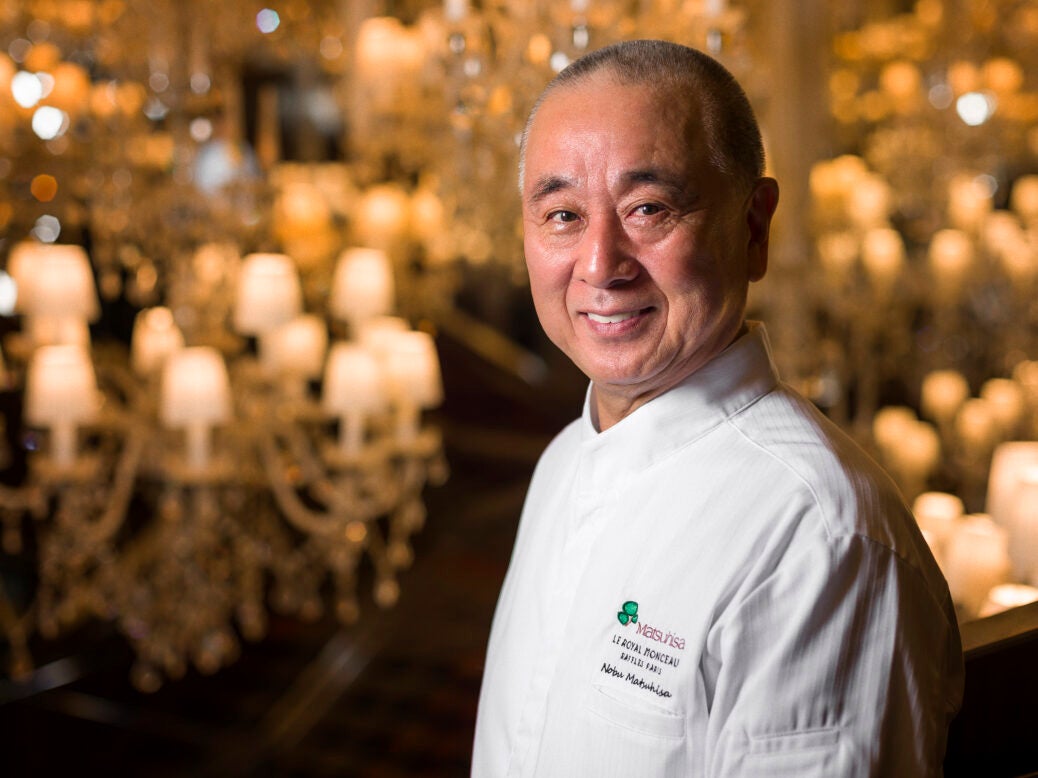 Further to the internationally celebrated Matsuhisa Beverly Hills and the celebration of six other exclusive destinations around the world, Matsuhisa Paris opened in March 2016, under the expertise of Executive Chef Hideki Endo and his team of sushi masters, Matsuhisa Paris brings a highly contemporary vision of Japanese cuisine; a gastronomic encounter between Asia and Latin America – two cultures dear to the heart of Nobu himself.
He explains: "Paris is the capital of gastronomy. I've always loved the City of Lights for its energy and its people, so I am delighted to be able to showcase my food to the Parisians. Le Royal Monceau – Raffles Paris combines true elegance with relaxed sophistication – and this atmosphere is mirrored in my restaurant." Matsuhisa Paris has adopted and adapted the celebrated formula from Nobu's other restaurants in Beverly Hills, Aspen, Athens, Mykonos and Munich.
The extensive and original menu at Matsuhisa Paris offers a unique Peruvian-Japanese culinary experience with a bespoke array of Nobu's legendary signature dishes including: Albacore Tuna Sashimi with Jalapeño Peppers, Black Cod with Miso, and Sashimi Tacos as well as traditional sushi. Chef Hideki has also worked with exquisite French delicacies to offer one of a kind dishes such as Algae Tacos with Black Truffle, Crispy Oysters with Caviar, Wagyu Beef with Foie Gras Ravioli and Ponzu sauce or wasabi and aioli sauces. All the dishes are complemented by a sophisticated menu of sake and exotic cocktails designed to perfectly blend with Nobu's culinary journey.
The restaurant seats 100 comfortably and guests can order Nobu's cuisine with 'Omakase', an innovative multi-course menu selected by the Chef on the day to surprise and delight them. Matsuhisa Paris will also feature an 'Omakase Bar', an eight-seat live cooking counter. Here, lucky guests will experience an exclusive and utterly memorable gastronomic journey, in close harmony with the Chef. In this very intimate setting, every dish is cooked directly in front of them, so they can see first-hand how some of Nobu's best-loved Peruvian-Japanese dishes are created.
NOBU MATSUHISA – MASTER OF CULINARY INNOVATION
Nobuyuki Matsuhisa, more commonly known as "Nobu", is part of the very select circle of the most charismatic chefs on the international scene. He is known for his unique style and original flair, combining Japanese gastronomic codes with exotic flavours and techniques gleaned from his time in Latin America.
Nobu grew up in Japan. At the end of his apprenticeship, he was offered a professional position in Peru in 1973. The 24-year old Nobu grabbed his chance and took off for Lima to open his first restaurant.
This South American experience would forever influence his creativity. Unable to find all the ingredients necessary for some typical Japanese dishes, he was forced to improvise recipes using local products. In so doing he discovered new textures, original seasonings, unknown spices, tried new marinade techniques. These new sources of inspiration, coupled with a devouring passion for fish in all its many forms, would help forge the artist of cosmopolitan Japanese cuisine that he is today.
After 10 years of travelling through Peru, Argentina and Alaska, Nobu set up shop in Los Angeles, opening his own 'Matsuhisa' restaurant in Beverly Hills in 1987. Thanks to his unique culinary style, his cuisine soon made its mark, standing out from the pack. His restaurant became the hideaway of Hollywood stars, bringing him world-wide acclaim.
Riding on this success, Nobu continued to expand, progressively setting up restaurants on five continents. Today, he owns 39 restaurants. Matsuhisa Paris is his sixth Matsuhisa fine dining establishment (after Beverly Hills, Aspen, Athens, Mykonos and Munich).
HIDEKI ENDO – EXECUTIVE CHEF AT MATSUHISA PARIS
Born on Hokkaido Island, Japan, Hideki Endo was immersed in the hospitality business from an extremely young age. With his father a chef and his family running a hotel, it was a natural step for Hideki to develop a passion for cooking and follow in his father's footsteps.
After learning the basics in the family business, he left to work in Sapporo, Japan training as a sushi master in the city's top restaurants – Momotaro, Kaiseki and the Sumire Hotel – over a nine year period. He worked as a SousChef for three years at Otaru Hilton before heading to Hong Kong where he joined Nobu Matsuhisa for the opening of Hong Kong Intercontinental hotel in 2006.
Today, as Executive Chef of Matsuhisa Paris, Hideki is proud to introduce Nobu's unparalleled art of Japanese gastronomy to France.
MATSUHISA MIXOLOGY AT LE BAR LONG
To complement the dining experience at Matsuhisa Paris, Le Royal Monceau – Raffles Paris offers an exclusive menu of Matsuhisa Paris cocktails on Le Bar Long's menu. A place for encounters and exchanges, characterized by the high, luminous long table designed by Philippe Starck and its comfortable deep leather sofas, Le Bar Long is a stylish yet warm spot to sit back and relax.
With the opening of Matsuhisa Paris, the Le Bar Long becomes the ideal setting to discover the Chef's signature cocktail creations. He has reinterpreted the classics – Martini, Mojito, Bloody Mary, and Margarita – adding a very personal touch with a dash of Sake. The result is a collection of light and fruity cocktails – a delightful addition to this immersion in Nobu Matsuhisa's flavour universe.
Every evening, the DJ's music makes sure the vines is even more relaxed…
Matsuhisa Paris at Le Royal Monceau – Raffles Paris
Opening hours: Lunch/Dinner Monday to Wednesday (12:00 pm to 2:30 pm/ 7:00 pm to10:30 pm) Thursday and Friday (12:00 pm to 2:30pm/ 7:00 pm to11:00pm)
Dinner only: Saturday (7:00 pm to 11:00 pm) and Sunday (7:00pm to 10:30pm)
Information and bookings: dining.paris@raffles.com Tel: +33 (0)1 42 99 98 80 www.leroyalmonceau.com