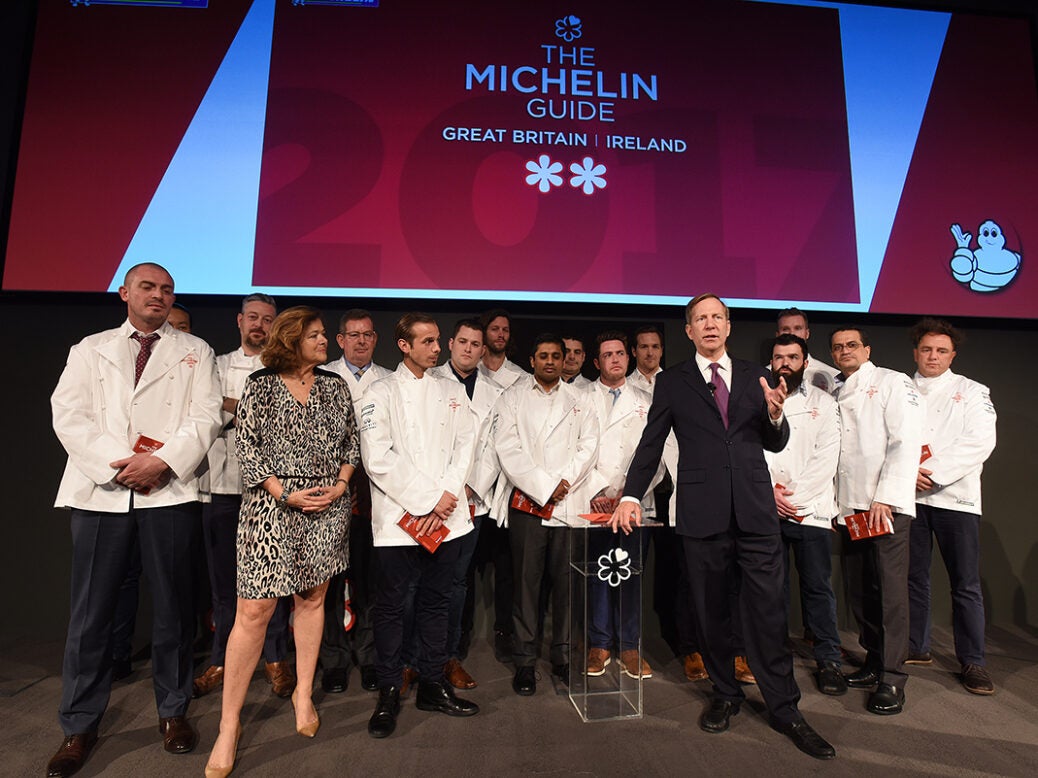 International Director of the Michelin Guide Michael Ellis discusses food and beverage trends and the changing world following the first-ever live event for Michelin Guide Great Britain and Ireland.
Michael Ellis is a busy man. Jetting off after launching the UK's first-ever live Michelin Guide event we chat while he is taxiing to the airport in Paris, on his way to launch the Michelin Guide for Switzerland the following day in Zurich.
This year the UK hosted its first-ever live launch event for the 2017 Michelin Guide Great Britain and Ireland, where 20 new Michelin stars were revealed.
For decades Michelin has only used press releases to share the news however since the launch of their first event in Japan 10 years ago they have been progressively building their launch events around the world.
As international director of the Michelin Guides, Europe, Asia and Americas, Ellis said timing, event space, his schedule and the chefs' were all important factors, and fortunately all of these aligned for the UK at Savoy Place, London, making this year's first live event achievable.
"Everything came together at the right time, we worked hard to get the results and we were very happy with the reception that we got for this first event," commented Ellis.
Eighteen new restaurants were awarded One Michelin Star, while self-taught chef James Close of Raby Hunt at Summerhouse was the only new Two Michelin-Starred restaurant to be added to the guide.
One establishment to finally claim its One Michelin Star was the Ritz Restaurant with John Williams and his team. "It's something we knew John Williams and the team were striving towards. They have a mammoth task on their hands with the style of operation that they have at the Ritz. John has been building up to that level in food and the consistency is there now," says Rebecca Burr, Michelin Guide UK and Ireland editor.
Food and wine are becoming more closely tied than ever before, where inspectors have found a tendency towards beverage pairing. Ellis outlines how they are now seeing beverage pairings of sake, cocktails, beer in the UK, France and Germany where there exists a beer culture, and even tea, alongside traditional wine pairings.
Editor of the Michelin Guide UK and Ireland Rebecca Burr says, "Of course it is all about the food, but have they got a wine offering that will satisfy people that are going to starred restaurants?"
"[Wine] is an important part and it's a consideration when we're awarding stars."
Since Initiating in 1900, the Michelin Guides have continued to evolve. They now include various key words and symbols to reflect different elements such as the atmosphere and a grape motif to indicate a good or exceptional wine list.
"The world is becoming intuitive, and we can thank Apple for that," says Ellis. People are moving away from instruction manuals, wanting to immediately understand. "We need to recognize that and make our guides as intuitive as possible," he continues.
Ellis highlights an emerging new generation of chef, where young local chefs will often leave the country, visiting Africa, Asia and more, to learn new cooking techniques, and will return to create their own signature style.
"It struck me yesterday that of the 18 new one stars, 80% of them look like they're under 35 or certainly under 40," Ellis states.
"They'll combine all these different techniques using creativity to produce their own unique signature. That's an amazing thing and it's a really exciting trend," Ellis continues.
An important tendency is that food is becoming more product-focused, says Ellis. Menus are selective with their descriptions, choosing to detail the product such as the farmer and how the cows have been raised, for instance, as opposed to how the food will be prepared. "Traceability, we want to know where the product came from, who raised it, who grew it, when it was harvested." This is certainly also applicable to the wine industry, where a wine's journey from vineyard to auction and everywhere in between could potentially affect its quality, so traceability is key.
This year also marks the biggest year for new guides in the 116-year history of Michelin. 2016 will have seen the release of four new guides: Singapore (July), Shanghai (September), Washington D.C. (October), and Seoul, Korea (November 7). Ellis' next stop is launching the Michelin Guide Washington D.C. on October 13, Michelin's third American city.