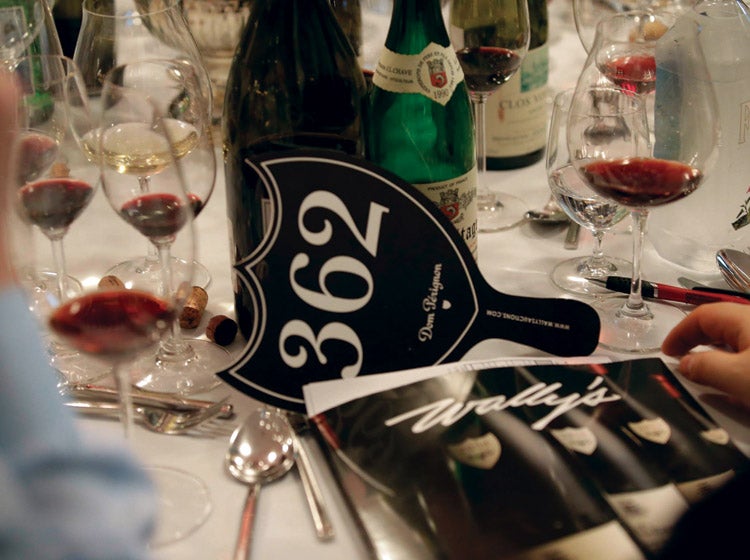 The Liv-ex 100 index fell for 12 consecutive months to March 31, 2014, the longest decline in the index's history. The index, comprising a high proportion of Bordeaux, especially first growths, lost 11 percent over the year. Wine was outperformed by stocks, with the Dow Jones Industrial and the FTSE 100 gaining 13 and 3 percent respectively over the period, and the Hang Seng down just 1 percent.
Oil prices increased 5 percent, with only gold yielding worse returns than wine, down 20 percent over the year. A more diversified fine-wine collection, along the lines of the new Liv-ex 1000 index, would have performed less badly, but still ended the year in the red, just. The Liv-ex 50, consisting solely of first-growth Bordeaux, fell by 12 percent over the year, as these five famed crus continue to shed the excessive valuations they accrued in 2010 and 2011.
The index fell steadily in each of the past seven months, losing 10 percent over this period and continuing to drop in the first half of April. Of its 50 components, all but one — Haut-Brion 2002 — dropped in price in the six months from September to March.

Bidding at a Hart Davis Hart auction in Chicago; it had the second-highest auction sales total to March
We are pleased to say that the World of Fine Wine Collectors' Index, created by Liv-ex exclusively for this magazine, has outperformed all of Liv-ex's composite indices — the 50, the 100, and the 1000. It dropped by only 1 percent in the year to March, thanks to its varied nature and the inclusion of older vintages, going back to 1982. (The oldest vintage in the Liv-ex 100 index is 1995.)
In this issue, we have made some updates to the Collectors' Index to include some of the more successful recent vintages, inter alia 2009 and 2010 DRC, Rhône, Italy, and New World, 2010 Bordeaux, and 2004 Champagne. The index increased by 36 percent over the five-year period to March 2014, which is two percentage points ahead of the Liv-ex 1000, at 34 percent, and well in front of the Liv-ex 100, at 19 percent. All three of these indices, however, trail behind the stock indices and commodities featured in, even over five years.
A return to fundamentals
Fine-wine auctions — more so than the wider market — are now demonstrating positive fundamentals. The first of these is growing revenues. Last year, global wine-auction revenues were down 16 percent on 2012, but fourth-quarter sales were only 12 percent down year on year, and in the first quarter of 2014 growth has returned. Global revenue is up by a significant 25 percent compared to Q1 2013, at $73 million. Sales have also surpassed Q1 2010 levels, lagging behind only the bumper years of 2011 and 2012.
Another positive sign is the average price per lot being sold at auction, up 16 percent year-on-year at $3,220 in the first quarter, back in line with 2010 but still $600 off the Q1 2012 average. This is likely to be a combination of prices rising on a like-for-like basis and auction houses selling more expensive wines. What is perhaps even more promising is a higher global average sell-through rate of 94.5 percent during the first three months of 2014. This is not far off the high that in the first quarter of 2011 heralded the most successful year in wine auctions ever, and a significant increase of 2.4 percent on the same period last year.

Bottles from three of the Drouhin Musigny lots that sold well at Sotheby's New York on March 7
The higher the percentage of lots sold, the more effectively the market is absorbing supply. Demand is currently highest in the USA, where the average sell-through rate is an impressive 97.6 percent, followed by Asia at 96.3 percent. Thanks to increasing demand, the USA grew revenues by 48 percent on the same period in 2013. This allowed the region to make meaningful gains on Asia, with the USA now representing 47 percent of global wine-auction revenues to Asia's 34 percent, compared to 40 percent each in Q1 2013.
Interestingly, though, Asia also experienced first-quarter revenue growth year on year — by a more modest 5 percent but this is nonetheless a hugely positive sign that Asian demand has ceased to wane. Europe grew sales in the first quarter, too, by 17 percent; but with its characteristically weaker sell-through rates, it lost a little ground to the USA, making up only 19 percent of sales in the quarter.
Given all these encouraging signs, perhaps it's not surprising that auction prices seem to have bucked the wider market trend, with the WMJ 150 rising 5.7 percent. Even stronger performance was achieved by regional indices such as DRC, California Cults, and most of all the Rhône, whose annual gain of 12 percent is surprising given that this region was one of the year's worst performing according to trade prices on the Liv-ex exchange.
En vogüé
Auction houses have reported back enthusiastically on recent sales, even in Europe where sell-through rates imply softer demand than elsewhere. In Zurich, Steinfels' Marc Fischer declared his latest auction "an amazing success" and "the best result in two years." The Burgundy trend continues full steam ahead, with French houses noticing increased interest in Burgundy. DRC, Coche-Dury, and Henri Jayer were particularly sought after at Tajan's latest auction. Meanwhile, at Artcurial it is Burgundy that "garners all the interest, sometimes to the detriment of the Bordeaux classed growths," according to press relations officer Jean-Baptiste Duquesne.
An annual event in any American Burgundy lover's diary is the US homage to La Paulée, which this year took place in San Francisco. Zachys, as usual, held a Burgundy-centric auction to coincide with the event, which brought in $5 million. "The results proved that the current market is savvy and willing to pay top dollar for well-stored wines of excellent provenance," noted Jamie Pollack, Zachys' managing director for North America. Domaines Armand Rousseau, Comte de Vogüé, Jean-Marie Fourrier, and Henri Jayer performed particularly well in relation to their presale estimates.
At a single-owner sale by Heritage Auctions on March 21 and 22, a single bottle of 1934 DRC Richebourg Vieux Cépages went under the hammer for a staggering $34,160. The company's director of fine wines Frank Martell said, "Even with unlimited resources, it would be virtually impossible to find another bottle of this wine, and it would not come with the stellar provenance our example carries."
Burgundy also led the charge at Sotheby's New York auction on March 7, as wines direct from the Drouhin family cellar fetched an impressive $900,000 — more than double their low estimate, and 100 percent sold. The sale attracted as many as 90 online bidders, which is Sotheby's highest total ever for a wine auction. Duncan Sterling, head of New York wine auctions at Sotheby's, declared, "There is incredible demand for great Burgundy from a top-class property with perfect provenance." While the current vogue is, without doubt, Burgundy, regional trends are prone to wax and wane. A deeper-running current in the fine-wine ocean — one that is only getting stronger — is provenance. It is cited more and more by all involved in the fine-wine market, with auction houses in particular noticing superior results for wines with clear ownership and storage history. The head of Tajan's wine department, Arianne Brissart- Lallier, agrees that "wines from private cellars, with good temperatures and humidity conditions, sell better."
Not every auction catalog and press release, however, leverages storage conditions. A famous owner can also tick the provenance box. The press release announcing the sale of Sir Alex Ferguson's wine collection across three auctions in May and June, focused on the special dedication — "Best wishes, Alex Ferguson" — which appears on several of the bottles and items of football memorabilia featured in the sale.
New blood
It's too soon to speculate on which auction houses might dominate this year, though the top five by the end of March were Acker Merrall & Condit, Hart Davis Hart, Christie's, Zachys, and Sotheby's, in that order). If Hart Davis Hart continues at the same rate, there's a small chance the Chicago-based house could break into the top four, which would be an impressive achievement from what are single-city sales.
Another player that could threaten the status quo in future is newcomer Wally's Auctions. Wally's won't be able to catch up with the big guns this year, with only one live sale to date, but the new operation has not had to start from scratch, given the management's experience and contacts, as well as the substantial customer database of retail arm Wally's Wines. Wally's March auction brought in a respectable $1.9 million and a 96 percent sellthrough rate. CEO Michael Jessen reported "significant buyers in the United Kingdom, Central America, South America, South Korea, Hong Kong, and throughout Asia."
For the original version of this article complete with graphical analysis and auction results tables, please see Issue 44 of the print magazine.