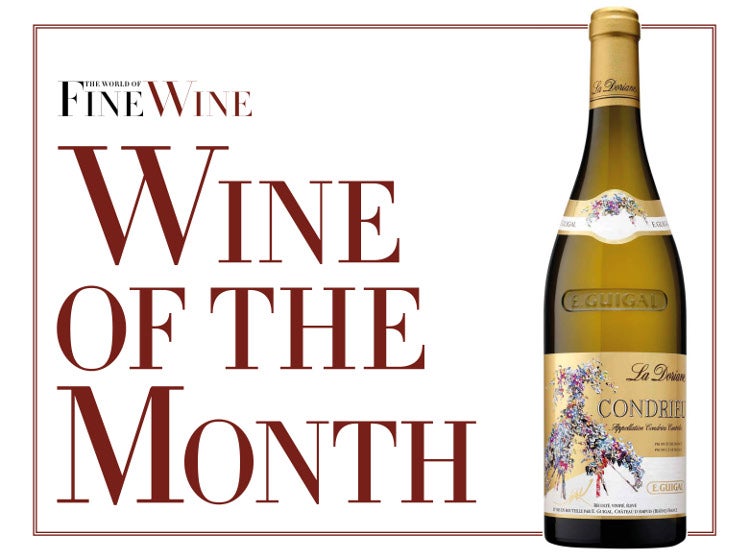 The Viognier story is an unusual one. It came, famously, within 15ha (37 acres) of extinction in the mid-20th century. Had it not loitered on a few hot terraces of decomposed granite to the south of Ampuis, and had Rhône Valley restaurateurs such as Fernand Point and Jacques Pic not championed the almost-forgotten wines of Condrieu growers like Francis Vernay and his son Georges, this tasting might never have taken place. The last two decades of the 20th century saw plantings of Viognier multiply many times over around the world. For a while in the early 1990s, it was considered "the new Chardonnay"; a decade later, meanwhile, no non-European winemaker with an eye to fashion cared to ferment Shiraz/Syrah without lobbing in 5 percent or more Viognier. There is now more Viognier in Israel than there was in the Rhône Valley in 1958.
Sometimes this success seems almost surreal. The variety hasn't yet captured the imagination of the wine-drinking public in the same way that Sauvignon Blanc or Pinot Grigio has. It is less adaptable and versatile than Chardonnay. Its greatest avatar and chief aesthetic model, Condrieu, is produced in tiny quantities (under 5,000hl per year) and remains an insider's fine wine, unknown to most of those drinking varietal Viognier. Condrieu, moreover, is rich, perfumed, unctuous, high in alcohol, low in acidity: all of the "wrong" technical requirements, in other words, for a decent commercial white, and totally incomprehensible to a sizable minority of those vinfying the variety outside its home country. It's not an easy variety to grow: There are few clones, owing to the fact that the variety is so disease-prone. Without low yields, it quickly loses character and impact.
On the plus side, by contrast, its beauty is a unique one and inspires passionate devotion in those who have had some exposure to Condrieu and other great Viognier wines. It can be as perfumed as Torrontés or Gewurztraminer but with a more haunting, more dappled, and more subtle palate than they often have; it is capable of expressing splendid "minerality"; and it is surprisingly adaptable both with and prior to food. It doesn't need aging and hits its peak soon after bottling; it is usefully suited to warm climates; and its thick skins give it a fighting chance over a humid summer, too. Its almost visceral charm can capture the hearts and palates of new drinkers and old soaks alike.
For this tasting, we assembled a variety of Viognier wines from the USA and from the southern hemisphere and bench-tested them against both Condrieu itself and against three inexpensive Languedoc Viogniers. The two biggest non-Condrieu cohorts came from Virginia (where Viognier's ability to deal with subtropical summer weather plus its generally accurate and attractive varietal character, has made it the most widely planted white grape after Chardonnay) and Australia (where it has had significant advocates, notably Yalumba in South Australia). Both areas fielded six wines. California and Ontario were represented by four wines each, with a brace from South Africa and a single New Zealand representative.
There was some division among the judges on the key style question, which is how closely the style of Viognier should echo that of Condrieu. Stephen Brook was open to "other expressions", whereas my opinion is that trying to make Viognier fit any aesthetic paradigm other than the rich and baroque is to denature the variety and strip it of interest. Alex Hunt's memorable image of the variety as a curvaceous Rubens beauty wobbling off on a bicycle suggests a palate in the latter camp, but the discussion is articulated with some nuance in many of the notes for the individual wines.
Setting aside the single dessert Viognier shown (a divisive wine, with scores of 18, 15.5, and 12), everyone's favorite wine was one or other of the two vintages of Guigal's La Doriane Condrieu. After that, though, opinions were split, with the best Australian and Virginian wines generally sharing the honors, though exactly which those wines were differed from taster to taster. The Australian style spectrum is a wide one, with Millbrook's memorable Perth Hills Viognier (third equal on my score sheet and in second-equal place for Stephen Brook) very definitely in the Condrieu camp, while the Tahbilk Viognier (picked at just 12.5% ABV and reminding Alex Hunt of Riesling and me of young Hunter Valley Semillon) is a different creature altogether. From Viognier-specialist Yalumba, all three tasters preferred the more emphatically and exuberantly styled Eden Valley version to the slightly more conventional (and more expensive) Virgilius.
The Virginian wines, it's fair to say, left our tasters quietly impressed, with those wines crafted with more delicacy and finesse being most liked. Summer in Virginia is an intriguing affair, since none of these wines lacked a clear intimation of varietal style and character: The grapes had the chance to evolve through their full ripening cycle, in other words. Yet the two most liked Virginian wines (from Veritas and White Hall) are both labeled as having just 13% ABV. It would be unthinkable to get that much aromatic and flavor development at that stage of sugar ripeness in any other location, Condrieu included (where the most liked wine measured 14.5% ABV). Are there benefits to clouds?
On the basis of our tasting, California still struggles to make unforced, seamlessly articulated Viognier: None of the four wines managed to please all tasters, with each wine pooping a 12.5 score from at least one taster. Ontario, too, failed to convince, with both Stephen Brook and myself surmising that the climate was too cool for this sun-loving grape (though Alex Hunt dissented, tucking two Ontario wines into his modestly scored top ten). Much the same may be true of New Zealand. Our two South African examples seemed stylistically half-hearted, though the climate there is surely propitious for authentically Rubens-like contours. It was notable that, set against these shaky efforts, the three modestly priced wines from the Languedoc performed with attractive assurance.
Our message to Viognier producers is to keep trying. Even the Condrieu wines weren't regarded as uniformly successful: Alex Hunt lashed out at two, with scores of 12 and 13. At its best, though, this variety's wines can send shivers of pleasure down your spine, blow gently over the hairs on your nape, and tweak your nipples for luck. We three old soaks love it, and we want more.
E Guigal Condrieu La Doriane Rhône 2010 ranked in Andrew Jefford's, Stephen Brook's and Alex Hunt MW's top wines at this tasting, and is our wine of the month.
E Guigal Condrieu La Doriane Rhône 2010
SB | Medium straw. Opulent stone-fruit nose, with admirable typicity without being overblown. This gives the nose purity and intensity. Svelte on the palate but not excessively creamy, with a gentle lift of acidity and plenty of texture, as well as spice. Any oak element is well integrated. Certainly ripe, but not so ripe as to rob the wine of finesse. Long and stylish. | 17.5
AH | The nose betrays some evolution, with the fruit subdued, and biscuity notes taking over. The texture is lovely: very harmonious and seamless, with a touch of phenolic grip giving a pithy impression but little bitterness. While the lack of overt apricot aroma comes as a surprise initially, this is in fact a fine glass of wine. | 15.5
AJ | Full gold. Creamy and full; some oak evident. Behind that, the white flowers flutter and the nougat awaits; freshly ground almonds, too. Harmonious, subtle, well-judged. On the palate, a first-class rendition: sumptuous and multilayered, texturally rich, as well as rich in flavor, with lots of jasmine and honeysuckle lift. Almost toothsome in shape and style. Very low acidity, but you don't miss it, because the glycerol and the alcohol and the perfumes provide all the poise and balance you could want. The alcohol is also well carried, with little throb or burn. A masterful rendition. | 17.5