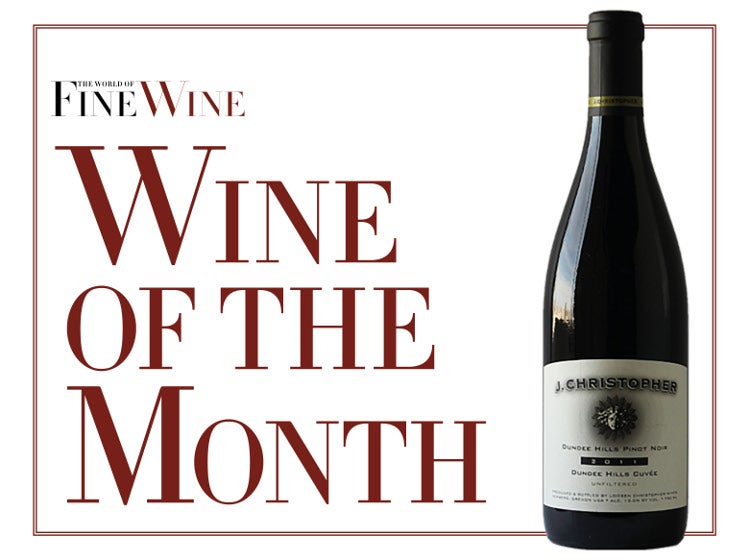 Of the 53 wines submitted for this interesting if rather exhausting tasting, 30 came from Oregon, 16 from California, six from Canada, and one lone ranger from darkest Idaho. These were not wines that could be tasted at speed and given an instant score. Most needed to be tasted and retasted, especially those wines that required time in the glass to shake off any reductivity and reveal their true colors. It is hardly surprising if judges draw different conclusions about the same wine. This may be because of individual stylistic preferences, or it may be due to a failure to spot something of interest when one is up against pressure from the clock. An intrinsically good wine can easily be dismissed as a result of not allowing sufficient time to listen to it or wait for it to start singing. The risk of palate fatigue is also a real one, and doing justice to the final flight requires particular care and concentration.
Had I not resisted the temptation to accelerate toward the end, I have no doubt that I would have failed to spot the quality of the 2010 Eyrie Vineyard wine, reductively weird when first raised for nasal inspection and demanding another 15 minutes before the problem was resolved, as a result of which I missed my train home. The reward of finally unearthing the real wine behind the mask more than made up for any such minor inconvenience, however. I know that I was not the only taster to feel somewhat exhausted, even possibly a shade intoxicated, by the end of the session. If we dare not ask for sympathy from readers, we may at least beg for some understanding
Delicacy, power, and longevity?
In general, I think the notes of the tasters resonated much more enthusiasm than disappointment. There was more to like than dislike, though any tasting of Pinot Noir wines is almost sure to raise a few shocked nostrils along the way, for the path to good Pinot is often a bumpy ride, with more than a few potholes. Furthermore, Pinot Noir wine is likely to polarize opinions rather more than, say, Cabernet. Pinotphiles tend to prefer certain stylistic traits. How much priority is allowed to delicacy over power is a very individual decision. Some judges are immediately influenced by depth of color in a red wine and find it hard to give a high score to a pale wine. Such tasters need to taste Pinot Noir in a black glass, or simply learn to overcome their color prejudice and remember that Pinot Noir is not Zinfandel.
Another topic for consideration concerns potential for longevity. Most wines made from Pinot today are probably at their most enjoyable while still showing the fresh bloom of youth, with the primary-fruit perfume unclouded by the effects of age. But the proof of a great "terroir" lies surely in its potential to deliver wines of exceptional depth and individuality when fully mature after extended age in bottle.
Few vineyards outside the Côte d'Or have yet developed the track record to confer such status, but a track record is by definition something that takes time to establish, and in the realm of viticulture it surely takes more than a generation. After all, as recently as about 30 years ago, the generally accepted view was that Burgundy was the only vineyard region on the planet that could produce great wine from Pinot Noir. It was David Lett's 1975 South Block Reserve from his Eyrie Vineyard in Oregon that did much to alter that perception (see WFW 11, pp.36-37) and give encouragement not only to other New World growers, but also to already expert Burgundians such as Robert Drouhin. It was not long before New Zealand started to realize the potential for Pinot down under, while Pinot-loving Californians were searching for cool enough locations in which to plant this climate-sensitive grape.
It was certainly not the aim of this tasting to stage some kind of Pinot Noir Olympiad to see if California or Oregon came away with the most medals. Had that been the plan, then a stronger team from California could certainly have been assembled, for there were some notable absentees. The objective on this occasion was rather to get a feel for the development and the natural style that is currently evident from a variety of locations in North America. The California contingent performed creditably, though there may have been a lingering sense that it is more of a struggle for Pinot to achieve natural balance and finesse in that location than it is in a latitude with greater proximity to that of Burgundy, and I cannot quite put out of mind Dr Johnson's famous remark concerning women preachers and dogs walking on their hind legs ("It is not done well, but you are surprised to find it done at all"). Funnily enough, the professors from UC Davis in the 1970s would probably have applied such a remark to Oregonians rather than Californians.
Confidence and direction
There was a confident turnout from Oregon, and I am beginning to see a more convincing sense of self-belief in that industry. On my last visit to the state in July 2013, I felt, perhaps for the first time in my 35 years acquaintance, that it had begun to come of age. There now seems to be a more confident and proper sense of direction than was the case a decade ago, when there was a real danger that its natural expression of Pinot might be blown off course by the prevailing fashion for wines of dark color, heavy extraction, and excessive new oak. This student of Oregon wines, for one, is hugely relieved that the majority of Oregon wine growers seem to have resisted the siren but ephemeral voices of fashion in favor of a more lasting and worthwhile destiny. There is still a long way to go, and progress in this kind of business is bound to be steady rather than rapid, but there was much to like about the quality of the wines here.
The six wines from Canada were something of a revelation. There were no horrors, and one of the wines was outstandingly good. (Which one depends upon which taster you ask!) As for the lone ranger from Idaho, it more than merited inclusion, albeit as an intriguing curiosity, to use Stephen Brook's words. But then, so much about wine is intriguing and curious. As a wine from a notoriously tricky grape variety and an unconsidered wine region, this was a pleasant surprise rather than a nasty and unnecessary shock. I can certainly think of a few mean and expensive wines of that same vintage from Vosne-Romanée that provided less fun.
Effortlessness and freshness
An analysis of our tasting notes reveals the use of terms such as "spicy," "jammy," "black fruits," and "hot" occurring quite frequently in wines coming from California, while the word "delicacy" is conspicuous by its absence; whereas those from Oregon evoke a vocabulary that includes "red fruits," "cherry," "raspberry," and a sense above all of greater refreshment. In fact, the word "fresh" occurs 22 times in the notes on the Oregon wines but just three times for the Californians. Even allowing for the fact that there were twice as many Oregon wines on show, this still means that the word "fresh" was almost four times more frequently applied to them. It is often, perhaps usually, true that the energy of the best wines appears almost effortless, whereas others give the impression that a lot of hard work has been involved. Effortlessness must suggest that success comes naturally rather than being forced. That conclusion may be the explanation for why the Oregon wine industry is beginning to believe in itself with increasing sincerity and conviction.
The test of time
In the veteran class-wines with the best part of two decades or more under their belt-there were three contenders. The wild card from Idaho was still in good shape, mature but in good health. The old man from Sonoma in the shape of Hanzell was losing the plot, at least in the case of this particular bottle, and one must always accept that bottle variation becomes ever more significant with bottle age, but the relics were not without interest and suggested a wine that had possessed merit and individuality in its day, as I know to have been the case from tasting it in the past. From a warm site, this was never a wine that was intended to draw its inspiration from Burgundy, for it recognized that the climate demanded a very different expression from the grape, and in its own unique style Hanzell managed to achieve a great reputation for the longevity of its wines ever since the 1950s. The 1970 Pinot Noir still tasted magnificent in 2011 at over 40 years old, and indeed there are those who feel that Hanzell Pinots do not really get into top gear until they are 35!
The "Father of the House" in this tasting, however, was the Oregonian, the venerable 1979 Reserve from The Eyrie Vineyard in the Red Hills of Dundee, now halfway into its fourth decade and still tasting remarkably cool and refreshing-always a nice attribute to find in an old wine. Pinot Noir often has a tendency to dry out when there is not enough flesh on the bones or sufficient natural acidity to provide vitality and nerve, but that was never the problem for this wine, all the more remarkable coming from what were then very young vines and a "terroir" with no established track record. I recall giving it a high score when I last tasted it in Oregon five years ago, again being struck by its cool, refreshing style. With a consistent set of good scores from the three of us, it managed to finish in our top ten, Alex Hunt considering it "a triumph of its vintage and pedigree." It certainly helped one reach the conclusion that Oregon was not, after all, such a crazy place to plant Pinot.
J Christopher Dundee Hills Pinot Noir Sandra Adele Oregon 2011 ranked in Mark Savage MW's, Stephen Brook's and Alex Hunt MW's top wines at this tasting, and is our wine of the month.
J Christopher Dundee Hills Pinot Noir Sandra Adele Oregon (unfiltered) 2011 (13.5% ABV)
SB | Dumb nose. Medium-bodied yet precise, with an effortless concentration. This has poise and lift and an engaging red-fruits succulence. The acidity, while not excessive, gives bite as well as freshness. Natty rather than exuberant. Still youthful but has very good potential. | 17.5
AH | Here there's some really funky, stemmy Pinot aroma. Very inviting. The palate is supple, fluid, yet with plenty of intensity. There's a fine balance of fruity and savory characters; the whole is unmistakably Pinot Noir, with a grace and precision that supports the delicate balance of flavor. | 17
MS | There is a nice luscious character to the fruit here, vinosity without intrusive alcohol, balance and refreshment. There is, I believe, a Dundee Hills style to the fruit, a pleasing softness yet enough structure in the acidity to allow for further bottle age and development. So, all in all, there is present pleasure and future promise. It has more elegance than most of the other wines in this tasting. | 16