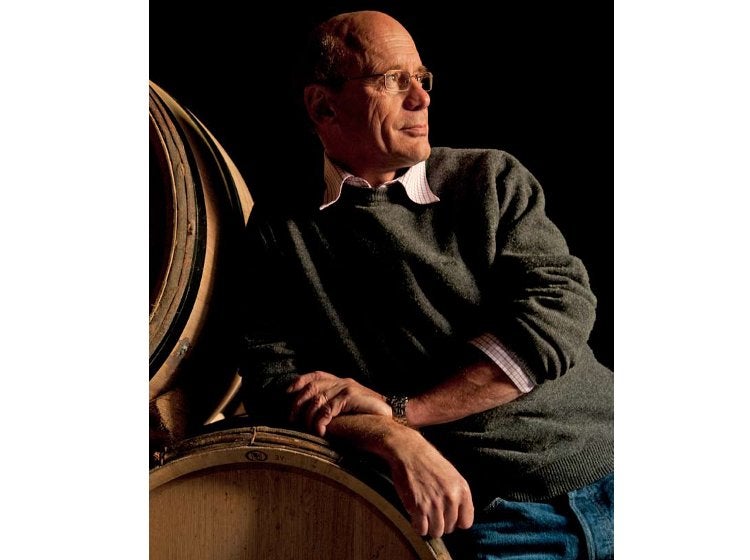 The appellation of Nuits-St- Georges divides quite neatly into three parts. North of the town, the vines continue up to Vosne- Romanée; Nuits's Boudots marches with Vosne's Malconsorts. South of the town is the heart of Nuits-St-Georges, which includes the climats of Pruliers, Poirets (or Porrets), Cailles, Vaucrains, and Les St-Georges itself, after which the commune takes its suffix. South of here, the commune comes to its end, but wines of neighboring Prémeaux- Prissey are also entitled to be called Nuits-St-Georges. This is the third sector. Strangely, much of this area consists of monopole vineyards. The wines have neither the finesse of those of the northern part of the appellation nor the concentration of those from the middle, but they have no shortage of depth. They also show the advantage of the individuality that comes from being in single ownership, and they are made on a larger scale than some of their counterparts to the north.
Why there should be as many as eight monopole vineyards out of 12 in this part of Burgundy is not clear. The fact that most are clos might suggest an ecclesiastical origin – in this case, the Cistercians at nearby Cîteaux. But it would seem that their influence had evaporated well before the French Revolution in 1789. The vines may technically have been the property of the Church, but the leading bourgeois families were firmly in charge.
According to local historians such as Jean-François Bazin, the clos were actually 19th-century inventions. And indeed, as a glance at books on Burgundy written in the mid-19th century will show, few can claim to have been monopoles from the outset. Most were divided then and are only monopoles now because they have since been reconstituted under a single owner.
Immediately below Les St-Georges lies Les Didiers. This has been owned by the Hospices de Nuits since the 1920s. As at its larger and better-known Beaune equivalent, these wines are made by the Hospices but then sold at auction — in this case, on the Sunday before Easter – to be matured and bottled by local merchants. Standards can therefore vary, depending on the competence of the négociant; and as with the Hospices de Beaune wines, the end product can be overoaked.
But Les Didiers is usually fullish, rich, and sturdy and very good indeed. The purchaser has the option of three cuvées: from the old vines, planted in the 1950s; a corresponding young-vine blend (dating from 1981); or an assemblage of the entire vineyard.
We then come to the AXA-owned monopole of Clos des Forêts-St- Georges. Its first vintage was 1987. This is one of the bigger vineyards in Prémeaux, but the whole domaine is now biodynamic. The wines are made by whole-cluster vinification, macerated at quite a low temperature, and I often find the taste of the stems very obvious, especially since the wine is by no means a blockbuster. But it keeps well and does become more sophisticated in bottle.
Forêts then gives way to Aux Perdrix, another monopole, on the mid-slope, with Aux Corvées (part of which is a monopole) below, and Les Terres Blanches (not a monopole and a 1985 promotion to premier cru) above. Aux Perdrix has been owned by the Devillard family, large landowners in Mercurey in the Côte Chalonnaise but with a fine domaine here in the Côte d'Or since 1996. The fruit is destemmed entirely. There is treading down but no pumping over. I find the wine excellent and have several vintages in my cellar. Since 2006, an old-vine bottling, from 0.3ha (0.75 acres) of vines planted in 1922 has been declared and offered for sale.
Corvées means "a thankless task" (was plowing here so much more arduous than next door?), and the vineyard is divided among the Clos des Corvées, the monopole responsibility of Henri Roch of the Domaine Prieuré Roch since 1995; Corvées Pagets, which is not a monopole; and the Clos St-Marc, a monopole made by Patrice Rion. In the past, I have been unconvinced by Henri Roch's wines, but today his Clos des Corvées produces three different cuvées, and that bottled under the Clos label is a better wine.
The Clos St-Marc is a recent acquisition by Domaine Michèle & Patrice Rion. Their first vintage was 2006. The vineyard has recently gone biodynamic, the fruit is destemmed, and the wine is not racked until it is time for the preparation for bottling.
They make very good wines here. Incidentally, should you seek Les Corvées Pagets, the most important and reliable source is the Domaine Arnoux-Lachaux in Vosne-Romanée. The Clos des Grandes Vignes lies below the bottom end of Corvées and is the only premier cru on the east side of the main road. This used to be a Domaine Charles Thomas monopole, but since 2006 it has belonged to the Château de Puligny-Montrachet. It is once again biodynamic – and since 2008, not destemmed — and is a great success. A part of the vineyard has now been T-grafted with Chardonnay.
Adjacent to the premier cru is a little village Grandes Vignes. This is owned by Domaine Daniel Rion. The next vineyard is the nonmonopolistic Les Argillières, beyond which is the Clos de l'Arlot. Here, the Côte d'Or is at its steepest and narrowest, the distance east to west hardly 1,300ft (400m). Arlot belongs, like Forêts, to the insurance group AXA (since 1986), and it is from this climat that its Côte d'Or estate takes its name. The red wine is similar to Forêts but a little lighter. There is also quite a significant area planted with Chardonnay, which I find individual and delightful.
Incidentally, the Château de l'Arlot, which lies directly on the main road, is one of the few really fine pieces of architecture in the neighborhood. It dates from the 18th century. A hundred years later, a fantastic folly was created out in the shady garden behind the château, full of weathered sculptures, box hedges, and lovers' niches.
Last, but by no means least, lies the Clos de la Maréchale. For 50 years, up to 2003, this was the responsibility of merchants Faiveley, but then the lease came to its end and the Chambolle-Musigny-based Mugnier family took over the charge of this big vineyard. However much the locals prefer a hands-off approach, the hands nevertheless make a significant difference — and the evidence is here. Big, beefy wines under Faiveley; lighter, more fragrant and elegant wines under Jacques- Frédéric Mugnier. There is now a little white wine as well. Incidentally, we have no idea who the lady marshal — or indeed her husband — was. There are various conjectures, but according to sources more expert than me, these suggestions are all unfounded.
From the top of Les Didiers to the bottom of the Clos de la Maréchale, where the appellation of Nuits-St- Georges comes to its end, is a distance of just over 1.25 miles (2km). The soils obviously vary. Up at Didiers, the slope is quite flat. The soil is brown and chalky, with calcareous gravels from the Bathonian period and red clay-like silts. A tittle farther south, the land becomes steeper, and mid-slope the earth is quite deep, brown or yellowbrown in color, and mixed with sand and clay and stones of different origins, mainly oolitic. The base rock is very hard, as is evidenced by the marble quarries to the south, the so-called pink Comblanchien limestone. This essential character of the soil is interrupted by the Clos de l'Arlot, as is the slope itself, which is bent backward and contains a significant proportion of sand. It then returns in the Clos de la Maréchale, but here the inclination is once again flatter.
I sampled the full set of the 2007 and 2006 vintages of the vineyards above in November 2009. The value judgments should be understood as being in the context of the vintage.
Didiers
Owner: Hospices de Nuits. Winemaker: Jean-Marc Moron. Area: 2.4ha (5.9 acres)
2007 Good color. Nice and vigorous on the nose. Plenty of substance here. Ripe, good tannins and very good grip as well. This has lovely fruit, and there is absolutely nothing weak about it. Very good indeed. From 2014.
2006 Very good color. Rather more markedly oaky than the 2007 on the nose. Less obviously oaky on the palate, though. Medium-full body. Attractive, plump fruit. Good grip. Stylish and even concentrated. Plenty of wine here. Nice and round. Very good indeed. From 2015.
NB: There was no indication of either the cuvée nor the bottler on the label.
Clos des Forêts
Owner: AXA Millésimes. Winemaker: Olivier Leriche. Area: 7.2ha (17.8 acres)
2007 Medium color. Soft nose. Ripe, not too stemmy. Medium to medium-full weight. A little tannin still to resolve. Decent fruit on the palate, with a touch of astringency on the finish. But the aftertaste is positive. Good. From 2012.
2006 Good color. Spicy nose, with a touch of stems. Medium-full body. Ripe, ample, fat, even rich on the palate. Good grip. Plenty of depth and substance here. Long. Very good. From 2014.
Perdrix
Owners: The Devillard family. Winemakers: Amaury Devillard/Robert Vernizeau. Area: 3.45ha (8.5 acres)
2007 Medium color. Fresh nose, but without the concentration of the wine below. Medium to medium-full body. Ripe and stylish, quite forward but fragrant and elegant. Nice balance. Good plus. From 2012.
2007 Les Huit Ouvrées Good color. Splendidly ripe, concentrated nose, with a touch of new oak. Fullish body. Good tannins. Very good grip. This is youthful and profound. Fine quality. From 2015.
2006 Good color. Not a lot of personality on the nose at first. Better on the palate. But nevertheless a little lean and astringent. Medium to medium-full body. Lacks a bit of charm. Good at best. From 2014.
2006 Les Huit Ouvrées Very good color. Lovely, concentrated nose. Pure, succulent. Very good tannins. Very good grip. A fullish wine, especially for 2006, with a lovely ample character and lots of depth. Fine plus. From 2016.
Clos des Corvées
Owner: Domaine Prieuré Roch. Winemakers: Henri Roch/Patrick Jollet. Area: 5.21ha (12.9 acres)
2007 Good color. Soft, spicy, stemmy nose. Medium weight. Very ripe on the palate. A certain astringency but not weak or rustic. Decent balance and grip. Good. From 2012.
2006 Medium color. Some development. Rather a weedy, stemmy nose. Was this bottled a little late? Better on the attack, which shows fruit. But not much freshness or depth. Quite good at best. From 2012.
Clos St-Marc
Owner: Domaine Michèle & Patrice Rion. Winemaker: Patrice Rion. Area: 0.93ha (2.3 acres)
2007 Medium color. Light but fragrant nose. Medium body. Plump, attractive, fruity attack. But then it tails off a bit. Fresh and stylish at the end, though. Decent length. Good plus. From 2012.
2006 Good color. Fresh nose. Plump, succulent, and most attractive. Medium-full body. Good tannins. Very stylish, complex, and harmonious. Plenty of depth. Lovely fruit. Fine. From 2015.
Clos des Grandes Vignes
Owner: Château de Puligny-Montrachet. Director: Etienne de Montille. Area: 2.12ha (5.2 acres)
2007 Medium color. Fresh, ripe, stylish, fragrant nose. Medium to medium-full body. Good grip and intensity. I would have liked a bit more concentration and weight, but this has plenty of depth and personality. Very good. From 2013.
2006 Medium-full color. Not a lot on the nose at first. Medium-full body. Soft, round, and fruity. Fresh, complex, and stylish. Not brilliant – it lacks the concentration – but still very good indeed. From 2014.
Clos de l'Arlot
Owners: AXA Millésimes. Winemaker: Olivier Leriche. Area: 4ha (10 acres), roughly half Pinot, half Chardonnay.
2007 Medium color. Fresh, charming, fruity, and stylish on the nose. No undue stems. Medium body. Not much tannin. Decent fruit. Somewhat one-dimensional but a pleasant bottle. The finish is positive. Quite forward. Good. From 2012.
2006 Fresh color, but only light-medium. Soft, ripe, fruity nose. No undue stems. A little more to it on the palate, yet quite forward nevertheless. Attractive, though. Good. From 2012.
Clos de la Maréchale
Owner and winemaker: Jacques-Frédéric Mugnier. Area: 9.76ha (24 acres)
2007 Medium color. Lovely, fragrant nose. Unexpectedly elegant. Chambolle-ish, too. Medium body. Very intense. More concentrated than it seems at first. Lovely fruit. Long and complex. Very classy. Very good plus. From 2012.
2006 Good youthful color. Only mediumfull weight, yet a lot of vigor, intensity, and depth. Even concentration. Very classy fruit. Fullish on the palate. Good tannins. Harmonious, fresh, and succulent. Lovely. From 2015.