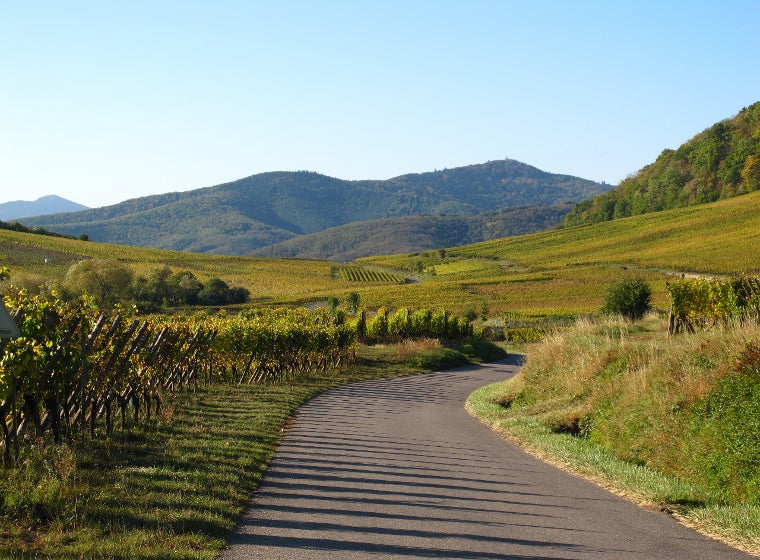 I do hope that all roads lead to the top of the mountain, even the ones that meander through wine country. I try to walk around vineyards as often as I can, but as natural an activity as it may seem in the surroundings, it is not done as readily as you might think.
William Hazlitt, English writer, philosopher and social critic, wrote in his 1822 essay On Going A Journey, "One of the pleasantest things in the world is going on a journey; but I like to go by myself." I agree. A solitary stroll in nature is indeed one of the pleasantest things. This goes some way to explaining why I find time in the vineyards so agreeable; it's a chance to engage with nature while doing my job.
I recall one night in Marlborough New Zealand, a little charged after a full wine dinner and even fuller moon, I took an evening stroll among the vineyards. "Why not walk a little way in her light?" wrote Thoreau, another avid walker, in his meditation Night and Moonlight. Why not indeed? The navy blue glow across the vineyards made it look like daylight had merely dimmed rather than gone away. Marlborough's iconic Richmond Ranges were silhouetted against the monochrome sky. Dew looked like drops of quicksilver wobbling on the vines' leaves. As I walked, sometime around midnight, it was thrilling and enlivening and so bright that, even in the middle of the vineyards, I didn't need the torch I had packed in preparation for darkness. I wandered over gentle rises and dips, meandering between headlands and along rows, immersing myself in nature.
I enjoy the contemplative space a walk among vineyards affords. Wine writers often visit vineyards as an educational exercise rather than an aesthetic one. Off we go, like surveyors on a field trip, taking down notes of technical details and other observable facts. We rarely go walking through the vines for pleasure, at least not officially. One could argue this is precisely how it should be but, to me, visiting vineyards only to gather information is like visiting rose gardens to learn only how to prune.
A walk in a vineyard is a wonderful way to combine and absorb the technical and aesthetic aspects of wine and viticulture, to say nothing of the enjoyment a walk in such a setting affords. Many have sung the virtues of a walk for pleasure alone but, for me, Hazlitt again comes closest. "It is because I want a little breathing space to muse on indifferent matters, where contemplation, 'may plume her feathers and let her grow her wings'."
My favorite wine walk, so far anyway, was along a small winding road between two villages in Alsace. I set off on an unusually warm October day after a week exploring the region, tasting the wines and savoring the experience in general. The narrow road zig-zagged to the horizon, fold after fold, hill after hill. On either side of the road rows of plump grapes drooped under dark red and orange leaves. The vineyards ambled to the base of the Vosges Mountains, which themselves were turning shades of autumn.
I was enjoying my walk so much that I stopped on occasion to slow it down, perching myself on a stone wall to take it all in. The few cars and bikes that took the narrow road slowed as they passed. I smiled and waved to show there was nothing in the world wrong.
It really was a lovely walk. I took a photo to remind myself of the moment. I look back on that photo now and recall how pleased I was, not just because it was a fine sunny day and a beautiful walk in Alsace but because it had taken so much to get there.
Then, as with all journeys, I kept on walking.
Caption: A walk in a vineyard is a wonderful way to combine and absorb the technical and aesthetic aspects of wine and viticulture, to say nothing of the enjoyment a walk in such a setting affords. Photography by Andrea Frost