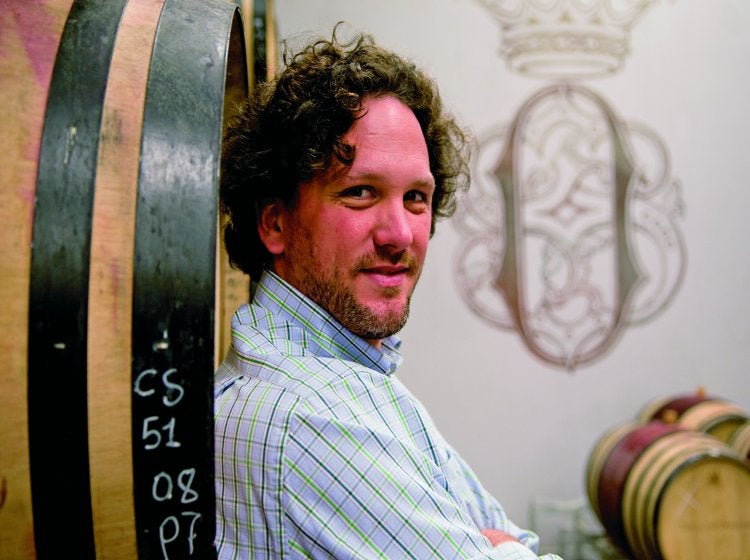 On May 16, 2013, a tasting was held in a sumptuously artbedecked gallery at Sotheby's in London of the wines of the Bolgheri estate, Ornellaia. The occasion was the launch of the 25th anniversary vintage, the 2010, and the wines, eight of the estate's top cru, the eponymous Ornellaia, plus two of the "second wine," Le Serre Nuove, were on show, from vintages stretching back to 1990-not quite 25 years, admittedly, but hey, pretty impressive for an Italian vertical.
This article covers the tasting as distinct from giving a potted history and description of the Ornellaia estate, which can be had, with knobs on, no doubt, from the website. But a few words are called for, to introduce the wine to those enthusiasts who are just returning from an extended visit to some other quarter of the cosmos.
Ornellaia is a member of that category of Italian, specifically Tuscan, wines that until the early noughties were being hailed as the salvation of vinous Italy: the SuperTuscans-wines made with much bunch-thinning and a lot of small French oak to achieve one goal principally, that of fetching a high price (sorry, I mean of achieving high quality). Most of them today are dead or moribund, but Ornellaia is one of the happy few (together with Sassicaia, Tignanello, Solaia, and the like) that made the cut, as it were, passing through the crisis and emerging butterfly-like (apologies for the mixing of metaphors) as something akin to a Bordeaux first growth (or at least a super-second), capable of commanding mind-boggling sums in multi-liter bottles at auction.
The tasting was led by Sotheby's Serena Sutcliffe MW, together with Axel Heinz, since 2005 the estate's winemaker and director of production. He commented: "We are not aiming at a Mediterranean version of Bordeaux, or of California, or of anywhere else for that matter-we seek a wine of distinctive character." To crib their material: "Ornellaia's production philosophy is based upon the belief that wines must be the most faithful expression of the terroirs that produce them [déjà lu?]. The mild maritime climate and the colors and aromas of the lush Mediterranean vegetation leave a special imprint upon the character of the wines."
And indeed there are differences, despite the fact that the informing varieties are very familiar (Cabernet Sauvignon and Merlot with varying, lesser amounts of Cabernet Franc and Petit Verdot), that soils display a certain similarity (e.g. plenty of pebbles in both locations), that harvesting and triage follow high-end Bordeaux patterns as do vinification techniques, maceration times, and maturation in mainly new French oak barriques. Ornellaia wines are more lushly fruity, if less complex and refined, than typical top Bordeaux.
They boast aromas, in addition to those ascribable to the grapes (i.e. cassis and red berry, hay and grass), more typical of Mediterranean macchia (herbs and spices). Even the mint of Bordeaux is in Bolgheri more like eucalyptus. And they are more alcoholic (around 14.5% ABV), an inevitable concomitant of the need to attain to phenolic maturity, which as Serena Sutcliffe rightly commented is of a higher priority than grape sugar. Personally I see no problem with this level of alcohol provided it's part of a balanced whole.
Le Serre Nuove
2010 A cool, late-ripening vintage. Smoke and vanilla on nose. Fruit-berry and plum-come to the fore in the mouth; middling acidity, firm tannins, not drying. Sweet fruit hint on finish, at first a touch bitter on the aftertaste. Drinking quite well now, should hold a few years but no need. 14
The special bottle commemorating Ornellaia's 25th anniversary vintage (2010), together with other vintages of Ornellaia and of its second wine, Le Serre Nuove
2004 Perfect weather throughout season. Lively color. Leather and spicy fruit on the nose, herbal hints. Ripe, well-developed redberry fruit, quite structured in terms of acidity and tannin. Drinking well now, will continue. A good step up compared with 2010. 15
Ornellaia
2010 Tight-knit color, almost opaque. Elegant, inviting nose, suggestion of more to come. A certain tightness in the mouth, firm acidity, tannins a bit obvious. Still in barrel, needs time but has the complexity to become a fine bottle, elegant rather than muscular, when it comes together. Good length. 16.5
2009 A fairly classic vintage despite mid- September rains. The wine is a bit untogether but has fine components-quite a wealth of cassis fruit and wild herbs on both nose and palate, seductive but strong. Charming, ripe fruit on the finish, tannins still a bit intrusive but should keep well. When it peaks it should prove creamy, tight-knit and focused. 17
2008 A very hot dry summer followed by cooler weather in September. The color is finegrained, almost opaque. Nose waiting to happen, vague hints of herb and vanilla, but plenty of chunky fruit on the palate, concentrated, with gritty tannins. At present the wine displays mainly power, but there is elegance lurking there, too, and on the finish quite a dollop of sweet fruit. Will improve, perhaps dramatically. 17
2007 A changeable summer was followed by textbook September. The wine is tight of color, somewhat dumb at present on the nose. On the palate, though, the wine shows much more character, there is ripe not to say "lush" fruit, firm acidity, but tannins remain a bit aggressive, somewhat tough with a note of bitterness on the finish. Development difficult to predict. 16
2004 Deep of color, little sign of aging. Fresh, inviting aroma of berry and blackcurrant fruit, tobacco and spice. Nice balance, strong but not excessively alcoholic on the nose, acidity lifting the end-palate and fruit surging through, with chocolate notes on the finish, which is quite long. Classic, if currently needing time to come fully out. 17.5
2001 A summer of moderate weather followed by a perfect harvest season. The wine is fresh, with pronounced berry and black-currant aromas and hints of herbs and vanilla. Long and elegant on the palate, balanced and charming throughout, the complexity and harmony of flavors lifting it high among its brothers-top of the tasting. Drinking nicely now, will last well. 18
1999 A hot, dry summer was followed by a fine September. The wine was medium depth of color with signs of aging on the rim. Spicy, herby notes on nose, giving the wine a somewhat vegetal (rather than fruity) presence on the nose. Fruit comes through on palate though, black-currant and plum. Compared with later editions it lacks a bit of concentration, showing well now but a question-mark over aging potential. Has charm, though, and plenty of drinkability. 16.5
1990 Some rain in summer, a period of scorching heat, but on the whole a fine season. The color is distinctly lighter; leather and tobacco rather than fruit on the nose. Not only older, but also more "old school" than its predecessors. Firm acidity, tannins smooth. Pleasant now; won't get any better. 15