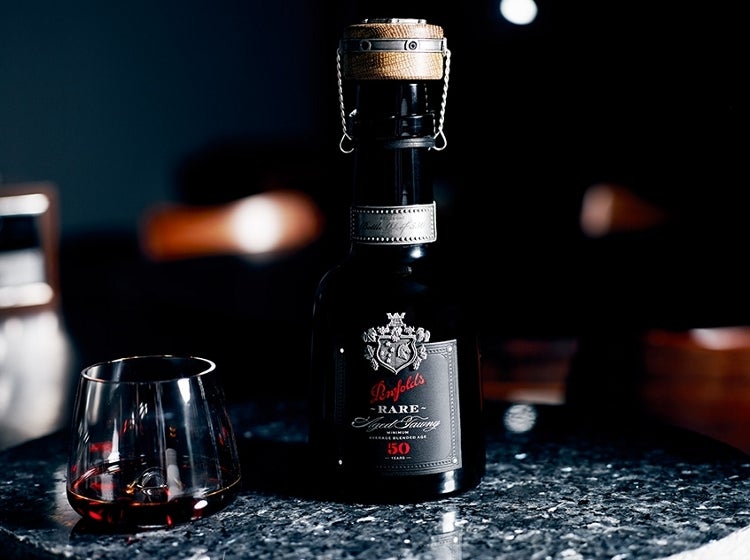 Follow any great genealogy back far enough and it will take you to Charlemagne, or Adam, or an Ancient Greek or Roman deity. In the case of this very special new release from Penfolds, the deities claiming the offspring might have been many: Aeon (god of cyclical or unbounded time), Aeternitas (eternity), Bacchus (of course), Concordia (harmony), Fides (loyalty), Venus (beauty), Voluptas (pleasure), Sol Invictus (the sun), Bonus Eventus (good outcome)…
The actual DNA is all the more exciting for being real, starting with the last of the precious glass stock reserves from 1915, the year Max Schubert, the creator of Grange, was born, and for which there could be no better or more symbolic use. It is supplemented in the 50 Year Old solera with glass-stored wines from 1940 and 1945, other singlevintage components from 1959, 1960, 1961, and 1971, as well as some of the 150th Anniversary Great Grandfather released in 1994, with further maturation in small oak casks since its release.
After the Grandfather and Great Grandfather Tawnies (with average ages of roughly 20 and 40 years), Penfolds clearly thought that Great- Great Grandfather would be too much, so settled for 50 Year Old Rare — not the only wine with the name, but none more fully merits it. The first release, from this December, will be only 330 bottles.
I was fortunate enough to taste bottle No.1 with Penfolds Chief Winemaker Peter Gago in London in October, the first time it had been tasted outside the Magill Estate winery. Penfolds has been producing fortified wines from its very beginning, and for additional historical resonance we were tasting the wine in the magnificent surroundings of the Apothecaries Hall, where Dr Christopher Rawson Penfold first failed (in March 1833) then passed (in December 1833) his professional exam, 11 years before he set sail for Australia.
The Penfolds subject under scrutiny this time passed with flying colors, and it was the examiner who felt examined, struggling to find the right words. What we tasted seemed less the work of apothecaries than of alchemists, and the blending skills of the Penfolds team can never have been deployed more successfully than here. The wine has a beautiful color, a rich amber-tawny of fiery intensity like great old Cognac, but there is neither fire nor spirit on the exquisite nose, which is exceptionally fine, fresh, and stable, not fragile but subtle, with no heady rancio but pure light walnut, tea, rose, mock orange, rowan, sandalwood… A gloriously layered silken texture, effortless intensity, exhilarating freshness and vitality, harmonious, seamless, with a fabulous, flourishing finish. Sublime. While the wine appears timeless, Gago is surely right to insist that it is "not for the cellar, trophy cabinet, or mantelpiece. Open, share, and indulge."
The bottles, all hand-blown by South Australian artist Nick Mount, with wooden stopper, leather label, and pewter crest, cost AUS$3,550 (US$3,250 / ¤2,400 / £2,000) from Penfolds Cellar Doors and global travel retail.