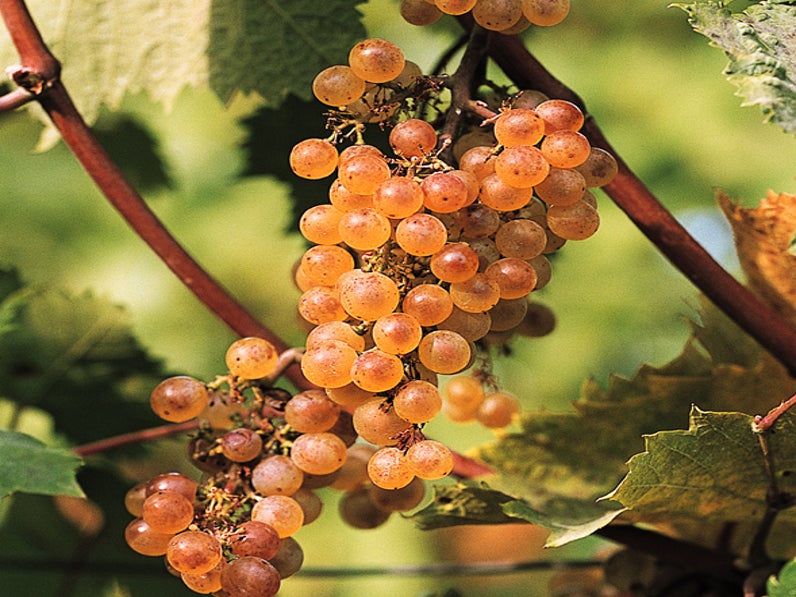 This grape variety has always seemed shrouded in mystery. Picolit is not merely a special grape variety or wine from a DOCG comprising barely 60ha (148 acres) in the Colli Orientali del Friuli area of Friuli-Venezia Giulia. Rather, its very name summons up a noble and unique wine whose origins stretch far back in time. Over the long course of its history, it has inspired many savvy wine lovers to elaborate celebrations and passionate praise.
Its admirers in our own era have been legion. Italo Cosmo, one of the 20th century's greatest ampelographers, declared that "Picolit can compete with the world's finest dessert wines." This judgment was echoed both by Luigi Veronelli-Italy's finest wine writer of the 1960s and '70s, who opined that "Picolit is for Italy what Yquem is for France"-and by author and genial bon vivant Mario Soldati, who found it "drier and more concentrated than Yquem." American wine writer Burton Anderson summed up its reputation thus: "By the mid-19th century, Picolit was undoubtedly Italy's most prestigious wine."
The first official document containing the name Picolit dates back to 1682, and there are several other 17th-century references. Comedy playwright Carlo Goldoni, author of La Locandiera and Bottega del Caffè, referred to it as "Tokay's cousin," and Friuli agronomist Zanon mused, "How proud England would be had she our vineyards, our Refoscos, our Picolits!" More concretely, Conte Fabio Asquini di Fagagna, possibly the first to glimpse the tremendous potential of the wine, exported the surprising total of some 100,000 bottles to royal courts all over Europe, especially to the French and Austrians, the wine exquisitely packaged in 50cl bottles specially made in Murano.
Already cultivated by the Romans, Picolit became Friuli's very own variety and vinous symbol. After the arrival of the grape around 1500, the first Picolit vineyards were planted in the mid-16th century by a woman, Pantasilea Capiferro, in Rocca Bernarda, the area where the vine still seems to thrive best, at the heart of the current denomination. Ampelographers have found traces of its existence elsewhere, however, and already in the 17th century it was being planted in the Veneto, Emilia Romagna, and Tuscany.
Challenges and rewards
But what precisely is Picolit, and what makes it Friuli's most precious gem? Ampelographers describe it as having bunches that are small- to medium-sized but relatively loose. The pentagonal leaf is three- or four-lobed, with V-shaped lower lateral sinuses and light-reddish veining. The berry is small and oval, with a slight point, translucent when ripe, with a firm, resistant skin and abundant bloom that appears a dark gray-yellow. The pips are quite large. The vine is naturally vigorous and must be restrained. Budbreak is early, while ripening is fairly late. All these characteristics turn Picolit into a "problem grape," with genetic instability in its area of cultivation and the necessity of finding the perfect site-with nutrient-poor soils, good exposition and ventilation (so not on the valley floor). Its very name betrays the difficulties involved: In the older form of the dialect, it was Piccolitto ("very little"), and its crop is indeed small, with between 15 and 30 berries per cluster. Another reason for its low yield per vine is its tendency to shatter during flowering, due, it seems, to pollen sterility; it lacks germinating spores and needs other varieties (such as Verduzzo) to pollinate it.
As if it did not already pose enough challenges of its own, Picolit has also succumbed to external threats. After years of painstaking study and selection in the late 19th century and the publication in 1906 by the Associazione Agraria Friulana of Giacomo Perusini's magisterial Il Piccolit (later updated by his son Gaetano), many vines were damaged or destroyed by phylloxera. Even after protracted recovery efforts in the 1970s, when the area under vine dipped as low as 20ha (49 acres), there were still in the 1980s and '90s only some 20 0r s0 dedicated, even stubborn, wine growers still persevering with the variety. Today, despite renewed interest in it, annual Picolit production remains at only 130,000-150,000 bottles (and many of those are halves). Such is the picture even after the winning of DOCG status, the production code limiting yields to 40 quintals (22hl of wine) per hectare. Strangely, except in the Cialla subzone-an area cooler than Rosazzo and Bosco Romagno-Picolit does not have to be a 100 percent varietal wine: The code calls (rather weakly) for "at least 85 percent Picolit." It continues: "Other white grapes may be used that are appropriate for cultivation in the autonomous region of Friuli-Venezia Giulia, in amounts not exceeding 15 percent, but excluding Traminer Aromatico." This hardly evinces any very strong desire to affirm or reinforce the uniqueness of Picolit, but it nevertheless represents a step forward from the first years of the DOC, when the practice of appassimento, or semi-drying of the grapes, was not considered the sine qua non of a great wine. Many producers actually preferred to put out crisp, dry, steel-aged versions that were released on to the market young. Happily, appassimento is now used much more widely, as Botrytis cinerea (noble rot) naturally occurs only once every four or five years.
Despite this advance, as well as the introduction of the DOCG, there remains a puzzling stylistic heterogeneity, with today's producers offering a very varied range of wines. A recent tasting of some 30 wines from the 2006 vintage revealed a bewilderingly broad color spectrum, from golden straw yellow to rich amber and mahogany, worthy of everything from Sauternes, through Passito di Pantelleria and Vin Santo, to Madeira. Even more disquieting were the technical data. How is it possible to forge a common identity for Picolit, which would greatly assist the recovery of this legendary wine, if appassimento lasts anything from a minimum of ten to a maximum of 90 days; if the proportion of dried grapes starts at a minimum of 60 percent and rises to 100 percent; if residual-sugar levels range from 13.6g/l (nearly dry) to a high of 321g/l (two or three times as sweet as most Sauternes), with the only common element being an acidity in the 5-7g/l range? Such divergent practices result, of course, in markedly diverse styles, which we could define as varietal, appassito, or botrytic, where different drying techniques yield wines that display everything from crisp, fruit-floral notes, to more evolved, dried-fruit, nut, honey, and spice nuances, to the more pungent scents of noble rot. There is no doubt that a well-executed appassimento can contribute positively to these wines, without running the risk of making them all the same. A modest common denominator could accentuate the distinctive characteristic that contributes most to their natural elegance. For Picolit to be recognized once again as a great wine, it must exhibit a coherent and distinct identity-a "Picolit style" that cannot be contradicted by any other under the same name.
The current confusion is obvious in other areas as well, such as pricing and packaging. A beautiful bottle has been designed, along the lines of the 18th-century one used by Conte Asquini, but few producers have taken it up.
The many styles also create problems with regard to food-and-wine pairing. Some would see it as a missed opportunity if Picolit were reduced to a vino da meditazione, as Veronelli characterized it-a wine to sip reflectively by itself. Perhaps one should have the imagination to break with the convention of pairing it with the few dishes known to throw it into gorgeous relief, such as foie gras or blue cheese (but avoid those cakes!). It would be wonderful to find other ways of welcoming it into a meal. But then, which style would one choose-the varietal, the appassito, or the botrytic, the one with 15g of residual sugar per liter, or 300? And which affordable, normal dishes (as distinct from the fantastical creations of multistarred chefs) would partner it properly, without spoiling its particular qualities? Very few, I'm afraid. So apart from shifting this tricky responsibility to the chef and the sommelier when this seems worth the risk, it may be that the proven formula of foie gras and blue cheese remains the safest option. Alternatively, if you believe that any Picolit worthy of the name will hold the drinker in contemplative rapture, then Veronelli's evocation of it as the vino da meditazione par excellence may still be the key to its soul and yours.