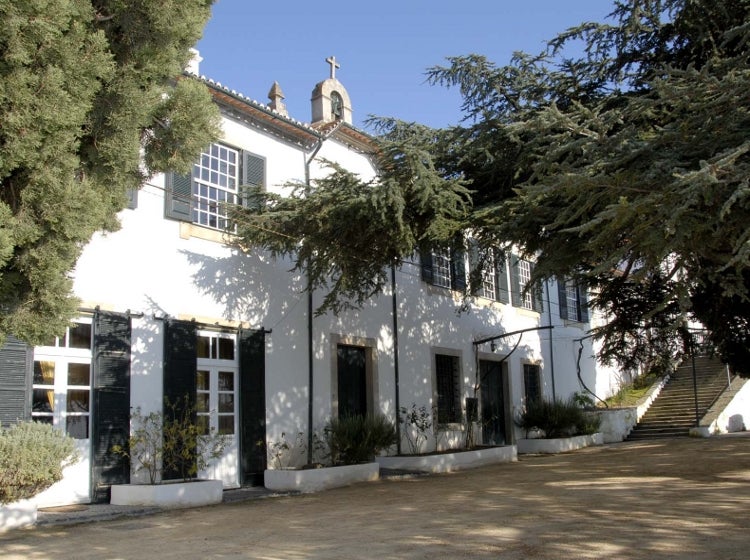 Quinta do Noval has been celebrating an important anniversary in 2013. Two decades ago, immediately after the dreadful 1993 harvest, Christian Seely was appointed to manage the Portuguese estate following its high-profile acquisition by AXA Millésimes earlier that year.
Twenty years later (precisely to the day), an international band of scribes and aficionados gathered at Quinta do Noval for a vertical tasting of wines from four very different regimes. Seely is now based in Bordeaux and directs AXA Millésimes in its entirety, but it is clear that his heart is still in the Douro. To use his own words, Noval's "glory period" began in the 1920s and lasted until the 1960s under the direction of Luís Vasconcellos Porto. Not only did he help transform the vineyard, planting the famous inclined terraces, he also built up Noval's reputation in the UK, targeting sales in Oxford and Cambridge colleges, as well as private clubs. It was under Vasoncellos Porto that the legendary but now virtually unobtainable Nacional 1931 was declared. (This is a wine that Seely has never tasted.)
Vasconcellos Porto was followed in the job by his grandsons Fernando and Luis van Zeller, during whose time Noval entered "a period of decline." Then, in the 1980s, under the direction of brother and sister Cristiano and Teresa van Zeller, the estate underwent what Seely termed "a car crash." Family squabbles, a disastrous fire, and lack of attention to detail in both the winery and the vineyard led to a dramatic fall in quality. Noval isn't the only shipper to have had a Vintage Port car crash in the 1980s, but few were as dramatic as that of Noval Nacional.
Since 1994 (the first vintage under Seeley's watch), most of Noval has been replanted and neighboring estates tacked on. The property now extends to over 100ha (250 acres) and covers Quinta das Canadas and a property just over the hill in the socalled roasted Roncão Valley. This gives Noval a variety of terroirs, and every wine designated Quinta do Noval originates from fruit grown on the estate. At the heart of the property, the 1.7ha (4.2-acre) Nacional vineyard (so called because the vines are grown on their own roots and are therefore attached to the soil of the nation) comprises 6,000 vines of varying ages. To outsiders it sounds almost mythical, but trudging through the vineyard on a dank fall day, one sees the Nacional vines are very real and obvious for their variation in age and lower vigor.
Unlike the rest of the vineyard, Nacional vines are replanted on an individual basis when they become weak from age or disease, and though there are plants that are 80 years old, the average age is around 35 years. Given their reduced vigor, Nacional yields tend to be much lower than the surrounding vineyard, averaging just 15hl/ha compared to 30-35hl/ha elsewhere. A Nacional declaration (not always the same year as a straight Noval declaration) usually amounts to around 200 cases.
Winemaking at Noval (and nearby Quinta de Romaneira) is under the daily direction of António Agrellos. He was brought in as a consultant toward the end of the Cristiano van Zeller era and knows what went wrong. Suffice to say that since 1994 everything has been thoroughly sharpened up, something very evident in the tasting notes below, beginning in the glory days of the 1950s and '60s. The notes on the wines that follow are from two recent tastings of Quinta do Noval and Quinta do Noval Nacional, one held in London in September 2013 (the post-1994 Ports) and the second more extensive warts-and-all tasting held at Noval a month later. Where relevant I have added my own background observations, including notes on the character and background of the vintage, as well as quantities declared.
Quinta do Noval 1955
Brick red, turning amber-tawny, browning on the rim; a little fragile on the nose, possibly even hollow, with the fruit fading; soft and creamy on the palate, turning into an old Tawny with a vestige of tannic grip toward an attractive, if rather dry, finish. Rather lightweight in the context of generally impressive 1955 vintage. Drink soon. 15
Quinta do Noval Nacional 1963
Lovely color, still deep and remarkably youthful in appearance, pink-purple rim; very fine and taut, floral aromas, only partially open and still showing amazing restraint, indicating that this has more to give; tight-knit on the palate, firm, gripping, muscular tannins, with classic bitter-sweet, dark-chocolate intensity, still youthful with a distinctly wild side to its personality, long, powerful, and yet also very lithe on the finish. Still needs time to show its all, but certainly one of the greatest Vintage Ports of all time. 20
An accordian player encourages harvesters in the steep, terraced vineyards Photography © Axa Millésimes, courtesy of Quinta do Noval
Quinta do Noval 1966
Mid-garnet center, with a thin browning rim; still tight-knit on the nose, possibly with more to give; sweet and voluptuous initially, with solid tannins building in the mouth, bittersweet chocolate intensity right the way through, combines depth and elegance. Very fine. 18
Quinta do Noval Nacional 1966
Mid-deep, youthful hue, pink rim; beautiful floral fragrance: violets and old-fashioned roses, open and expressive, much more so than the 1963 above; firm, fine, and structured, sinewy tannins, long and linear, with fresh berry fruit running all the way through. Perfect poise and balance. When I last drank this 15 years ago, side by side with the 1963, there seemed to be little between them, but now a gap has opened up. Drink while waiting for the 1963 to come around (if you are fortunate enough to have both!) 18.5
Quinta do Noval 1970
There were a number of inconsistent bottles of this wine, with a musty/moist character extending from the nose on to the palate: pale in color and rather hollow on the nose, light, sweet fading fruit, looseknit and falling away on the finish. Drink up. NS
Quinta do Noval Nacional 1970
Much deeper and fresher looking than the straight '70, mid-garnet, thin browning rim; quite closed on the nose, underlying depth; still rich with full, firm tannins and bittersweet medicinal cherry fruit supported by a rising warm tannic backbone. Long if a little unbalanced on the finish. 17.5
Autumnal splendor on the terraces of Quinta do Noval, source of all the wine bottled under its name, including the legendary Noval Nacional, from ungrafted vines
Quinta do Noval 1975
Pale to mid-garnet color, with a broad, browning rim; undeniably hollow on the nose and a touch hot and baked (this was the verão quente ["hot summer"] of the Portuguese revolution); very open, sweet, and soft in the mouth, with very little structure to back it up, some freshness still on the finish. Correct but going nowhere. Drink up. 13
Quinta do Noval Nacional 1975
Deeper in color (as you would expect), but not deep for a Nacional, mid-garnet, thin browning rim; rather odd medicinal aromas, stewed plums; soft, sweet, plummy fruit, rather simple and lacking structure, with a slightly burned edge, fuller with some grip on the finish but not really satisfying. Not bad for a 1975, though. Drink now and over the next ten years. 14.5
Quinta do Noval Nacional 1984
An odd declaration, given that this was one of the early single-quinta vintages that was interrupted by heavy rain: rather pale and slightly cloudy, pink-brown rim; stewed, oxidized fruit on the nose, burned and empty; similarly empty on the palate, singed fruit, a touch of spice but no structure to speak of, collapsing completely on the finish. Poor. 7.5
Quinta do Noval 1985
The 1985 vintage was a proverbial can of worms for a number of leading shippers with a number of inconsistent and/or volatile wines. This is not faulty but… mid-deep and maturing; hollow on the nose but correct; soft, sweet fruit, with little or no depth or structure — just very sweet to the point of cloying on the finish, where rather hot spirit shows through. 10
Quinta do Noval Nacional 1985
No different in color from the Noval '85 (above); hot, burned rubber on the nose; better on the palate initially, but soft and soggy, with absolutely no definition, then that dirty, burned-rubber taint comes back to haunt the finish. Horrid! 4
A precious bottle of Nacional, whose average production is only 200 cases in declared vintages, and whose 1994 is only starting to "strut its stuff" at 20 years old
Quinta do Noval 1987
Fully declared by some brave souls in the wake of the universally declared '85s. Generally made good medium-term wines: mid-deep garnet color; dirty and soily on the nose; very slightly better on the palate, sweet but sweaty, with hot dusty tannins. Some depth but totally lacking in charm and not really a wine for drinking. 7
Quinta do Noval Nacional 1987
Deeper color, thin browning rim; better than the straight Vintage but still cheesy and burned on the nose; some attractive fruit struggling to surface, sweet and rich but with a dirty, soily backdrop, muscular tannins building in the mouth, but the wine falls away on the finish to leave that soily undertone that persists throughout. 8
Quinta do Noval 1994
This was the first vintage under new management, and it shows. Christian Seely wanted to "make a statement" with this wine, and just 900 cases were declared from two parcels of old vines: deep center, thin purple rim; still youthful, with floral fruit emerging and minty ripeness and a touch of esteva (gum cistus), open and already quite seductive; sweet and fleshy, still showing puppy fat initially, with lovely definition and firm peppery tannins on the finish. Not the biggest of wines here, but it shows Noval back on form. Drink now (just) to 2035. 18
Quinta do Noval Nacional 1994
Very deep, opaque, still "black," with a thin purple rim; lovely, open, gentle floral-berry fruit on the nose, herbal (lavender and rosemary), voluptuous; sweet and silky initially, lovely purity and definition, the ripeness of the fruit hides ripe tannins with stony tannic grip rising in the mouth leading to a peacock's-tail finish. This wine really struts its stuff! Drink now (just) but better in five years. 19
Quinta do Noval Nacional 1996
I recall seeing this wine in a rather small stainless-steel tank just before bottling in 1998. A slightly idiosyncratic declaration against a large, generally rather stretched, vintage: very deep opaque color, thin crimson rim; not singing from the glass and still a bit ugly on the nose, in its spotty phase, a touch cooked, which is not usually a characteristic of 1996; big, bold, and full of flesh, licorice-like depth, and spice; complete but introverted; needs lots more time to show at its best but finishes with a huge flourish. Needs another ten years at least. 18.5+?
Quinta do Noval 1997
Mid-deep color; closed or possibly hollow, a touch rubbery and reduced on the nose — perhaps just a spotty adolescent phase; much better on the palate, soft cherryliqueur fruit initially, with ripe, broad, bittersweet tannins building in the mouth, leading to a broad finish. Needs another five years. Just 1,200 cases produced (and Noval has only 15 bottles left). 16+?
Quinta do Noval Nacional 1997
Deep, opaque, thin, purple rim; plump but closed and not giving much away now on the nose, dark-chocolate concentration underneath; rich and voluptuous, very big for the vintage, with real depth and intensity, bittersweet chocolate (85% cocoa solids!), full, ripe, firm tannins, big and broad, leading to a peacock's tail of a finish. A big "wow" of a wine here that needs at least 15 years before it is ready. 20
Quinta do Noval 2000
Deep, still youthful; closed in on the nose; lovely, opulent nose, so much to give, with seamless ripe fruit underlying (though the bottle served in London was a touch reduced, see below); lovely, rich, fleshy fruit, solid, ripe tannins, very opulent and voluptuous, with beautiful, spicy berry fruit reappearing on the finish. Approach in five years. Fewer than 2,000 cases declared. 18
Quinta do Noval Nacional 2000
Very deep, almost inky center, just turning on the rim; rather a flat, reduced nose, probably just a spotty phase; much more expressive on the palate, rich and opulent, with ripe, fine-grained yet mouth-filling tannins building, leading to a wonderful peacock's tail of a finish. Still needs a considerable amount of time to open up: wait ten years. 18.5
Quinta do Noval 2003
Deep, still youthful, opaque; closed in, underlying ripeness and intensity, brooding but not raisiny or overripe like some 2003s; ripe, dense, fruit, verging on pruney, firm gravelly tannins; a big wine with freshness and purity of fruit emerging on a long, broad finish. Complete. This is surely one of the best 2003s. 6,000 cases declared. 18.5
Quinta do Noval Nacional 2003
Still deep and opaque, with a crimson rim; still a bit sullen, with lovely, ripe, floral, licorice, and dark chocolate underlying and no sign of overripeness; sumptuous, voluptuous fruit on the palate, already beautifully integrated yet big and bold, with wonderful ripe tannins rising in the mouth and fabulous length. A very great wine, almost impossible to better. This wine still has a century of life ahead of it. 20
Quinta do Noval 2004
An "eccentric vintage," according to Christian Seely, which followed hard on the heels of the generally declared 2003s: deep, opaque; very ripe, warm, plummy aromas, a touch of roasted coffee bean on the edge, still sullen and not as big or expressive as the 2003; rich, dense, licorice and darkchocolate fruit, gripping tannins leading to a fine, elegant finish. More "classic" perhaps than the 2003, still a bit raw; needs another ten years plus but should emerge as a very fine wine. Only 1,000 cases declared. 17.5
Quinta do Noval Nacional 2004
A "secret Nacional," bottled but undeclared as yet. This was its first public outing: deep, opaque, thin crimson rim; closed in on the nose, with underlying ripe, minty fruit; dense, with sweet, spicy berry fruit and finegrained peppery tannins rising in the mouth, a touch of dark-chocolate concentration mid-palate, leading to a long, linear finish with lovely stony fruit, residual sweetness, and flesh. Not as big as some of the more recent Nacionals but already showing elegance and poise. Approach before the 2003. 18.5
Silval 2005
Noval had a serious internal debate as to whether to declare the 2005 outright and eventually opted for a second-label wine: good color, opulent, ripe cassis fruit on the nose (not pruney or baked, as are some wines from this drought-afflicted vintage); similarly opulent and voluptuous on the palate, ripe tannins yet full, forward, and nearly ready to drink. Approach in 3-5 years. A bargain Noval at half the price of a fully declared wine. 16.5
Quinta do Noval 2007
A relatively cool year produced a beautifully balanced wine: deep, dark, tight-knit, and closed, with underlying ripeness having lost the stalky hedgerow character that I found at the outset when the wine was first declared; very fine, pure berry fruit and a touch of mint backed by broad, ripe tannins. Very well defined and focused, with a lovely, long, pure, ripe-berry finish. 18.5
Quinta do Noval 2008
Another rather idiosyncratic declaration, from a small harvest that generally produced some outstanding single-quinta wines: deep, opaque black; not showing very well on the nose, probably just a phase in its evolution; much better on the palate, full and sweet, licorice and black pepper behind full, ripe tannins, rich and opulent on the finish, needing plenty of time to reveal itself. But not as pure or well defined as the very beautiful 2007. 17
Quinta do Noval 2011
Very deep, opaque color; closed in on itself on the nose (now much more so than the last time I tasted it, at the time of declaration earlier this year), with underlying minerally cherry-stone fruit; tight-knit on the palate, firm and taut, with fine-grained, peppery tannins and lovely, pure berry fruit emerging on the finish; not especially big but suave and very elegant. Closing in on itself after its earlier bloom of youth. 2,200 cases declared. 18.5
Quinta do Noval Nacional 2011
Very deep, inky black color; more expressive than the 2011 (above), incredibly deep and dense on the nose, with licorice and dark chocolate underlying; big and bold, still raw, yet with fabulous texture and concentration; suave initially, with a massive tannic superstructure building in the mouth, leading to a huge, expansive finish. Big, burly, yet very fine, with a long life ahead. Anyone born in 2011 almost certainly has a wine for life! 19.5