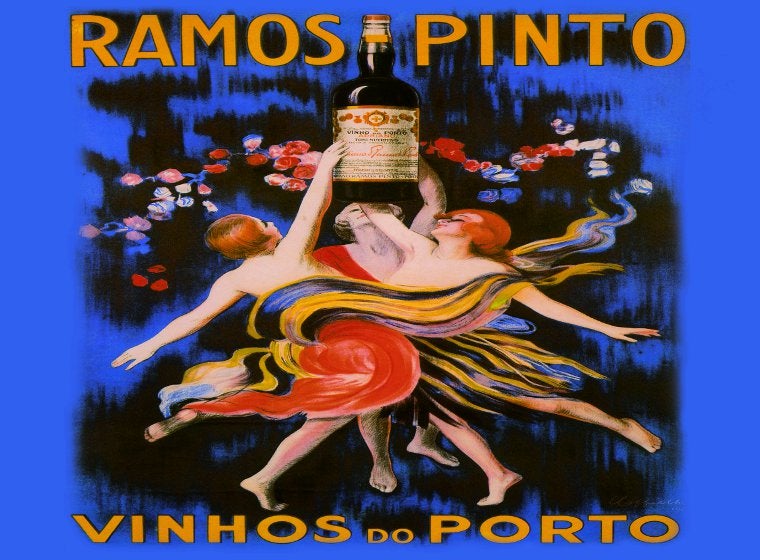 Stephen Brook shares his notes from a tasting spanning over 100 years of Ramos Pinto Port
It is tempting to make a broad division between the "British" Port shippers- such as the Symington Group or the Fladgate Partnership-and all the "Portuguese" houses, with the latter in a dim supporting role. And it is certainly true that few Portuguese houses have distinguished themselves with their Vintage Ports. Even among the top tier of Portuguese producers, the Tawnies are more admired than the Vintage styles.
Ramos Pinto is different. It has been fortunate that its director for the past quarter-century and more has been João Nicolau de Almeida, who studied enology in as a young man Bordeaux and at the university in Dijon. Later, after completing his military service, he returned to Bordeaux to work with Emile Peynaud and Pascal Ribéreau-Gayon. When he returned to Portugal in the 1970s, he was probably the sole Bordeauxtrained enologist in the country.
Arriving at Ramos Pinto in 1976, he was asked to study the varieties planted in the vineyards-for the simple reason that no one knew what they were, let alone whether they were making a useful contribution to the blend. Port shippers owned few quintas in those days; they bought grapes from vineyards they held in high esteem but gave little thought to the dozens of varieties planted there.
Almeida undertook the research that in 1981 was to define the five principal varieties used for Vintage Port. Microvinifications established their roles, their utility, their personalities. Almeida's research continued into Douro viticulture, and Ramos Pinto was among the pioneers of the horizontal terraces known as patamares, though later they were to favor vertical plantings.
The French connection was deepened when, in 1990, the company was bought by Champagne Roederer. Jean-Claude Rouzaud encouraged the winemakers to develop a line of table wines as well as traditional Ports. By this time, the style of Ramos Pinto Vintage Ports had turned a corner.
Before 1983 the wines had been very much in the domestic style: more attenuated than the denser "British" Ports, with a nod in the direction of Tawnies. Almeida's research allowed the winemakers to be far more selective in the vineyards, focusing on the varieties that worked best for their new style-with more Tinta Barroca and Tinta Francisca than Touriga Nacional. In more recent vintages the wines are hard to differentiate from those of the "British" shippers.
At a tasting in Lisbon, João Nicolao de Almeida presented a range of Vintage Ports stretching back to a decade before Ramos Pinto was founded in 1880. The 19th-century wines, he explained, would have spent rather longer in wood than a modern Port-perhaps three years rather than two. When I mentioned to him that I had once tasted an 1880 Ramos Pinto that had, I was told, been bottled in 1914, he explained that this would have been a colheita-style wine rather than a Vintage Port. And indeed, the wines were quite different, with more of a dried fruits character in the colheita.
2005 Quinta do Ervamoira This comes solely from Ramos Pinto's 150ha (371-acre) property on the left bank of the River Coa in the Upper Douro. Opaque red in color, as one would expect, and subdued on the nose, with some plum and rubber aromas. It is very sweet on the palate, intense and linear, with fine acidity, and a lift that is peppery rather than spirity. It does seem to lack some depth, but the finish is silky, and overall this is an elegant rather than powerful style. Good length. 16
2004 Opaque red, still dense. Lush, plummy nose, with a touch of mint. Less sweet than 2005, but concentrated, with fine acidity that gives it persistence. Sleek and elegant, balanced and stylish, yet it lacks some depth of flavor. Good length, with a minty finish. 16.5
2003 Opaque red. Subdued, black-fruit nose. Very rich and opulent on the palate, powerful and spicy, with a creamy texture that disguises a slight hollowness. This has a forceful personality, if less finesse than 2004 or 2005. It's solidly fruity but does lack some persistence and length. Foursquare rather than exciting. 16-16.5
1995 Very deep red, with just slight hints of evolution. The nose, too, is slightly evolved, but this has brought complexity: It's smoky, plummy, with coffee tones and a hint of undergrowth. Soft and rounded, lush and sensuous, this lacks a little concentration and grip, and there is a touch of spirit showing. Although a tad overevolved for a relatively young Vintage Port, this is still an attractive mouthful, and the spiritiness does diminish on the finish. Fairly good acidity and length. 16-16.5
1983 Deep red, with some evolution. Smoky, leathery nose, with aromas of plum compote; it's bright and healthy yet seems quite developed. Soft and silky on the palate, and moderately concentrated, this seems rather slight for a Vintage Port, but an attractive touch of mint helps lift the mid-palate. This is pretty and charming rather than imposing and seems fully ready to drink. On the finish, the flavors are reminiscent of the Dutch coffee sweet called Hopjes. Only moderate length, but no spirit. 15.5
1970 Fairly deep brick red. Delicate raspberry and rose-petal nose, which has charm, though it is rather faded. Medium-bodied, delicate, and sleek, the palate, too, has charm rather than weight, but the balance is impeccable and the finish long, sweet, and elegant. Fully ready. 17.5
1964 Fairly deep brick red. Perhaps an imperfect bottle, since there is a trace of mustiness on the nose, which has aromas of coffee and damp undergrowth, and scarcely any primary fruit character. Medium-bodied and slight, this retains a pretty sweetness and just a hint of spiritiness. It appears less musty than the nose, since the sweetness overrides any imperfections, but it does lack some complexity. A charming but mature wine, somewhat lacking in backbone. But there is quite good acidity, suggesting the wine will keep going for some years yet. A good wine from a year not generally declared. 16.5
1955 Medium-deep brick red. The nose is pallid, somewhat baked, and woody; it lacks freshness but there is no mustiness. Although only medium-bodied, it has fine acidity that attacks the palate, and a creamy texture. Plenty of fruit survives, with flavors of figs and caramelized oranges. Still vigorous and long, with a peppery aftertaste. 17.5
1934 A good year, even though it was not widely declared. Medium brick orange, still luminous. Fragrant, charming nose, with an aroma of orange peel, dates, and boiled sweets. Rich, quite full-bodied, concentrated, and spicy on the palate, with just a touch of spiritiness. Creamy texture, yet vigorous and zesty, with flavors of oranges and raisins. This still shows complexity and is very much alive, even though it is now distinctly mature in appearance, aromas, and flavors. Good length. 18
1924 A widely declared year. Medium-deep brick red, with more depth of color than the 1934. Smoky, raisiny nose, less aromatic but more robust than the 1934. Rich, full-bodied, weighty, silky, and spicy, with remarkable concentration and depth of fruit. There is a touch of spirit but not enough to detract from the pleasure of the wine. Not exactly youthful but certainly not faded. Very good length, with a hint of coffee on the finish. 17.5-18
1880 Not widely declared. Light copper brown with a pronounced yellow rim. The nose still has charm and lift, with aromas of dates, lemon curd, and cappuccino. Very sweet and intense, silky, with a curious citric quality on the palate. There's not much complexity, but this still has sweetness of fruit and considerable energy, even though it no longer has any primary fruit character, as though the flavor had been distilled into a lemon and stone-fruit essence. The acidity is suggestive of Madeira, and the finish is very long. 18
1870 Although Ramos Pinto was yet to be founded, Adriano Ramos Pinto would have selected the Ports used for his house Vintage. Light copper brown with a yellow rim, similar to the 1880 but with more depth and less limpidity. Heady nose, rather volatile, with aromas of citrus peel, dates, sultanas, and milky coffee. Medium-bodied but less sweet than 1924 or 1880, stern and a touch spirity. Clearly in decline, less acidity and zest than in most subsequent vintages, yet not moribund. In style, closer to a colheita, but the distinction is somewhat academic. Moderate length. 15