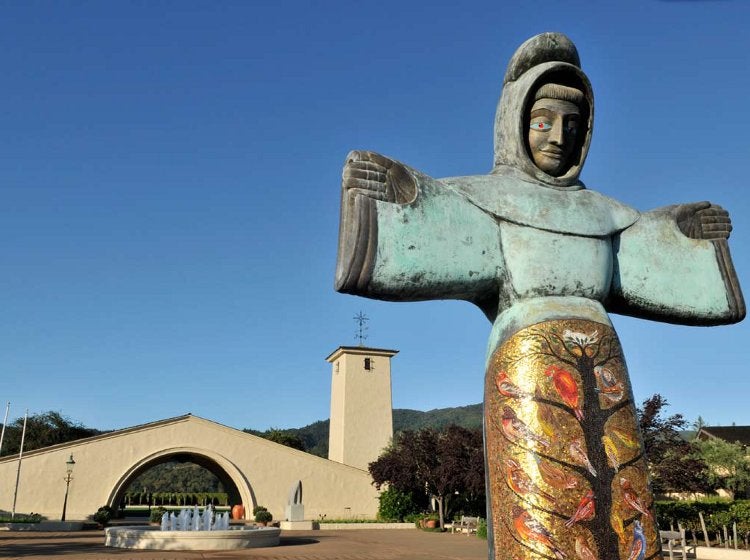 Robert Mondavi founded his new winery in Oakville in 1966, but the first vintage of his celebrated Cabernet Sauvignon Reserve was in 1971. In 1968 and 1969, he made an Unfined Cabernet, which was the precursor of the Reserves, as was the Unfiltered 1970.
The major source for the wine is the 593-acre (240ha) To Kalon vineyard, which adjoins the winery and stretches some distance to the south. Mondavi bought most of it in 1965, but some sectors are under different ownership, including Opus One across the road. A few blocks, including some Sauvignon Blanc as well as Cabernet Sauvignon, date back to 1945. The exact vineyard source is not identified on the Reserve label, leaving Mondavi free to blend in grapes from other sources such as its vineyards in Stags Leap. In the past, about 80 percent of the wine came from To Kalon, and it is probable that this is still true today.
Lots chosen for the Reserve wine are always aged in at least 75 percent new oak and given longer bottle age than the regular Napa Cabernet. All the top Cabernet blocks, whether destined for the Reserve or not, are fermented in the Taransaud oak fermentation vats bought by the winery in the late 1990s.
The wine always contains a small proportion of Merlot and Cabernet Franc. Like so many Napa Cabernets, the Reserve has changed stylistically since the early days and for some years has had an alcohol level of around 14.5%. Yet the balance of the wine is always good enough to insure that there is no alcoholic burn.
Very occasionally Mondavi will bottle separately, as To Kalon Cabernet, a wine made from vines at least 30 years old, cropped at no more than 1 ton per acre. Production is very limited and has varied from 250 to 1,000 cases; the 2005 was released at $250 a bottle, making it considerably pricier than the Reserve.
The following wines were tasted at Linden Wilkie's Fine Wine Experience in London in May 2009, with the exception of the 1999 and 2005, which were tasted later that month at the Mondavi winery. The older vintages, up to 1976, came from the Graham Lyons cellar, a collection assembled by an Englishman and sold at auction in New York in 2008, where many of the wines were acquired by Wilkie. Thus, the provenance of these older wines is impeccable.
2005 Very deep red. Very rich blackcurrant nose, classic Cabernet. Rich, sleek, very concentrated, but fresh and elegant, with lovely purity of fruit, stylish oak, and finegrained tannins. Delicious, spicy, and long. 18
2001 Very deep red. The nose is discreet and oaky, though the oak is elegant and not overstated. The palate shows very ripe fruit, in the modern Napa style, juicy and almost sweet. The flavors are very concentrated, but the tannins are well integrated, and despite the richness there is considerable freshness, as well as intensity of fruit. Admittedly, it's hard to discern much complexity now, but this still needs time. Has good length, with a touch of chocolate on the finish. 17.5
2001 To Kalon Cabernet Reserve Opaque red. The nose is very reserved, though ripe and oaky. The palate is very rich, dense, and concentrated, with ripe chewy tannins that are a tad more grainy and extracted than in the regular Reserve. This bottling has more spice but rather less freshness, though they share a similar elegance. This still needs time-and probably more than the regular Reserve. Long. 17.5
1999 Very deep red, unevolved. Sweet, oaky, blackcurrant aromas, supplemented by black olives and mint: very stylish. The wine is rich and suave, juicy and concentrated, with firm but fine-grained tannin and moderate acidity. No signs of age, and excellent length. 17.5-18
1997 Corked. NS
1996 Deep to very deep red, with little evolution. The stylish nose is muted but sweet and generous, with a light smokiness and some coffee tones. Concentrated on the palate but only medium-bodied, distinctly tannic but not harsh, reasonably fresh and spicy, but overall it seems rather subdued and not especially oaky, despite a full two years in barriques. There's a light savory tone on the finish, with a dash of acidity to keep it lively, but this still needs to open up and will develop further. Good length. 17
1994 Very deep red, with slight evolution. There are reticent blackberry aromas on the nose, along with some toasty oak. This is a medium-bodied wine, sleek and fresh, with appealing acidity, but it seems to lack some weight and flesh. Given the Mondavi predilection for elegance over power, this should have more distinction than it seems to on this showing. Moderate length. 15.5
1992 Deep red, now showing some evolution. The nose is slightly grubby and may be lightly corked. This is tannic and robust on the palate, and though the texture is rich and fleshy, there's a furry quality to the tannins that robs the wine of some finesse. There is some kind of taint present, though the palate is a bit cleaner than the nose. Moderately long. 14
1991 Very deep red, with only a trace of evolution on the rim. The nose is dumb, though the oak shows through. There's a fine attack, giving a lean but concentrated profile to the wine, which is spicy and has assertive but not harsh tannins and some vibrancy. Blackcurrant dominates the fruit, as well as some cool chocolate-mint freshness. Overall, this is a refined and still youthful wine, with a long, delicate finish. 17.5/18
1990 Very deep red, only some slight evolution. Muted, black-cherry nose, which is surprisingly dumb given the wine's age, and there is a light savory tone, though the aromas are not notably evolved. Fairly rich, fleshy, more open than 1991, concentrated but accessible, and though ample tannins coat the mouth, the wine has the weight to absorb them. This is more dramatic but less elegant than 1991. Good length, with a spicy finish. 17.5
Genevieve Janssens, Mondavi's senior winemaker for nearly two decades, who has helped maintain the quality of what has always been its flagship wine
1987 Very deep red, slightly evolved but with no brick tones yet. Lush but discreet nose, with black-cherry and blackcurrant aromas and a whiff of coffee. Very ripe and concentrated, with just a touch of herbaceousness, but this translates into a coolness on the palate rather than a vegetal character. A wine of considerable finesse, this is drinking well now, but there is no rush to drink it, and it still shows some freshness on the long finish. Lovely wine, with a claret-like balance (and claret-like alcohol: 12.5%). 17.5-18
1976 Very deep red, with some brick tones. A rare, pure Cabernet Reserve, showing a sweet, cedary nose that has intensity though it's distinctly savory, with a slight baked character. Medium-bodied on the palate, silky in texture, very concentrated yet not overly dense, tannic but not extracted. This exhibits a lot of spice and vigor, given its age, and a sweet, intense finish. Quite long and ready to drink. 17.5
1974 Very deep red and arguably less developed than a Médoc of a similar age would be, despite 31 months of oak aging. Rich, savory nose, almost gamey. This is rich, dense, and powerful without being extracted, and remarkably youthful, with lively acidity. Complex and layered, this is delicious and sweet, with a cooling touch of mint on the finish. Though drinking well now, it will surely keep. Excellent length. 18.5
1973 Very deep red, with a light brick tone. The nose is distinctly evolved, with leathery and savory aromas. The palate is slightly earthy, grubby, and coarse and worsened with aeration; clearly an imperfect bottle, showing rather drab tannins and a lack of acidity and length. Dry finish. 13.5
1970 Napa Cabernet Sauvignon Unfiltered
(85% Cabernet Sauvignon, 15% Cabernet Franc) Deep red and distinctly evolved. Leathery, cedary nose but still some lift and some smoky, cherry fruit. A medium-bodied wine, pretty and graceful, but the fruit may be beginning to fade. While definitely mature, it still has charm and elegance, and the finish is fresh. Not that complex but very attractive and long. 17-17.5
1969 Napa Cabernet Sauvignon Unfined
Fairly deep red, with brick tones on the rim. The nose is evolved, with smoky, leathery, clove aromas, but it retains power and presence and complexity. The palate is still rich and sweet and very concentrated but shows quite pungent acidity. Though fresh, it lacks a little flesh and weight and remains angular; it's interesting and full of character but not the most pleasurable of wines. Good length, but with a rasping, tart finish. 16
1968 Napa Cabernet Sauvignon Unfined
Deep red, with some signs of age. The nose, while leathery and cedary, still has intensity and brightness, and while clearly evolved, is not conspicuously tired. Though mediumbodied, the palate is concentrated and remains bright and lively; it's still quite tannic but has ample acidity and a youthful cranberry character, as well as showing a light, chocolaty tone. It's not that complex but has zest, finesse, and persistence. 17 1966 This is a magnum of Mondavi's debut Cabernet, and since there were apparently no magnum bottles available, Mondavi used instead a 2/5-gallon sparkling-wine bottle,
the volume embossed at the base of the bottle. Deep to very deep red, with some browning. The nose is mushroomy and evidently quite elderly, with savory and even cabbagy tones. Though just mediumbodied, the palate is quite concentrated and remarkably fresh-far more positive than the nose-with a sweet core of cherry, cassis fruit and a touch of mint. It's not that complex, but cool, stylish, and very long. 17