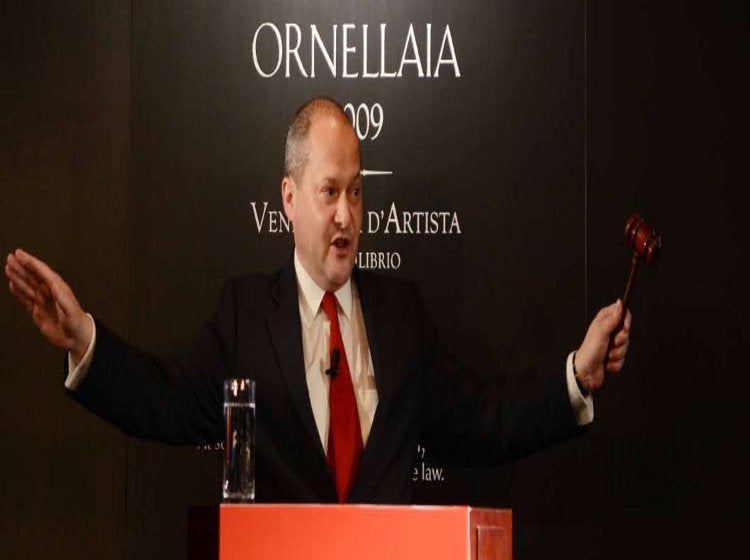 The first quarter of 2012 saw wine prices stabilize following their emphatic drop in the latter half of the previous year. The Liv-ex Fine Wine 100 index rose by 2.8 percent to March, closely emulated by the Fine Wine 50 and the Claret Chip indices, both of which track first-growth Bordeaux. This suggests that last year's correction was deemed sufficient by buyers, who have extended a parachute to the free-falling firsts. The Liv-ex 500, which is a broader-based index, continued its altogether-gentler descent into 2012, less affected by the fickle approach to Bordeaux's top crus. In March, all four Liv-ex indices flattened out, ushering in what looks like a steadier year ahead, with a distinct lack of hype surrounding this year's en primeur campaign, in contrast to the two previous years of frenzied price escalations.
Broad-eaux
Auction prices were also relatively flat in March, as tracked by Wine Market Journal 's various indices. However, during the collapse in the second half of 2011, WMJ indices proved themselves to be generally more robust than those of Liv-ex, losing less value even than the Liv-ex 500. This could indicate that buyers remained willing to pay higher prices at auction than through merchants. To calculate its indices, Liv-ex uses either merchant best list prices (for the Liv-ex 500) or its "mid price," which is calculated based on bids, offers, and transactions on its own trade-only exchange platform-for example, for the Liv-ex 100 and Claret Chip. This supports the argument that auctions attract higher prices.
On the other hand, the superior performance of WMJ indices is likely also due to their constituent wines. Tellingly, the WMJ index tracking Bordeaux first growths ended March down 22 percentage points from July last year- exactly the same drop suffered by the Liv-ex Claret Chip, despite having fallen less quickly to begin with. These two indices track a very similar stable of wines, varying only in vintage and overall number, whereas the WMJ 150 and 500 include a far broader range of wines than the Bordeauxcentric Liv-ex 100 and the only slightly more eclectic Liv-ex 500. That Bordeaux led the recent price correction is clear, and WMJ's broad church (wines from Burgundy, the Rhône, Champagne, Italy, Spain, Portugal, and the New World make up more than half the WMJ 150) no doubt contributed to its generalist indices' relative buoyancy.
According to Richard Harvey MW, Bonhams' global head of wine, "Certain things are selling quite well-actually, everything other than young Bordeaux." He specifies Port ("We sold all but one lot in our last sale"), Champagne, Cognac, and old Bordeaux as strong performers. "Even younger Bordeaux would sell well if the price was sufficiently low," he continues, adding, "There's just so much stock that anyone who wants it will do a deal with a trader." Musing on the "salutary" price drops of top Bordeaux, Harvey recalls a valuation of a collection of Lafite Rothschild that he did for a client last summer. His estimate for 2008 Lafite of £10,000- 12,000 ($15,700-18,900) would now be £6,000-7,000 ($9,400-11,000), meaning a haircut of 40 percent, with a similar story for vintages such as 2003 and '05. Harvey has seen Mouton Rothschild fall most heavily after Lafite, and he wonders "whether it is tainted by the Rothschild name?"
Downsizing
It's no wonder, then, that less wine is being sold at auction so far this year. Why would someone sell at such reduced prices if they didn't have to? After all, Harvey expects that "in due course the estimate for Lafite 2005 will go back up to £10,000 [US$15,800], though it may take five years." In spite of auction indices seemingly outperforming the market in general, global auction revenues for Q1 2012 were nonetheless down one fifth on the same quarter of 2011, to $88.5 million from 30 live sales.
Asia lost the most ground, with Hong Kong wine sales down 31 percent, while the United States brought in 17 percent less revenue than in Q1 2011. Europe, on the other hand, continued a trend seen throughout last year and increased its wine-auction revenues by 17 percent, though it still trails behind the two other continents in proportional terms, representing only 22 percent of worldwide live-auction revenues. Hong Kong, which by the middle of last year represented more than half of global revenues, accounted for 47 percent by value in Q1 2012.
Revenue per sale continued to fall during the first quarter, now standing at $3 million compared to last year's average of $3.2 million overall and $3.8 million in Q1. The number of sales remains on a par, but each sale is slightly smaller and each lot worth less. The auction houses have downsized in harmony, with the leader board unchanged from 2011. The top spot again went to Acker Merrall & Condit, which brought in $21.7 million, creating three quarters of its auction revenue in Hong Kong. Then, in the same order as last year, followed Sotheby's, Christie's, Zachys, Hart Davis Hart, Spectrum, and Bonhams.
The Orient effect
Total sell-through rates were back in the healthy 90s, at 92.0 percent overall, up on Q4 2011's 89.2 percent (but lower than the Q1 2011 rate of 95.3 percent). Hong Kong's loss of market share can be attributed to lower demand in the Asia region, or at least demand that is accelerating at a slower pace-too slow to soak up all the wine being taken for sale there. To March, Hong Kong sales saw 90.8 percent of lots sold, barely an improvement on 89.5 percent in the last quarter of 2011. By contrast, sell-through rates are as strong as ever in the US, at 96.8 percent, pulling up the global average. Europe, despite improving 4 percent on Q4 2011, still has the weakest, at 88.3 percent.
It's not only Hong Kong's lower sell-through rates that, coinciding with lower prices, insinuate Hong Kong's sway over the wine market. Intriguing analysis from WMJ shows indisputably that auctions held in Hong Kong have led the way in terms of softening prices for the top wines. This is most apparent for the WMJ Bdx 1st index, which fell 6.8 percent in Q1 2012, but if excluding results from Hong Kong auctions, fell only 1 percent. The effect was less marked for the WMJ 150 but significant nonetheless, Hong Kong results dragging what would otherwise have been a gain into a loss. Only the WMJ 500 was positively affected by results from Hong Kong sales, once again affirming the wisdom of offering a broader spectrum of wines to Asian buyers.
Getting my swag on
In issue 34, I promised to delve a little deeper into the acronym SWAG: silver, wine, art, and gold. The term was coined in September 2011 by economist Joe Roseman, writing in Investment Week. The tenet behind this particular have outperformed equities over the decade to January 2012. While the Dow Jones index, which tracks large-cap US stocks, has gained 27 percent since 2002, the SWAG components have increased in value by at least three times more. Art rose almost 100 percent, wine more than 200 percent, and the precious metals by about 500 percent.
I can't help thinking of Burglar Bill in his stripy shirt, making off with his sack of stolen goods, or a cowboy slinging his loot over his shoulder as his horse rears up and gallops into the cactus-spotted sunset. The Oxford English Dictionary defines the noun swag as "a bulging bag." Fitting, when you consider the spoils of investing in any of the four components and all for relatively low risk-certainly when compared to robbing a bank. Over a 20-year period, wine demonstrated the highest returns and the second-lowest volatility, at 15 percent apiece. Over ten years, the chart would look slightly different, with wine in third place for reward, behind silver and gold-since its compound annual growth rate has slipped to 12 percent- but demonstrating the least risk.
Less encouragingly, another dictionary entry for swag reads, "a heavy fall or drop." Let's hope that's not an omen. The verb, dating from 1530, means to move with a swagger. Our four hard, luxury assets have done just that. In times of economic uncertainty, where "paper" or virtual assets can lose their value overnight, "hard" or tangible assets offer an added level of comfort, possessing an intrinsic value. "Given the scale of the price increases in SWAGs," writes Roseman, "it seems sensible to me to have them in a portfolio in one guise or another."
Tangible advantages
Roseman identifies other traits that the four asset types have in common, the most crucial being longevity and scarcity, as well as their income-tax-free nature, lack of any associated incumbent debt, and low correlation with equity markets. None of the assets has an income stream, so none results in income tax, while wine has the additional boon of being free of capital gains tax, due to its being classed as a wasting asset.
In longevity terms, gold, silver, and art last indefinitely, while investment-grade wine can, of course, last for 50 to 100 years, or more. Wine has the added benefit of becoming more desirable as it ages, not only as it develops and reaches its peak for drinking, but as it becomes more scarce.
Gold and silver exist in finite quantities on Earth, as do wine and art of an investable quality. Aubert de Villaine produces only a small number of cases of Domaine de la Romanée-Conti (DRC) each year, restricted by the size of his grand cru vineyards and yields, and no one vintage can ever again be replicated. Art is even rarer, each piece being one of a kind. That said, during his 91 years, Pablo Picasso produced more than 20,000 works of art-more than there are cases of DRC each year-but it doesn't mean his works are any more affordable. Until overtaken in May this year by Edvard Munch's The Scream, which sold at Sotheby's in New York for $119.9 million (£73.9 million), Picasso's Nude, Green Leaves, and Bust was the highest-priced artwork to sell at auction, fetching $106.5 million (£70.2 million) at Christie's in New York in May 2010. Even these figures are dwarfed by the revelation in February that the Qatari royal family acquired one of Cézanne's five versions of The Card Players (above) for some $250 million (£160 million) in a private deal last year. I wonder what wine is in the bottle gracing the otherwise bare table where the Aixois pair study their cards? Even in the late 1800s, it is highly unlikely that farmhands could afford to drink Romanée-Conti…
Drawing a parallel
Like the top wines, then, fine art is reserved for the happy few. Jeffrey Archer, an avid UK art collector whose hoard is probably worth somewhere in the region of £50 million ($79 million), declares himself priced out of the "major" Impressionists. This recalls the oft-heard laments of the claret aficionado, one-time quaffer of classed growths. In fact, art has much else in common with wine that cannot be said for silver and gold.
Detail of The Card Players (c.1895), by Paul Cézanne, which was acquired by the Qatari royal family in a private deal for a record-breaking sum of $250 million in 2011
Both art and wine are now recognized worldwide as serious collectible assets, each with dozens of dedicated new funds. Deloitte's Art & Finance Report 2011 identified 44 art funds or investment trusts, 21 of which were set up in China since 2010. The global art investment fund market is worth $960 million according to the report, up from $760 million in 2010, an increase of just over one fourth. These figures put art ahead of wine, where there is around half the number of funds in operation, worth up to $400 million. However, we are seeing similar patterns, with several new wine funds announced-if not launched-in 2011 and more planned for 2012.
According to Deloitte's survey of 19 private banks, 56 percent had experienced stronger demand for tangible assets since the 2008/09 downturn, and 39 percent are considering providing art-fund-related products in the next two to three years. The same 19 banks are overwhelmingly convinced by the merits of SWAG, with 83 percent feeling that "there are strong arguments for including art and collectibles in traditional wealth management."
However, the report also pinpointed many of the obstacles to art investing that ring just as true in the wine world, saying that a "lack of market transparency, low liquidity, and valuation standards make it difficult for wealth managers to engage in art as an asset class." Art valuation faces the same subjectivity issues as wine- issues that stem from the mutation of an artistic or artisanal source of pleasure into a money-making tool.
Nonetheless, art indices and valuation information are now offered by the likes of Artprice.com, increasing transparency just as Liv-ex, Wine-searcher, and WMJ have done for fine wine. Both sectors are addressing liquidity, embracing the digital era, and moving increasingly online, with specialist Internet auction houses, as well as online bidding facilities at the major live sales. In parallel with the advent of wine exchanges such as Berry's Broking Exchange, the art world has six already in China alone, with 30 more in the planning, according to Deloitte's report.
Designs on China
Possibly the most striking parallel influence on the markets for fine wine and fine art in recent years has been that of China. The People's Republic became the world's biggest art-auction market in 2010, as it did for wine. However, the art world has several large domestic players, such as Beijing's China Guardian, whereas wine auctions are still conducted in Hong Kong rather than the mainland, exclusively by international firms.
Art and wine came together in Hong Kong on April 27 for Ornellaia's fourth Vendemmia d'Artista (Artist's Vintage) auction. Bottles designed by Chinese artist Zhang Huan were sold for the benefit of the H2 Foundation for Arts and Education, which funds young Chinese artists through scholarships on the mainland. Huan himself has benefited from the foundation's work. For Ornellaia's chairman, Marchese Ferdinando Frescobaldi, patronage of the arts has a certain personal resonance. "My family supported artists like Donatello 500 to 600 years ago, so I'm really happy that we can invest in contemporary art again now."
Fate and fortune
"Confucius's family is much older than Frescobaldi's," Huan reminded us, playfully. It was from the 6th-centurybc Chinese philosopher that the artist took inspiration when creating the series of original labels representing the 2009 vintage theme of l'equilibrio (equilibrium). In the Connaught Room of the city's legendary Mandarin Oriental, the centerpiece was a Salmanazar (9-liter bottle) adorned with a shining stainless-steel sculpture of Confucius. The only thing more sparkling was the glass pane in the hotel's entrance hall, which, newly buffed by a diligent employee, fooled one guest, who hit her head ogling a pair of Salvatore Ferragamo shoes on the other side. (I had almost met the same fate earlier in the day.)
Talking of fate, Huan told me that "success in life is innately predestined," then he went on to compare life to wine, and wine to art. For a vineyard to produce good wine, it must have "an innate character and history." The success of significant families and their famous vineyards is "perhaps a gift from God," he reflected.
Later, in the saleroom, he ended his speech saying, "I hope tonight's wines will bring you luck and good fortune." Ornellaia made much of Chinese symbolism, crafting one lot that featured only vintages ending in a lucky eight. Sotheby's head of wine in Asia, Robert Sleigh, wielded the hammer artfully, encouraging solid-though not frenzied-bidding. Be it down to skillful auctioneering, the Ornellaia 2009, 2006, and 2000 served with dinner, or simply fate, the auction totaled HK$1.45 million ($186,200)-more than any previous Vendemmia d'Artista sale has achieved.
Caritas
Sam Lin and Anna Lau, seasoned Hong Kong wine buyers, delayed their trip to Beijing for a wine dinner with Margaux's Paul Pontallier in order to attend the event. "I've always been a friend of Sotheby's; whenever they pick up the phone, I'm here," explained Lin. "It's a charity event, so it's for a good cause, and we happen to love Ornellaia tremendously." Lin snagged the third lot, a vertical of ten magnums of the Super-Tuscan from 2000 to 2009, which didn't feature Huan's designs. Originally attracted by both the wine and the art, the pair opted for this lot because it was the perfect addition to their collection of Ornellaia verticals. "I'm not a big art person," said Lin, continuing, "but Ornellaia is the first growth of Italy to me."
Huan accepted the commission largely due to its charitable element. As for auctions, Huan usually tries to ignore them, though he is aware that Charles Saatchi has bought his work and resold it at auction. "I don't know at what price; I need to forget about the art market and auctions to lead to a greater creative environment." Nonetheless, he recognizes that art is very much an investment product, saying that if people buy art "because they are passionate and, in the process, make a profit, that is natural."
He identifies two types of collector: the first is serious and more likely to donate works to museums, while the second is more interested in short-term profit. Huan names François Pinault and Bernard Arnault as belonging to the first group. Both men also happen to own firstgrowth châteaux in Bordeaux, their passions doubling as investments and adding the requisite swagger to their extensive corporate holdings.
Does your investment portfolio have the swag that it needs?