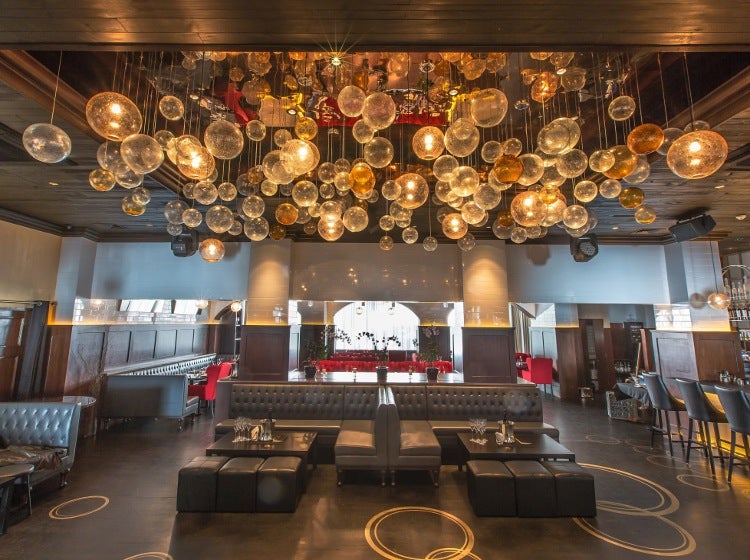 Baccanalia
Occupying part of the grand Masonic Club Building in Singapore, restaurant à la moment, Baccanalia, has become a permanent fixture as of May this year after a successful stint as a brunch pop-up. The Baccanalia Brunch Series events which launched them onto the restaurant scene were more wild party than traditional brunch seeing guests knock back champagne as if it were water and dancing the night away on tabletops.
Moving beyond the raucous brunches that gave the restaurant its name – although the brunches are still a regular occurrence – Baccanalia now serves precise dishes throughout the day. Influenced by eastern and western cuisines, the dishes – despite intricate details and clever construction – are simple so not to adulterate ingredients beyond recognition, including a picture-perfect dish of Tahitian vanilla confit of salmon with roasted garlic puree, shaved fennel and a honey emulsion. The man behind the menu and Executive Head Chef, Ivan Brehm, is a man of great talent and ingenuity, who has previously worked in some of the most exclusive establishments in the world, including Thomas Keller's Per Se in New York, and Heston Blumenthal's renowned restaurant, The Fat Duck in Bray.
In keeping with the name of the restaurant – Baccanalia is taken from the name of the Greek God of Grapes, Bacchus – the drinks menu is vast. There are fine Champagnes, a vast collection of fine wines, and an assortment of Japanese Sake. As a nod to the champagne parties Baccanalia are famous for, the interior is decorated with 400 large glass "bubbles" suspended from the ceiling. The list includes special bottles such as Ruinart Blanc de Blancs, 2005Louis Roederer "Cristal", and a particularly indulgent, 1999 Salon Blanc de Blancs. The wine list is equally impressive, showcasing bottles such as 2010 Domaine Fontaine – Gagnard Chassagne -Montrachet, 2011 Francois Villard Viognier, and 2010 Sea Smoke "Ten" Pinot Noir.
23A Coleman Street, Singapore; +1 212-889-0905; www.bacchanalia.asia
Les Amis
Deemed to be Singapore's finest French restaurant, Les Amis is renowned for its elegant, authentic and original food. Taking the reins in the kitchen as executive head chef, is Sebastien Lepinoy. Lepinov's portfolio of work is remarkable having trained under the watchful eye of eminent chef and 28 Michelin star holder, Joel Robuchon, he has since then worked in some of the world's finest establishments. Previously heading Robuchon's Hong Kong flagship and eponymous restaurant, L'Atelier de Joel Robuchon, he was later appointed Chef de Cuisine at Robuchon's 2 Michelin Starred Hotel Metropole in Monte Carlo, and more recently worked at Les Amis' Groups Michelin-starred restaurant, CÉPAGE, in Hong Kong.
Given the task of revising and rejuvenating the menu at Les Amis, Lepinoy explained that the dishes he designed for the restaurant showcase his style of cooking by combining "French cooking techniques with Japanese components and aesthetics." With the helping hand of Pastry Chef Cheryl Koh, who worked with Lepinoy for two years, they have crafted set menus for both lunch and dinner. Evening menus include a five-course Menu Découverte for SGD150, with plates such as Stem Blue crab and Hokkaido sea urchin on lobster custard with fennel foam; a six-course Menu Épicurien for SGD205, which has fresh caviar from Sologne two-way – waki of scallop sashimi & cold angel hair to start. The feasting menu, Menu Dégustation, provides seven-courses for SGD280 and includes spaghettini with white truffle & lobster with a touch of parmigiano, and French duck breast with quince and daïkon.
The wine has more than 2,000 wines on it. Wines by the glass include a 2010 Château Clarisse VieillesVignes, and special bottles such as 1999 and 2002 Cristal Rosé Brut, and the divine 2001 Château Rieussec dessert wine. Along with the vast wine list, there is a hand-picked Sommelier's selection showcasing wines such as 1998 Billecart-Salmon, and a half bottle of 2001 Château Suduiraut. In celebration of rising Champagne producer, Bruno Paillard, there is an entire page dedicated to his various finest Champagnes, including larger formats of some of his best bottles such as the Rosé Brut NV, which comes in half size, regular bottle format and Magnum.
Shaw Centre, Singapore;+65 6733 2225; www.lesamis.com.sg
Gunther's
Belgian Chef, Gunther Hubrechsen – of Les Amis fame – opened the doors to Gunther's in 2007. Training under three Michelin star, Alain Passard at his renowned l'Arpege in Paris, Hubrechsen's culinary stars have since soared, seeing Gunther's ranked as the 84th in the San Pellegrino World's Best 100 Restaurants in 2010. Last year, Gunther's was also awarded with the 'Restaurant of the Year, and 'Outstanding Caterer of the Year' accolades at the World Gourmet Summit Awards of Excellence last year.
Serving French fare, Gunther's works with the finest ingredients, crafting them into expertly concocted dishes, but without too much interference. Humble dishes, with a sprinkle of French opulence, include their signature dish, cold angel hair pasta with Oscietra caviar, a picturesque plate presented with a coil of delicate pasta coated in truffle oil, kombu and chives and topped with luxurious caviar. Main dishes include classic but original recipes such as oven-roasted "Chateaubriand" served with pear, pepper sauce flambée au Cognac, and a Whole roasted Maine lobster "thermidor". To suit these reconceived archetypal French dishes, is a wine list of great length covering over 40 pages, with a strong focus on fine French wines. Some such bottles that impressed include, a 1982 Latour, a 1986 Mouton Rothschild, and a 1982 Pétrus. There are also fine wines from New World locations including four vintages from cult wines from Napa Valley producer, Screaming Eagle. There is also a cheaper list of wines between SGD98 and SGD198, including good bottles such as 2009 Domaine Marc Kreydenweiss Riesling Wiebelsberg for SGD150, and a 2011 Vacheron Sancerre.
36 Purvis Street, Singapore; +65 6338 8955; www.gunthers.com.sg
JAAN
Luxury French restaurant, JAAN, is housed in suave The Stamford Swissôtel in the heart of Singapore. Boasting a superlative panorama of the lit-up city skyline from the 70th floor, the view itself is stiff competition to the food. In reality, the view, albeit breathtaking, comes secondary to the even more impressive food. At the culinary helm is talented Chef Julien Royer who creates refined modern French cuisine, with a real devotion to keeping seasonal ingredients as true to their original form and flavour as possible. Receiving invaluable training from Michelin star luminaries Michel Bras at Laguiole and Bernard Andrieux, Royer was bestowed the "Rising Chef of the Year" award at the World Gourmet Series Awards of Excellence in 2012. This year, JAAN was awarded an "Award of Excellence" by G Restaurant Awards, it was also ranked as 22nd in San Pellegrino's "Asia's 50 Best Restaurants 2013" and within the same award Royer was named as the "One to Watch."
Diners can choose between two set menus, one where dishes are paired with wines or a la carte. The set menus are either from the Jardin Gourmand selection, from which guests can either get a five-course or seven-course meal, including dishes such as trumbetta zucchini with burratta 'artigiana', olives and basil, or 55′ smoked organic egg with 1st harvest of morels, peas and smoked rattes. Menu Degustation is a five-course menu with dessert dish entitled 'Blossom' of light lemon curd, cherry, verbena, and elderflower, paired with a 2011 Muscat de Beaurne de Venis. Menu Prestige, a seven-course menu, includes dishes such as a Norwegian Hand dived scallop, viennoise, musquée pumpkin, 'beurre noisette,' with the option of pairing it with a glass of refreshing 2009 Cloudy Bay Sauvignon Blanc. For those keen to browse the wine menu, there is a broad wine list of more than 500 Old and New World wines to flick through.
Level 70, Equinox Complex, The Stamford Swissôtel, Singapore;+65 6837 3322; www.swissotel.com
Restaurant Andre
Opening its doors only three years ago, Restaurant Andre has built up an unfailing reputation as one of Singapore's best restaurants. The modest dining room seats only 30 guests, and provides diners with an intimate experience of gastronomic delights. Andre Chiang, Chef and owner, has worked at some of the most influential and highly-regarded French restaurants in the world, including 3 Michelin star Parisian eateries Pierre Gagnaire, and L'Astrance, as well as 2 Michelin star restaurant, Les Jardin des Sens in Montpellier. Receiving countless awards, one from the Discovery Channel as one of Asia's "Top 10 Young Chefs" in 2006, Andre Chiang this year was named one of Elite Traveler's "15 Most Influential Chefs of the Next Decade".
Working to an "Oct-Philosophy" where eight primary characteristics are king, his culinary creations are some of the most considered out there. These characteristics are: Unique, Texture, Memory, Pure, Terroir, Salt, South and Artisan. Combined, these elements help Chiang create entirely original and all-sensory provoking dishes, presented in an artistically magnificent way. Such dishes include a "Pure" dish of Saint-Jacques ravioli, purple cauliflower consummé and pickled shallots, or a "Spring Snacking" dish of pulpo a feira, chicken masala and mushroom caviar, purple potato glass and chlorophyll capsule. The cellar at Restaurant Andre is exclusively French, featuring small-production biodynamic wines from producers in Loire, Jura, Beaujolais, and Champagne.
41 Bukit Pasoh Road, Sinapore; +65 6534 8880; www.restaurantandre.com
Waku Ghin
Acclaimed Sydney import Waku Ghin opened in 2010 in Singapore under the helm of Chef Tetsuya Wakuda. Housed in the grand Marina Sands Casino Complex, the restaurant has received a shower of awards and accolades since opening. Coming in second on The Miele Guide to Asia's Top 20 Restaurants at the beginning of 2013, and one month later placed in 11th position on the San Pellegrino Asia's 50 Best Restaurants list.
Hailing from Hamamatsu, a city in Japan, Chef Tetsuya undertook his culinary training in Sydney, Australia. Working his way up from modest beginnings, Tetsuya opened his first restaurant in 1989 in the Australian capital, which proved successful and led to the opening of Waku Ghin in Singapore over twenty years later. Waku Ghin is a vast restaurant with different spaces for different moods, including a sake bar and caviar lounge, as well as private dining rooms, whilst the dining hall has a mere 25 covers, by means of giving diners space and privacy.
The menu is influenced by his native Japanese cuisine, but has European influences, with signature dishes including Marinate Botan shrimp with sea urchin and caviar, and Australian wagyu with wasabi and citrus soy. The wine list not only suits the fine cuisine, but it also fits with the overall feel and clientele of the resort, with extremely high calibre wines available.
10 Bayford Avenue, Singapore;+65-6688-8507; www.marinabaysands.com