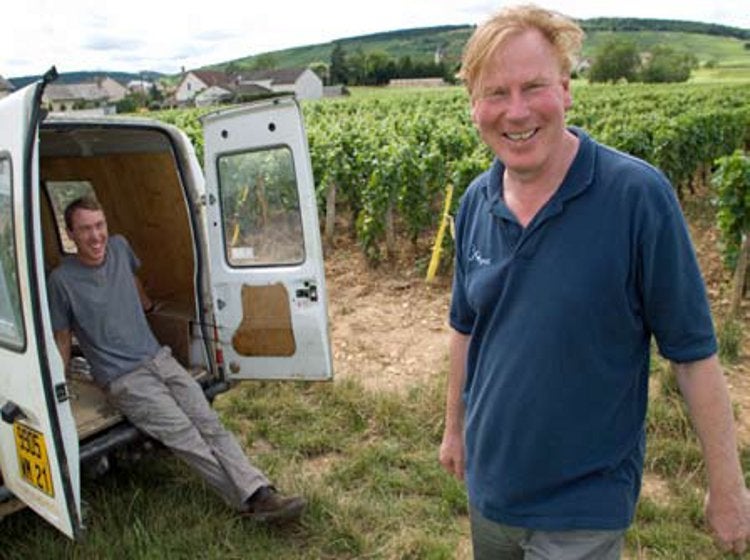 Nick Angel (producer and director)
The Firm
BBC4, February 2009
Reviewed by Stuart George
The Firm is the first of three BBC4 programs on the wine trade broadcast in February 2009. It presents a snapshot of the distinguished London wine merchant Berry Bros & Rudd, set against the backdrop of the then emerging financial crisis (the film was made January-April 2008). Its cast of characters talks openly, but BBR apparently-and uniquely-had right of veto on the final edit.
Like many wine merchants, Berrys has reaped the rewards of the recent global boom, but now times are more testing. Simon Berry, the company's present chairman, points out that BBR is a family firm that has thrived for 311 years-it is rare indeed not to have one generation scupper everything at some point. The voiceover adds that the firm has survived the Napoleonic Wars (which probably affected supply more than demand) and two world wars. Will it survive the credit crunch?
Of course it will, because, as Simon Berry points out, people drink when times are good, and people also drink when times are not so good. The "heritage" of BBR is an important factor in its ongoing success, too, though nowadays its HQ is actually in unglamorous Basingstoke rather than regal St James's in London.
Most of the film shows Simon Staples and Jasper Morris MW-Berrys' Bordeaux and Burgundy buyers respectively-at work and play (though sometimes it is quite hard to tell the difference between office hours and after-hours). Berrys continues to be a major player in the global fine-wine trade: Staples's purchasing budget for the 2007 Bordeaux vintage was £60 million, and in any given vintage he is the world's largest individual buyer of Bordeaux. His Bordeaux activities are contrasted with those of Morris in Burgundy, who seems to enjoy a much more bucolic lifestyle and pursues a romantic (though ultimately still pragmatic) approach to buying Burgundy on behalf of BBR that would probably not be possible with Bordeaux. Morris's job seems terribly easy compared to that of Staples, who has to wait and wait for the Bordelais to release prices for the 2007 wines.
The difference between the two classic French regions is also highlighted in the choice of producer to represent them. The sang froid business sensibilities of Cos d'Estournel's Jean-Guillaume Prats could not be further from those of David Clark, an amiable Scot who retired from a career in Formula One engineering to establish his own tiny domaine in Morey-St-Denis. The interviewer jokes that the unmarried Clark's vineyard purchase in Vosne- Romanée (of "eight and two thirds rows"!) will make him more eligible for marriage, much to Clark's very obvious embarrassment.
Prats calls the en primeur campaign "a game." Its rhythms and processes are depicted: tasting the wines in barrel, waiting for the Parker scores to be released, and finally awaiting the châteaux to release prices. Surely it would look ridiculous to anybody unfamiliar with the system. Staples admits to the possibility of having to sell wines at cost price in order "to stay in the market"-that is, maintain positions with suppliers and clients- and he acknowledges the "aggressive pricing" at Cos, but for the 2007 vintage, at least, this backfired. Out of his £60-million budget, Staples bought ten cases of Cos. The construction of Cos's new winery is shown. "How much does it cost?" the interviewer asks Prats, having implied that the high price of the wine is funding the building work.
With a combination of Gallic charm and insouciance, he reveals nothing. Only time will tell if the winery is a statement of supreme self-confidence or a monument to hubris. The film ends with Staples hosting some of Berrys' best clients to a private lunch with Prats in St James's. Having impressed everyone with a bottle of 1870 Cos from Berrys' cellars served blind-Prats was closest, guessing at 1928-he takes another sip and declares, "I love my job!" So, too, do Simon Berry and Jasper Morris, and The Firm shows how beguiling the wine trade can be.
The Firm is judiciously edited and just about maintains interest for its one-hour running time. It is accurate, too, with only one mistake (Liv-ex is a trading platform, not a group of traders). In the light of the appallingly researched Dispatches program on wine, this is a good effort.