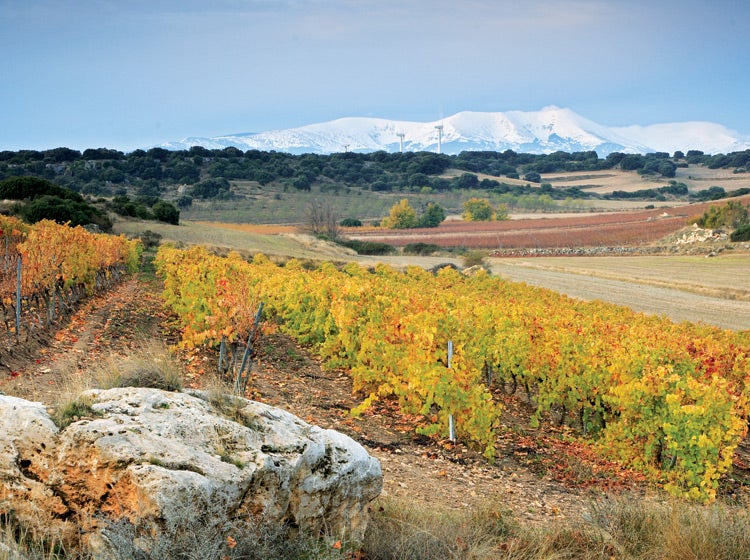 More than 100,000ha (247,000 acres) of Grenache vines have been uprooted in Spain since 1990. In fact, Grenache has dropped from first to fourth in the Spanish red-grape stakes, with only 64,640ha (159,729 acres; 2011 data) — a dramatic fall comparable only to the meteoric rise of Tempranillo, which has gone from 45,941ha (113,522 acres) in 1990 to more than 200,000ha (495,000 acres) in 2011. But far from becoming extinct, Grenache has displayed tremendous vitality over the past few years, leading to a delightful paradox. Despite covering the smallest surface on record, never before has it played such a decisive role in so many exciting reds claiming a place for themselves among Spain's top labels.
Three broad areas help draw a mental map of the main styles of Grenache in Spain. First, Catalonia, whose wines are highly Mediterranean in style. Second, Rioja, Navarra, and Aragón — regions lying along the Iberian System, the mountainous range that runs northwest-southeast for more than 300 miles (500km) between the Ebro plain and the Central Meseta, where quality and character depend greatly on altitude and soils. And finally, Gredos, a real mishmash of administrative regions and appellations located in the Central System, boasting a distinctive and captivating character.
You say Grenache; I say Garnacha
It's quite clear that France, not Spain, has bequeathed the world the name for this highly drought-resistant variety. As a result, it is commonly known by its French name. There are still quite a few unknowns concerning its origin (unknown parentage, for instance), but it seems most likely that it originated in Spain, where the earliest documentary evidence of Aragonez, as it was referred to in the past (confusingly enough, Tempranillo was also referred to in the same way), dates from 1513. In Wine Grapes, Robinson, Harding, and Vouillamoz consider Spain to be its homeland, because no other country shows such great clonal diversity, and they therefore prefer the Spanish term Garnacha.
Garnacha spread rapidly over Spain from Aragón in the middle of 19th century, thanks to its good resistance to oidium. Its ability to deal with drought conditions was another significant advantage. It was (and still is) a precious ingredient in the blending of some outstanding Riojas, as well as an extremely useful source for everyday or sometimes even heady claretes (no Bordeaux connection here, but a reddish wine fermented on its skins, normally from a mix of white and red grapes) or more commonly rosés today. Its oxidative inclination, on the other hand, contributed significantly to the making of rancios and sweet wines of a certain style in Catalonia. But as a general rule, Garnacha was mostly made into ordinary reds intended for local consumption and, most significantly, bulk wines that would be sent to famed wine regions in Spain and abroad.
Despite the perceived or real value of these various forms of Garnacha, none of them helped the grape obtain a status sufficient to protect it from the increasing value given to the higher-profile and more fashionable varieties used to add depth and flavor to wines. So, this supposedly rustic variety was increasingly sidelined. Whether winemakers chose Tempranillo or opted for foreign grapes (Cabernet or Merlot in the 1990s, Syrah in the 2000s), Garnacha has been massively replaced over the past 25 years. Worse still, many wine growers used EU subsidies in order to remove hundreds of hectares of old vines, with the consequent loss of biodiversity and quality. Although widespread, the massive uprooting reached tragic proportions in vast areas of Navarra and Aragón, where Garnacha was key to their wine's identity. The lack of historic high quality and/or bottled wines, which might have afforded producers some extra revenue, merely accelerated the process.
The picture was particularly gloomy in the 1990s. The great success of Tempranillo-based reds from Ribera del Duero, and the subsequent leap of Rioja on the wave of deeply colored, highly extracted wines, led to a huge expansion — or perhaps invasion? — of Tempranillo. Despite its early-ripening character contrasting with Garnacha's longer growth cycle, Tempranillo conquered many of Garnacha's classic territories — especially Rioja Baja, Navarra, Castilla-La Mancha, Cariñena, and, to a lesser extent, the other two Garnacha-dominant appellations in Aragón: Campo de Borja and Calatayud. And of course, international grapes were also welcomed with open arms in many of these regions.
Navarra definitively gave in to the likes of Cabernet and Merlot, so Garnacha ended up being restricted to rosés. In Aragón, though no longer alone, it continued to play a dominant role, thanks to the fact that many inexpensive reds found their way on to the shelves of big supermarket chains in the UK. Cooperatives in Campo de Borja and Calatayud would regularly receive foreign enologists to oversee production — hence local producers benefited from international know-how, in both winemaking and dealing with foreign markets. It is therefore not surprising that these regions have been focusing on exports ever since, making their wines largely unknown to many Spanish consumers.
Priorat: restoring lost honor to Garnacha
The only good news concerning Garnacha in the '90s was the rise of the extremely mountainous appellation of Priorat. The style of its reds was alcoholic, extracted, and powerful, which was just what the market demanded at the time. To achieve this, winemakers who revived the area (Josep Lluís Pérez, Carles Pastrana, René Barbier, Álvaro Palacios, and Daphne Glorian) made use of Cabernet and Merlot at the beginning, Syrah later, and also local Carignan (Cariñena). But from the beginning, the mainstay was Garnacha, the most planted grape in Priorat, with roughly 700ha (1,730 acres) of the 1,900ha (4,695 acres) that currently cover the region.
Varietal wines are, however, quite rare in the region, and Carignan has been used in recent years to provide the perfect punch of acidity, structure, and vivacity to match Garnacha. Not surprisingly, most producers prefer blends. Even Álvaro Palacios, the great ambassador of the grape in the area, has only quite recently turned his top labels — L'Ermita and Finca Dofí — into purer (more than 90 percent) expressions of Garnacha.
The current trend in Priorat (and all over Spain) is toward local grapes. Moreover, winemaking practices have relaxed, specifically with regard to generous extraction. In Priorat, the small venture of Terroir al Límit — started in the mid-2000s by South African producer Eben Sadie, German entrepreneur Dominik A Huber, and local viticulturist Jaume Sabaté — has played a large part in the move to lighter reds, which attempt to capture the highly aromatic Mediterranean landscape (fragrant with lavender, rosemary, and thyme). No foreign grapes, no extended hang-times, no destemming, no Bordeaux barriques; the shift has proved a stimulating change in the area. Their approach to Garnacha was also quite peculiar, for they concluded that the grape expressed its best if not cultivated on schist. The proof is the €150-plus Les Manyes, which comes from clay soils located at 700m (2,300ft) up on the Montsant mountain. This is a subtle, airy, and evocative red with a tremendous finish.
Lately, Cellers Scala Dei, which is part of the Codorníu group, has embarked on an ambitious project to reflect the Garnacha heritage in the Escaladei area, which monks established in the 12th century and where the variety has always been prevalent. In the 2010 vintage, three single-vineyard Garnachas of no more than 1,300 bottles each were released: La Creueta (schist soils, at 500m [1,640ft]); Sant Antoni (red and yellow clay, at 600m [1,970ft]); and Artigots (boulders, 550m [1,800ft]). Winemaker Ricard Rofes says that at altitudes between 550m and 600m, and on clay-limestone soils, Garnacha's skins and stalks ripen in line, and when that happens, no destemming is undertaken. The differences between the heavier, although quite juicy, La Creueta and the flavorful Sant Antoni, fermented with stems and redolent of rosemary and thyme, are therefore very much in evidence. But the new Mas Deu (2011), which comes from the highest vineyard (760-800m [2,490-2,620ft]) and clay-lime soils, is my favorite because of its freshness, balance, aromatic expression, and length.
Other Garnachas in a Mediterranean style
There are now fewer than 4,000ha (10,000 acres) of Garnacha in Catalonia, the majority concentrated in Tarragona in Dos Priorat, Montsant, and Terra Alta, and also to the north in Empordà, close to the French border, where sweet Garanatxa de l'Empordà has traditionally been produced. In Catalonia, as in Priorat, varietal wines are the exception rather than the rule, especially compared with Aragón or Gredos, but the commitment of a major group of winemakers to Garnacha is a notable trend.
Literally surrounding Priorat, the Montsant appellation offers a wider array of soils. Up in the mountain, René Barbier's astonishing Espectacle has a lot in common (proximity included) with Les Manyes and some of Scala Dei's Garnachas: high altitude, absence of schist, and expression over structure. Other wineries from Montsant flying the Garnacha flag include Vinyes Domènech, Joan d'Anguera, Acústic Celler, and Alfredo Arribas's Trossos. Their top reds usually come from very old plots with remarkable character, as is the case of Albert Jané's pristine Auditori (Acústic Celler). After several years working in the area, Jané thinks that what works best "is mixing Garnacha and Cariñena, as the latter provides structure, density, and the ability to age. Garnacha by itself must be very good to be able to age on its own, because it's quite sensitive and oxidative. But great wines can be made from very old vines with tiny yields."
The resurgence of Terra Alta (Tarragona), the most southern and landlocked of Catalan appellations, where the greatest concentration of white Garnacha in Spain can be found, has also provided some new and exciting Garnacha-based reds. Although blends with Carignan and Syrah prevail, Grenache is a key ingredient in labels from producers like Edetària, Celler Piñol, or La Fou.
In 2012, the Terra de Garnatxes association was created in Catalonia by a group of four wineries from four different appellations: Vinyes Domènech (Montsant), Clos Figueres (Priorat), Edetària (Terra Alta), and Masia Serra (Empordà). President Joan Ignasi Domènech from Vinyes Domènech recalls that varietal wines from Garnacha have jumped from just a couple, in 2002, to the 70 samples that were recently tried by a tasting panel specifically created to find aromatic descriptors for Garnachas in Catalonia and whose conclusions will be published in the near future.
Rioja, blends, and niche wines
Another specially large and heterogeneous focus of Garnacha in Spain is linked to the Iberian System, the mountain range that runs parallel to the River Ebro. If we travel from west to east, Rioja, where Garnacha has traditionally played a blending role, is the first stop. The most highly prized Riojan Garnachas usually come from high areas of Rioja Baja, notably Tudelilla, where producers like Vivanco or La Rioja Alta (Garnacha is a key ingredient for its famous Viña Ardanza) own large properties. Farther southeast, the Garnacha champion Álvaro Palacios, who has always supported the connection of the grape with the Iberian System and currently runs the family-owned winery, also highlights altitude as a crucial quality factor for his Garnachas grown on the slopes of Mount Yerga. Bodegas Palacios Remondo is the only private cellar of a certain size in Rioja that uses the variety as the major ingredient in all its reds, the style being markedly Mediterranean and aromatic, and not that different in style from his gentler-than-ever Priorats.
The category includes niche varietal wines, made in tiny quantities by a considerable number of producers, with prices usually well above the crianza or even the reserva range. These wines can vary enormously, depending on the climate (Rioja is 60 miles [100km] long), the altitude, the soils, and the winemaking approach. In the Sonsierra, Sierra Cantabria's Garnacha is quite Atlantic, while Valserrano's feels more austere and tannic. Contino makes a delicious and juicy Garnacha from its well-exposed property located very close to Logroño. Vivanco blends grapes from Tudelilla (Rioja Baja) and Villamediana to obtain a structured, energetic, and quite promising red, while Miguel Ángel de Gregorio looks for very ripe fruit expression within an earthy and voluptuous profile for his Paisajes Cecias.
The little-known but exciting Najerilla Valley is one of the coolest areas in Rioja. It's located at the northwest end of the appellation, bounded by the Sierra de la Demanda mountain range. Once known for its claretes, this area is, says producer Juan Carlos Sancha, "the reserve of acidity and aromas of the DO." He is determined to recover the old Garnacha vines planted by his grandfather and other contemporaries in Baños de Río Tobía at the beginning of the 20th century. A great ambassador for Garnacha who has been involved in the recovery of minority grapes in Rioja, Sancha separately bottles specific vineyards, each of them labeled with the names of their wine growers. You can feel the cool-climate influence in the wines: sometimes sharp but always carrying well-defined and juicy red fruit. And yet they can reach 14% ABV. He's not the only one working with Garnacha in the area. French winemaker Olivier Rivière makes his Ganko from old vines scattered around nearby Cárdenas. This red is fleshier than those from Sancha, since the fermentation is undertaken without destemming.
Navarra, overcoming tragedy
Rivière also consults for Emilio Valerio in Navarra, where they have started working with ancient Garnacha vineyards from Dicastillo in the subarea of Tierra Estella. First single-plot vineyards include San Martín and Leorín (550-600m [1,800-1,970ft]), and there's another one to come, Arranbeltza, from a higher vineyard. Rivière also owns an old Garnacha parcel in this area called Alto Redondo, from which only the 2010 vintage has been released so far.
The story of Garnacha in Navarra has been probably the most unfortunate, not only due to massive uprooting but also to the absence of high-quality reds. It's amazing that the first project specifically based on this grape came from an outsider. Riojan Juan Carlos López de Lacalle from Artadi settled in the subarea of Valdizarbe in the northernmost limit of the DO and came out with its first Grenache in the 2000 vintage. Made from vines between 80 and 120 years old, Santa Cruz de Artazu offers a particularly fine expression, full of "blue" nuances (blueberries, violet, and lavender).
Starting with the 2008 vintage, Domaines Lupier, the project of couple Elisa Úcar and Enrique Basarte, has brought new hope to Garnacha in Navarra. They've put the spotlight on San Martín de Unx (a sub-area of Baja Montaña, farther east), a small village where they've rescued more than 20 ancient vineyards. Their painstaking work in vineyard and winery is remarkable, as is the precision with which they translate the surrounding landscapes (herbs, floral notes) into the glass. Both El Terroir and La Dama make an impression on the palate.
Southern Garnachas located in the Ribera Baja sub-area of Navarra are certainly much closer to Rioja Baja and to the first vineyards of Campo de Borja in Aragón, under the imposing Moncayo, the highest peak of the Iberian System (more than 2,300m [7,545ft]). Cooperatives are prevalent here, but small new ventures exclusively focusing on Garnacha, like La Calandria, are spicing up the scene. They use grapes from Navarra but also from Aragón, as is the case with the generous and earthy Tierga, sold as a table wine. Not very far from Tierga village, in Jarque del Moncayo, a delicious and practically unknown Garnacha is made by Riojan Carlos San Pedro (Pujanza) and Aragonese winemaker Jorge Navascués. Mancuso is sold under the VT Valdejalón designation. It comes from gray schist soils at 850-900m (2,788-2,952ft). Full of herbs and spices, it makes you feel as if you have walked into an old-fashioned pharmacy.
Aragón, where Garnacha thrives
Aragón has by far the greatest abundance of varietal Garnachas in Spain. Not Cariñena, the biggest of its DOs specializing in competitively priced blends (among the few Garnachas I could taste, the best came from Bodegas Paniza or were made by wineries consulted by enologists Javier and Jorge Navascués, father and son), but from Campo de Borja and Calatayud.
Campo de Borja has been steadily improving its quality since the area started to show a commitment to Garnacha (the rather inflated "The Empire of Garnacha" is its motto) in the early 2000s, with the release of brands like Tres Picos, Fagus, or Coto de Hayas Garnacha Centenaria. The up-and-coming Alto Moncayo, a boutique winery advised by Australian enologist Chris Ringland, obtained fabulous Parker ratings thanks to the powerful €100-plus Áquilon. In addition, three wineries (Borsao, Aragonesas, and Bodegas Santo Cristo) account for 90 percent of Borja's wine production. All three control a huge diversity of vineyards ranging from the valley areas in Magallón, to progressively higher locations in Ainzón (450m [1,475ft]), Fuendejalón (600m [1,970ft]), and the precious slopes of relatively isolated Tabuenca, where altitudes exceed 700m (2,300ft) and old Grenache bush-vines thrive. Soils evolve progressively from lime textures in the valley, to sandy and stony, and clay and iron on the hilltops, where characteristic red slate can be found.
Currently, the DO is conducting an ambitious project to explore its terroirs, which could stimulate much more precise work in the area. It includes soil identification by expert Vicente Sotés and sensory analysis by scientists at the University of Zaragoza. Those of Campo de Borja are undoubtedly the most phenolic of Spanish Garnachas, full and mouth-coating yet ripe and velvety. (I guess microoxygenation helps.) They are practically the only ones capable of being aged in American oak and/or 225-liter barrels. The average quality is very high.
A few miles south, Calatayud's mountainous landscape is striking for both its beauty and the decline in its area under vine, recently replaced by more lucrative crops such as almond and cherry trees. Roughly 1,500ha (3,700 acres) were uprooted using EU subsidies between 2009 and 2011. Vineyards scattered in different valleys encircle the village of Calatayud. The altitude favors floral, fresh, fruity reds with captivating juiciness. But despite the incredible range of exposures, altitude, and soil diversity, the wines are somewhat irregular.
The wines from Bodegas San Alejandro offer unbeatable value in the under-€10 range, and it's pretty clear why Gallo and Eric Solomon offer own-branded wines from this winery in the USA. The arrival of the Gil family from Jumilla, which currently produces more than 2 million bottles, has proven a major stimulus for the region. Their former partner Jorge Ordóñez has his own project (Bodegas Breca) in the area. Both wineries produce well-ripened, mouth-filling Garanchas, quite close in style to those of Campo de Borja. Among the new ventures, the wines of Norrel Robertson MW, who settled in Calatayud in 2003 and named his winery El Escocés Volante (The Flying Scotsman), clearly stand out. He ferments and even ages Garnacha in concrete vats trying to smooth the oak influence (his 2011 El Puño, for instance, has only 40 percent of barrelaged Garnacha) and stresses the importance of working the lees; "We want color, flavor, and no harsh tannins," he says. Most of the wines combine herbal and floral notes with freshness and a well-defined structure, those made from ancient vines achieving a distinctive minerality. Convinced that nowhere else in the world does Garnacha offer such a diversity of biotypes as it does in Spain, Robertson advocates "identifying and certifying the high-quality ancient plots in order to make a good massal or good clonal selection."
Gredos: granitic fascination
In the center of the country, around 40 miles (70km) from Madrid, this area has emerged over the past few years as one of the most promising and inspiring wine regions in Spain. The name of Gredos has been used to describe the wines coming from different vineyards grown along the mountainous range bearing the same name, but you won't find it on any label, since the area is a real jigsaw of appellations (Vinos de Madrid, Méntrida, VT Castilla y León) and administrative regions (Madrid, Ávila in Castilla y León, and Toledo in Castilla La Mancha). No wonder the recently founded Garnacha de Gredos association is fighting for its own appellation.
Most vineyards are very old bush vines planted in the valleys and the hillsides at 600-1,200m (1,970-3,940ft). The main valleys are those of Alto Alberche in Ávila, the highest and coolest area; Alberche (Ávila and Madrid), which is hotter and where some spots of schist soils can be found in the towns of Ceberos and El Tiemblo; and Tiétar (Madrid but mainly Toledo), the most humid of all. The vast majority of soils are granitic, and the character of many of Gredos Garnachas is marked but this fact, often adding a distinctive salty note on the finish. Telmo Rodríguez, for instance, makes a welldelineated Pegaso Granito and a more generous and robust Pegaso Pizarra (slate).
Rodríguez arrived in Cebreros (Ávila) in the late 1990s, but the great boom started between five and seven years ago, thanks to the emergence of new wine ventures including Canopy, Bodegas Jiménez-Landi, Bernabeleva, Marañones, and Comando G. Most of them share an almost identical (mainly Burgundian) vision of Garnacha (no destemming, extremely soft fermentation, use large barrels or foudres) and of wine in general, since they organize their range using the genericvillage-single-vineyard hierarchy. What makes the difference, however, is the way this philosophy seems not only to fit but to enhance the style of these Garnachas that are completely different from all others in Spain. Pale in color, highly aromatic and evocative, apparently light-bodied, but with such grip, length, and expression that they instantly arrest the attention of any wine drinker.
Dani Landi, who separated from the family-run winery Jiménez Landi and started his own project, and Fernando García, winemaker for Marañones, are the co-founders of Comando G and hunters of extreme vineyards. Rumbo al Norte (giant boulders standing next to vines in Navarrevisca at 1,150m [3,770ft]) and Tumba del Rey Moro (a dramatic, almost vertical vineyard with vines planted among chestnuts, oak, and fig trees) are obviously their most expensive and finest reds, together with Las Umbrías from the Tiétar Valley. The former two are located in extreme and cool areas of the Alto Alberche Valley.
Their entry-level red, La Bruja Averia, is amusing and refreshing, but far from the quality of their single-vineyard labels. Even so, other wineries like Marañones, Bernabeleva, and Dani Landi himself offer the Gredos experience at prices ranging from €12 to €30 (in Spain).
A new approach to Garnacha
It is not by chance that Garnacha's golden age has come hand in hand with a new approach to the grape. Softer and more detailed vinification methods have helped dispel (or alleviate) myths like its oxidative character or lack of color. Its long growth cycle is perfect for resisting climate change, and low pH is a blessing in current times. Despite the high risk of millerandage that can severely affect production, Garnacha always rewards wine lovers with juicy, fleshy, and nicely textured reds. In my journey through different parts of Spain, no matter how warm or cool they were, I have not found a single interesting Garnacha below 14% ABV. Those who are concerned about high alcohol in wines should leave prejudices aside and learn that, as Juan Carlos Sancha explains, "Garnacha is one of the grapes that best synthesizes sugar." Isn't this, by the way, a perfect explanation for its former prominent position as the leading red grape of Spain?
Curiously enough, excitement about Garnacha in Spain can be found beyond its traditional strongholds. The following examples may be anecdotal, but Casa Castillo is growing Garnacha in Jumilla and has released an aromatic, light-colored, Gredos-inspired red. Peter Sisseck has added a hint of the grape to his entry-level PSI to obtain a rounder, more pleasing mouthfeel. Natural-wine producer Alfredo Maestro makes a varietal Garnacha from ancient vines in the Douro area. Wine journalist and wine producer Víctor de la Serna has his own varietal Garnacha in the Manchuela appellation from Castilla-La Mancha. Even Rioja has come up with a completely new 50/50 Tempranillo/Garnacha blend — at least, Haro's Ramón Bilbao and Gómez Cruzado are doing it. Garnacha is no longer an ugly duckling, even though hard work will still be needed to preserve its precious heritage.