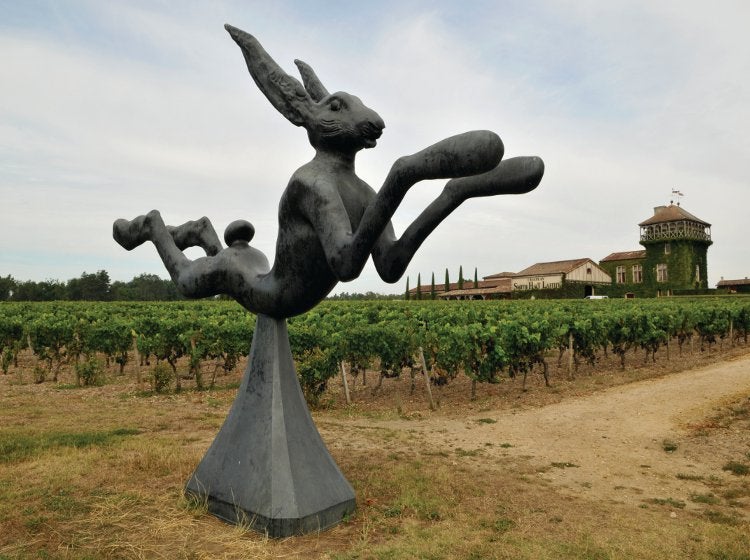 White tents on the smooth lawn in front of Château de Fieuzal fluttered in the evening breeze as several hundred wine VIPs arrived in horse-drawn carriages for the opening dinner of Bordeaux's VinExpo trade fair in June 2013. The event doubled as a very grand celebration of the 60th anniversary of the Union des Crus Classés de Graves, with a parade of old vintages in polished crystal on candlelit tables, a Michelin-starred chef's stunning foie gras and lobster course, a speech from the city's mayor, string quartet music under the stars, and red and white fireworks that lit up the sky.
In other words, the party was a typical Bordeaux-style nudge to major players in the global wine trade to pay more attention to the top-ranked châteaux from this historic region south of the city. At a pre-dinner tasting in Fieuzal's new circular barrel cellar, the owners of the 15 crus classés poured their stellar 2010s to impress us all. "Not many people know and understand the Graves appellation," sighed Eric Perrin, the president of the crus classés, and whose family owns Château Carbonnieux, as we chatted in Fieuzal's comfortable light-filled reception room before the evening's events. "Individual château names are better known than the region and the classification." And, I'd add, many wine lovers don't realize that Graves is unique in Bordeaux: the only high-profile region classified for superb dry whites, as well as reds.
Perrin is intent on changing that. He told me how the group circled the globe in 2013, hosting lunches, dinners, and tastings in New York, London, Paris, Hong Kong, Tokyo, Shanghai, and Brussels to impress restaurateurs, collectors, and critics. The year began in New York at the posh Knickerbocker Club, where they highlighted the plush 2009s and 18 older vintages.
I was as intrigued by the taste of the region's wines at that dinner as I've been ever since I sat on a hay bale in a Texas barn in the 1980s at a 50-vintage vertical tasting of Château Haut-Brion's reds and whites. (An 1899 was still alive and kicking.) To me, the Graves's best reds have haunting, smokytobacco aromas, elegant earthy/savory flavors, and sometimes a pronounced mineral tang; its top whites show as much complexity as famous white Burgundies, lovely brightness and zing, and astonishing longevity.
Graves has the appeal of history, too. Named for its gravelly terroir, the region, which extends from the city of Bordeaux south to Langon, is the starting point of a 2,000-year wine story. From the 12th to the 17th century, until Dutch engineers drained the marshland in the Médoc and revealed stony soil beneath, Graves was the more important wine spot. The vineyards and estates close to the city drew its powerful, aristocratic families.
First growth Haut-Brion made Bordeaux wine famous; Thomas Jefferson visited, and the wine was immortalized in Samuel Pepys's 17th-century diary. Nearby Château Pape Clément dates to the 13th century, when it was owned by Bernard de Goth, who became Pope Clement V in 1305. In 1900, Château Haut-Bailly, with a history going back several centuries, sold its supple red for the same price as Médoc first growths.
But in the 20th century, except for Haut-Brion, quality dipped as many estates suffered from lack of investment, and too many wines lacked richness and personality. Few of the region's oldest properties within the city limits survived the pressure of urban sprawl as vines were pulled out to make way for suburbs, shopping centers, and the Merignac airport. Some of Bordeaux's best terroirs lie beneath streets and buildings, and today a haze of pollution often hangs over the remaining vines. I still get lost in the tangle of traffic and one-way streets when I visit Haut-Brion and La Mission Haut-Brion or Pape Clément, sitting on a main thoroughfare not far from the Rocade, the busy highway that rings Bordeaux. In 1956, when Eric Perrin's grandfather arrived at Carbonnieux, which is farther south near Léognan, the château had been uninhabited for 50 years.
Graves's moment?
Now Graves's moment may be here. As is so often the case in the wine world, money, along with politics, has been behind the big turnaround.
Over the past 15 years, château owners, especially wealthy outsiders who made serious fortunes elsewhere, have invested heavily in renovations and vineyard improvements that are paying off in the wines. American banker Robert Wilmers, who bought Haut-Bailly in 1998, joked that Warren Buffett told him he should take on a real mistress instead, because she would be far, far less expensive. Wilmers told the story while presiding over another lavish VinExpo event, a dinner and wine retrospective at the château celebrating his 15 years of ownership there.
Belgian entrepreneur Alfred-Alexandre Bonnie purchased Malartic Lagravière in 1997 and added a small château, Gazin Rocquencourt, in 2005. Irish businessman Lochlann Quinn acquired Fieuzal in 2001. All of these new buyers were following the earlier lead of French ski champions and sports-shop magnates Daniel and Florence Cathiard of Smith Haut Lafitte (purchased in 1991) and Olivier Bernard, managing director of Domaine de Chevalier, whose family bought the property in 1983 and put him in charge when he was just 23 years old. "In recent years, the crus classés have been leaders in many ways-research, viticulture, promotion, and enotourism," says Véronique Sanders, the managing director of Haut-Bailly, whose family sold to Wilmers. As technical director, Gabriel Vialard told me over glasses of the 1983 at dinner, it takes at least five years of improvements to make a difference, but ten or more for people to begin to recognize it.
Wines from the Graves have long been less appreciated- and often less expensive-than the crus classés of the famous Médoc and the fleshy reds from Pomerol and St-Emilion. Restaurant wine lists feature few of the region's cru classé reds except for Haut-Brion and La Mission Haut-Brion. And, as many retailers tell me, Graves whites are simply not in demand. I'm convinced the neglect stems at least partly from the fact that only one château, Haut-Brion, is included in the famous 1855 Classification, on which the USA in particular is fixated. Unfortunately, the region's own Crus Classés de Graves ranking, established in 1953 (white wines added in 1959), is barely known and very confusing.
The 16 châteaux picked from about 200 on reputation and price include seven crus classés only for red (Haut-Brion, Fieuzal, Haut-Bailly, La Mission Haut-Brion, La Tour Haut-Brion, Pape Clément, and Smith Haut Lafitte); six for both red and white (Bouscaut, Carbonnieux, La Tour Martillac, Malartic Lagravière, Olivier, and Domaine de Chevalier); and three only for white (Couhins, Couhins-Lurton, and Laville Haut-Brion).
Two names have disappeared: La Tour Haut-Brion ceased to exist as a label in 2006, when it was integrated into La Mission's second wine; and with the 2009 vintage, Laville Haut-Brion was renamed La Mission Haut-Brion Blanc.
Just to make it even more complicated, the Crus Classés des Graves wines also carry the sub-appellation Pessac-Léognan, the designation for the northern part of Graves. Few wine lovers I know have any idea where Pessac and Léognan are.
Unlike in the Médoc and Sauternes, these crus classés all have the same official rank. It's pretty clear, though, that they fall into quality and price tiers. For 2013 wines sold en primeur, for example, Haut-Brion was offered at €215 per bottle, Haut-Bailly €39.60, Domaine de Chevalier €27.50, Fieuzal less. At some estates, the white is better than the red, or vice versa.
The rise of Pessac-Léognan
One powerful figure who set the stage for the modern rebirth of the Graves was André Lurton, a driving force behind establishing the Pessac-Léognan appellation in 1987. He saw the region's potential more than 50 years ago and began buying up abandoned estates, such as La Louvière, de Cruzeau, and Rochemorin.
This dividing of the Graves boosted the north, putting Pessac-Léognan firmly on the road to revival. Since all the cru classé estates were clustered there, it attracted the biggest investments and so was able to maintain wine prices and begin protecting vineyards from urban developers. Rich owners, not dependent on making big profits from their wine estates, can afford to hold on to ever more valuable land.
But the division put the area farther south, sometimes referred to as Graves du Sud, in marketing free fall, without a cohesive image or the cachet of a single cru classé.
"The problem in the south is not so much a question of terroir, but of money and time," says Professor Denis Dubourdieu, who teaches at the University of Bordeaux, consults at many of the crus classés, and created his Clos Floridène property in southern Graves in 1982. The rich, spicy white is wonderfully scented. An authority on white-wine vinification, he says, "The difference is more sociological than geographical. Many of the estates could make much better wine than they do."
It's a familiar vicious circle in Bordeaux: Small family producers can't get high enough prices for their wines to afford necessary investment to improve quality, which means they can't charge more, and so on.
Many Graves du Sud whites are boring, and the reds light and thin, the vines planted in the wrong places. But since the late 1990s, there's been a bit of a revival at a handful of estates, like Château de Castres, Vieux Château Gaubert, and Château de Brondelle. A new generation of winemakers is experimenting, using Pessac-Léognan's improvement as a model.
For Dubourdieu, the separation was no disaster. "It kept vineyard prices in the south stable," he says. "The same area of land in Pessac-Léognan costs 20 times more. It would have been impossible for me to create Clos Floridène there, to take the property from 2 to 42ha [from 5 to 104 acres]."
Land in the best part of Pessac-Léognan is still two thirds the price of comparable sites in the Médoc, explains Stephen Carrier, the winemaker and general manager of Fieuzal, with land for building sites costing about the same. In ten to 15 years, as the city continues to expand, he predicts that real-estate pressure to abandon vineyards will only increase-which is surely why so many cru classé owners, like those of châteaux Carbonnieux and Malartic Lagravière, are snapping up other, lesser estates in Pessac-Léognan.
Dramatic improvements
The first Graves château I visited, in 1983, was Domaine de Chevalier, hidden away in a clearing, backed by a pine forest. I tasted the luscious white and tobaccoey red as then owner and concert pianist Claude Ricard treated me to a mini-recital in what was then a slightly shabby domaine. The Bernard family took it over soon after. The difference between then and now is extraordinary, I thought, as I dashed through the rain to their VinExpo party. The reception, usually outdoors, where guests gorge on local oysters, glasses of white wine, and soft jazz, had been moved inside the spacious, far-from-modest winery, where a new egg-shaped wooden vat was displayed like a sculpture. For two decades, the genial, passionate, perennially rosy-cheeked Olivier Bernard plowed all the profits back into improvements, building a stunning circular winery, installing basics like temperature-controlled stainless-steel tanks and fans for frost protection, increased the size of the vineyard, now nearly organic, and started an ambitious planting program. Of the 55ha (136 acres) under vine, 47ha (116 acres) were replanted by Bernard, and the vines are just starting to reach maturity.
The white is beautifully stylish and mineral even in difficult vintages, and I find more recent ones to have more purity, precision, minerality. One of the top dry whites of the world, it requires at least 15 years of age to really show how complex it is. The red is classic and balanced, often undervalued, and now that the vines are more mature, recent vintages are deeper, more complex, and full-bodied. I'd prefer a bit less oak, though. Two days later, I was at Haut-Bailly sampling 15 vintages at its retrospective tasting and dinner. Clearly, the wines have been on a continuous upward trajectory in quality ever since Wilmers bought it.
A handsome booklet handed out to guests charted another familiar story of dramatic investment: An in-depth study of soils, new buildings, the complete renovation of the winemaking facilities to allow vinification parcel by parcel, thermoregulated cement vats, restoration of the château, a redesigned label, a new machine called the CUBE, and more.
To me, the surprise was how consistent the wine has been in recent vintages, even in troubled years such as 2011 and 2012. The stunners were the intense 2010, loaded with character and vitality, and the powerful, structured 2005, with its long finish. The stories at Malartic Lagravière, Fieuzal, and other previous major underperformers are similar.
Terroir matters, too, of course. Some producers are making better wine because they are replanting the right grapes in the right place. "The best terroirs for whites in the Graves are limestone and clayey limestone," insists Dubourdieu, "and they are difficult to find."
The rise of tourism
Part of the revival of awareness of Graves and Pessac-Léognan owes much to outsiders Florence and Daniel Cathiard, the ambitious, tireless owners of Smith Haut Lafitte.
Driving south from Haut-Brion and congested, urban Pessac, I always begin to relax as the landscape opens up, becoming more pastoral and pretty on the way to the town of Léognan, around which the majority of the crus classés are clustered. The Cathiards put a public spotlight on the Graves and made it a tourist destination when they built a luxury hotel and Les Sources de Caudalie vinotherapy spa next to the vineyards at the end of the 1990s. The complex now includes a Michelin-starred restaurant, a wine bar that serves great Graves wines by the glass, and scattered throughout the vineyards are sculptures such as Barry Flanagan's enormous Leaping Hare. Despite local resistance, the Cathiards persevered; they understand the importance of visibility, promotion, and marketing and have just opened a boutique hotel in nearby Château Le Thil, which they purchased two years ago. By 2007, they were hosting the exclusive VinExpo Fête de la Fleur party. "We fell in love with Smith Haut Lafitte when we saw it from a helicopter," Florence Cathiard once told me. "When we bought it, it had a hole in the roof and a vineyard whose soil had been depleted by chemicals." They, too, plunged into improvements. The wines were once considered among the poorest in Pessac-Léognan, the grapes harvested by machine. They rebuilt the château, added a new cellar, renovated the winery, started their own on-site cooperage, copying the first growths, instituted what they call "bio-precision"-organic and biodynamic viticulture and satellite technology to track ripening-and began using more natural methods in the cellar. Their latest addition, in 2013, is what they call their "stealth" cellar for their second wine. Built in an abandoned gravel quarry it will capture the carbon emitted during fermentation.
Almost immediately, there was a corresponding improvement in the Smith Haut Lafitte wines, which are now sleek and modern and elegant, less oaky than they were five or six years ago. They hit a high with the 2009, rated 100 points by Robert Parker, which has brought to them, says Florence Cathiard, the "VIPs".
This brings me to the point that not everyone is as convinced as I am that the Graves is on the upswing. My colleague John Gilman, who publishes the newsletter View from the Cellar, decries the modern, pumped-up style of reds he sees at some châteaux and blames this on consultants, such as Stéphane Derenoncourt and Michel Rolland. It's true that some reds are still overextracted, with too much oak, but many have gradually been cutting back, as though it was a phase they had to get over. One of my favorites, La Tour Martillac, maintains a fine, traditional, subtle style in both its white and its red.
Revising the classification?
Naturally, as owners have been reviving other châteaux and restoring quality, they, too, would like to be part of the rising cru classé group. Lurton's La Louvière, one of the most beautiful and perfectly restored neoclassical châteaux in Bordeaux, which makes especially lovely whites, would surely be a candidate. It missed being classified because it was still derelict in the 1950s. Les Carmes Haut-Brion, purchased in 2010 by an ambitious new owner, already has a line of new tanks, and the wines are significantly improved. Fieuzal, classified only for red, also makes a top, ageworthy white.
There have been discussions, including a suggestion for a three-tier classification to be updated every ten years, but no one seems to think that a revision will happen. "It would be difficult if we were to open it up," admitted Perrin, looking nervous at the very thought. "We don't want lawsuits. Look what happened in St-Emilion."