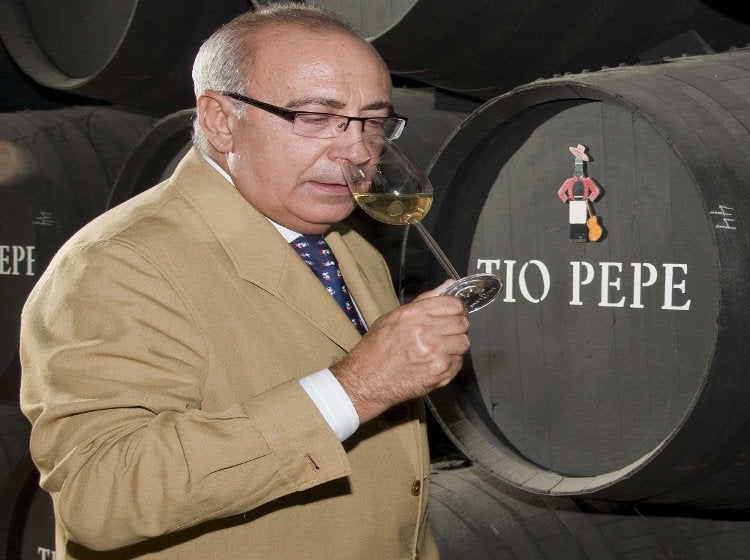 Most wine-tastings are pretty utilitarian affairs. Their purpose is generally to interest and inform – and, with any luck, do so with a bit of mild social and sensual pleasure added in; but few are designed as integrated, esthetic experiences (quasi-esthetic, if you insist) offering a totality of delight.
All the more marvelous was Antonio Flores's May offering of González Byass vintage Palo Cortado Sherry at Vinoble, the trade fair of sweet and fortified wines held, generally biennially, in Jerez in southern Spain. If the average tasting may be compared to a useful set of finger exercises for the piano, Antonio's was like a Wagnerian gesamtkunstwerk, a synthesizing work of art.
Building such an effect, it's a good start to be able to plunder with authority and understanding the vast, dim, cathedral-like spaces of the González Byass bodegas, with their endless stacks of blackened barrels scrawled with arcane chalk symbols. Antonio is winemaker there, and master blender, and one of the great figures of contemporary Sherry.
Amongst the myriad casks he rules over are the añada, or single-vintage, wines-which give the lie to the idea that all Sherry goes through the fractional blending process of a solera. Each year, González Byass (Williams & Humbert is the other Sherry house to indulge in this luxury) holds back 200 butts. Many of these will end up being fed into the soleras, but the most promising are maintained as vintage wines, and occasionally – eventually – bottled as such.
Just a dozen have been released so far, generally as Oloroso, but the three most recent (1978, 1979, and 1982) as Palo Cortado, that most mysterious of Sherry styles, something between an Amontillado and an Oloroso – the precise character will depend to an extent on whether the origin of the Palo Cortado was in a Fino (under flor), or Oloroso (exposed to oxygen from birth).
We sampled the current-release 1982 (which sells for under £100/$170) – extraordinary value, I'd say, for something so good, old, and rare; but Sherry is now even more undervalued than Riesling). It was preceded in the tasting by 1987 and followed by 1975, 1970, and 1935 – these directly from barrel.
The wines were fascinating and fine. But it's not just great wines that push a learning experience into profundity. Vinoble takes place in the Alcázar, the old Moorish fortress, of Jerez de la Frontera, and the Palo Cortado tasting was held in the old Mezquita, or mosque – later Christianized, then deconsecrated. It's an austerely beautiful, domed space, not large, but modestly grand. A man (who also worked in the González Byass bodegas) was playing a guitar, a sound both present and unobtrusive. The music was a subtle accompaniment to the wines and to Antonio Flores as he spoke. Flores seemed a poet as much as a presenter. I almost felt I could understand his Spanish (the translation was excellently done), as he told of Sherry, its power and grace, and the meaning of the wines. "It's a crime," he said at one point, "to do an autopsy on a glass of wine – better that wines express themselves…"
But of course, in that atmospheric totality, the Sherries counted most. How perversely perfect to show that final 1935 – in full confidence that the previous four wines had made it as inevitable as Isolde's conclusive song to love and death: a wine that was undrinkable but triumphantly, resolvingly alive! The red-black liquid (imagine it the palest straw 81 years ago, the vintage before the Spanish Civil War began) was implacable: intense, saline, concentrated, thrillingly vital. A few tiny sips were all that was possible. (But I can insist that, compared with the Sherry dating back to Napoleon's day that I was once greatly privileged to marvel over in the González Byass cellar, the 1935 was fresh and light-all one could conceivably do with that early 19th century one was put a drop on one's tongue and wonder at the flavor for the next half hour or so!)
Antonio's poetic commentary continued; the guitar meandered on thoughtfully. Someone mentioned the blood of Christ (sending a shiver down at least one unbeliever's spine). Antonio murmured about wines of meditation, and "the genuine perfume of Jerez."
Outside, in tents under the Andalusian sun, and in other rooms of the Alcázar, there were many fine wines, Sherries predominating, doomed at least temporarily to ordinariness. Farther afield, even in supermarkets (not quite around the world – be grateful if you have them), Sherries and Manzanillas like La Ina, Tío Pepe, Inocente, and La Guita are offering incomparable value-essentially, young versions of the stupendous, richly austere old Sherries that Antonio Flores shared in the Mezquita that day; even these, the most modest of the great wines from Andalusian chalk, hint convincingly at the magical perfume of Jerez.
Antonio Flores, González Byass winemaker