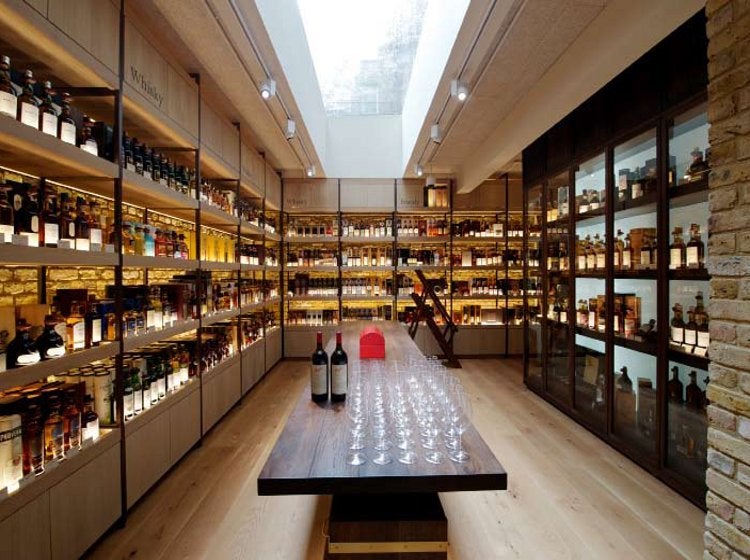 It's hard, as you make your way around Hedonism Wines (below)- the no-expense-spared new finewine store in London's Mayfair-not to make a running inventory in your head. There is the postwar vertical of Château Mouton Rothschild, each vintage with its customized artist-designed label lined up in a dedicated room. There's the complete vertical of Masseto, the room full of Sine Qua Non (125 out of the 135 different labels produced), the countless DRC, the collection of outsize bottles, the golden wall of 82 vintages of Château d'Yquem dating back to 1811. The list-which stretches to more than 4,300 wines at the time of writing, with all but a few hundred bottles over £30, and includes another 1,000 or so spirits of similar pedigree-goes on and on.
The selection is the work of Hedonism's head wine buyer Alistair Viner, who spent the 18-month interregnum between quitting his longtime post as wine director of Harrods and the opening of Hedonism in August 2012 scouring auctions, private cellars, and producers to build one of Europe's most comprehensive selections of classic fine wines-a vast collection, says Viner, of "great names from great vintages." Viner was bankrolled by Hedonism's owner, Russian cellphone billionaire Yevgeny Chichvarkin, whose aim, according to Hedonism CEO Tatiana Fokina, was to "bring a more informal approach to fine wine, more fun, more exciting."
"We're not suited and booted," adds Viner. "We are not intimidating." The idea is that customers are encouraged to look and touch bottles that, in most retailers, are kept under wraps and are able to buy rare old vintages by the bottle. As Fokina puts it, "It's like a museum where you can buy and take home the exhibits."
The stock-which has, in Viner's words, "quirky but quality" choices from Armenia, Georgia, and Greece among others, alongside the established names-unfolds over two floors in a space that used to be a supermarket and café. Nothing, it seems, has been left to chance. Woollen blankets and wraps are offered for customers shivering in the cellar cold (a constant temperature of 60°F [16°C] downstairs); the LED lighting (which turns itself on as a customer approaches), the Italian fridges, and the shelving units are all custom-made; there's an Enomatic dispenser for sampling wines by the glass, and iPads with games for customers' kids. Between them, the staff speak ten languages.
As an American visitor called out to Chichvarkin as he left the store during our visit: "Nice shop, man!" DW